Big Island Lava and Volcano Tours! 
The Big Island consists in total of five separate volcanoes with Mauna Kea measuring 13,796 feet, the tallest mountain in the state and the tallest sea mountain in the world. There are many exicitng opportunities to tour one of the most famous of the Hawaiian volcanoes, Kilauea. It is the youngest and most active of the five volcanoes and has been erupting continuously since 1983. 
For more information, check out some of the tour details below and contact us by Email or Phone to book your Lava Tour today! 
concierge@hawaiilife.com (855) 434.4716
Tours by Boat 
Embark on an unforgettable journey along East Hawaii's scenic coastline by boat to witness Hawaii Volcanoes National Park's lava tubes, sea arches, and black sand beaches. See lava red hot flowing into the sea with front row seats aboard. Not only do you get to see the lava flow, you get to feel the heat & hear the sizzling sounds. This tour travels along the Hawaii Volcanoes National Park coastline with unique features such as frozen rivers of fire and lava falls, ocean lava tubes, sea arches, and newly forming black sand beaches.
Tour Duration: Approximately 2 Hours | 30 miles 
Rates and Times:
Adults  13+ years of age, Juniors (4-12) *No passengers under 4*
4:30am Predawn Sunrise Tour:  Adult 220$  Junior $145
7:00am, 9:00am, or 11:00am Morning Tour:  Adult $180 Junior $145 
1:00pm or 3:00pm Afternoon Tour: Adult $200 Junior $145 
5:00pm Sunset Lava Tour: Adult $250 Junior $220 
7:00pm Twilight Lava Tour: Adult $250 Junior $220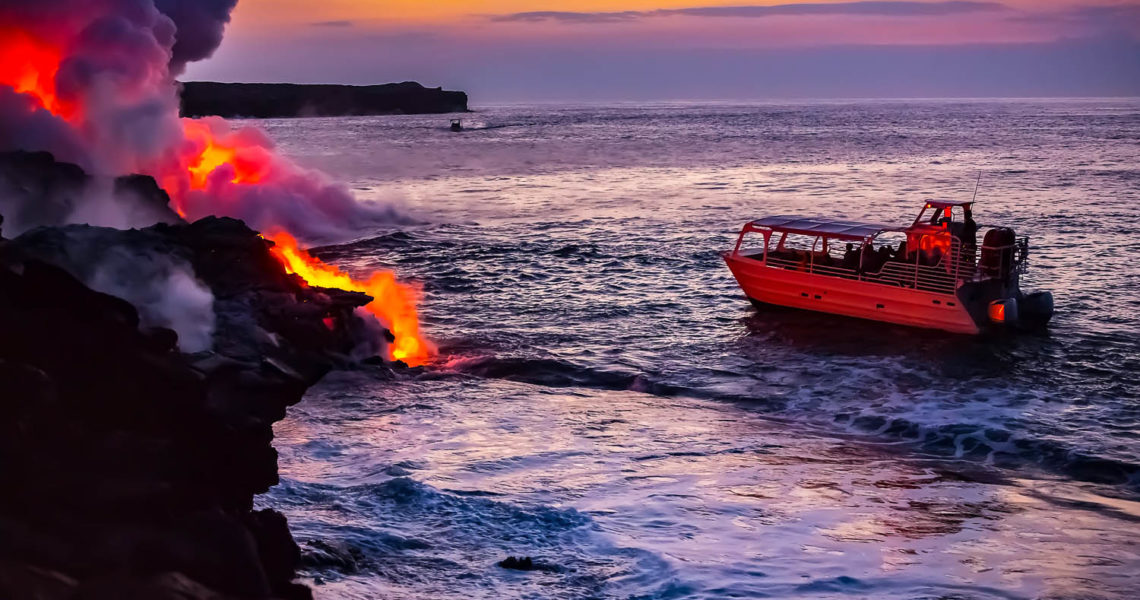 Tours by Bike 
Experience the Kilauea Volcano and Hawaii Volcanoes National Park by bicycle! With Interpretive Guides that will take you through fantastic terrains all on mostly downhill and level paved roads and trails, most tours include All Equipment, Bakery Fresh Lunch and/or Snacks, and Beverages. 
Options include:
Full Day Adventure  
Availability: 10am to 3pm, offered Daily Monday through Friday 
(Saturday and Sunday tours are available upon request)
Tour Duration: 5 hours
Distance: 15 miles
Terrain: Mostly Downhill and Level Paved Roads and Off Road Trails
Level: Moderate
Rates: $136 per person 
Active Lava Proximity: Summit approx 1/4 mile away 
Half Day Adventure 
Availability: 10am to 1pm or 12pm to 3pm, offered Daily Monday through Friday & Sundays (Saturday tours are available upon request)
Duration: 2 1/2 to 3 hours
Distance: 8.5 miles
Terrain: Mostly Level and Downhill Paved Roads & Trails
Level: Moderate
Rates: $115 per person 
Bike AND Hike Adventure: 
Biking Distance: 7.6 – 9.6 miles of biking (roundtrip) and approximately up to 4 miles hiking (roundtrip)
Bike and hike to Pele (Morning Tour): – 5am – 9:30am
Bike and Hike to Lava (Afternoon/Sunset Tour): 2pm – 7:30pm (+) or (-) 1 hour (The start time will vary depending on what the volcano is doing that day. We will update you on the day prior to your tour date.)
Bike and Hike to Lava with Kona Pickup (Afternoon/Sunset Tour): 10am – 11pm (+) or (-) 1 hour
Level: Intermediate
Rates: $150 per person 
Pickup from Waikoloa and Kailua Kona: $239 (includes picnic lunch and dinner)