Unit Code: Naninoa
Best location!
Reviewed on 2021-09-26 by Seanna S. from Santa Cruz, CA US
Updated on 2021-09-26
Services from rental manager
Cleanliness
Location
Property condition
We loved this house and can't wait to come back! We had a family of 5 and 2 couples. We all had plenty of space. All the amenities the house provides is awesome. Chairs bikes and everything you need for the beach. Kitchen is well stocked. Master bathroom bathtub is a little sketchy and old. House felt clean for being older. Definitely recommend. AC is only in the kitchen area. Each room has fans.
We want to say Mahalo for staying with us and being a great guest, we are so glad you were able to enjoy and relax on a lovely Hawaiian Vacation. We are glad all went well with the accommodations. We truly appreciate this feed back. We are looking forward to hosting you again! Mahalo from the Hawaii Life Vacations Team!
Everything we wanted and needed
Reviewed on 2021-07-30 by from Laguna Beach, CA United States
Updated on 2021-07-30
Services from rental manager
Cleanliness
Location
Property condition
We loved our 9 day stay at Naninoa! It's a wonderful family house, perfect for our three generation reunion. Over the years we have stayed in many vacation homes on Weke Road, and next time we will choose to go back to our new favorite, Hale Naninoa. It was clean, spacious enough for all...the ping pong table was in frequent use, as well as the bikes. The kitchen is so well equipped, including a cupboard stocked with staples left by previous guests. <br/>All the amenities are top notch, and we couldn't ask for more of anything.<br/>Enjoy!
We are glad all was enjoyable and relaxing for you. The place is truly amazing! We appreciate this feedback. We look forward to hosting you again at our lovely Hale Naninoa! Mahalo from the Hawaii Life Vacations Team!
Hanalei Bay - Beyond Fantastic
Reviewed on 2021-06-25 by from irvine, CA US
Updated on 2021-06-25
Services from rental manager
Cleanliness
Location
Property condition
We spent 12 days at Hale Naninoa in June, 2021. The property is perfect, the location is perfect and the weather was perfect.<br/><br/>The home is in great shape. The view to Hanalei Bay is unobstructed and the walk to the water is about four minutes. We walked to the town for dinner most nights, but it would have just as easy to BBQ on the deck.<br/><br/>Bottom line: We would go back in a nano-second.<br/><br/>
Aloha, We appreciate this feedback. Thanks for being such a great guest. We are glad all was accommodating and the place was exactly what you needed for a beautiful Hawaii vacation! We look forward to hosting you again! Mahalo from the Hawaii Life Vacations Team!

Great Vacation in Hanalei
Reviewed on 2021-05-16 by from Walnut Creek, CA US
Updated on 2021-05-16
Services from rental manager
Cleanliness
Location
Property condition
Our group of 7 loved our stay. The home is in the perfect location for beach days. We loved the bikes provided and rode them around town every day. The outdoor shower was great for washing off sand after time at the beach. The house was very clean. We would definitely stay here again.
Picture perfect location
Reviewed on 2021-04-28 by from Denver, CO US
Updated on 2021-04-28
Services from rental manager
Cleanliness
Location
Property condition
We loved our stay at this perfectly situated house. It's across the street from the beach park, and you have water views. Super convenient to walk to the beach or to restaurants or the Big Save for groceries. The house is a great size for traveling with either a large or extended family or a couple of couples. The lanai is wonderful for morning coffee gazing at the waves, or sunset cocktails. This place really had everything we needed. Everyone adored the outdoor shower as well. One note of warning, the stairs to the lower level are a bit steep and slippery so just a heads up if traveling with the very young or very old. However, there's conveniently already a built in gate at the top of the stairs.
A perfect get away to Hanalei Bay
Reviewed on 2020-01-14 by from Meadow Vista, CA US
Updated on 2020-01-14
Services from rental manager
Cleanliness
Location
Property condition
This house had everything we needed. It sits just across the street from a beautiful beach on Hanalei Bay. We appreciated the chairs and boogie boards plentiful to use in the garage. The Broker was so sweet!<br/>I would love to come back again!!
We are so happy you had a wonderful stay and enjoyed the extra to make you comfortable ! I hope to see you again in the near future.We greatly appreciate your review as well.  

Excellent Location on Hanalei Bay
Reviewed on 2019-08-19 by Katie F. from United States
Updated on 2019-08-19
Services from rental manager
Cleanliness
Location
Property condition
We have been staying in Hanalei for many years now and this location is one of the best. We really enjoyed the attentiveness of the staff, we had a wasp situation that was immediately remedied. Great for large families, some parts of home recently renovated. May not be ideal for older guests as pitch of stairs both up to house/lanai and downstairs are very steep. Also the house is not situated to take advantage of trade winds and it gets very hot inside the house, almost no breeze. All in all you can't beat the location, house is clean and great base for an enjoyable time in Hanalei.
We are happy to hear you enjoyed our home and the location and had a relaxing vacation.
Glad we could take care of the wasp problem right away for you.
Leave a Review
[2]
Business
24/7: Kahea 808-651-4440
TA-188-416-6144-01
TVNC# 1026
Hawaii Life Rentals presents Hanalei Dream House-Bikes included, new upgrades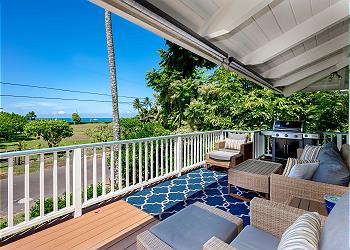 [3]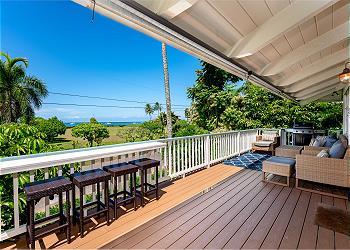 [4]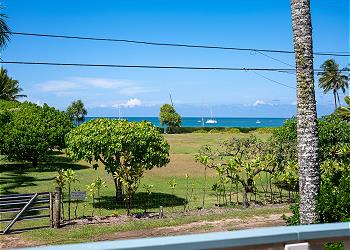 [5]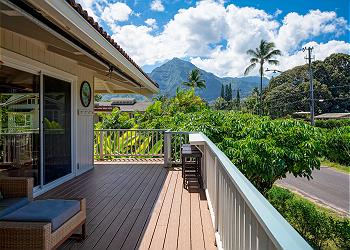 [6]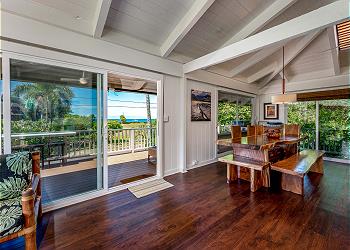 [7]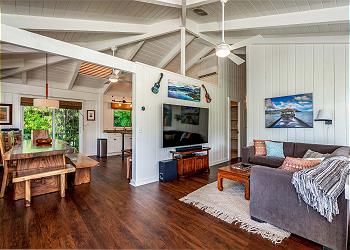 [8]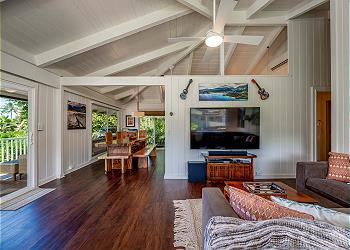 [9]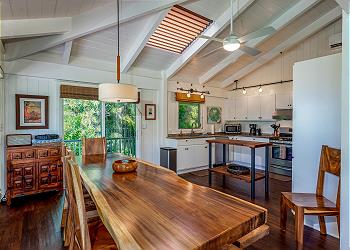 [10]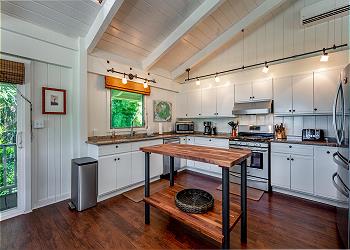 [11]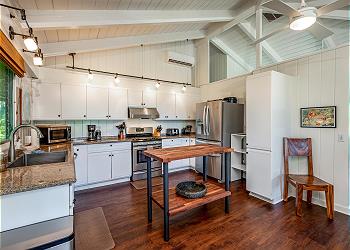 [12]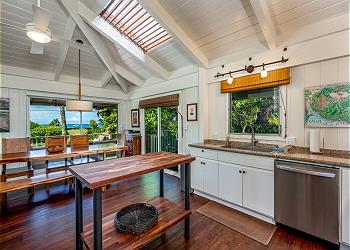 [13]
[14]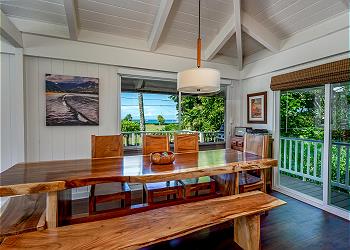 [15]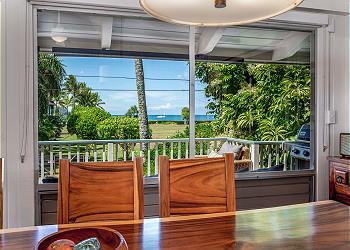 [16]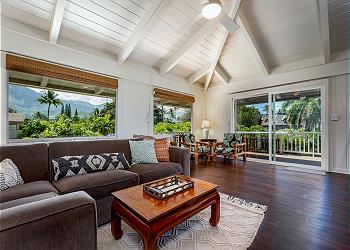 [17]
[18]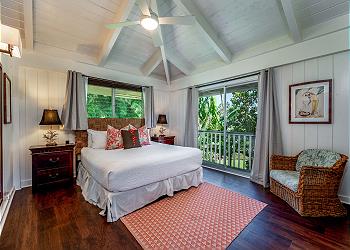 [19]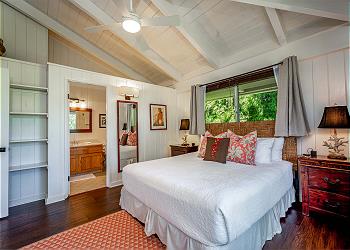 [20]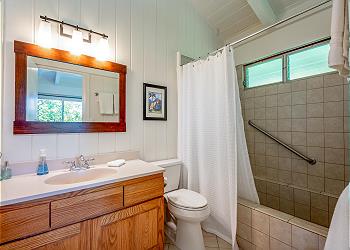 [21]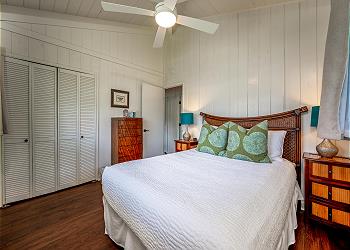 [22]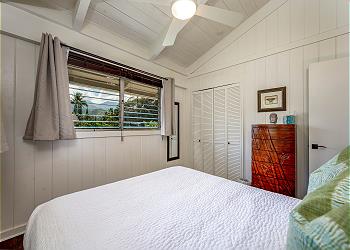 [23]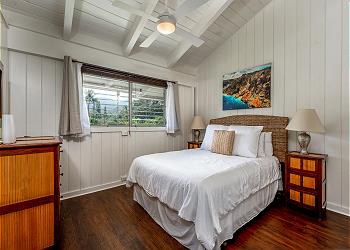 [24]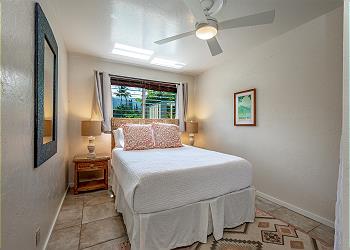 [25]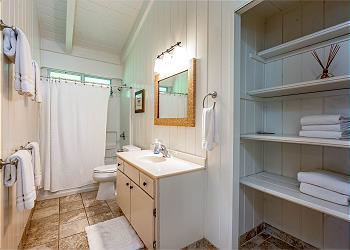 [26]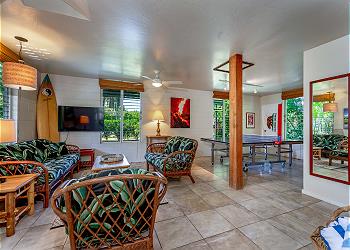 [27]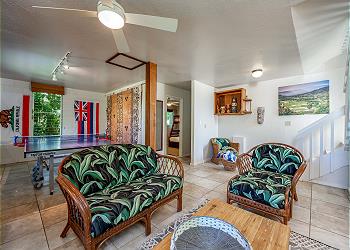 [28]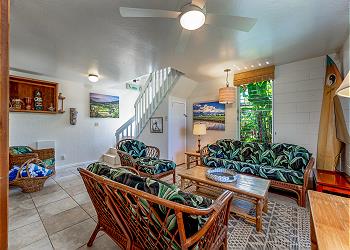 [29]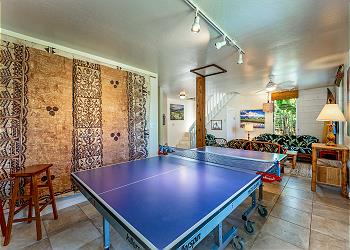 [30]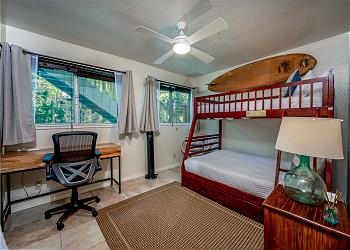 [31]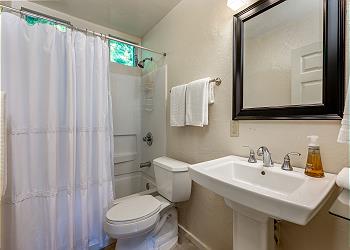 [32]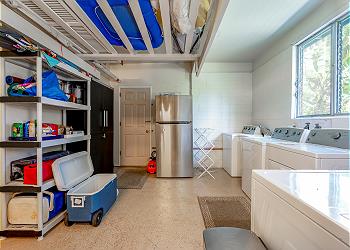 [33]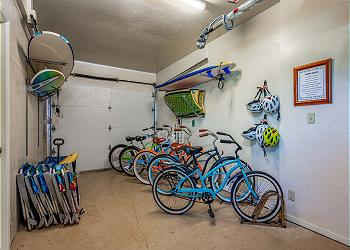 [34]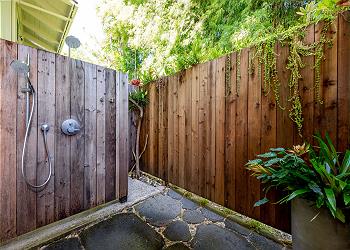 [35]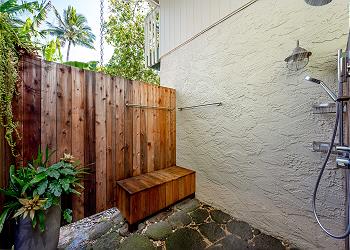 [36]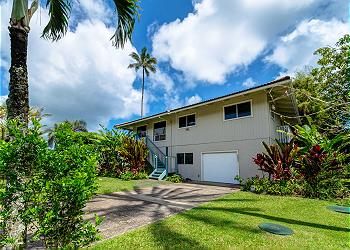 [37]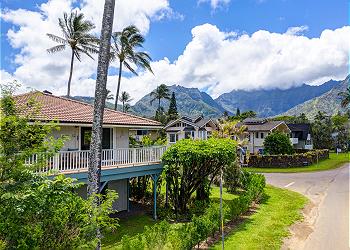 [38]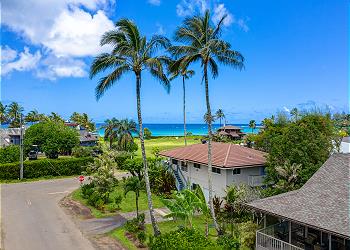 [39]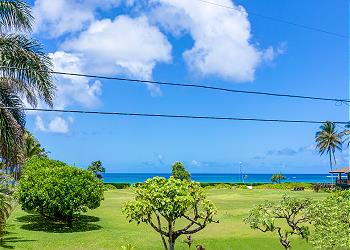 [40]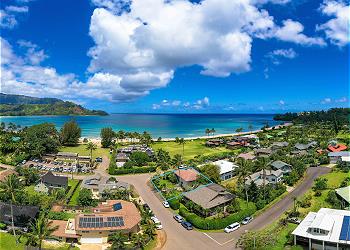 [41]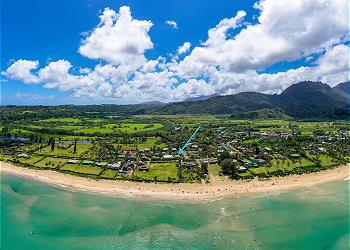 [42]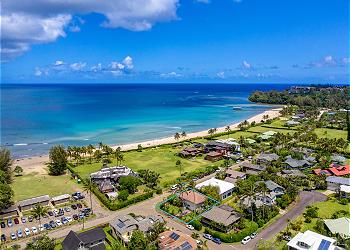 [43]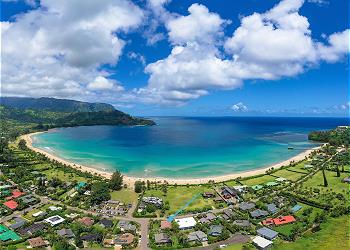 [44]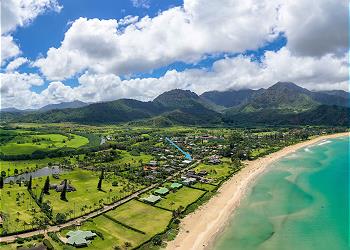 [45]
5 Bedrooms
3 Baths
Air Conditioning
Ocean View
Just across the street from the iconic Hanalei Bay with its ocean sunset and mountain waterfall views, this large family home is perfect for your Kauai vacation!
From the generous lanai complete with gas grill, you'll be awed by the majestic scenery and tropical landscaping. Direct access to the lifeguarded soft-sand beach makes it easy for everyone to roam back and forth freely.
You'll also be just a short stroll from fabulous Hanalei town, a bohemian and eclectic enclave, complete with wonderful one-of-a-kind shops, delicious casual and fine-dining restaurants, a famous farmer's market, and of course, shave ice! No visit to Hawai'i is complete without this unique treat.
Hale Naninoa features 5 bedrooms, 3 full baths, air-conditioning in the upper living area and a spacious tropical outdoor shower. With two separate indoor living areas plus the furnished lanai and super-fast wifi throughout, there's plenty of room to spread out and allow each family member to find their own "happy place".
Upstairs, the family will enjoy the spectacular views from the sliding glass doors leading to the oversized covered lanai. Here is a complete outdoor living area, with generous seating, gas grill and a deck bar for sunset mai tais in full view of the deep blue water of Hanalei Bay.
Downstairs may just be taken over by the youngest of the group for its fun party feel. It has a large seating area, 4K flat-screen TV, and a ping-pong table. Perfect for some friendly competition! In addition, this level has two bedrooms and one full bath.
Indoors, you'll find a traditional Hawaiian-style home, with white beadboard, vaulted ceilings, and ceiling fans in every room. Lots of windows bring in abundant natural light and spectacular views. The trade winds, ocean waters, and air-conditioned living space will keep you cool.
The large kitchen features stainless steel appliances, plenty of workspace on granite counters, quality chef's gear, lots of cabinets, and two full-sized refrigerators for all your goodies. Enjoy fresh tropical smoothies from your Vitamix!
The eat-in kitchen offers an expansive natural monkeypod table with seating for 12, and the living room has another large 4K flat-screen TV and comfortable seating. Down the hall are two bedrooms that share one full bath plus an en-suite master bedroom with a private balcony, all with jaw-dropping waterfall views.
Your family will also enjoy the use of boogie boards, surfboards, sand toys and other beach equipment stored in the garage, as well as two washers and two dryers for all those sandy beach clothes. Enjoy Hanalei town by bike! This property comes with 5 beach cruisers.
Hale Naninoa means "beautifully free." Relax on the lanai. Stroll on the soft beach. Cruise the bohemian town. Ride the perfect waves. Enjoy paradise on your own schedule. And be sure to be on the lookout when gentle sunshowers come -- they almost always invoke the famous Hawaiian double-rainbows!
With its lovely native decor, you will have a true Hawaiian experience at Hale Naninoa in beautiful Hanalei. We look forward to welcoming you home.
Hawaii Life Rentals is a locally owned, licensed real estate company with rentals on Kauai, Maui, Oahu, and Hawaii. We offer on-island personal assistance and Concierge services.
Rates do not include taxes, cleaning and applicable fees. Please note, Processing fees can be waived if paid by e-check when booked on our direct website.
Property tax ID: TA 043-833-1904-01
Property permit ID: TVNCU# 1026
TMK-55010031
24/7 Contact: Kahea 808-651-4440
Location:
96714
Hanalei
,
HI
United States
22° 12' 25.0488" N, 159° 29' 48.8292" W
Hawaii US