Business
Nearby ATM
Nearby Post Office
Nearby Internet Cafe
Nearby FedEx
Nearby Bank
Free long distance to US&Canada
$17/day Resort Fee
TAT 078-794-3424-01
GENERAL
Air Conditioning
Clothes Dryer
Elevator
Fitness Room / Equipment
Garage
Hair Dryer
Heating
Internet
Iron & Board
Linens Provided
Living Room
Parking
Telephone
Towels Provided
Washing Machine
Unit Code: HK214
LOCATION_TYPE
Beach View
Beachfront
Ocean View
Oceanfront
Resort
Water View
Waterfront
Leave a Review
[2]
Convenience
Area FitnessCenter
Nearby Medical Services
Nearby Grocery
Outlet Shopping
Movie Theatres
Golf Course
Near Foodland
2 minute walk to beach
Concierge
High Chair
Pack and Play
1Hr drive from airport
Great Unit for Toddler
Reviewed on 2018-04-13 by from Winnipeg, MB Canada
Updated on 2018-04-13
Services from rental manager
Cleanliness
Location
Property condition
This unit is perfect for a family with a toddler. The unit was stocked with a highchair and playpen as well as great beach towels and toys. This was our 3rd time staying at the Honua Kai and this unit was great! Very clean and well maintained unlike one of the other units we stayed in. We had no issues during our trip... aside from the lack of sun! Thanks for a great stay!
Perfect condo and location!
Reviewed on 2018-04-03 by

Casey S.

from Libertyville, IL United States

Updated on 2018-04-03

Services from rental manager

Cleanliness

Location

Property condition

The condo was exactly as pictured and was perfect in every way. The check in process was very efficient and the staff at the Honua Kai were very friendly. The furnishings in the condo were exactly as described. We will definitely be back.
Great Stay
Reviewed on 2018-03-28 by

Thomas D.

from Kenai, AK United States

Updated on 2018-03-28

Services from rental manager

Cleanliness

Location

Property condition

We are at the resort fairly late at night, but we were greater personally by Megan the proper mananger at the resort lobby. She was in contact with me right away off the plane to ensure our vacation started off right. She escorted us right to our room and showed up a few things and notified us that she is happy to help with anything during our stay. The room was exactly as described in the listing. It was appointed well with amenities including plenty of towels, dishes, coffee, etc. It even came with nice beach chairs and boogie boards. Overall the resort is very nice, only bummer was they're building a new resort right outside the room so enjoying the lanai wasn't really possible during week days due to construction noise. Overall I would definitely recommend the room and especially the customer service. Thanks for the great stay!
Great Family Vacation
Reviewed on 2018-03-28 by

Lawson B.

from North Vancouver, BC Canada

Updated on 2018-03-28

Services from rental manager

Cleanliness

Location

Property condition

This unit was perfect for us. It has a good sized kitchen and laundry which were useful when travelling with a 1.5 year old. The bed, linens, and bathroom were also very nice. <br/><br/>Only negative would be the construction outside the lanai which you probably know about when booking. We found the lanai not very useful because of the noise and dirt. <br/><br/>Overall a great experience. It was like staying in a 4 star hotel with all the amenities of your own condo. Felt like home for the week!
Excellent luxurious stay on the beautiful beaches of Hawaii.
Reviewed on 2018-03-28 by

John R.

from kirkland, WA United States

Updated on 2018-03-28

Services from rental manager

Cleanliness

Location

Property condition

Beautiful modern apartment with all of the amenities and right next to the beach, pool, and Dukes on the beach!
Home for a Week
Reviewed on 2018-03-28 by

Michelle S.

from Folsom, CA United States

Updated on 2018-03-28

Services from rental manager

Cleanliness

Location

Property condition

We had such a great time! Overall, we made lots of memories and having a beautiful, clean place to call home for the week with all the conveniences of home made our stay that much better and easier! The washer/dryer was VERY handy. There was some construction on the next lot over, but my little boys thought it was great to see all the dump trucks. In fact, every morning my husband would slide open the doors/wall to the lanai and my boys would watch the trucks and eat breakfast. The noise wasn't bothersome to us at all since we weren't in the room much except for meals and sleeping. My kids and my husband and I loved the pools! The boys went down the water slide more times than I could count! We took advantage of Dukes for dinner one night and we also used the barbeques by the pool. We loved how close we were to both pools and ocean. We brought snorkel gear and we all were amazed that we could go right out the back of the condo and snorkel. We saw sea urchins, eels, and lots of colorful fish (bring surf booties). The beach chairs and umbrella were nice to have too. All the staff were helpful and friendly and we took advantage of the photo session and free 8x10 (Melissa took our photos and she was great with my boys). Megan and Jeremy were also great to work with. They answered all my questions and treated us like family. In the welcome folder they had a list of their favorite things on the island and we took advantage of many of their personal recommendations. The location is also great! It's about 10 minutes from Lahaina. It was close enough to make it easy to see the Banyan tree, and eat at restaurants on Front St, but also far enough away where we didn't feel like we were with everyone in Maui. I felt very safe walking around the lobby and outside areas by myself and with my young children. There were LOTS of families and it was wonderful seeing folks spending time with one another. We will recommend this place to our friends and family.
Beautiful Condo, Horrible View
Reviewed on 2018-03-28 by from Littleton, CO United States
Updated on 2018-03-28
Services from rental manager
Cleanliness
Location
Property condition
We loved our stay at the Honua Kai, the hotel was beautiful and our condo was great. We felt mislead when we called ahead to prepare ourselves for the construction that made up the majority of our view off our balcony, we were told you could hardly see the construction. In fact we were greeted by construction most mornings and could see there is still many months remaining on the project across the way. I would stay here again, just be aware that the construction is very visible and audible from our condo.
We will definitely be back!
Reviewed on 2018-03-28 by from Santa Margarita, CA United States
Updated on 2018-03-28
Services from rental manager
Cleanliness
Location
Property condition
We've stayed at Honua Kai annually over the last 8 years. As always, this trip did not disappoint! Jeremy and his wife were both helpful and informative. They met us in the lobby upon arrival and showed us to the condo. It was clean and well stocked, a perfect home base for the week. We swam in the pools and the ocean right out front (saw amazing fish and the resident honu). We will definitely be back!
Wonderful Hawaiian Getaway
Reviewed on 2018-03-28 by

Callie T.

from Edmonds, WA United States

Updated on 2018-03-28

Services from rental manager

Cleanliness

Location

Property condition

The condo was very clean, and staff were especially helpful. Having a closet of beach activity supplies was a great touch! Location and pools on-site were also wonderful. Only complaint is that the pullout bed wasn't very comfortable. One of us just slept on the couch though which worked out fine. Definitely recommend!
Condo Hokulani
Reviewed on 2018-03-28 by from Wisconsin Rapids, WI United States
Updated on 2018-03-28
Services from rental manager
Cleanliness
Location
Property condition
Condo was nicely sized, but, not really a partial ocean view, more a mountain view. Patio was nice, kitchen had the basic necessities, bed was comfortable. There were a few items that needed attention in the condo, but nothing that needed to be fixed immediately, but should be addressed. The property itself was beautiful! nice to be located right on the boardwalk, the pools were nice, the grounds peaceful and pretty. The rental agent said they would check in with us after a couple of days to see how things were going, but we didn't hear from them. Overall, the stay at the property was nice. We would recommend this property to anyone. It was nice to have basic necessities, i.e. laundry soup; DW detergent; toilet paper in the condo when we arrived so we didn't have to make a trip to the grocery right away, however, the grocery was so close it was convenient to pick up items we needed. Would say that Duke's restaurant was a little overpriced except at happy hour, but there are many other places on Maui to check out. A car would be recommended, so much to see and do while here.
POOL_SPA
Communal Pool
Heated Pool
Hot Tub
OUTSIDE
Balcony
Deck / Patio
Golf
Outdoor Grill
Hawaii Life Presents "Kamalu" of Hokulani Partial Ocean View 1BR/1BA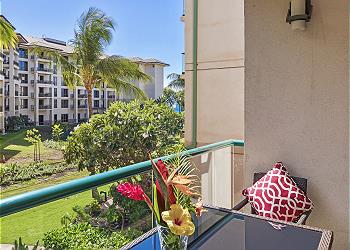 [3]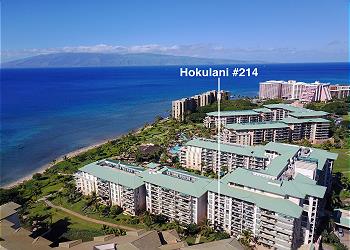 [4]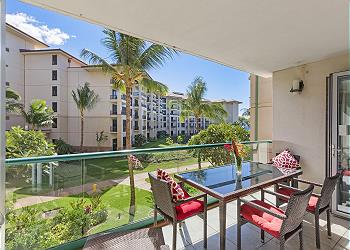 [5]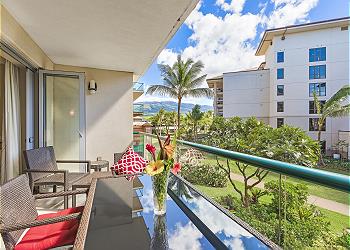 [6]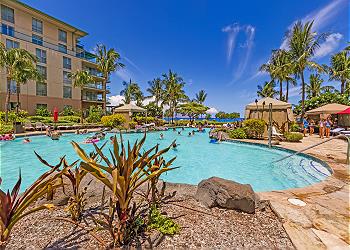 [7]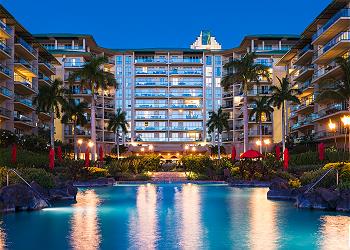 [8]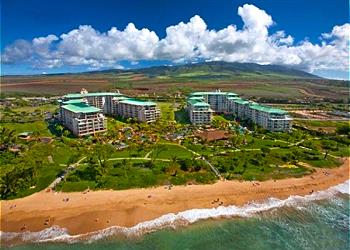 [9]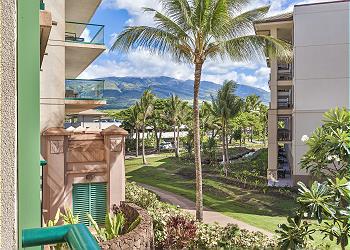 [10]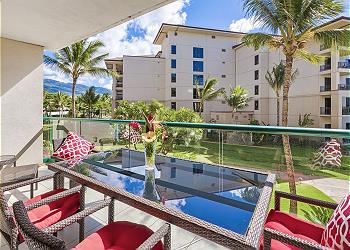 [11]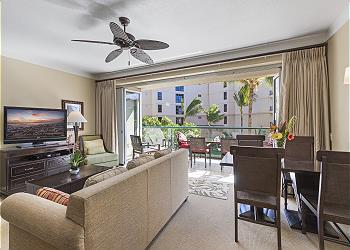 [12]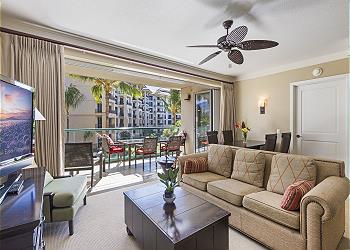 [13]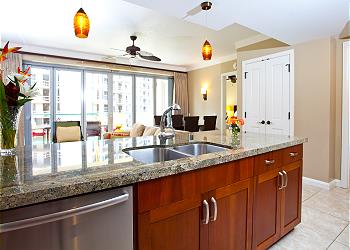 [14]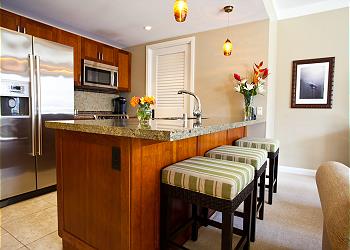 [15]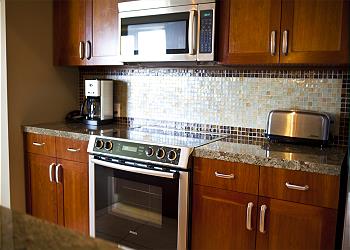 [16]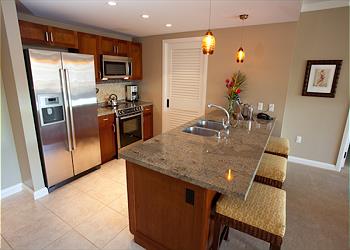 [17]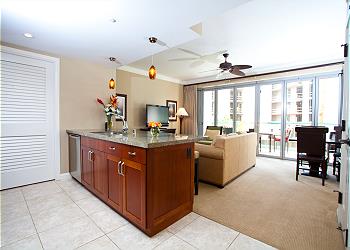 [18]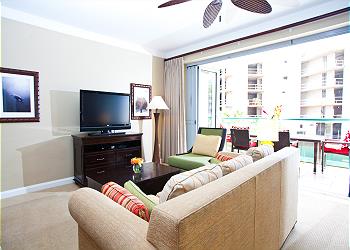 [19]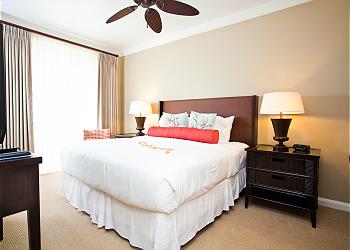 [20]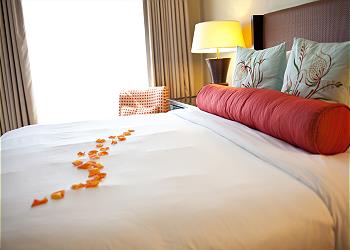 [21]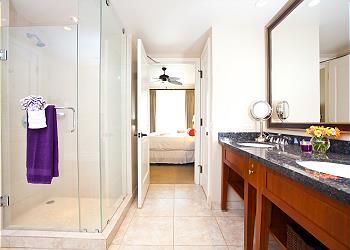 [22]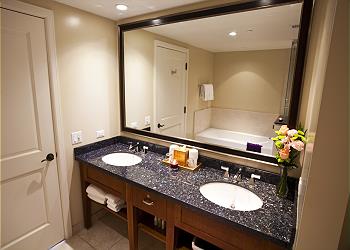 [23]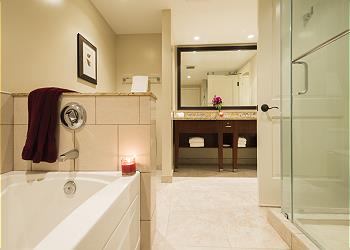 [24]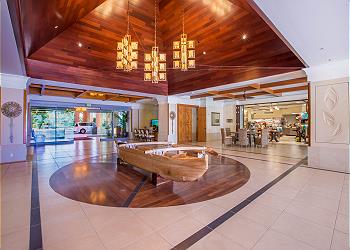 [25]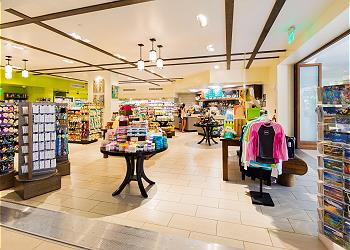 [26]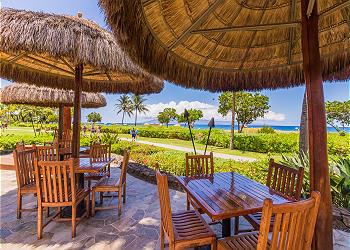 [27]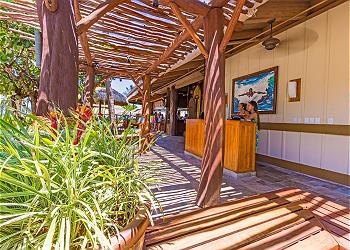 [28]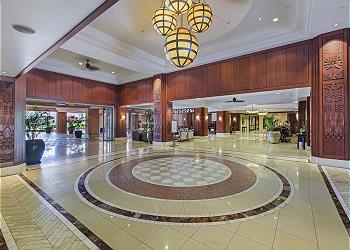 [29]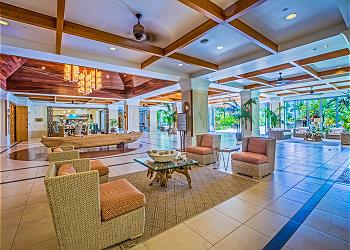 [30]
[31]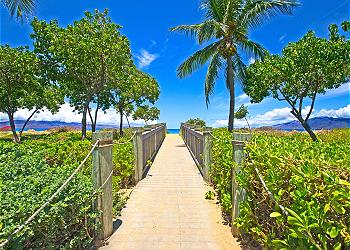 [32]
[33]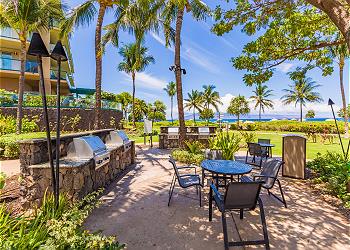 [34]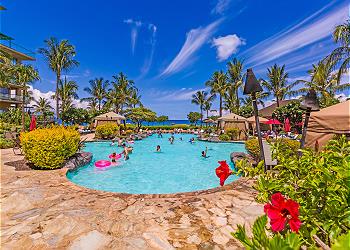 [35]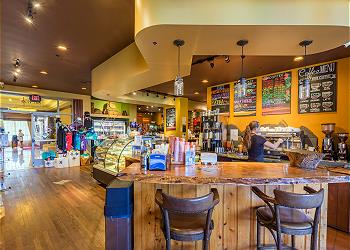 [36]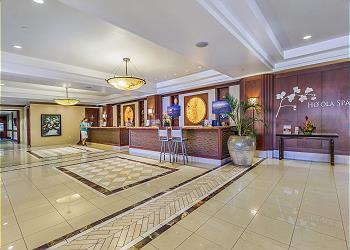 [37]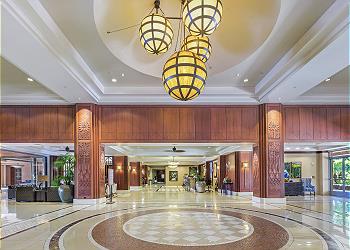 [38]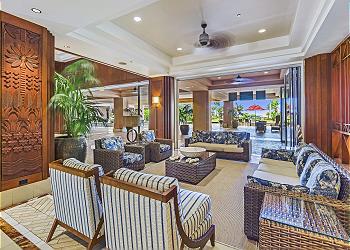 [39]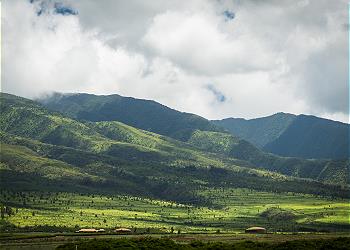 [40]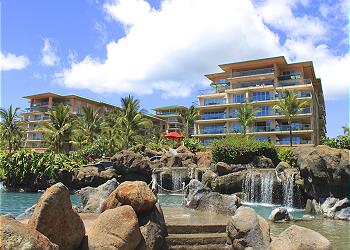 [41]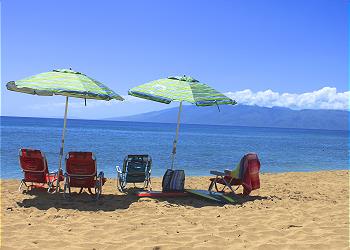 [42]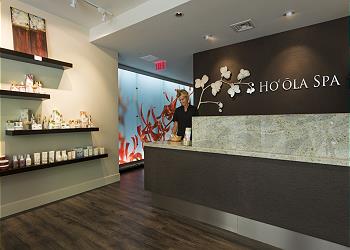 [43]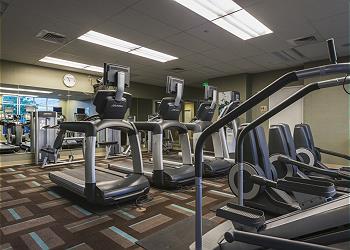 [44]
1 Bedroom
1 Bath
Air Conditioning
Beachfront
Hot Tub
Ocean View
Westin construction is now complete!
Hawaii Life Vacation Rentals presents "Kamalu" of our Reserve Collection- Residence Hokulani#214 is a one bedroom/one bathroom residence featuring beautiful West Maui mountain and peekaboo ocean views. Gather, relax, and celebrate where Conde Nast has just voted Honua Kai the #1 resort in West Maui, and the overall #3 resort in the entire state of Hawaii.
Many returning guests to Maui know that the golden Hawaiian sunlight can get pretty warm in the afternoon. This is one of the biggest perks in Hokulani 214 as you get the benefit of a shady lanai to retreat to. You also have the added benefit of protection from the wind that can affect units on the "wind tunnel" side of Honua Kai. This is why we named the unit "Kamalu" which in Hawaiian means "the protected one".
Looking for the ultimate value partial ocean view residence as part of our Reserve Collection at Honua Kai. What this means for you as our guest? An absolute commitment of the highest level of service offered by our team, a well equipped residence offering the comfort and convenience of your own home, and a property that will meet and hopefully exceed your expectations. We are very proud of all of our reviews and we firmly stand by all that we offer.
What we love about Hokulani #214:
Price- it will be very difficult to find a 700 sq.ft. one bedroom residence with a full kitchen and our excellent service for what we are offering
The partial ocean view is superior to what our photos show, the mountain views are breathaking, and the residence is full of natural light. You will have both seasonal sunset and whale watching directly from the lanai of this residence.
You also experience beautiful Maui sunrises coming from the eastern end of the island and gracing the lush West Maui mountains. This residence is well protected from the strong winds and hot afternoon sun that can be present at other units at the resort.
Refined granite slabs, cherry cabinets, Bosch stainless steel appliances, porecelain tile, and lots of room to operate while making your favorite fish ceviche, or whatever you desire, while never losing site of that priceless view.
Owners and guests alike at Honua Kai can't get enough of the open floor plans, which are further enhanced by a seamless transition between outdoor and indoor living area through the glass Nanna wall doors. This property will comfortably sleep four with a king bed in the master bedroom and a pull out sofa here in the living room.
The master suite has a very comfortable and large king bed, an adjoining bathroom suite with a walk-in shower, a soaking tub, and a large granite slab with two separate sinks.
Honua Kai is the preeminent resort in all of West Maui with its direct Hawaiian white sand beachfront location, newer construction (Konea tower completed in 2009) in West Maui, as well as pools and unmatched amenities. Honua Kai is at the center of all that West Maui has to offer- 5 star restaurants, championship golfing, and world class beaches with unmatched natural surroundings. With Honua Kai's convenient West Maui location you will not need to travel more than 20 minutes in any direction for a complete and memorable vacation experience.
Sold on Honua Kai, why book Hokulani #214?
1.Superior Location- this particular location is protected from the wind and harsh morning sun, and has beautifully contrasting mountain views with peak-a-boo ocean views.
2. Service with Aloha- we personally greet you at the resort when checking in and spend about 30 minutes taking you up to the room and acquaint you with the specifics of the unit, the Honua Kai property, and all that West Maui has to offer from a locals perspective.
3. Pride of Ownership- our owners and management team take great pride in preserving this property to be in "like new" condition. We adhere to strict standards of cleanliness and quality control.
TAT 078-794-3424-01
Location:
96761
Kaanapali
,
HI
United States
20° 56' 37.6872" N, 156° 41' 27.5424" W
Hawaii US