Business
Emergency # Kahea 808-651-4440
TA-103-804-3136-01
TVNCU 4202 SP-2012-6
Unit Code: Ikena
Leave a Review
[2]
Convenience
Nearby Medical Services
Nearby Grocery
Near Foodland
10 minute drive to Hanalei Bay
short walk to Kalihiwai Bay
Beautiful trip; Hawaii Life was helpful
Reviewed on 2018-03-28 by from San Francisco, CA United States
Updated on 2018-03-28
Services from rental manager
Cleanliness
Location
Property condition
We had a great time at a beautiful home. The team at Hawaii Life; Kahea in particular, really came through for us.
Schwartz Family
Reviewed on 2018-03-28 by

Robert S.

from kirkland, WA United States

Updated on 2018-03-28

Services from rental manager

Cleanliness

Location

Property condition

Great place for a family. Lots of rooms for personal space and large areas to meet as a group. Kids lived in the pool. Beaches and recreation not far from this location. Overall I would recommend this rental especially for large families.
Ikena Lani is right!
Reviewed on 2018-03-28 by

Jennifer B.

from Simi Valley, CA United States

Updated on 2018-03-28

Services from rental manager

Cleanliness

Location

Property condition

We had a fabulous time at this house! We had 10 adults and two kids and the house accommodated everyone perfectly. It was well stocked and the property manager responded promptly with any questions or concerns we had. Highly recommended!
Beautiful home
Reviewed on 2018-03-28 by

Amanda V.

from Westfield, IN United States

Updated on 2018-03-28

Services from rental manager

Cleanliness

Location

Property condition

We loved Ikena Lani. We traveled with two sets of grandparents, two small children, my husband and I, and one other couple. Plenty of space and privacy for each person. The guest house was an added bonus. The kitchen was well stocked with everything we needed as we preferred to cook each night. Lots of pool and beach toys for the kids and Anini Beach was just around the corner. Perfect beach location for our small children. The home was very clean and comfortable. Furnishings reminded me of the level we have in our home which was refreshing since so many rentals are a step down. My only complaints were that the ice machine wasn't working which was a bummer for the cooler at the beach, the TV's had some issues that were fixed, and the pool although we paid to heat it was never very warm. I think they just need to turn up the temp but didn't want to due to cost. We would stay here again and recommend it to anyone looking for a beautiful private get-away for family or several couples.
Ocean Views with Pool and Hot Tub, Koi Ponds and More!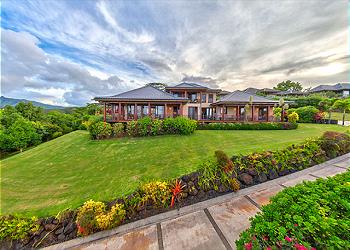 [3]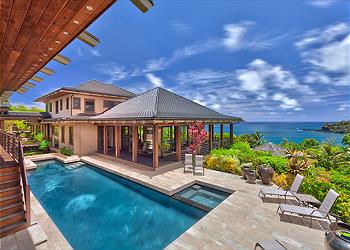 [4]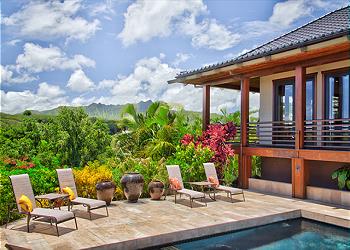 [5]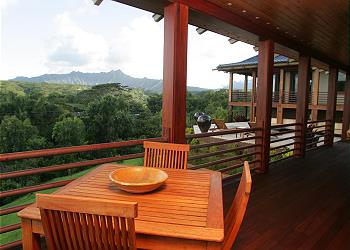 [6]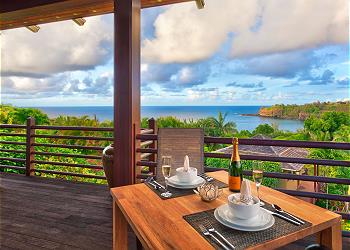 [7]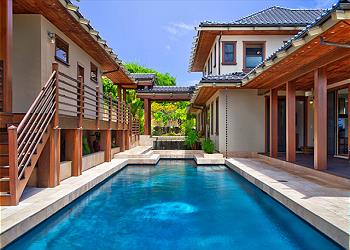 [8]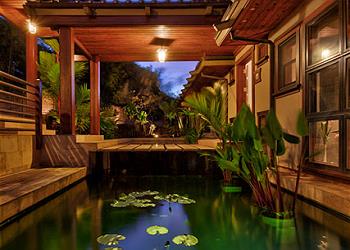 [9]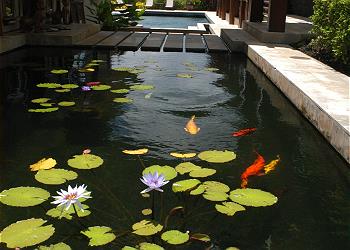 [10]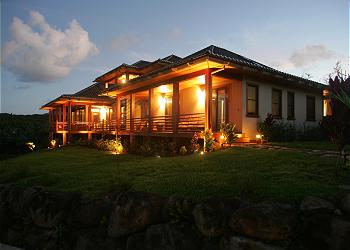 [11]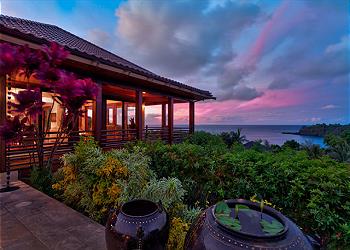 [12]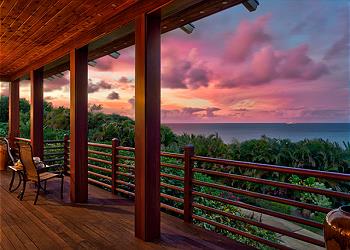 [13]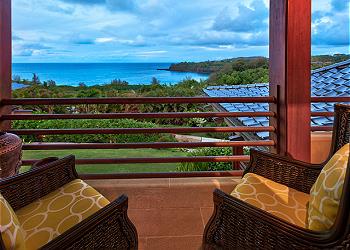 [14]
[15]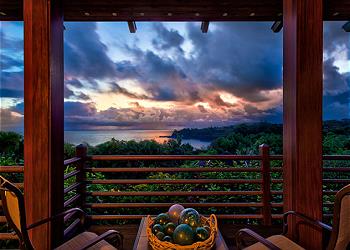 [16]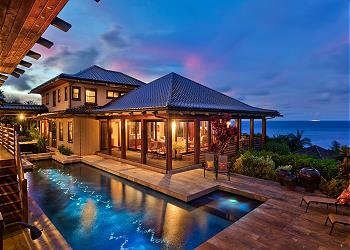 [17]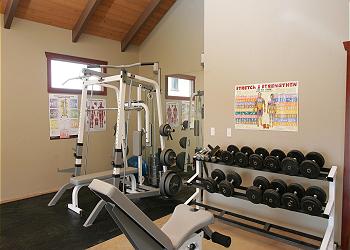 [18]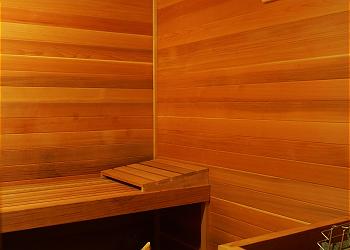 [19]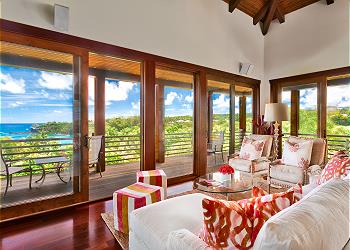 [20]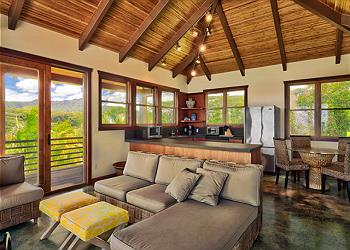 [21]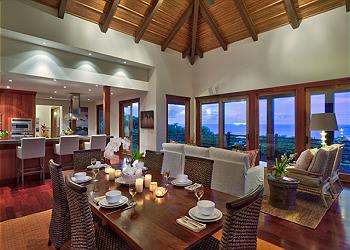 [22]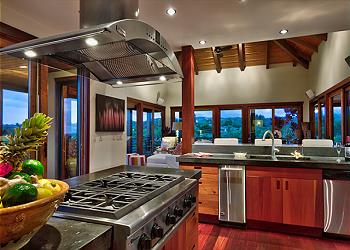 [23]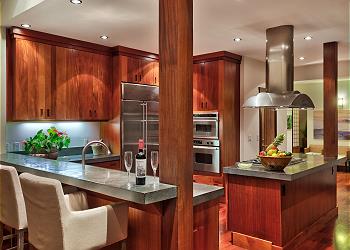 [24]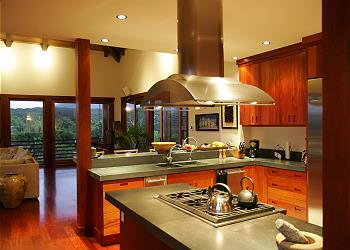 [25]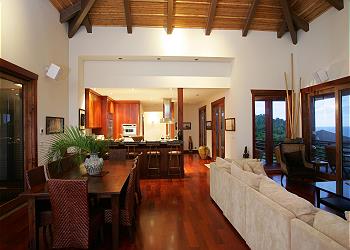 [26]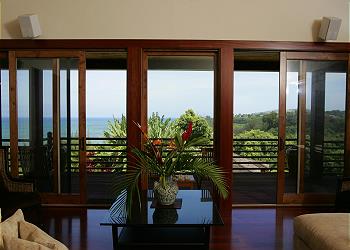 [27]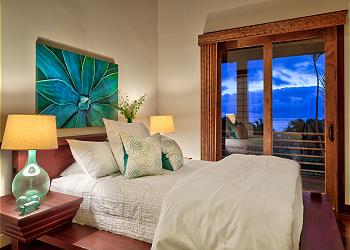 [28]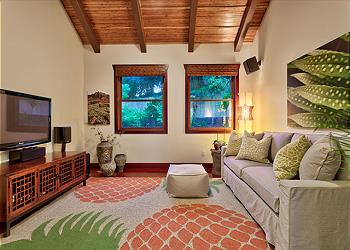 [29]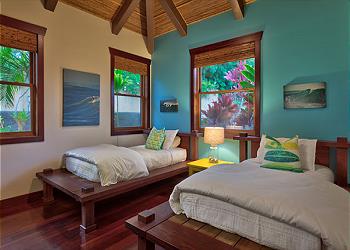 [30]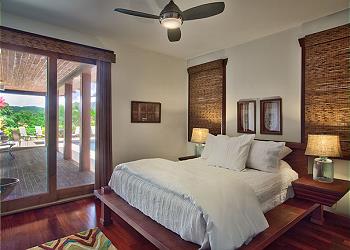 [31]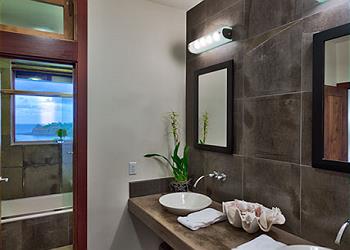 [32]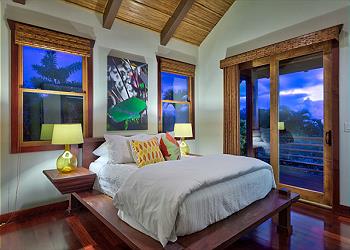 [33]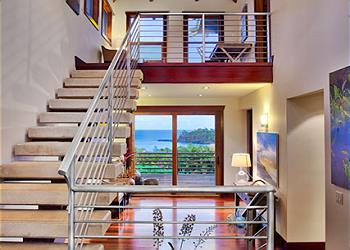 [34]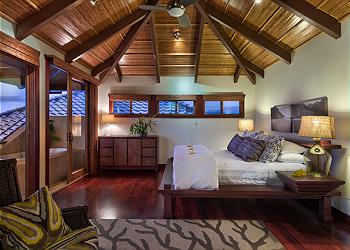 [35]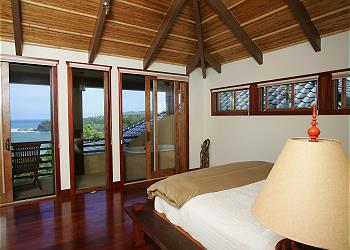 [36]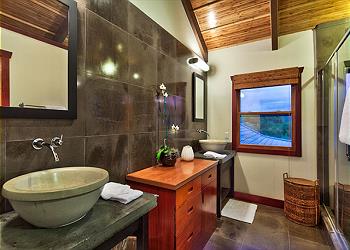 [37]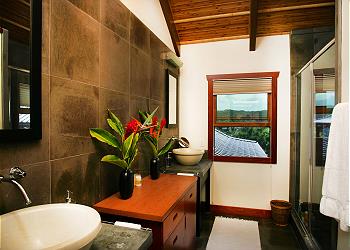 [38]
5 Bedrooms
5 Baths
Aloha and welcome to Ikena Lani, Hawaiian for "Heavenly View".
A spirit of peaceful tranquility, harmony, and balance awaits you at Ikena Lani. Designed by the award-winning firms EDI Architecture and Trio Design Group, this newer luxury Asian/Modern custom home is a luxurious island retreat - a serene and peaceful place to relax and enjoy the warm tradewinds and the heavenly ocean views. Many of the building materials, artifacts and furnishings were hand-picked and carefully transported from Asia. The home has spectacular ocean views of the Kalihiwai Bay and the ocean as well as unforgettable views of the Napali coast mountain range.
The house is 3,500 square feet with five bedrooms, a media room, and five bathrooms. The home features custom hardwood floors of pyinkado wood imported from Burma, custom concrete counters, and stone tile imported from Belgium and Saudi Arabia. Inside the front door, water flows down a custom waterfall into an interior pond. Beautiful custom-designed shoji doors separate the media room and one of the bedrooms from the rest of the house. The fully equipped gourmet kitchen includes stainless steel appliances and fixtures. A wrap around lanai overlooks the ocean and mountains.
Between the house and the gym/sauna/garage building, there is a black bottom swimming pool, a spa, beautiful koi ponds, and an outdoor shower.
Bedding: 1 King 4 Queens and set of twins.
TVNC 4202 TA-103-804-3136-01 After Hours Emergency phone number 808 651 4440
Location:
3250 Kalihiwai Road Unit C
96754
Anini
,
HI
United States
22° 12' 56.8476" N, 159° 26' 3.2064" W
Hawaii US