Business
Nearby ATM
Nearby Post Office
Nearby FedEx
Nearby Bank
Near Shops
Near Restaurants
Near Grocery store
TA-184-235-7248-01
LOCATION_TYPE
Beach View
Beachfront
Near The Ocean
Ocean View
Oceanfront
Water View
Waterfront
GENERAL
Elevator
Hair Dryer
Internet
Iron & Board
Linens Provided
Living Room
Parking
Telephone
Towels Provided
Unit Code: N403
OUTSIDE
Balcony
Golf
Lanai / Gazebo
Tennis
Leave a Review
[2]
Great Location - so convenient
Reviewed on 2019-12-20 by

Kathryn T.

from Leawood, KS US

Updated on 2019-12-20

Services from rental manager

Cleanliness

Location

Property condition

For the 4 of us, this condo was clean, roomy enough, and in a convenient location. If you like the sound of the waves crashing, crashing, crashing into shore, this is your place! There is no A/C here, but the temperature was very comfortable. We had to keep windows open though, so the sound of the waves is a constant. We saw a number of whales and sea turtles from our lanai. Great little farmer's market, snorkel rental shop, coffee shop and JAVA JAZZ restaurant – which became our daily b-fast place after the first try – right across the street. We were initially disappointed with the nearly empty Dial hand soap containers left at each sink, along with the obviously clogged shower drain, but Megan had those situations corrected the next day and all was good the rest of our stay. Plan to buy or bring your own shower supplies – they're not provided, except for a quarter-sized teaser bar of soap. This is a big deal since anyone vacationing there has to fly in from far away. I wish the soap, shampoo and conditioner had been provided. The kitchen is teeny, and is set up as well as possible. We cooked one b-fast there, but after finding Java Jazz we gave up on cooking altogether, which was great! Kitchen is great for mixing drinks and storing leftovers. There were both a Keurig and regular coffee maker. I've averse to K-pod waste, so we used the other. It is sloooooooow to brew. I mean like one-inch-of-coffee-in-the-pot-after-10-minutes slow. There were plenty of beach towels, sand chairs available for us to use, along with a roomy beach bag which we greatly appreciated. Overall, a nice, clean, convenient place. With a few little tweaks it could be even better!
A little piece of paradise!
Reviewed on 2019-12-20 by from Monroe, WA US
Updated on 2019-12-20
Services from rental manager
Cleanliness
Location
Property condition
Perfectly located and well appointed condo! Enough room for 6 adults to relax and take in the beautiful sunsets and waves! We look forward to visiting again!
great trip!
Reviewed on 2019-11-30 by from Portland, OR US
Updated on 2019-11-30
Services from rental manager
Cleanliness
Location
Property condition
Nice place, clean, great location. Went to sleep to the ocean every night. Watched the waves, saw turtles. Enjoyed the pool.
Pictures Deceiving!
Reviewed on 2019-10-22 by

Evelyn P.

from Yakima, WA US

Updated on 2019-10-22

Services from rental manager

Cleanliness

Location

Property condition

The condo needs serious cleaning. Even some of the dishes were dirty. Sofa and coffee table too large for such a small living area!
Amazing! Wonderful place!
Reviewed on 2019-09-19 by

Nathan L.

from Oshkosh, WI US

Updated on 2019-09-19

Services from rental manager

Cleanliness

Location

Property condition

The best communication from the owners that I've ever experienced with a vrbo or air b&b. They were very accommodating with getting us a pack and play for our little guy, they made sure we were able to get in ok, welcome text when we landed with further instructions. It was very appreciated! The view from the condo is stunning! Great pool. . . easy access to the ocean. We stayed at the end of August and it was hot. There were plenty of fans to keep the air moving in the condo and we were comfortable. If someone is heat adverse and your traveling during the summer it might get a bit warm for you with no AC, but we were fine and it was in the low 90's all week.
Exceeded expectations!
Reviewed on 2019-08-14 by

Bobby B.

from Nicholasville, KY United States

Updated on 2019-08-14

Services from rental manager

Cleanliness

Location

Property condition

Condo was clean, comfortable, and well laid out. Views from lanai were extraordinary! Turtle watching daily and of course those gorgeous sunsets. Kids loved the pool (directly below) and snorkeling off the beach. Five minute walk to beach park, coffee shop, local market, and even a food truck park. Very laid back, Maui style. Short drive to Maalaea Harbor for our morning trips to Molokini. Can't say enough about this excellent location away from the big resorts. Highly recommend.
Amazing!!
Reviewed on 2019-07-09 by from Eugene, OR United States
Updated on 2019-07-09
Services from rental manager
Cleanliness
Location
Property condition
We had such a wonderful time in Nohonani 403! Our views from the balcony were stunning. Sea turtles below everyday and incredible sunsets! Snorkeling from the quiet beach was also great. Close to grocery and great coffee. The memories will last a lifetime!
Nothing Else Compares
Reviewed on 2019-06-14 by from United States
Updated on 2019-06-14
Services from rental manager
Cleanliness
Location
Property condition
So close to the ocean, fantastic views, love the pool, environment feels calming, not so many people. Have stayed here about 10 times since 1997.
The Perfect Getaway
Reviewed on 2019-05-27 by

Tara M.

from San Diego, CA US

Updated on 2019-05-27

Services from rental manager

Cleanliness

Location

Property condition

The week we just spent at Nohonani 403 was nothing short of fantastic. We were a group of six, ranging from age 6 to 74, and the condo accommodated to all of our needs. Easy access to the elevator and a walk-in shower for my disabled step-mom, beach toys and quick pool access for my son, and everything in between. The unit was sparkling clean, beautifully decorated, and the view was absolutely breathtaking. My son named the sea turtles we would see from the lanai, and we loved being able to walk a few steps out to essentially our own private beach each day. Would 100% recommend this rental to anyone travelling to Maui.
Hawaii beauty
Reviewed on 2019-04-01 by

Melinda L.

from United States

Updated on 2019-04-01

Services from rental manager

Cleanliness

Location

Property condition

What a beautiful view!! Spectacular sunsets and great whale and turtle watching from the balcony. Great location for luau and shopping. It is a good 1 hour drive to START the road to Hana. I suggest stay overnight in Hana. Also a 3 hour drive to summit for sunrise. You have actual beach area behind condos which is rare. Would definitely return. Pack light. Strorage is an issue everywhere you stay.
Amazing Views!
Reviewed on 2019-03-13 by from Kiel, WI US
Updated on 2019-03-13
Services from rental manager
Cleanliness
Location
Property condition
The pictures are beautiful, pretty much what you see is what you get but being there is even better! We had daily whale sightings from our lanai and even from the master suite upstairs in BED! Incredible loved everything about it! Sea turtles made daily appearances as well in the shallow water spotted them from the lanai as well. The location is within walking distance of shops, markets and restaurants. Its got the island feel not as crowded of an area as some towns in Maui. I felt so relaxed. Had the beach mostly to ourselves. Paradise. We will definitely be going back. We had an SUV and it got pretty tight when we had to park, the stalls are small. We had 3 couples it was nice they all got their own rooms. There's no AC but we never needed it as the winds were constant coming from the ocean. We went the first week in march. I'd buy this place if it ever comes up for sale.
A whale watchers delight
Reviewed on 2019-03-09 by from United States
Updated on 2019-03-09
Services from rental manager
Cleanliness
Location
Property condition
Our place was perfect for a multi-generational family holiday. Two huge bedrooms with king size beds and another bedroom with two singles. All bedrooms overlooking the water. Two bathrooms added to the convenience. The deck was in constant use for spotting sea turtles below and whales further out. The unit's windows and deck also looked west so the sunsets didn't disappoint with the islands of Lanai and Molokai in the field of view. Being a corner unit on the top floor (4th) the sound of the wind and crashing waves may keep some from sleeping soundly while others relish it. Access was easy via stairs or elevator. The beach was stoney in places with rock reefs. Sand filled the spaces in between so swimming was okay. The pool on the property was available if you didn't want to wade through the surf. Various equipment was available for swimming and surfing. People were friendly and it was a relaxing place to be. It is close to different amenities so you can walk to stores, parks, and church. A pay washer and dryer are available on the main floor. We had a wonderful stay at 403 Nohonani.
Great place for family vacation!
Reviewed on 2019-02-25 by from United States
Updated on 2019-02-25
Services from rental manager
Cleanliness
Location
Property condition
The views were spectacular and they weren't kidding that we'd see turtles and whales! The condo had enough space for 5 adults to easily stay together and still have their own space. The beach is rocky and swim shoes are a must. Sandy beaches are just a short drive away. Easy walk to coffee shop and a small grocery.
Great location
Reviewed on 2019-01-07 by from United States
Updated on 2019-01-07
Services from rental manager
Cleanliness
Location
Property condition
Outstanding location right on water, just north of Kaanapali resorts. Very well stocked kitchen great for cooking, and nice lanai with room for 5 or so to eat. Please was worn, though, and rental staff was quite unresponsive. And 3rd bedroom is small, a bit stuff, and only has a partial wall.
Perfect vacation with Grand Childern
Reviewed on 2018-12-23 by

Patricia and Roger A.

from United States

Updated on 2018-12-23

Services from rental manager

Cleanliness

Location

Property condition

Condo was great for family, we enjoyed the pool, ocean and the turtles to. Our grand children never were bored loved everyday waking up in paradises did we. Location is safe and close to every thing the island offers but far enough away from a big city its very relaxing<br/><br/>Thank you <br/>Roger
Convenience
Nearby Grocery
Outlet Shopping
Movie Theatres
Golf Course
Nearby Tennis
Oceanfront
Oceanfront pool
3BR/2BA Stunning Ocean Views From Every Room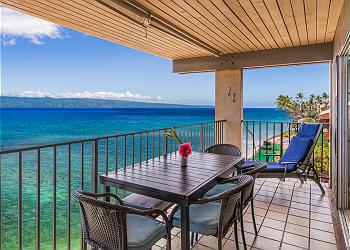 [3]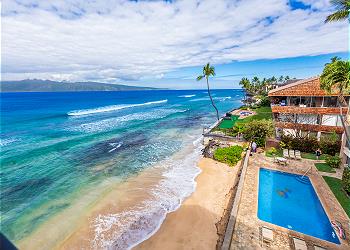 [4]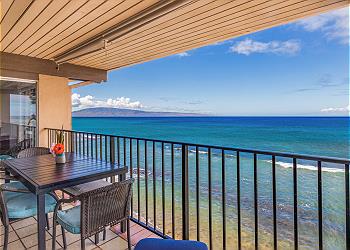 [5]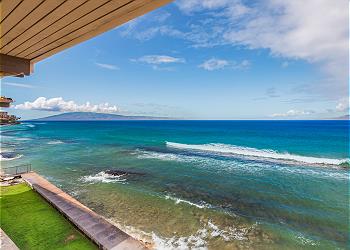 [6]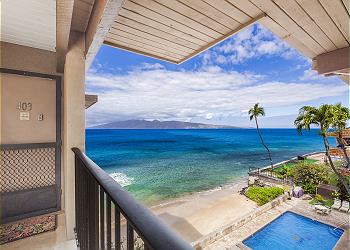 [7]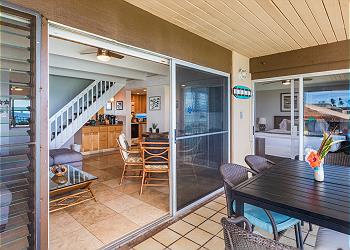 [8]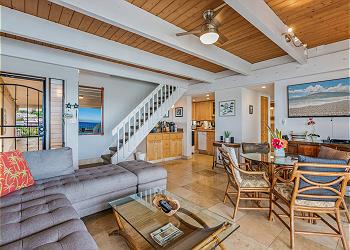 [9]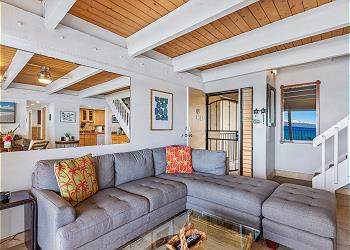 [10]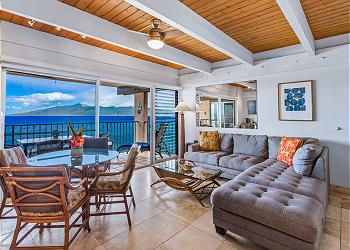 [11]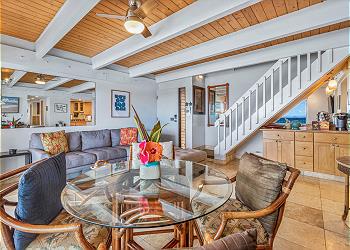 [12]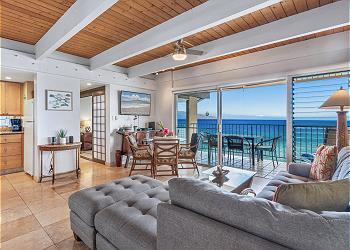 [13]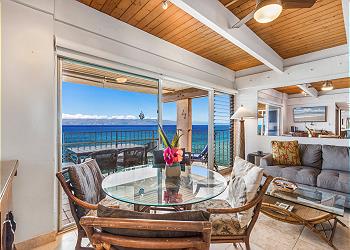 [14]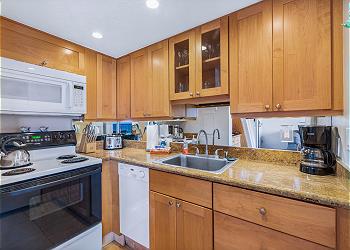 [15]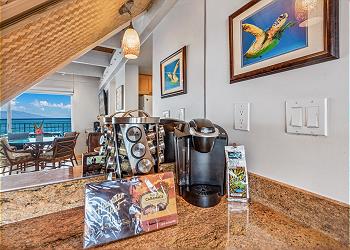 [16]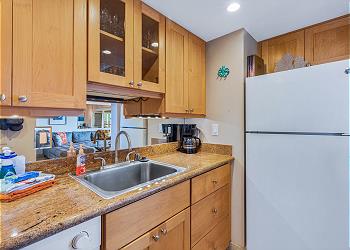 [17]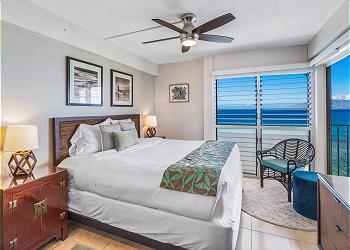 [18]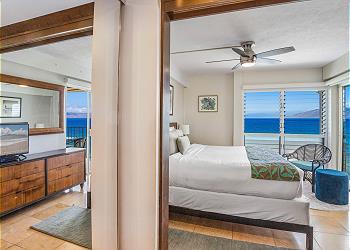 [19]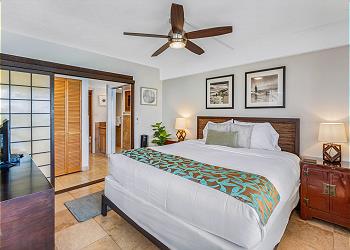 [20]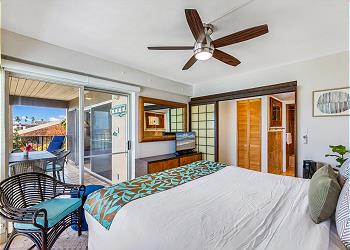 [21]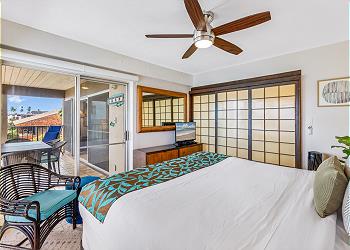 [22]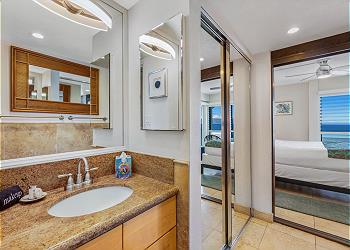 [23]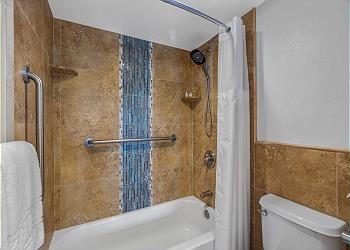 [24]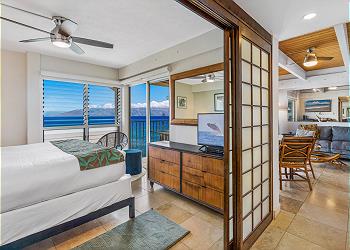 [25]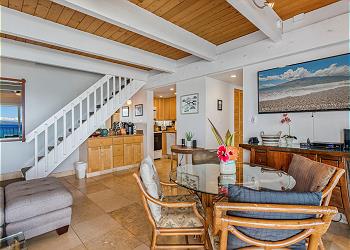 [26]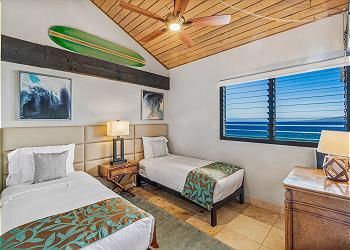 [27]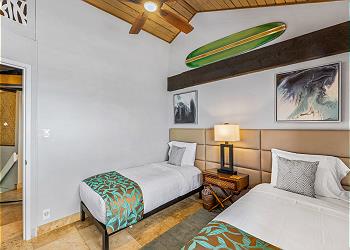 [28]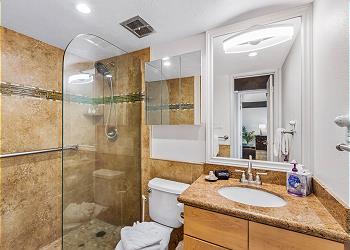 [29]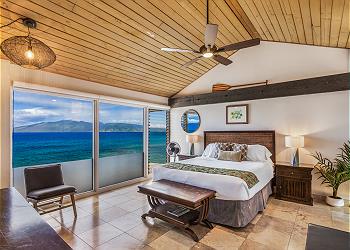 [30]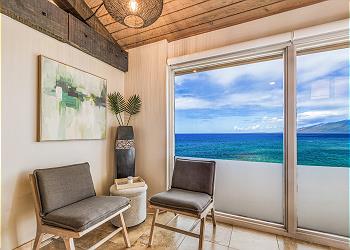 [31]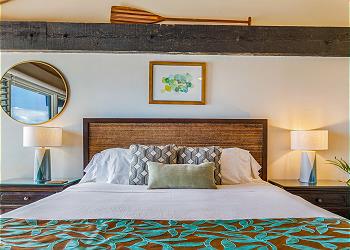 [32]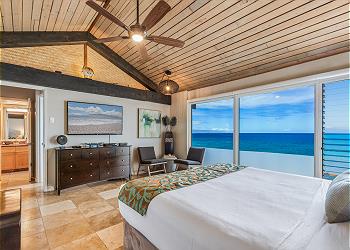 [33]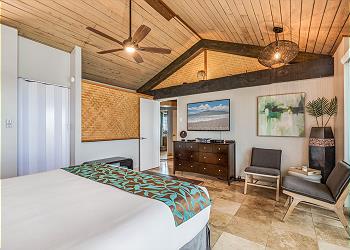 [34]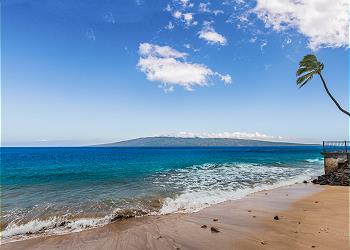 [35]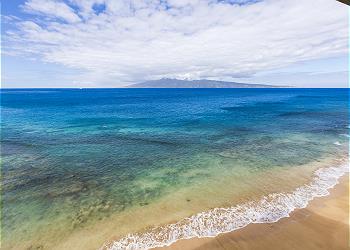 [36]
[37]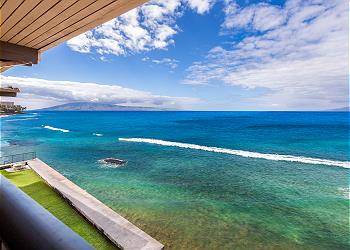 [38]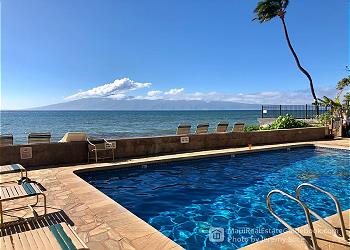 [39]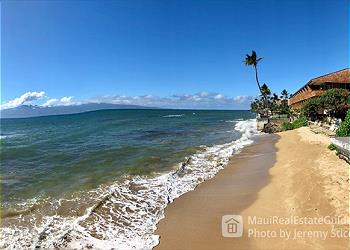 [40]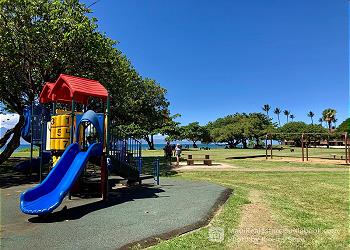 [41]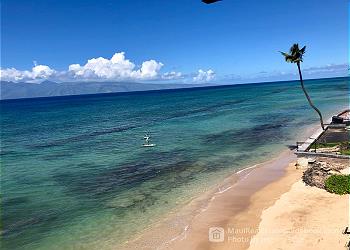 [42]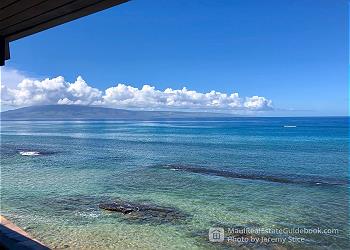 [43]
3 Bedrooms
2 Baths
Beachfront
Ocean View
Pool
Relax and do nothing, or pack your schedule with activities. Nohonani 403 is centrally located on the west side of Maui close to a wide variety of restaurants, beaches, activities, and beautiful sites.
Be among the first guests to stay in our recently purchased and updated 3 bedroom, 2 bathroom top floor unit. The views are phenomenal from every room in this two story corner unit! There is absolutely nothing between you and the rhythmic waves of the beautiful Pacific Ocean, less than 40 feet away.
Since this is a top floor corner unit, it is very private…you won't ever feel like you have neighbors. Sip drinks on your private lanai while watching the sea turtles on the beach below and taking in the fabulous year-round Maui sunsets with views of both Lanai and Molokai. Or during the winter months, enjoy front row seating for whale watching.
Nohanani is located in the heart of Honokowai which lies between Kaanapali to the south and Kapalua to the north. Nohonani is small and quiet ocean front resort near many top beaches and attractions and walking distance to many shops and restaurants. The historic town of Lahaina (6 miles away) provides a fun afternoon jaunt.
There is a full service grocery store in Honokowai, several small restaurants, shops, a fantastic Farmer's Market, and a great new food truck station within walking distance. Nestled between the resort areas, you'll have access to world class golfing and dining. More incredible beaches are just a few minutes away.
Nohonani offers a heated ocean front pool and a BBQ area. You also have direct access to a private white sandy beach (which is uncommon for condos on the west side), excellent for snorkeling (bring your water shoes) and swimming with turtles. There are no resort or parking fees.
LIVING AREAS
In the living room, take in the stunning ocean view from the couch or dining room table, or watch the 40" flat screen TV, complete with complimentary cable.
KITCHEN & DINING
The well-equipped kitchen is outfitted with granite countertops and all-white appliances. Helpful gadgets include coffee maker, blender and toaster.
BEDROOMS & BATHS
This two-story condo sleeps six total between three bedrooms.
Master 1 (KING) - The downstairs master bedroom offers a king-size bed, flat screen TV, and a sliding door to the lanai. A nearby bathroom includes a bathtub and shower.
Master 2 (KING) - The upstairs master bedroom also has a king-size bed, flat screen TV and a wall of windows overlooking the pacific ocean.
Guest Room (KING or TWINS) - An additional upstairs guest room can be configured with a king-size bed or two twins. Just let us know how you would like the beds configured at least one week prior to your arrival. If not specified King bed will be set up.
The upstairs bathroom includes a walk-in shower and both bathrooms include grab bars.
OUTDOOR AREA
Accessible from both the living room and downstairs master, the lanai provides a breathtaking ocean view. Watch the sunset from the lounge chair, and enjoy al fresco meals on the patio table.
EXTRA AMENITIES & MORE DETAILS
This rental includes complimentary Wi-Fi and unassigned parking for one vehicle. The unit is accessible via either stairs or elevator. Guests enjoy access to the complex's swimming pool, communal grilling area, and private beach. Beach chairs, boogie boards, beach towels, and an umbrella are also available in the unit for guest use. The complex offers on-site laundry facilities.
Although this condo is not equipped with air conditioning, it's rarely needed with Hawaii's lovely trade winds. Ceiling fans and wonderful ocean breezes cool this home.
Management
This property is professionally managed by Hawaii Life Vacations powered by Hawaii Life Real Estate Brokers (see their hit show on HGTV). The manager was born and raised on the island and he and his wife live 5 minutes away from the resort. They will be there to personally greet you and ensure you have a stress free and incredible vacation experience.
TA-184-235-7248-01
Location:
3723 Lower Honoapiilani Road
96761
Lahaina
,
HI
United States
20° 57' 23.1984" N, 156° 41' 8.9412" W
Hawaii US