Unit Code: PP102
Leave a Review
[2]
Lovely Stay at Poipu Palms #102
Reviewed on 2020-03-04 by from Gig Harbor, WA Unknown
Updated on 2020-03-04
Services from rental manager
Cleanliness
Location
Property condition
Pre-stay communication was good, condo was clean and ready, Holly very generously provided us with her personal rice cooker (Mahalo), the location was perfect for exploring the Island, the view was captivating, kitchen was well-appointed: a great stay!
Thank you for your 5 star review we appriciate it! We are happy to hear you enjoyed your stay..
Last Leg of our 2 week adventure in Hawaii
Reviewed on 2019-12-23 by

Stephen J.

from Union, MI US

Updated on 2019-12-23

Services from rental manager

Cleanliness

Location

Property condition

Poipu Palms was the perfect ending to a 15 day adventure in Hawaii. We spent 4 nights, the location was perfect to access Poipu Beach where my wife fell in love with Hawiian Monk Seals and Green Sea Turtles who beached themselves daily while we snorkeled. From the pool deck we could watch whales and dolphins along with sea turtles navigating the rugged coast while feeding. Condo was very clean, easy access with no stairs , and we witnessed the most beautiful sunsets at the very southern tip of southern Kauai island. Other places to check out, Shipwrecks beach , Gillin's Beach, Garden Island Grille with great music and small town feel, and a must see Waimea Canyon drive!

We are so happy you had a wonderful stay and enjoyed the sea life and sunsets.
We hope you come and visit us on a return trip to the islands.
We greatly appreciate your review as well.
Awesome condo on the ocean
Reviewed on 2019-12-04 by from New Orleans , LA US
Updated on 2019-12-04
Services from rental manager
Cleanliness
Location
Property condition
Great condo with ocean views! Fully stocked kitchen. Clean and comfy. No central AC. Cool trails nearby.
We are so happy you had a wonderful stay and enjoyed the views ! We greatly appreciate your review as well.  

Sweet oceanfront property!
Reviewed on 2019-11-17 by

John B.

from FEDERAL WAY, WA US

Updated on 2019-11-17

Services from rental manager

Cleanliness

Location

Property condition

We loved Po'ipu Palms 102! We did not expect to stay there but because of an issue with our first booked property, Holly, the property manager moved us here. Thank you, Holly! Location was awesome - we could hear and see the ocean and it was an easy walk to Brennecke and Po'ipu Beaches. In addition to the condo lanai, there was a large deck with tables and chairs and bbq facilities. A few steps down was the pool right above the ocean, with comfy lounge chairs, both in the sun and shade. Spectacular! <br/><br/>The furnishings in the condo had a mid-century modern vibe which really appealed to us. <br/><br/>If you wanted a lot of privacy in the master bedroom, that might be tricky because of the sliding shoji screens separating the bedroom from the living room. In our case, it was fine - we could hear the ocean that way and it was perfect.<br/><br/>Property was clean and well-appointed. We loved the beach towels provided - turkish cotton that doesn't retain sand and can be used like a pareo, as well!<br/><br/>We would certainly recommend this property! And we highly recommend Holly for property management.

We are so happy to hear that you enjoyed the Poipu Palms and that our excellent manager Holly was able to relocate you there.
We greatly appreciate your review as well!
The Good The Bad and the Beautiful
Reviewed on 2019-05-03 by

Ronald B.

from Carson City, NV US

Updated on 2019-05-03

Services from rental manager

Cleanliness

Location

Property condition

I would 100% recommend this rental to anyone surfing the internet trying to figure out if this is a nice place. The property is clean and well maintained. I was impressed with the gardens and landscaping. Everything was clean with no signs of bugs or rodents. The unit I stayed is was beautifully furnished and supplied household supplies. The location is fabulous! I have only two minor complaints. The swimming pool is small with no shallow end. This pool is really just for looks and not really to spend the day around to enjoy. The other bad thing is that it is very difficult to contact the management company. Their phone voicemail "mailboxes" were constantly full and unable to receive messages. No way to leave a voice message. With nobody on site for issues and problems, this was frustrating.(There were minor problems that needed immediate attention) Once I was able to get a hold of property management, they were kind and responsive.

We are sorry you were not able to contact us by phone easily we are always available by e-mail . We are glad you enjoyed the condo and we greatly appreciate your review as well
Poipu Palms #102 Oceanfront, pool, and near to sandy beach!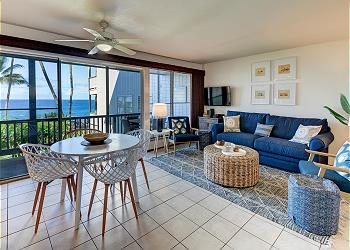 [3]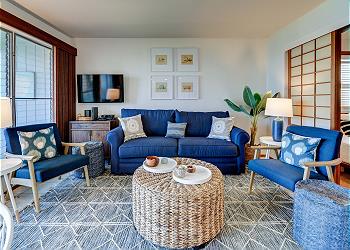 [4]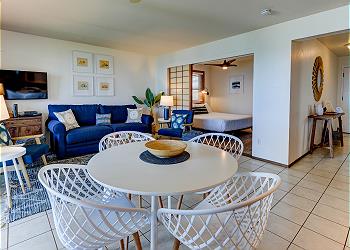 [5]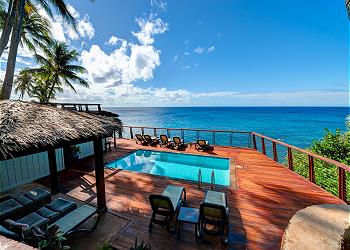 [6]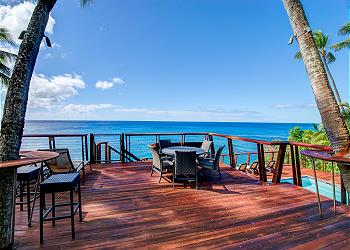 [7]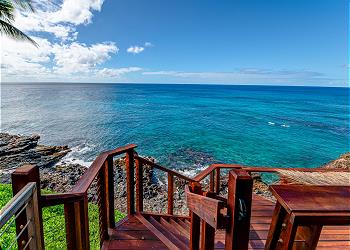 [8]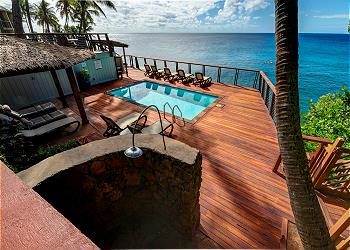 [9]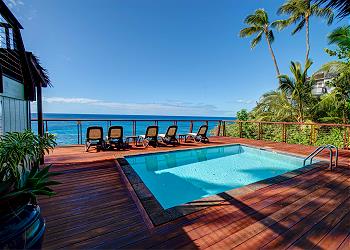 [10]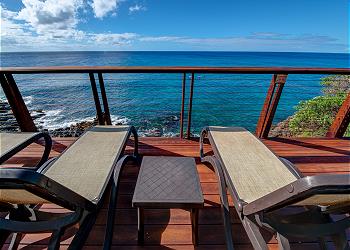 [11]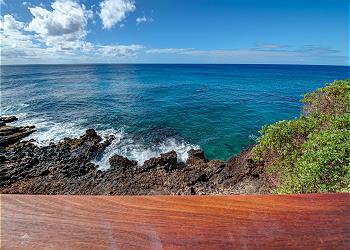 [12]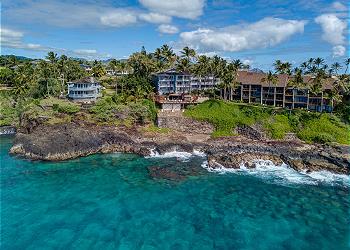 [13]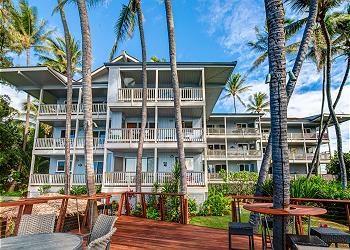 [14]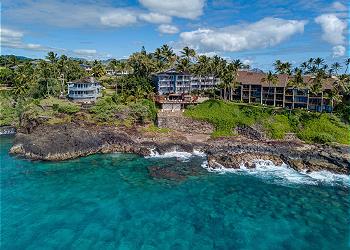 [15]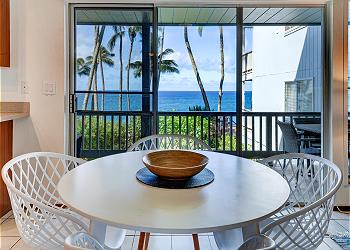 [16]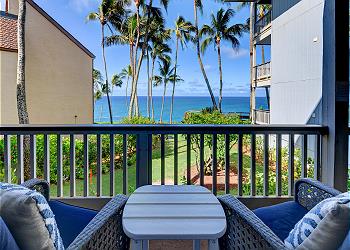 [17]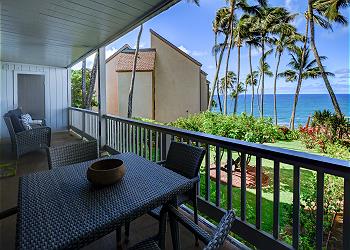 [18]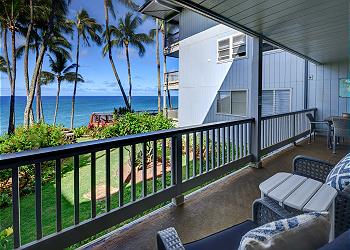 [19]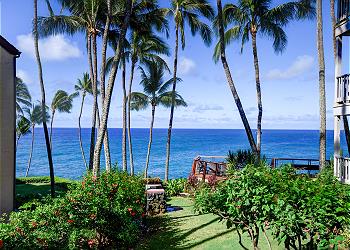 [20]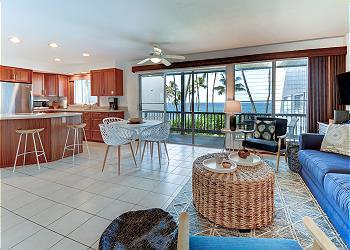 [21]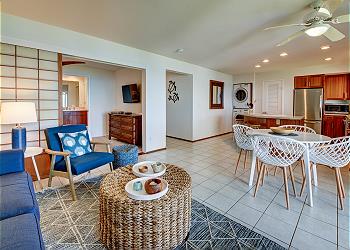 [22]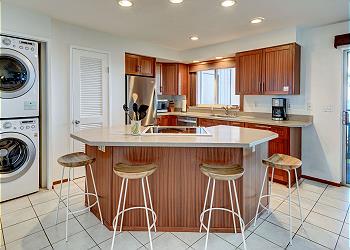 [23]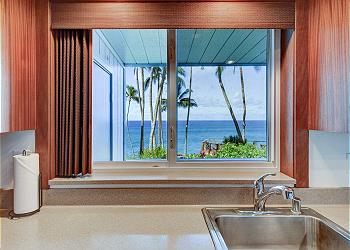 [24]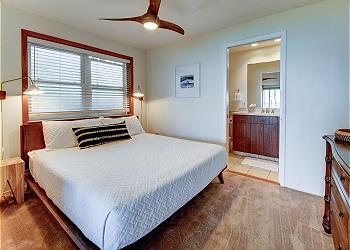 [25]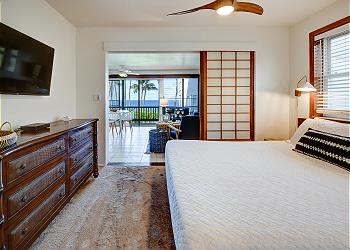 [26]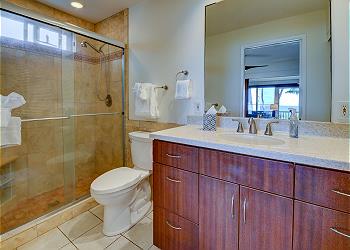 [27]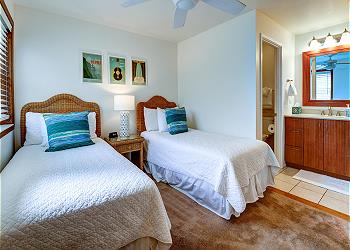 [28]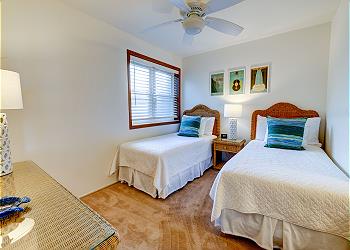 [29]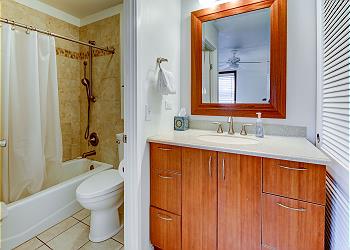 [30]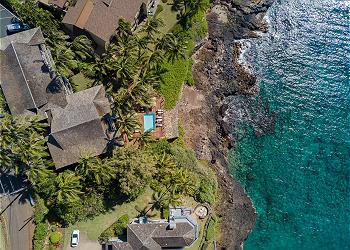 [31]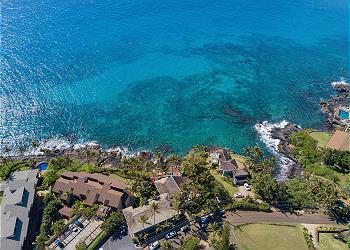 [32]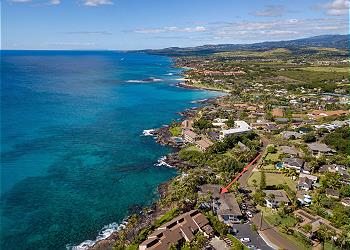 [33]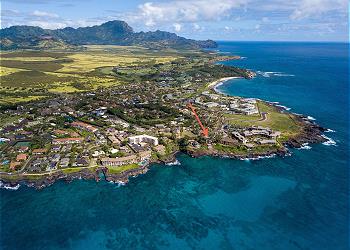 [34]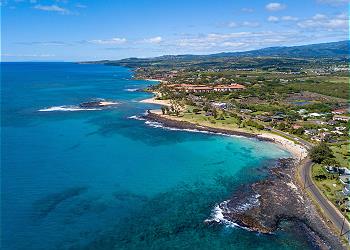 [35]
2 Bedrooms
2 Baths
Part of the intimate Poipu Palms condo community, this tropical property stuns with incredible ocean views. Out on the private lanai, gather with your ohana to sip on a cool drink and let the ocean breezes lull you into complete relaxation mode.
Whip up meals in the fully-equipped kitchen with the stainless-steel Kenmore Elite appliances. The open, practical layout allows the cook to move around with ease and still be part of the action.
Open the doors to the lanai and let the outside into the cozy living room. Lounge on the L-shaped sectional as you flip through the channels on the 42" flat-screen, top-of-the-line TV with cable. Gather around the glass-top dining table for family game nights, with the ocean as your backdrop.
Dream of the next day's tropical fun in the master bedroom's king bed, outfitted with sumptuous linens and bedding. Black-out shades let you enjoy valuable extra sleep. In the flexible guest room, two twin beds can be converted to a king bed. Both bathrooms are outfitted with Italian marble for an added touch of class.
Poipu Palms is located on Kauai's beautiful South Shore. Perched on the edge of the magnificent Poipu coastline, this intimate resort is home to just twelve oceanfront Kauai condos and features stunning views as well as a dramatic coastline swimming pool, sundeck and BBQ. Awaken to the sounds of the sea, watch sea turtles, dolphins and seasonal whales from your lanai, and enjoy spectacular Kauai sunsets, tropical breezes -- all from the comfort of your Kauai vacation home. World famous Poipu Beach and Brennecke's Beach are just a five-minute walk from Poipu Palms.
This award winning tropical playground offers snorkeling, body boarding, surfing, picnicking, swimming and relaxing all year round in sunny Poipu. Poipu Beach also has a large grassy park with children's play area, showers, bathrooms, restaurants and shopping.
TA-083-993-2928-01
Location:
96756
Koloa
,
HI
United States
21° 52' 12.6984" N, 159° 26' 44.9736" W
Hawaii US