Business
24/7 Contact Kahea 808-651-4440
TA-108-876-6976-01
Unit Code: Pualele
Leave a Review
[2]
A terrific stay @ Kohala Ranch
Reviewed on 2020-01-09 by from Palo Alto, CA United States
Updated on 2020-01-09
Services from rental manager
Cleanliness
Location
Property condition
We enjoyed the spacious accommodations and gorgeous view. The house is impeccably furnished and has terrific light and views--the pictures do not do it justice. While Kohala Ranch is a 20+ drive from the nearest town and 10 minutes from the nearest beach, the setting is beautiful, relaxing and quiet. We relished the privacy and quiet. And the property manager was extremely responsive and helpful.
We are so happy you had a wonderful stay and enjoy the location and comfort of the home !We hope to see you again in the near future.
We greatly appreciate your review as well.  

Will never rent again
Reviewed on 2019-12-20 by

Jennifer R.

from vancouver, wa United States

Updated on 2019-12-20

Services from rental manager

Cleanliness

Location

Property condition

Location was great however the house was not clean when we arrived and the kitchen and bathrooms were covered in ants. It also took 3 days to get the lights outside to work. We had 24 hours of no wifi. Unfortunately the list goes on and on with all the problems we had. The biggest issue we had was on one of the evenings the kids were out swimming and we were bbq'ing and I was getting calls that we were to loud. It's a large multi family property and we have kids. We had to make the kids get out of the pool and go inside. Will never book this properly again.
Great place for a mid-size group. Lots of privacy.
Reviewed on 2019-10-28 by

Eldon V.

from Olympia, WA US

Updated on 2019-10-28

Services from rental manager

Cleanliness

Location

Property condition

Great lay-out, great view. We had 6 different parties and everyone had their own private space with excellent group space inside and out. But bring your bug spray. When we were there, lots of mosquitos. Everything else was great.

We are so happy you had a wonderful stay, and enjoyed our home !
Bug spray is always a good idea on the island on the tropical side.
We greatly appreciate your review as well.  

Our First Hawaii Vacation
Reviewed on 2019-10-25 by from Indianapolis, IN US
Updated on 2019-10-25
Services from rental manager
Cleanliness
Location
Property condition
This beautiful property can house 12 adults we had 11 with our vacation party. Plenty of space provided extra amenities and beautiful scenery that was priceless. The manager of the property, Lisa, was excellent, answered all questions provided her assistance, very professional. This property is not closed to most things (food/stores) are an hour to a 1/2 an hour away. The only complaint the group had was the cleaning crew could have done a better job with cleaning, which were very little minor things. I would recommend that this property to a family or a large group very beautiful.
We are so happy you had a wonderful stay , and enjoyed the comforts for a large group!
Lisa is amazing and wants to make sure all guests are comfortable and taken care of during their stay.
We greatly appreciate your review as well.  

Hawaii in July 2019
Reviewed on 2019-08-19 by from Canton, OH United States
Updated on 2019-08-19
Services from rental manager
Cleanliness
Location
Property condition
Beautiful rental, very comfortable and clean. Our experience with the property manager was very good - she was willing to help in every way.<br/>Great place for a family vacation
We are so happy to hear you and your family enjoyed your stay at our home!
We appreciate your review as well.
Awesome Property and Wonderful Week
Reviewed on 2019-07-19 by

Scott & Lisa G.

from Rancho Cucamonga, CA United States

Updated on 2019-07-19

Services from rental manager

Cleanliness

Location

Property condition

This was the perfect property for our family. We had 10 adults (4 couples, 2 singles) and 2 children. We could not have asked for anything more. Our only regret was not planning our stay for a longer time. When we walked into the house, we all felt like we were home. The house is so welcoming and inviting. The view looking out over the pool and beyond to the ocean was breathtaking and the nightly sunsets were amazing. The kitchen is well equipped with all the pots,pans and utensils to prepare all our meals. Each room had its own a/c unit(which worked amazingly) and its own in-suite bathroom. The 2 Ohana's(villas) worked out perfect for the 2 families that have young children. My husband and I stayed in the apartment above the garage which was perfect. All the beds were super comfy. There were plenty of linens and pool towels. We would not hesitate to return to this property and we will definitely be recommending it to our family and friends. Thank you to Lisa P. at Hawaii Life Vacations for welcoming us to this property and also to the family that owns this property for making your home available to others to enjoy.

Thank you for your great review, this is an unique and amazing home for couples to have privacy and still enjoy being together.
Ocean Views with Pool!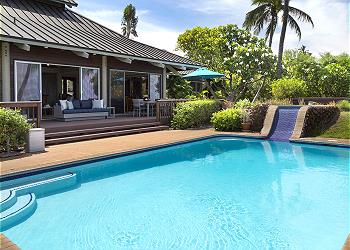 [3]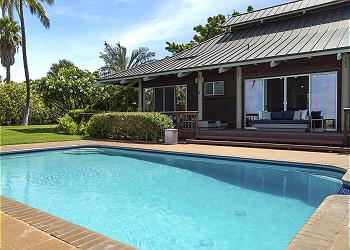 [4]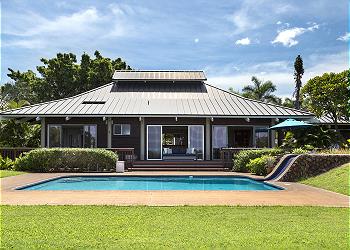 [5]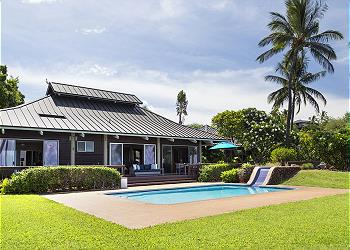 [6]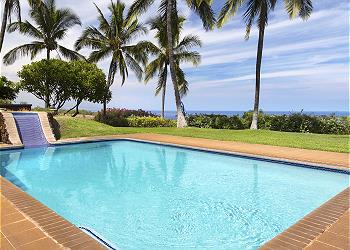 [7]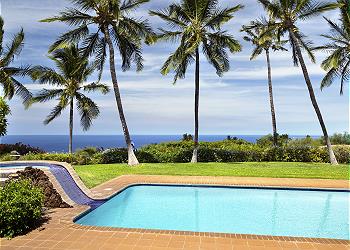 [8]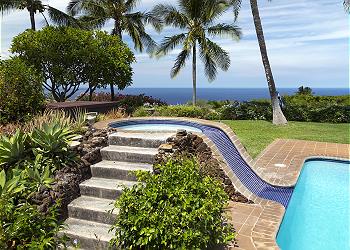 [9]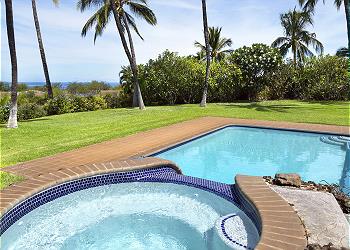 [10]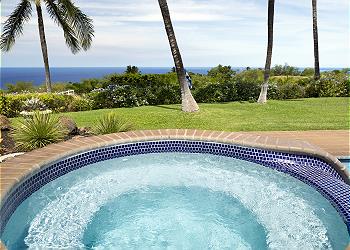 [11]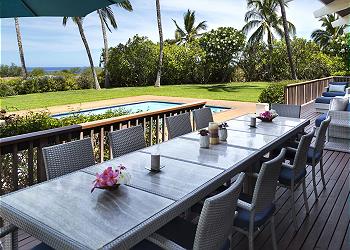 [12]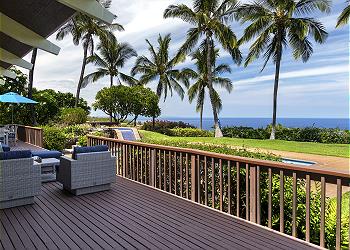 [13]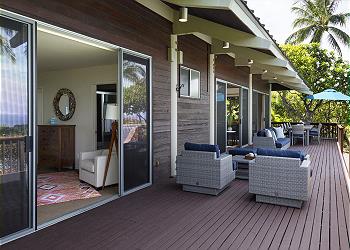 [14]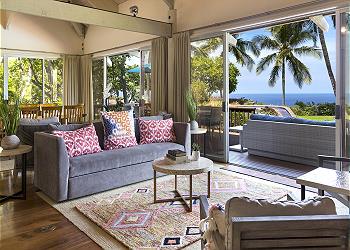 [15]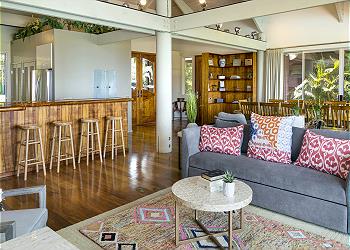 [16]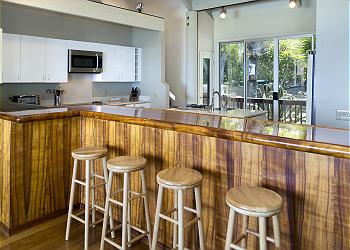 [17]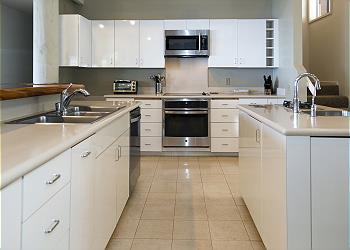 [18]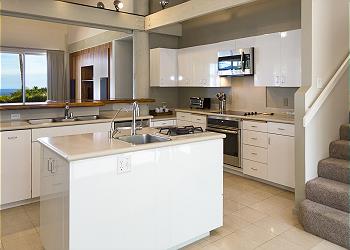 [19]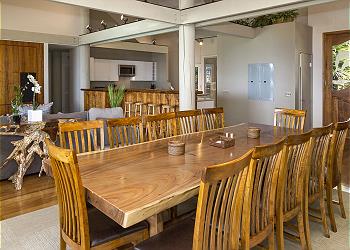 [20]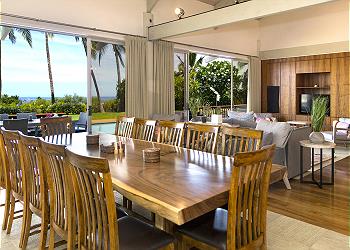 [21]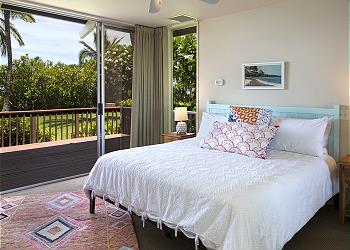 [22]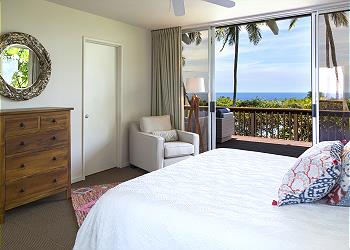 [23]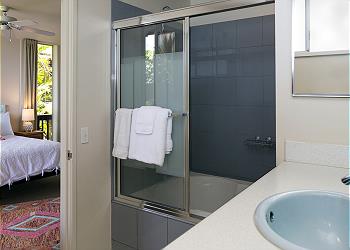 [24]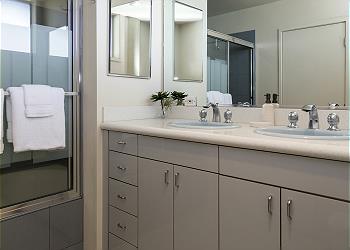 [25]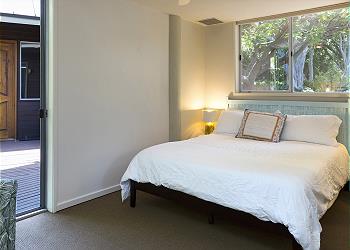 [26]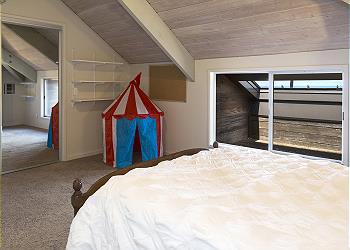 [27]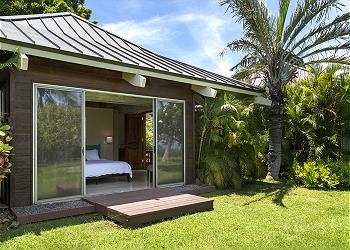 [28]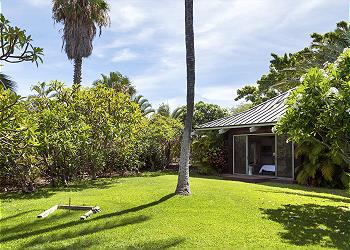 [29]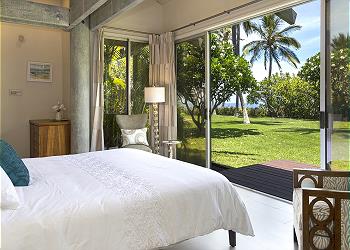 [30]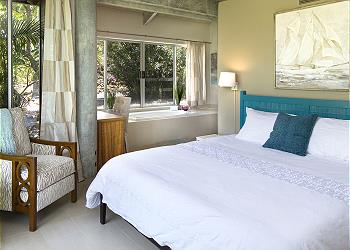 [31]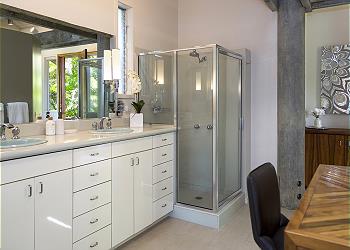 [32]
[33]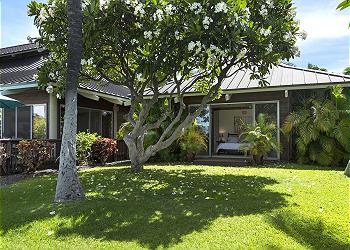 [34]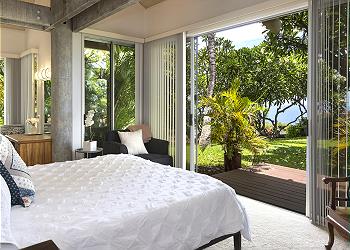 [35]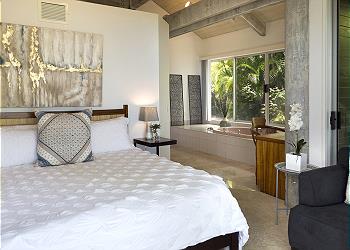 [36]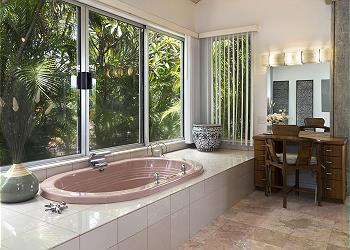 [37]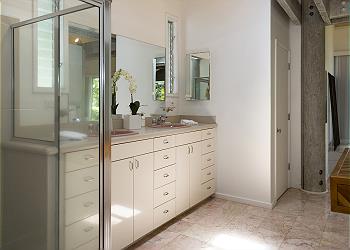 [38]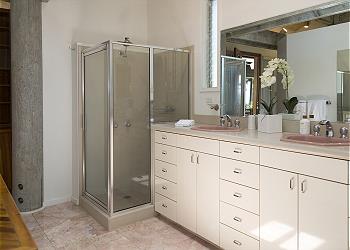 [39]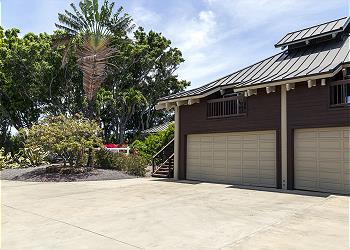 [40]
[41]
[42]
[43]
[44]
[45]
[46]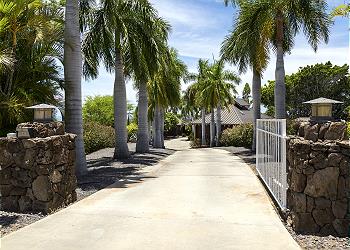 [47]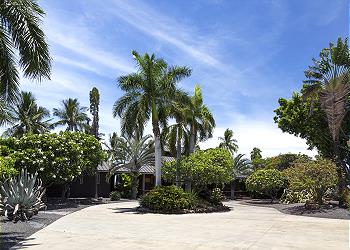 [48]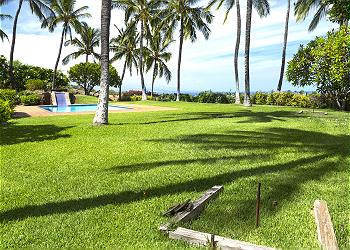 [49]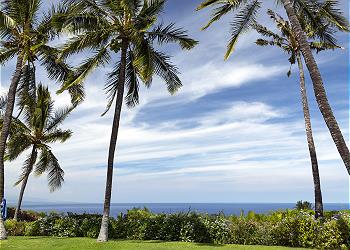 [50]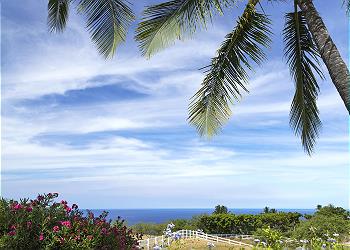 [51]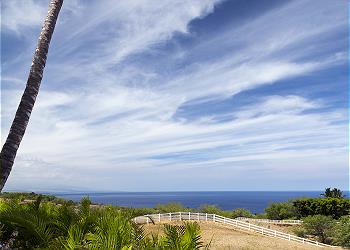 [52]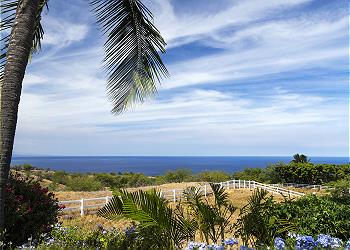 [53]
6 Bedrooms
6.5 Baths
Air Conditioning
Pool
Private Pool
A once-in-a-lifetime vacation experience awaits you at this stunning oceanview estate in Waimea on the Big Island of Hawaii. Traditional island architecture meets modern lifestyle in the Kohala Ranch home. The Big Island vacation rental spans three acres in total, with professionally landscaped lawns and breathtaking coastal views. Enter through the palm tree-lined driveway and immediately be surrounded by your private paradise in Hawaii.
As you enter the main house, you'll be awed by the two-story vaulted ceilings, gleaming Koa hardwood floors and open concept great room. Ceiling fans, plus the constant tradewinds, provide cooling air flow in the great room area. The expansive living room space offers seating for a group, centered around a flat screen TV. The dining table seats up to 12 guests. The large chef's kitchen is fully equipped with upgraded appliances to provide anything from simple snacks to full meals for the group. For guests that prefer to spend much of their vacation outdoors, the great room leads directly to the west-facing deck that spans the rear of the house, providing outdoor dining and lounging options.
A newly renovated pool overlooks the deep blue sea and offers much-deserved relaxation. During the day, look out towards majestic Mauna Loa and the Kohala Coast to the south while waiting for the stunning Hawaiian sunset to the west.
The oceanfront Waimea estate offers the ultimate in privacy and flexibility, with four separate on-site dwellings. The main home features 3 bedrooms/3.5 baths, with air conditioning and en-suite bathrooms in each bedroom. It is flanked on each side by an ohana (villa), each offering a master suite with sliding glass doors leading to an outdoor patio and the beautiful gardens. Each ohana has a jacuzzi tub and separate A/C. Finally, a detached garage apartment offers an additional living space with a kitchen, bedroom and bath, also with A/C. This property has a total of 6 bedrooms and 6.5 baths with a King or Cal King bed in 5 of the bedrooms. This is the ideal solution for a multi-generational vacation or retreat.
Allow us to welcome you to one of the Big Island's best oceanfront rentals for a truly unforgettable Hawaiian vacation, amidst the sky, the sea and the stars.
Please Note, 31+ day lease required for all reservations.
TA 108-876-6976-01
Location:
96743
Kamuela
,
HI
United States
20° 4' 59.1564" N, 155° 50' 59.3556" W
Hawaii US