Business
24/7 Contact Kahea 808-651-4440
TA-104-558-7968-01
Unit Code: Punahele
Leave a Review
[2]
Wonderful Home
Reviewed on 2019-10-06 by

John M.

from San Antonio, TX United States

Updated on 2019-10-06

Services from rental manager

Cleanliness

Location

Property condition

Beautiful home, furnishings beyond expectations, I would be afraid to rent to children. The views were spectacular especially sunsets,

We are happy to hear you enjoyed our home and the sunsets !
We greatly appreciate your review as well .
Punahele - August Rental in Princeville
Reviewed on 2019-09-09 by

John M.

from Toronto, ON CA

Updated on 2019-09-09

Services from rental manager

Cleanliness

Location

Property condition

House is beautiful. Amazing view even better than the pictures. House is well appointed and everything works perfectly. Only issue is that the house has no air conditioning. It is hot. Our stay was in August. We did not sleep that well as we were too hot. With no swimming pool to cool off in, it left us leaving the house when we were over heated. Otherwise, the place is perfect. Although the literature suggests there is no air conditioning, we neglected to look. In our past experience, a rental of this price caliber has always had air conditioning, so we did not think to check it. I would not rent this place again unless they installed an air con system - at a bare minimum in the bedrooms for sleep purposes.

Thank you so much for booking with Hawaii Life.  
We had an unusual heat wave during your dates, we are happy other than no a/c that you enjoyed the home for your group.
We greatly appreciate your review as well.  
Graduation trip
Reviewed on 2019-07-14 by

Lisa F.

from Brownwood, TX US

Updated on 2019-07-14

Services from rental manager

Cleanliness

Location

Property condition

This property is wonderful! The outdoor deck and patio have a spectacular view The kitchen is fully stocked and we cooked several meals there, sitting on the patio and enjoying the sunset There is no AC so a couple of nights it was pretty hot as there was no breeze

Thank you for your review we really appreciate it!
Out door living is such a part of coming to Hawaii and we are happy you got to enjoy the lanai.
Convenience
Nearby Grocery
Golf Course
Nearby Princeville Center
Nearby Library
Ocean View Luxury Vacation Home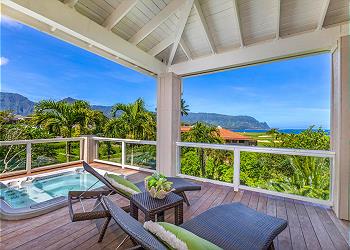 [3]
[4]
[5]
[6]
[7]
[8]
[9]
[10]
[11]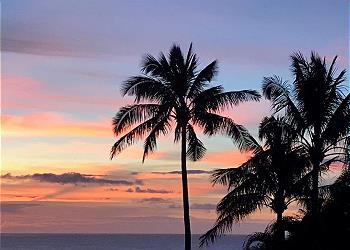 [12]
[13]
[14]
[15]
[16]
[17]
[18]
[19]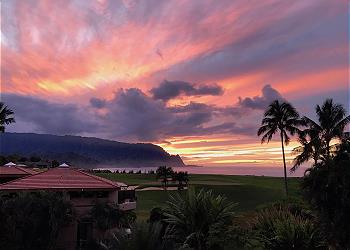 [20]
[21]
[22]
[23]
[24]
[25]
[26]
[27]
[28]
[29]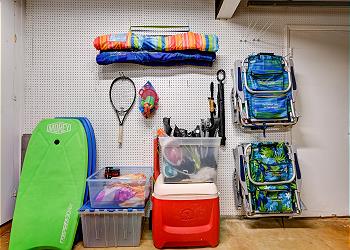 [30]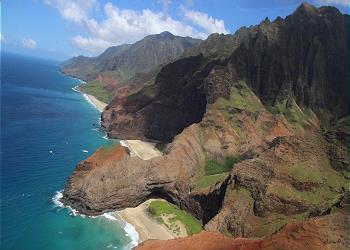 [31]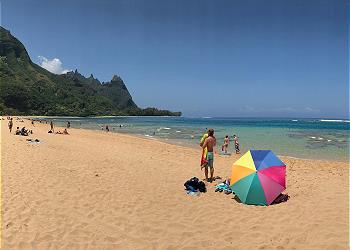 [32]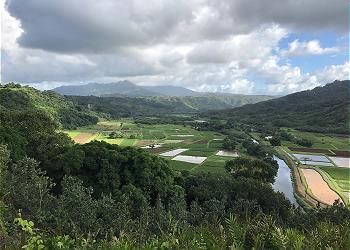 [33]
[34]
3.5 Bedrooms
2.5 Baths
Hot Tub
Ocean View
Water Sports Gear
You've found the property of your dreams for your Hawaiian family vacation. Discover Punahele, a three-bedroom home in Princeville on Kauai's North Shore. The vacation rental has breathtaking ocean views, convenient proximity to Kauai's famed North Shore beaches, enormous lanai, upscale plantation-style architecture, and luxurious furnishings.
The views from your manicured lawn are of the iconic Bali Hai, the inky blue waters of Hanalei Bay and the pristine greens of Makai Golf Course. Find yourself surrounded by the beauty of the natural world everywhere you turn.
Punahele is conveniently located to Princeville with its upscale shopping and restaurants, Hanalei with its taro fields and bohemian vibe, the Kilauea Lighthouse with the charming NeNe geese, the natural wonder of the Napali Coast, and Ke'e beach.
The exterior of the home is shrouded in tropical foliage, offering you wonderful privacy and a feeling of being tucked away. The exotic experience of the outdoor lava rock shower will surely become a family favorite!
Perhaps the most striking feature of the outdoor living space is the 1200-square-foot lanai overlooking the private green space, Hanalei Bay, Bali Hai, and the verdant green mountains.
With its multiple living and dining spaces, you may find the home to be the ideal space to spend the majority of your vacation. Take in the beauty surrounding you, while enjoying the gentle trade-winds and stunning sunsets. With a tiki bar, grill area, and a hot tub, there is almost no reason to leave this little slice of Hawaiian heaven right outside the sliding glass door.
You'll find the interior of Punahele eminently livable, with vaulted ceilings, white bead-board, and enormous windows to enjoy the abundant sunshine.
The generous living room offers a large wraparound sofa, with two additional side chairs, a flat-screen TV, and an ornate fireplace. A lovely spot for conversation or evening electronic entertainment. A separate living area on the first level offers another space for a different generation to enjoy their own fun.
The huge gourmet kitchen offers the group chef a chance to shine. With solid surface counters, professional-style appliances and enormous workspace, gastronomic wonders are sure to emerge from this space.
Take the time to savor them at either the adjacent formal dining space for 8 or al fresco at one of the several dining tables on the lanai.
The master suite offers a king-size bed and bath with dual vanities and a rock-wall walk-in shower.
The lower level offers a BRAND NEW generous size bonus room with Queen Murphy bed (equipped with a desk, closet and drawers), large comfortable sectional sofa, TV with cable, game table and access to the lower lanai. Two additional bedrooms have king and queen beds, respectively, and share a full bath with a marble-tiled walk-in shower. A half bath also houses the convenient washer/dryer.
Punahele will undoubtedly become one of your most treasured family vacation memories. We look forward to introducing you to this tropical gem on the north shore of Kauai. TA-104-558-7968-01
Location:
96722
Princeville
,
HI
United States
22° 13' 39.216" N, 159° 29' 10.104" W
Hawaii US