Unit Code: PKK 237
Leave a Review
[2]
Convenience
Nearby Grocery
Golf Course
Complimentary parking
Storage area
Very pleasant stay with Hawaii Life (at Pali Ke Kua)
Reviewed on 2018-05-02 by

Anna K.

from Victoria, BC Canada

Updated on 2018-05-02

Services from rental manager

Cleanliness

Location

Property condition

Just spent two weeks in Pali Ke Kua with a unit owned by Hawaii Life. The condo was great - comfortable, clean and more spacious then we expected. The location is very good too: 5 mins drive to Princeville, 10 to Hanalei.<br/><br/>The beach is great for strolling and not bad for confident surfers, but no so good for swimming. But within a short drive there are several great beaches.
First Time review with a VRBO property
Reviewed on 2018-03-28 by

Steve K.

from Clayton, CA United States

Updated on 2018-03-28

Services from rental manager

Cleanliness

Location

Property condition

My entire experience with the VRBO rental process was quite pleasant from beginning to nearly the end. Communication was good, the property as advertised. I did note a broken lounge chair that I notified management of. We bought and left some beach toys and a popular guidebook to Kauai for future renters to use. <br/><br/>I was however, surprised to hear that two of the beach towels we used were stained beyond future use despite washing. As we used them only at the local beach (Hanalei), I am not sure how this occurred. I was charged $50 to have the two towels replaced. Having rented with other similar companies (AirBnB) and stayed at many local hotels, this has never happened before. It soured what was otherwise an nice experience.
Great location and property but bedroom is like a fishbowl
Reviewed on 2018-03-28 by

Kelley T.

from Highlands Ranch, CO United States

Updated on 2018-03-28

Services from rental manager

Cleanliness

Location

Property condition

The property was in a great location and very clean. It included beach towels, chairs and everything needed for a great stay.<br/><br/>The one thing that would prevent us from staying at this property again or recommending it is that the downstairs bedroom feels like sleeping in a fishbowl. You have to leave the curtains open if you want it to be cool enough in the room so that allows everyone walking outside to see right in the room while you are sleeping/relaxing. This could easily be resolved by installing blinds on that window. That way they could be closed over the window but not block the ventilation at the bottom.
Pali Ke Kua #237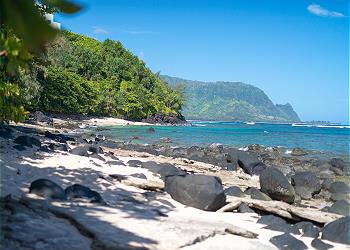 [3]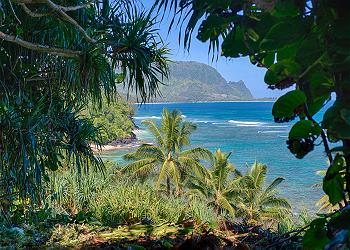 [4]
[5]
[6]
[7]
[8]
[9]
[10]
[11]
[12]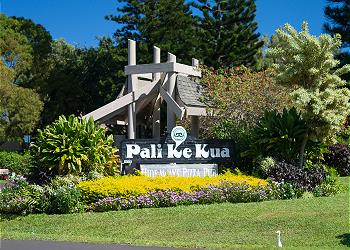 [13]
[14]
[15]
[16]
[17]
[18]
[19]
[20]
[21]
[22]
[23]
[24]
[25]
[26]
[27]
[28]
[29]
2 Bedrooms
2 Baths
Pali Ke Kua is a 22-acre resort condominium project located on the lush north shore of Kauai, nestled in the upscale and private neighborhood of Princeville. It sits on a bluff 200 feet above the ocean and has breathtaking views of the north shore's rugged green mountains and blue Pacific Ocean. A paved path leads from the resort down the bluff where lies a series of sandy beach "hideaways" including Pali Ke Kua Beach. The resort has a restaurant on site and is adjacent Princeville Golf and a paved walking/bike path that accesses other Princeville amenities including the St. Regis Hotel just a short distance away and a small shopping center and restaurants.
This two bedroom two bathroom property is fully furnished with fantastic ocean and golf course views. Includes full access to resort swimming pool, hot tub, and sun deck. Amenities include granite slab kitchen counter-tops, high quality Downsview cabinets with glass doors, plantation Shutters in living room and dining room, and vaulted ceilings. Spacious upstairs bedrooms offer beautiful tropical and mountain views.
Location:
96722
Princeville
,
HI
United States
Hawaii US