Located at the summit of Kilauea volcano in Hawaii Volcanoes National Park, Kilauea Iki is a smaller crater just east of the volcano's main summit crater which is known as Kilauea Caldera and contains within it the formidable Halemaumau Crater. Kilauea means "Little Kilauea."
In 1959 Kilauea Iki was the site of spectacular lava eruptions which reached heights of more than 1,900 feet (579 m). These are the highest fountains of lava ever recorded in Hawaii. A trail down into Kilauea Iki provides a close-up view of the eruption area.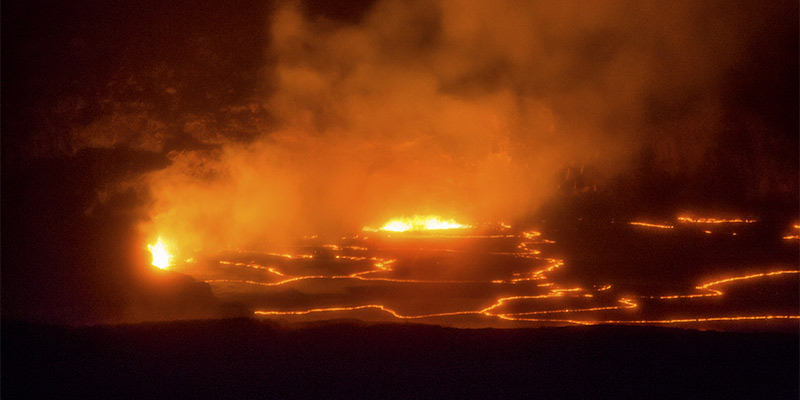 The Kilauea Iki Trail begins in a rainforest area on the rim of the crater and descends 400 feet to the rocky crater floor. At the base of the crater, which was a lava lake in 1959, there are active sulfur banks and steam vents as well as a cinder cone called Puu Puai (Gushing Hill) which was created by the 1959 eruption.
Make sure to wear proper hiking shoes on the Kilauea Iki trail as it is quite rough and uneven. Also wear and hat and bring sunscreen as well as plenty of water. The trail is a four mile loop that take about two or three hours to hike depending upon your pace.
For those who don't wish to complete the hike down into the crater there are great views of Kilauea Iki from the trailhead parking lot on Crater Rim Drive and also from a nearby lookout point. The parking lot is located about two miles from the Kilauea Visitor Center and nearby is the Volcano House Hotel and Jaggar Museum.