Kauai is known as the "garden island" and is an ideal destination for many outdoor adventures, especially hiking! Featuring a variety of terrains, vistas, and difficulty, Kauai is the ultimate spot for hikers of all skill levels.
Check out some of our favorite hikes and tips below! 
Important Hiking Tips: 
Always stay on designated trails for your safety and the maintenance of the natural environmen

Bring water, sun protection, insect repellant, GPS or phone with maps, and a hiking buddy!

Be realistic about your hiking experience and level of fitness

Be aware of changing weather conditions, rain can quickly turn a leisurely hike into a potentially dangerous one. 

Flash flooding can occur without notice.

 




Difficulty: Moderate to Difficult  
This world famous 11-mile trail offers breath-taking views of the dramatic Napali Coastline. Located at the end of the road at Ke'e Beach, take this trail as a day hike to Hanakapiai Beach or Hanakapiai Falls, or multi-day hike and camp all the way to Kalalau Valley. The trail to Kalalau Valley has been named one of the most incredible hikes in America, but also one of the most dangerous ones. The Sierra Club rates it a 9 out of 10 in degrees of difficulty. Check out this first-hand experience for every detail and tip you need before embarking on this epic adventure HERE.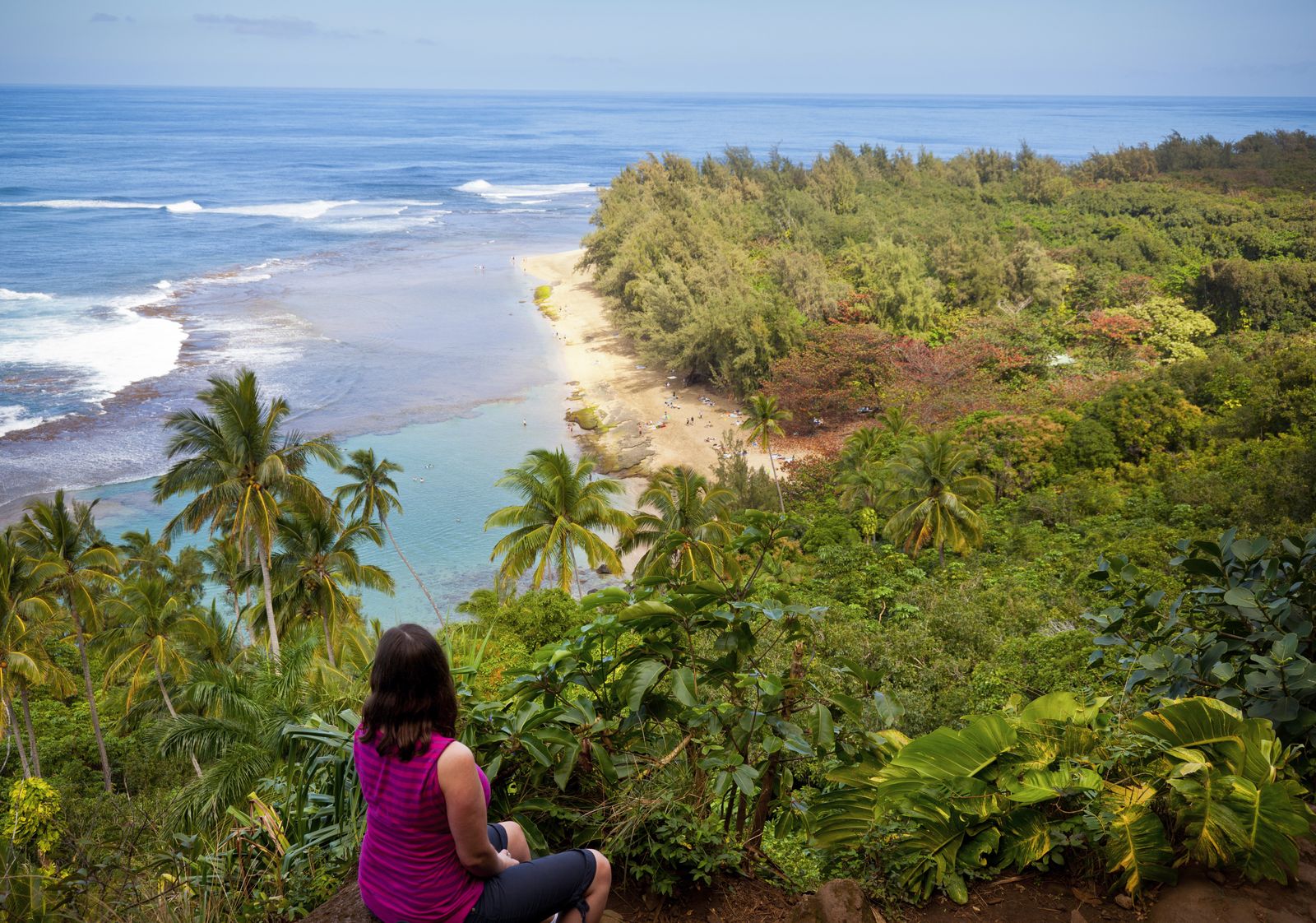 Difficulty: Moderate to Difficult  
The first section of the Kalalau Trail is well maintained and recommended for able-bodied hikers. This portion offers views of the dramatic Napali coastline. After about two miles, you will reach Hanakapiai Valley full of tropical foliage like ti plants, wild ginger, and fruit trees. The sandy beach at Hanakapiai is a popular destination for day hikers. Swimming or wading here is very dangerous and not recommended. Unfortunately many drownings occur here regularly.
Allow 3 to 4 hours to complete the 4 mile round-trip hike to Hanakapiai Beach. If you are feeling up to it, hiking 2 miles deeper into Hanakapiai Valley leads to the immense Hanakapiai Falls. After crossing the stream about a mile up the valley, the trail becomes more strenuous, be ready to climb over rocks and the occasional fallen tree. The upper half of this trail should be hiked only in good weather to avoid dangerous flash floods and falling rocks. Do not attempt to cross the river during heavy rains. Flash flooding can occur without notice. Allow a full day to complete the 8 mile round trip from Ke'e Beach to Hanakapi'ai Falls.
Advance reservations are now required for all visitors
Travel by Shuttle to Hā'ena State Park (which includes Kē'ē Beach area, Kalalau Trail, Hanakāpī'ai Beach and Hanakāpī'ai Trail) or Hā'ena Beach Park (Makua Lagoon / Tunnels Beach) You will need to purchase a round-trip Reservation ticket which will also serve as your official entry ticket to Hā'ena State Park.
Haena Shuttle https://gohaena.com/shuttle-schedule-stops/
Difficulty: Moderate 
Aka "Hanalei River Trail" and "Hihimanu Trail" 
Cross the Hanalei Bridge and instead of continuing into Hanalei town, take an immediate left to follow Ohiki Road to find parking at the trailhead. This 2.5 mile climb is tough, but well worth it for the extensive views of Hanalei Bay, Hanalei Valley, Makana, Kilauea Lighthouse and the Napali Coast. Prepare to climb as the first portion of the trail is steep and covered in thick, native foliage. The trail offers two plateaus along the trail to stop and take in the views. Stop at the first vista if this is enough, or continue along the ridgeline for additional views into Hanalei Valley!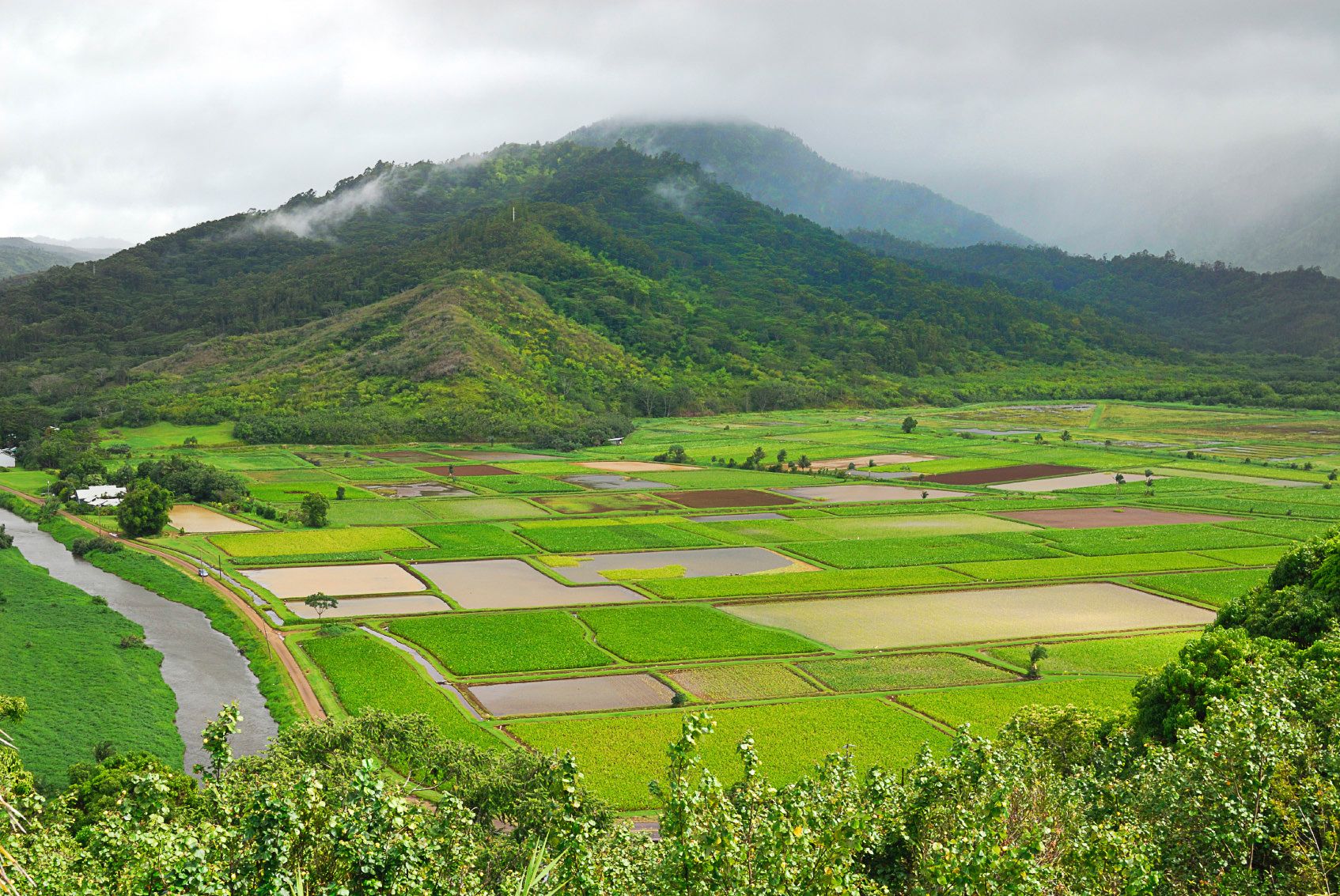 Difficulty: Beginner to Moderate
This 5-mile loop located in Kilauea is suitable for hikers of all levels and very family friendly, bikers are also welcome. Here you will not find any aggressive terrain or elevation gain but can feel like a lengthy walk. Starting out through the Kilauea Woods, visitors will be welcomed by beautiful Albizias and Norfolk Island Pines, be prepared for encountering a plethora of lush greenery throughout the trail. Continuing through the United States' largest Mahogany Forest, with approximately 86,000 Honduras Mahogany trees, the trail comes to a clearing where the West Makaleha Mountains offer impressive views. 
Difficulty: Moderate
On the east side of Kauai in Kapaa, look west towards mountains. If you look closely enough, you might just see what appears to be a giant figure laying down! This is the famous "Sleeping Giant." His head faces to the South and feet stretched towards the North. This popular hike offers epic ocean vistas and expansive views of the entire Wailua Valley. The trailhead is located at the end of the suburban Haleilio Road, which connects directly to the main State Highway 56 in Wailua.
This 3.2 mile trail consists of a few steep switchbacks that climb the face of the sleeping giant! Hikers will enjoy thick foliage and native plants along the trail and the sweet smell of guava. When you reach a junction near the top, take the path to the left. Here you will find a picnic table with space to relax and enjoy the views. It is always recommended to stay on designated trails for your safety and the maintenance of the natural environment.
Difficulty: Beginner/Moderate to Difficult  
Located 3,200 - 4,200 feet above sea level, Kokee State Park offers a unique change of scenery from the rest of the island. Here you will find yourself in a cooler climate, surrounded by a forest of koa and ʻōhiʻa lehua trees as well as an abundance of native plants, flowers, and birds. Offering picturesque canyon, mountain, and ocean views, a trip to Kokee State Park & Kalalau Lookout will grant you the opportunity to see Kauai from a whole new perspective! Here you will find a wide variety of trails and acivities for families and the experiened hiker alike. Hike through native rain forests and along rim of Waimea Canyon with many additional trails in neighboring forest reserves. Please note, there is no cell service or wifi in the park. Check out the full list of trails and maps HERE.