"Sunny Poipu" on Kauai's south shore averages more than 300 sunny days each year and is known for its white-sand beaches, posh resorts, and elegant upscale homes.
The immaculate white-sand beaches of Poipu Beach Park and other nearby beaches provide plenty of opportunities for snorkeling, scuba diving, surfing, kayaking and fishing. Poipu beaches include Mahaulepu, Shipwrecks (three beaches), Brennecke's Beach, Poipu Beach Park, Lawai Beach, Palama Beach and more.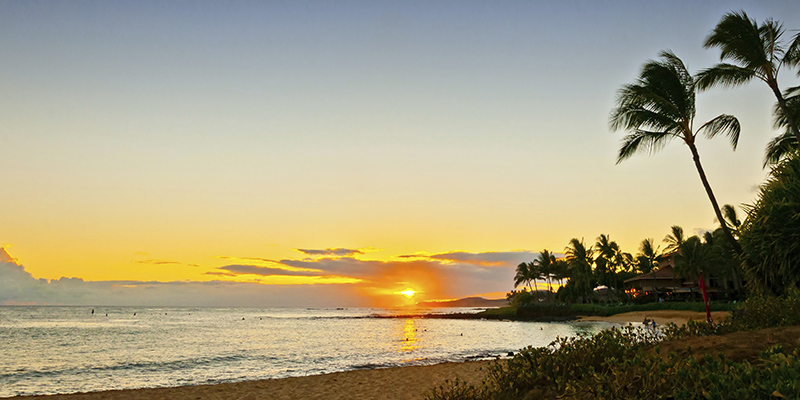 Land activities also abound in Poipu from hiking trails and golf courses to tennis, horseback riding, ziplining, and ATV tours.
Also in Poipu is the newly renovated par-70, 7,000-yard Kiahuna Golf Course with its rolling fairways, undulating greens, and stunning ocean and mountain views. The Poipu Bay Golf Course, which hosted the Grand Slam of Golf from 1994 to 2006, is an oceanfront championship course located adjacent to the Grand Hyatt Kauai Resort and Spa.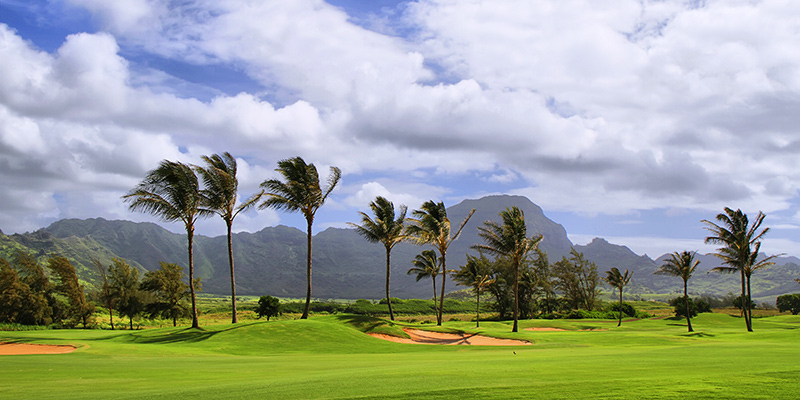 In the evening you can find live music at various Poipu venues. You can also enjoy an authentic Hawaiian luau with a traditional performance by the beautiful Poipu seaside.
Poipu offers a wide variety of dining choices from the many fine resort restaurants to the local favorite eateries. The Plantations Gardens Restaurant at the historic mansion of the Kiahuna Plantation Resort is surrounded by a lovely botanical garden and offers Pacific Rim Cuisine.
Poipu Village Shopping Center has a variety of restaurants and bou- tique shopping, and also hosts Tahitian fire knife dancing performances. Spectacular ocean views are enjoyed at The Point at the Sheraton Kauai Resort which holds an evening Torch Lighting Ceremony and Hawaiian Show.
The new Shops at Kukuiula Village features two fine dining restaurants, Josselin's Tapas Bar & Grill and Merriman's Kauai, along with lighter fare including Bubba Burgers and Dude Dogs as well as Lappert's Ice Cream. Kauai Living Foods Market & Cafe at Kukuiula offers upscale organic health foods and also has a full kitchen producing sumptuous baked goods as well as pizza and panini.
A popular south shore hike is the trail to the pristine and remote Mahaulepu coastline. The Mahaulepu Heritage Trail begins near Shipwreck Beach adjacent to the Grand Hyatt Resort. This area from Keoneloa Bay to Kawailoa Bay includes extensive archaeological and cultural sites where researchers study endangered species and analyze fossils from limestone caves.
Another popular south shore visitor attraction is a tour of the National Tropical Botanical Gardens in Lawai Valley. The Allerton Garden features meticulous landscaping in themed gardens of exotic and native plants, while the McBryde Garden highlights endangered native species. There is also a Garden Visitor Center with a nice gift shop across from Spouting Horn.
The Poipu attraction of Spouting Horn is a lava tube at the ocean's edge where ocean waves compress into an underwater shelf of rock which narrows into a tube. The crashing waves send a huge plume of water and mist up to 60 feet skyward accompanied by a loud, low roar.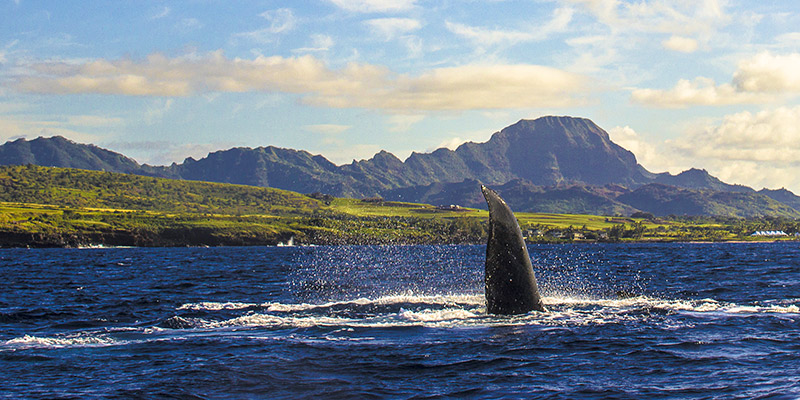 Another great way to see Poipu is on a boat tour along the shoreline, or take a helicopter tour for the grand view. Deepsea fishing off Kauai's south coast is also popular, as is humpback whale watching during the winter months.