This easy to moderately difficult hike is about eight-tenths of a mile each way and climbs about 600 feet in elevation as it winds its way through the Manoa rainforest.
The hike to Manoa Falls is one of Honolulu's most popular day hikes as it is easily accessible by car or by the city bus, and is just a short drive from Waikiki.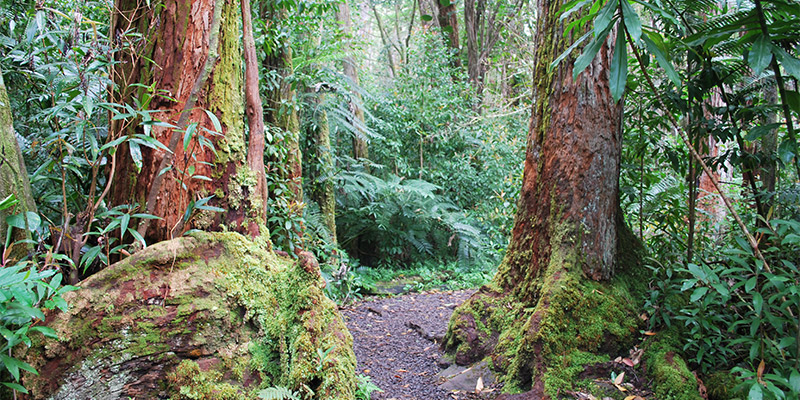 Manoa Falls cascades down a nearly vertical cliff for about 150 feet into a small pool. Due to the conditions the boulder-filled pool is not suitable for swimming.
This hike is located at the base of the rugged and scenic Koolau Mountains known for its verdant and deep-furrowed ridges. About 50 feet from the viewing area is Aihualama Trail on the left which follows some switchbacks up the ridge through bamboo and provides scenic vistas of Manoa Valley and Honolulu. This trail is more difficult than the main trail and not recommended for novice hikers.
Wear shoes that are suitable in the case of muddy conditions. Make sure to bring plenty of water and also mosquito repellant. Do not drink the stream water. Allow about forty-five minutes each way.
Access: From Waikiki follow McCully Street mauka (toward the mountains) and turn right on Kapiolani Blvd. Go left on University Ave. and though the University of Hawaii campus, then turn right on Manoa Rd. which you can follow to its end where the trail starts.
You can also take Bus #5 (Manoa) from the Ala Moana Shopping Center to the last station and then walk mauka (toward the mountains) to the Manoa Falls Trail.