Get Directions
Hanauma Bay is one of Hawaii's best known snorkeling beaches.
Located on the southeast coast of Oahu (about 10 miles east of Waikiki), Hanauma Bay Nature Preserve is one of Hawaii's most popular natural attractions. Some 3,000 people visit this beautiful preserve each day for swimming, snorkeling, sunbathing and picnicking. An admission fee is charged and you will also be shown a short video to educate you about the Preserve.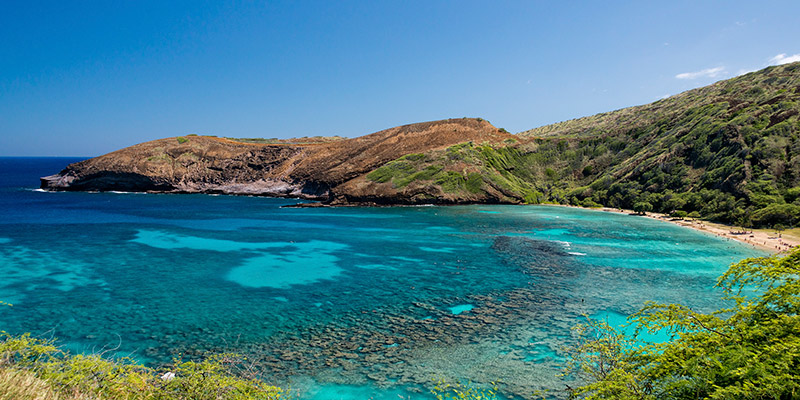 Tip: Arrive early to ensure you get a parking space and also because the water may become a bit cloudier once lots of people arrive.
Believed to be 35,000 years old, the bay itself is actually the floor of a volcanic crater that opened up to the ocean when its exterior wall collapsed. Declared a marine life conservation area and underwater park in 1967, Hanauma Bay ("Hanauma" literally means "curved bay") is sheltered from strong currents and waves, making it an ideal spot for swimming and snorkeling. A large sandy beach is flanked by several hiking trails that lead to breathtaking lookouts. On clear days, you can see the islands of Molokai and Lanai across the channel, and during the winter and early spring months, breaching humpback whales can be spotted from shore.
As one of Hawaii's most popular visitor destinations, Hanauma Bay draws more than one million people each year. The sandy beach at Hanauma is nice for relaxing, but the main attraction is offshore where the snorkeling is outstanding.
Hanauma Bay is renowned as one of Hawaii's favorite beaches for snorkeling. Swimmers are often greeted by a rainbow of reef inhabitants, including tangs, parrotfish, butterfly fish, moorish idols, surgeonfish and more.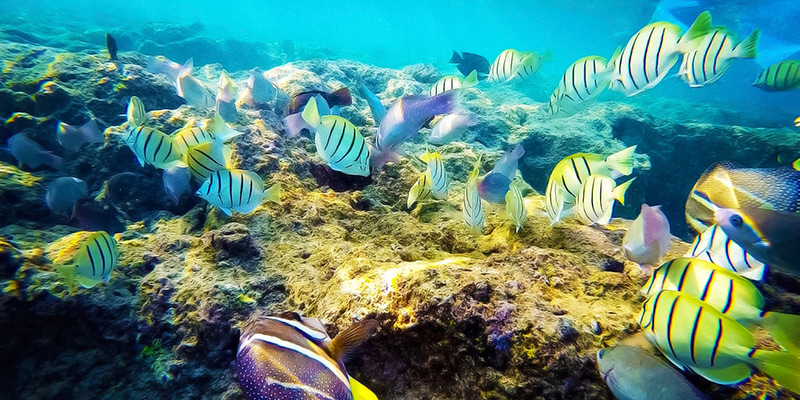 The popularity of Hanauma Bay has had its negative side, namely its impact on marine life. This necessitated the implementation of conservation measures. Parking and access to the beach, for example, is now controlled. The feeding of fish, once a favorite activity, is now strictly prohibited. And volunteers educate visitors so that additional damage to the preserve's environment is avoided. Thankfully, these and other efforts have proven successful in restoring Hanauma Bay to its original beauty.