Get Directions
The beaches of Waikiki along Oahu's southern shore comprise one of the world's most impressive stretches of sand, surf, and tropical sunshine amidst high-rise hotels, high-end shopping, and restaurants galore. The whole length of sand along Waikiki is often referred to as Waikiki Beach, though there are actually various named beaches including, from east to west, San Souci Beach, Kapiolani Beach Park, Kuhio Beach Park, Fort DeRussy, and Kahanamoku Beach and Lagoon.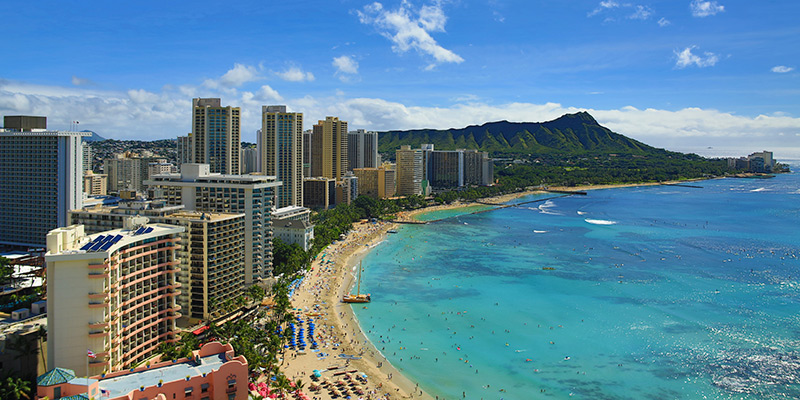 The white sandy beaches of Waikiki provide calm water that is nice for swimming as well as offshore surfing waves enjoyed by beginners and locals alike, with surfboard rentals and lessons readily available along with other water sports equipment. Fronting Waikiki Beach is a cosmopolitan melting pot of hotels, parks, gourmet restaurants, fast food outlets, lively dance clubs, countless shopping opportunities, lively nightlife, and even traditional Hawaiian Beachboys surf instructors who will show you how to ride the gentle waves of Waikiki and share with you the "Aloha Spirit" just as they have been doing with guests since the historic days of Waikiki.
Waikiki has something for everyone, and perhaps the center of it all is the Waikiki Beach Center on Kalakaua Avenue near Central Waikiki Beach (opposite the Hyatt Regency Waikiki Hotel and next to the Moana). The Center includes a Waikiki police substation as well as restrooms, showers, surfboard lockers and rental concessions. On the Diamond Head side of the police station are four very culturally important boulders known as the Wizard Stones of Kapaemahu. These large stones are said to possess the powers of four Tahitian sorcerers who visited in ancient times. Just to the west of the stones is a statue of Olympic swimming champion and famous Hawaiian surfer Duke Kahanamoku. Nearby at the Outrigger Waikiki Hotel is another beach activity center offering outrigger canoe rides, surfing lessons and and more. This area also has benches and food concessions and well as restrooms, making it a popular gathering place.
Waikiki is great for sunbathing, people watching, swimming, surfing, bodyboarding, snorkeling, windsurfing, parasailing, outrigger canoe rides, catamaran sailing and fishing.
Surfing the gentle waves of Waikiki is an unforgettable experience. Famous offshore surfing spots are called Castles, Queen's, Canoes, Kaisers, and Rock Piles.
The two most famous hotels along the beach in Waikiki are the Royal Hawaiian built in 1927 and the Moana built in 1901. The area in front of these hotels is known as the Royal Hawaiian Beach, though it is also called Royal Moana Beach or Central Waikiki Beach.