30 Oct 2017
With vibrant colors, intense flavors, exotic named fruits and veggies, foods from farmers' markets tempt, delight and inspire.  
On the corner of Mamo St. and Kamehameha Ave. in historic downtown Hilo, you'll find the bustling and lively Hilo Farmers Market. It all started with a humble beginning back in 1988, with only four farmers who sold their goods from their cars and trucks.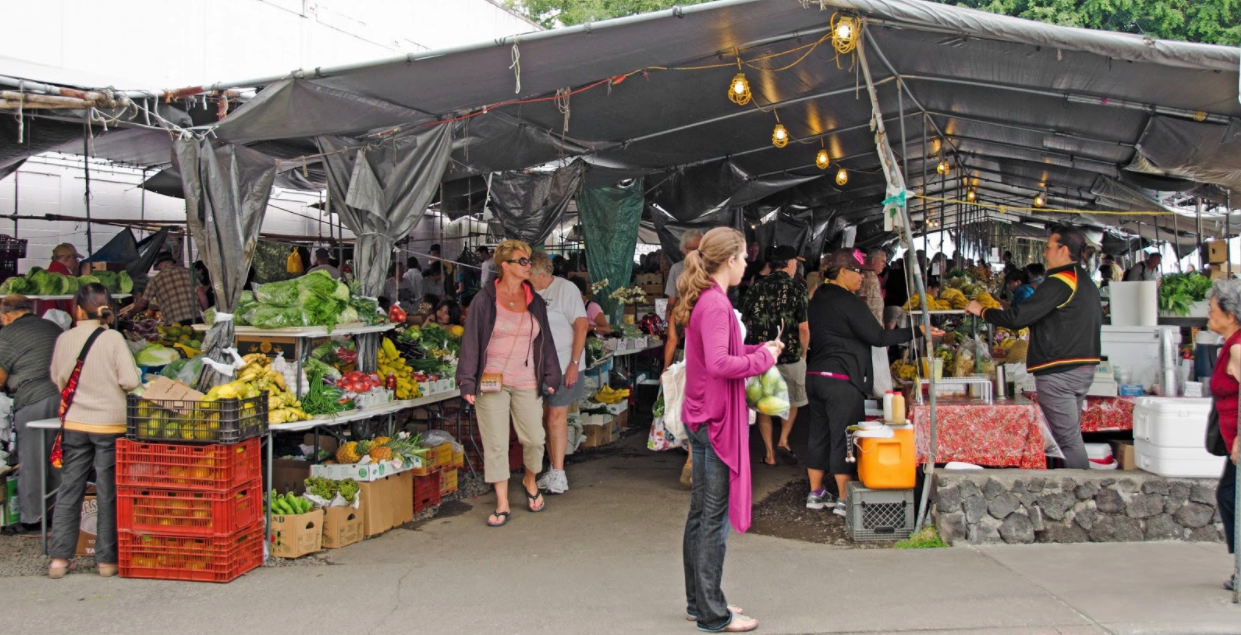 Now, the Hilo Farmers Market is held twice a week on Wednesdays and Saturdays from 6 a.m. until 4 p.m. and is considered one of the best open markets on both the Big Island and the state of Hawai'i. The Hilo Farmers Market has over 200 vendors selling everything from the exotic (like calamansi, dragon fruits, rambutan, lilikoi, lychee and cherimoya) to the sublime (like Hāmākua mushrooms, macadamia nuts, avocados, bananas, papaya and pineapple) to locally grown organic vegetables. Offerings of specialty Hawai'i Island foods like fresh Puna goat cheese and ricotta, macadamia nuts, artisanal vinegars, salts and rubs for the BBQ to salsas prepared from locally sourced fruits and veggies. Hilo Farmers Market is a true litany on the lips of those who peruse the market aisles.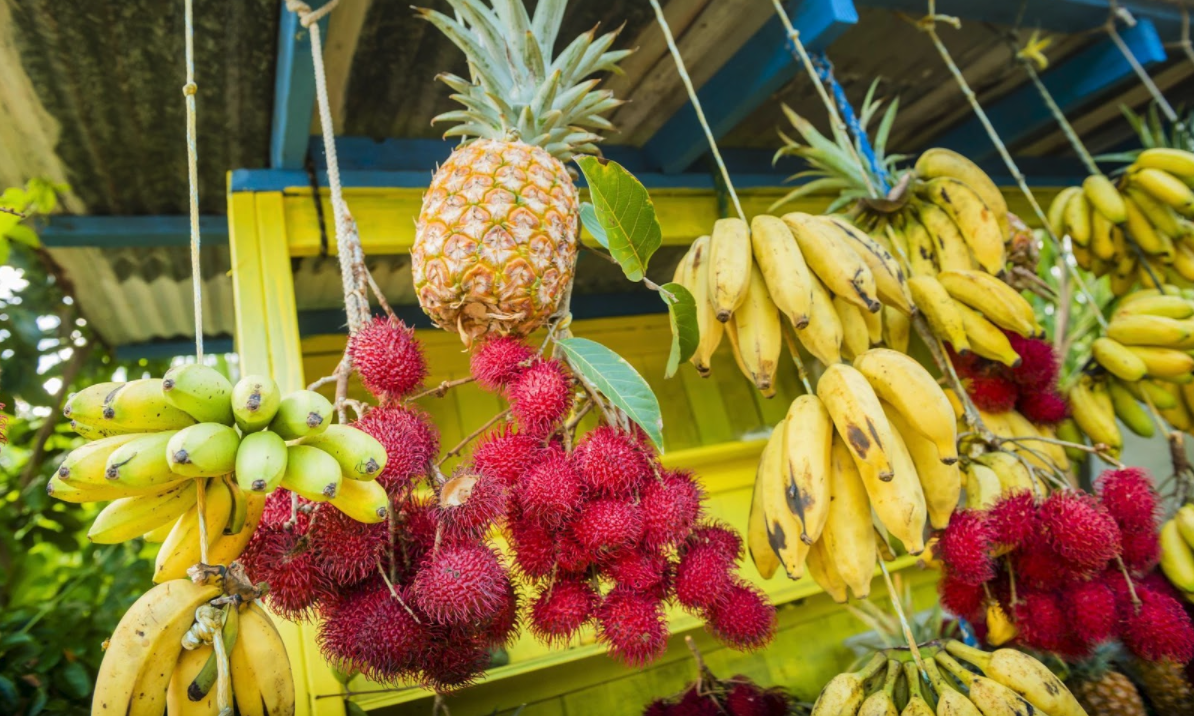 Whether shopping in the morning or afternoon, there's always a constant chatter of many different languages spoken, including Thai, Filipino and Samoan. Then there's the smells wafting from the food vendors, such as BBQ on a stick, Thai green papaya salad and curries, Bentos filled with an assortment of meats, veggies and rice, freshly prepared sushi, Peruvian tamales, crepes filled with fresh fruit and freshly baked breads and pastries and Hilo finest ice shave. Find the coconut vendor to enjoy sipping the luscious water of a freshly harvested coconut. The market's veritable feast has so much to offer that you may have to come back for a second visit.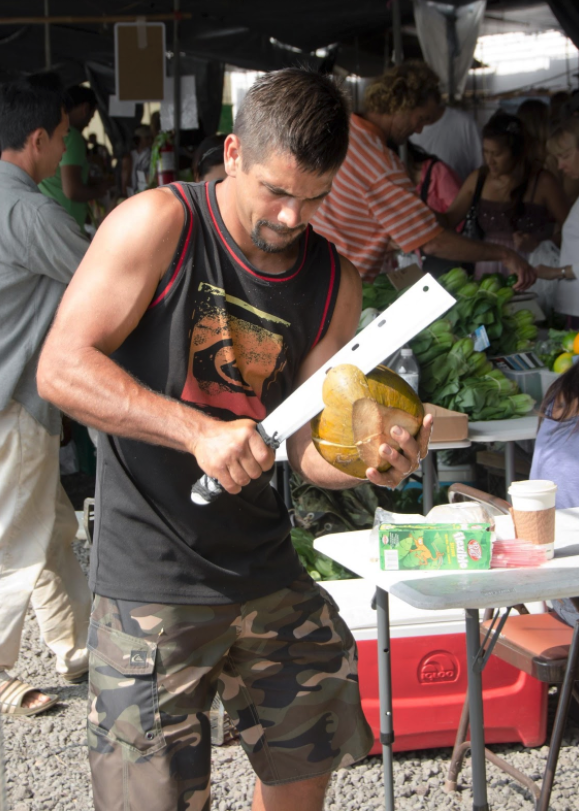 Head across the street and venture among the many different Artisans offering unique handmade crafts, jewelry, clothing and artwork.   Among some of the more unique and sustainable finds is Ka ʻaila niu, a purveyor of coconut oil based skin care products and Big Island Gifts and Crafts a small company that offers body scrubs and butters made from locally sourced ingredients. Shopping for a special souvenir to take back home, turn the corner and take a peek at some of the colorful clothing and accessories market vendors have to offer.  Looking for something tribal stop by Akua Creative, his unique screen printed t-shirts are inspired by Hawaiian tribal tattoos and nearby are Mr. Iwata's hand painted t-shirts which speak of Aloha and Peace!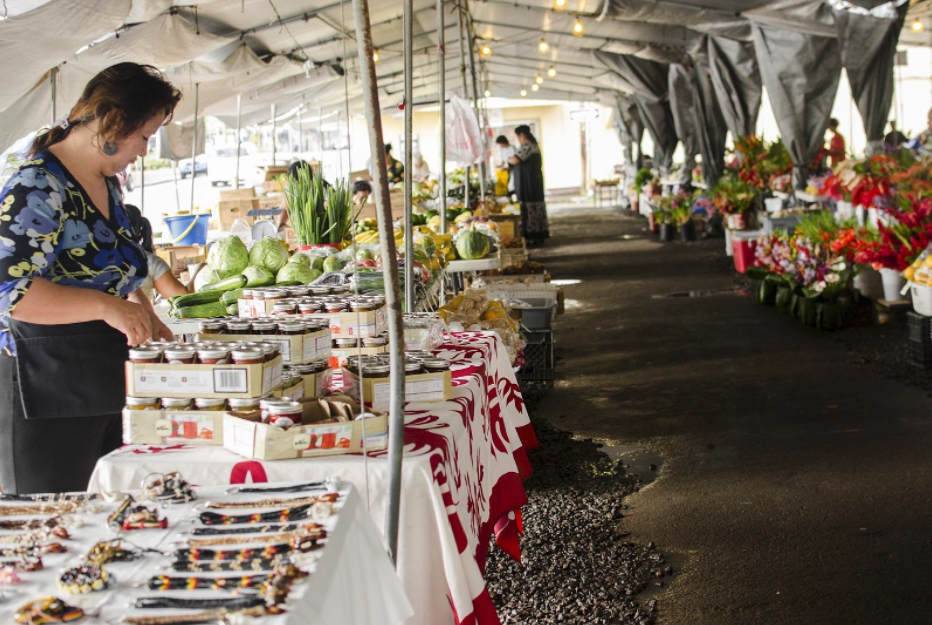 And, as you stroll around through the aisles and under the tents, it's hard not to stop to admire the beautiful and fragrant freshly cut flowers and trays of beautiful and exotic orchid plants for sale. 
Hawaiʻi Island has over 15 active and unique Farmer Markets islandwide. During your stay, take some time to explore a few...
Kekela Farms, 64-604 Mana Road, Waimea. Tuesdays, 2 p.m. - 5 p.m. This is an active working farm, so expect the best of the fresh. Kekela Farms can also be found at the Waimea Town Market at the Parker School, which takes on place on Saturdays from 8 a.m. to 13 pm

Makuʻu Farmers Market, Keaʻau – Pāhoa Bypass Road, on Hwy 130 (between Keaʻau and Pāhoa). Sundays 8 a.m. to 2 p.m. $2.00 parking fee collected at the gate.  

Uncles ʻAwa Bar, at at the south end of the Red Road, near the new Kaimū black sand beach. The always ecclectic and electric Uncle Robertsʻs Wednesday Night Hoʻolauleʻa Night Market is an experience that shouldn't be passed up!
The Hawaiʻi Life Vacations ʻohana hopes you take full advantage while enjoying your Hawaiʻi Island experience! Aloha e Komo Mai!