27 Apr 2018
You may have heard that Hanalei, a picturesque town on the North Shore of Kaua'i, isn't looking her best right now. In fact, most of Kaua'i's North Shore and many parts of Kaua'i are in recovery from record rainfalls that have ravaged homes with flooding, sinkholes, and landslides. Some significant infrastructure – including roads and bridges – needs to be repaired and rebuilt in Hanalei and across the North Shore of Kaua'i. Our heart goes out to our North Shore community (where our headquarters are located) as we face these challenges.
In the meantime, for those of you looking for an alternative vacation spot in the next month or two, we'd like to introduce you to some of our favorite Hawai'i destinations. Like Kauai's North Shore, these favorite spots are world-renowned for their unique and stunning natural beauty. Some of them, though not all, are away from the hustle and bustle of resorts and will give you a real taste of what Hawai'i life is like for the lucky residents who call our beautiful state home.

As a refreshing alternative to hotel stays, and often a more economical one, we offer up some delightful Hawaiian vacation homes to rent in these spots, too!
---
Volcano, Hawai'i Island
Where else can you see sapphire oceans, turquoise bays, white sandy beaches, and red-hot lava flows, not to mention snow-capped volcanoes all in the same day? At Volcano on the Big Island of Hawai'i, you can visit some of the biggest ranches in the country, ride horses, go whale watching, dive with Manta Rays, and then sip a tropical drink on sugar powder sand? Volcano offers all of this and more.
The glow of lava at dawn at Hawai'i Volcanoes National Park
Volcanoes National Park is the biggest tourist attraction in the state of Hawai'i, and the small town of Volcano, located at 4,091 ft above sea level, isn't your standard Hawai'i beach vacation destination. In the middle of the hot summer, we love Volcano for its cooler weather, breathtaking natural beauty, stargazing opportunities, and of course, its proximity to the bubbling cauldron of magma at Volcanoes National Park. Evening excursions to view the Milky Way from high on the volcano will provide a view of the stars like you've never seen before. Since there's little light pollution this far from any continent, you're sure to have an unforgettable experience.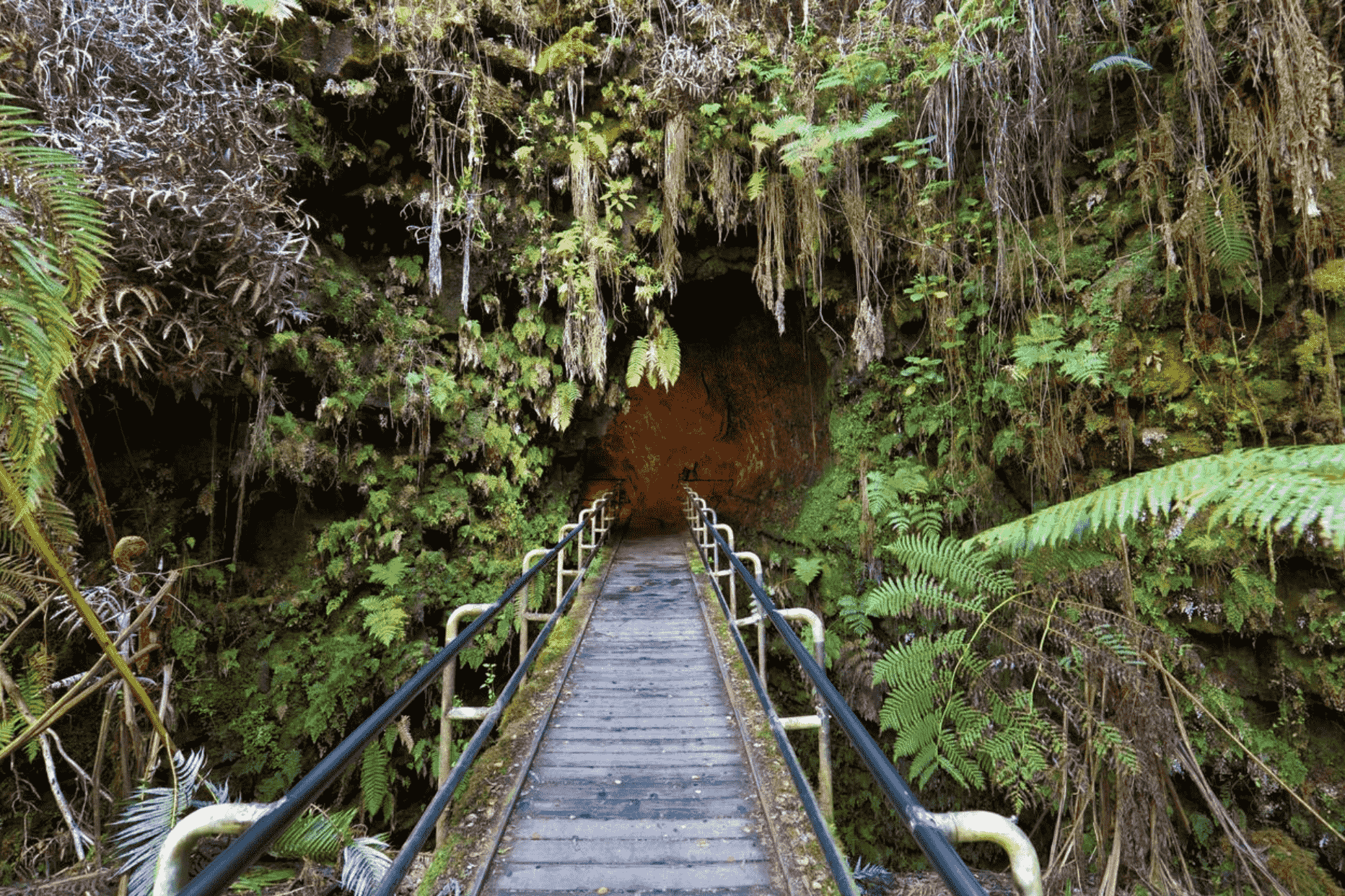 Entrance to the Thurston Lava Tube at Hawai'i Volcanoes National Park
If National Parks are your thing, read this round-up of the Eight Beautiful National Parks in Hawai'i for some other vacation options. While you're on the Big Island, don't miss the charming town of Waimea and its paniolo (cowboy) culture, farmers' markets, and farm-to-table dining. Enjoy the unique beauty, sights and sounds of the Big Island, and be sure to look for a Big Island home to rent for you and your family this summer. You'll be glad you did!
Featured Volcano, Big Island Vacation Rentals
Volcano Dancing Ferns Main House
3 Bedrooms, 2 Bathrooms | Volcano, Hawai'i Island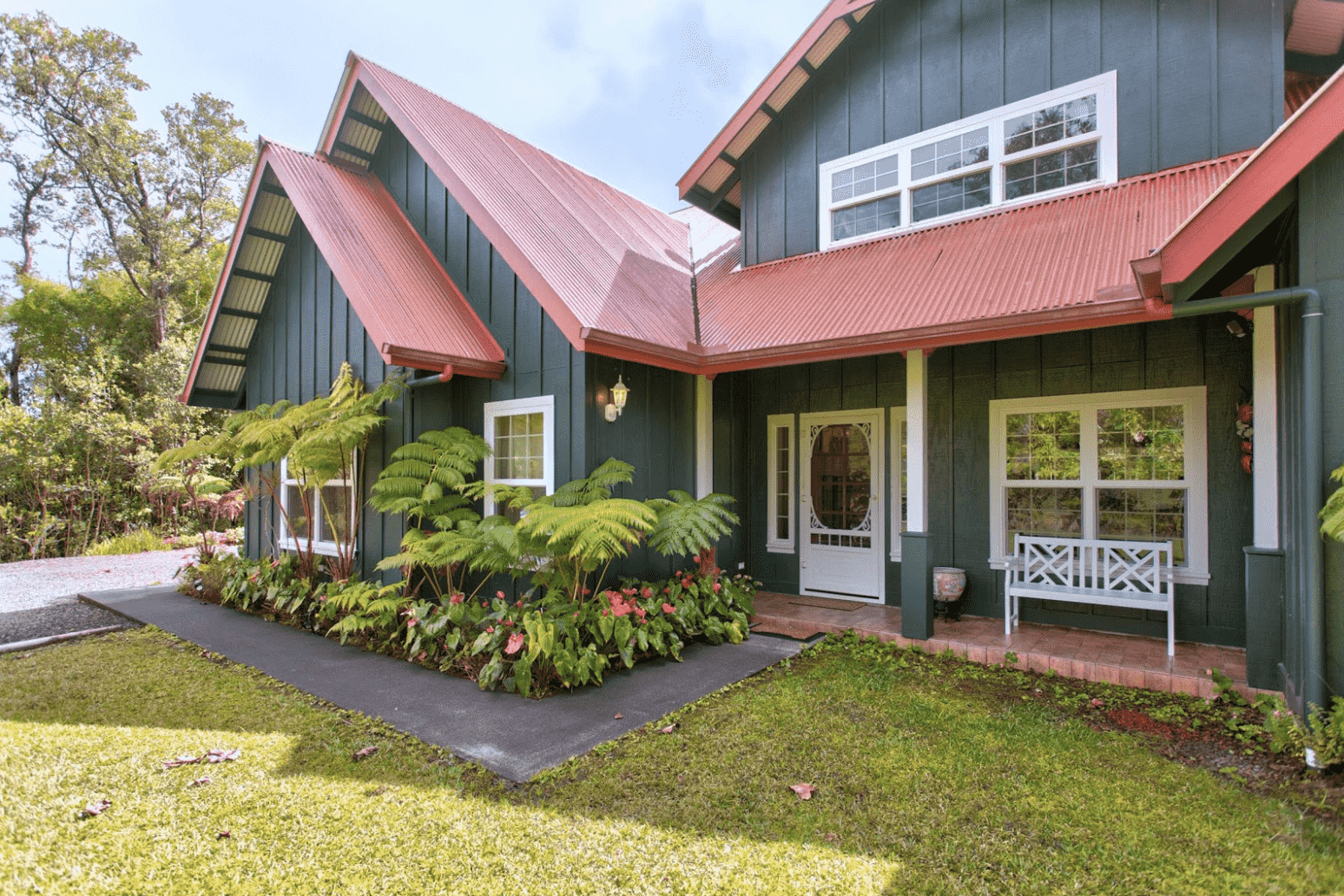 When you rent the Volcano Dancing Ferns Main House, you get an incredible newly furnished home. Located on 3 square acres surrounded by the Big Islands upcountry rainforest, this property is secluded and perfect for a quiet retreat from the hustle and bustle of city life!
Song of 'Apapane Volcano Retreat
2 Bedrooms, 2 Bathrooms | Volcano, Hawai'i Island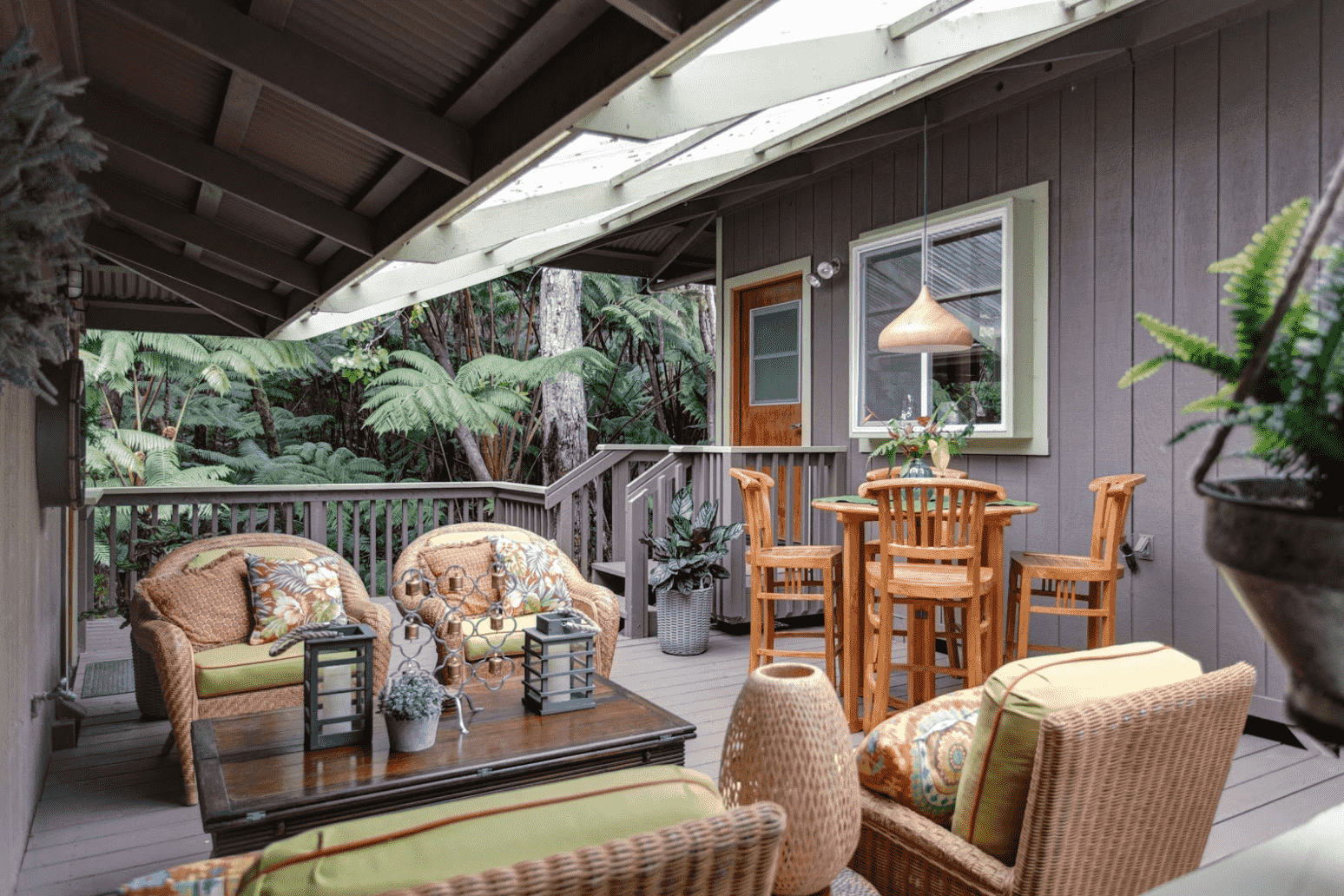 The 'apanane are one of the only things you'll hear at this quiet home nestled in the rainforest near Hawaii Volcanoes National Park. These rarely-seen Hawaiian birds ('apapane) have the most beautiful song that you'll enjoy as you explore the mossy paths on the property. This serene, newly remodeled and decorated home is the perfect place to recharge your batteries and relax.
---
Kailua & Lanikai, O'ahu
Kailua was originally conceived as a bedroom community of Honolulu on the island of O'ahu. This small-town gem on the Windward coast of O'ahu is one of the most sought-after neighborhoods for O'ahu residents, popular for its laid back vibe, boutique shopping, great dining, and stunning beaches. There are no hotels in Kailua — and there are laws in place that prevent them from being developed — but there are plenty of wonderful vacation rental options for your summer escape.
Lanikai, another small Oahu town, is an exclusive enclave situated at the end of the 2.5 miles of white sand of Kailua Beach. Luxury homes dot the beautiful white sands of Lanikai Beach, one of the most popular beaches on O'ahu. Nearby, the Pillbox Trail draws residents and visitors for morning hikes and offers an easy 30-minute trek to a fabulous view of the Mokulua Islands, just offshore from Lanikai Beach. (See the view of the "Mokes" from the water's edge in our stunning cover photo!) Kailua & Lanikai are within easy driving distance to the many attractions of Honolulu, Waikiki, and O'ahu's fabled North Shore, though everything you need is right in charming Kailua town.
Featured Oahu Vacation Rentals
Kailua Beachside
4 Bedrooms, 4 Bathrooms | Kailua, O'ahu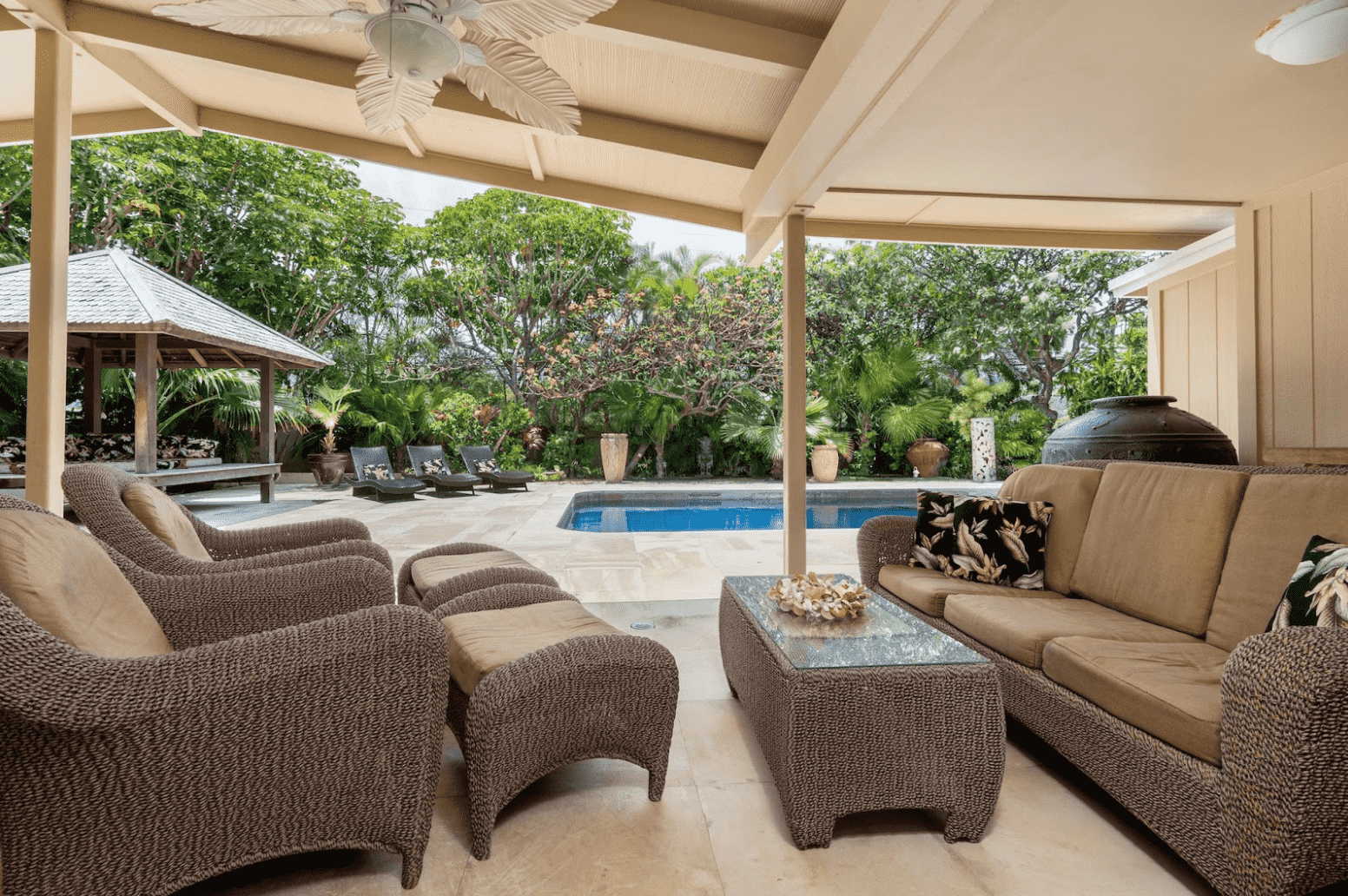 Set on a private road with private beach access, and nestled amongst mature landscaping, this property offers luxurious privacy. Fine finishings with a relaxed tropical feel make up this open floor plan one story home, resulting in flowing trade winds and lots of natural light.

Hale Maluhia Lanikai
3 Bedrooms, 3 Bathrooms | Kailua, O'ahu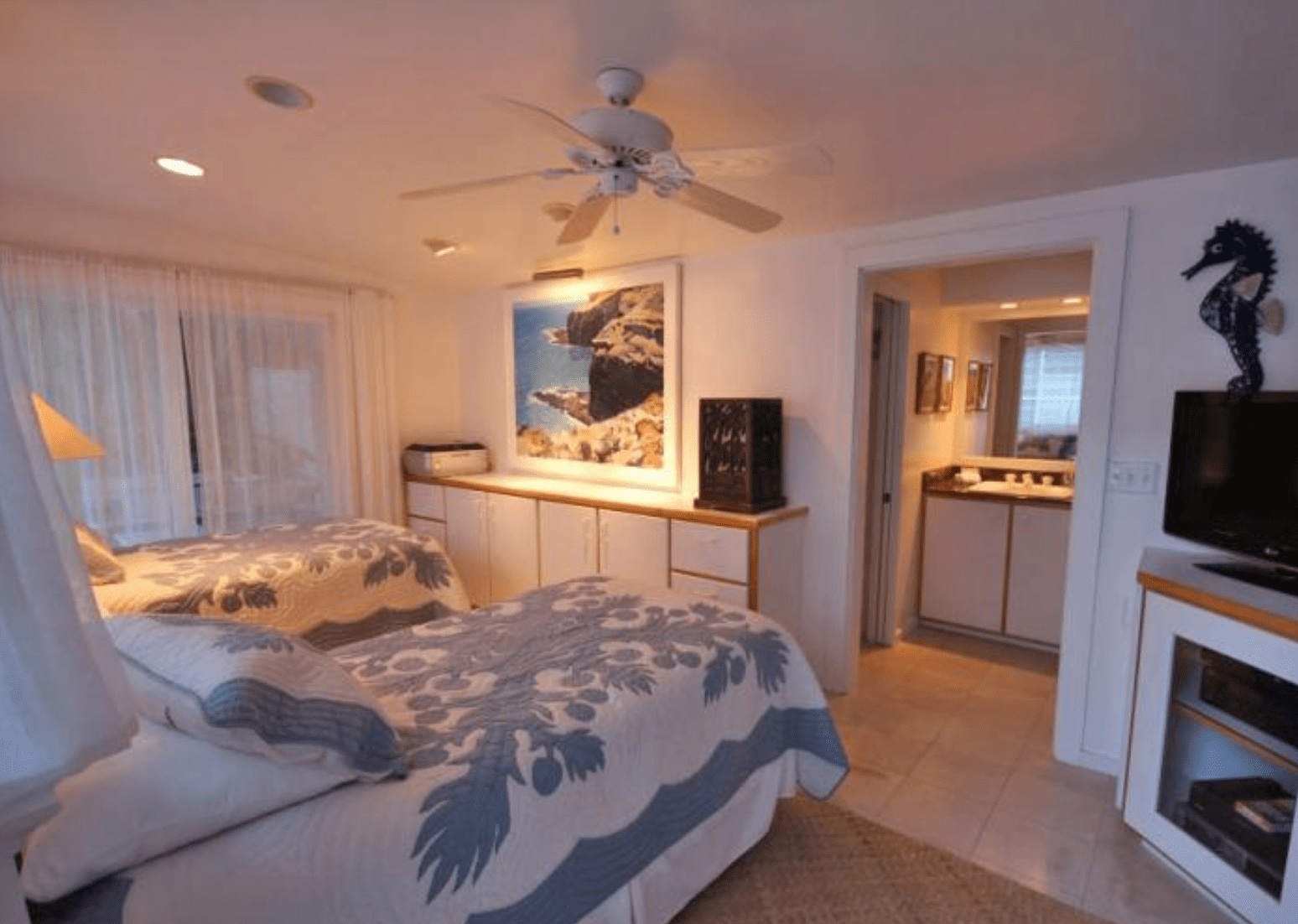 Steps from the world-famous Lanikai Beach, this three-bedroom, three-bath vacation retreat house feels like the Hawaii of yesteryear. Hale Maluhia is tropically decorated with all amenities for your comfort. Artwork is hand-selected from local artists, marble and travertine throughout kitchen and baths!
---
Wailea, Maui
Wailea offers the quintessential luxury resort vacation destination, with no less than five crescent-shaped beaches for you to relax and enjoy. Located in South Maui, luxury resorts dot the coastline of this area that spans 1,500 acres. Expect sumptuous spa experiences, world-class golf courses, fine dining restaurants and fabulous ocean views. There are a host of desirable vacation rental condos and homes in the Wailea area, all perfect for your summer getaway where you can relax poolside with a good book and a cocktail (or two).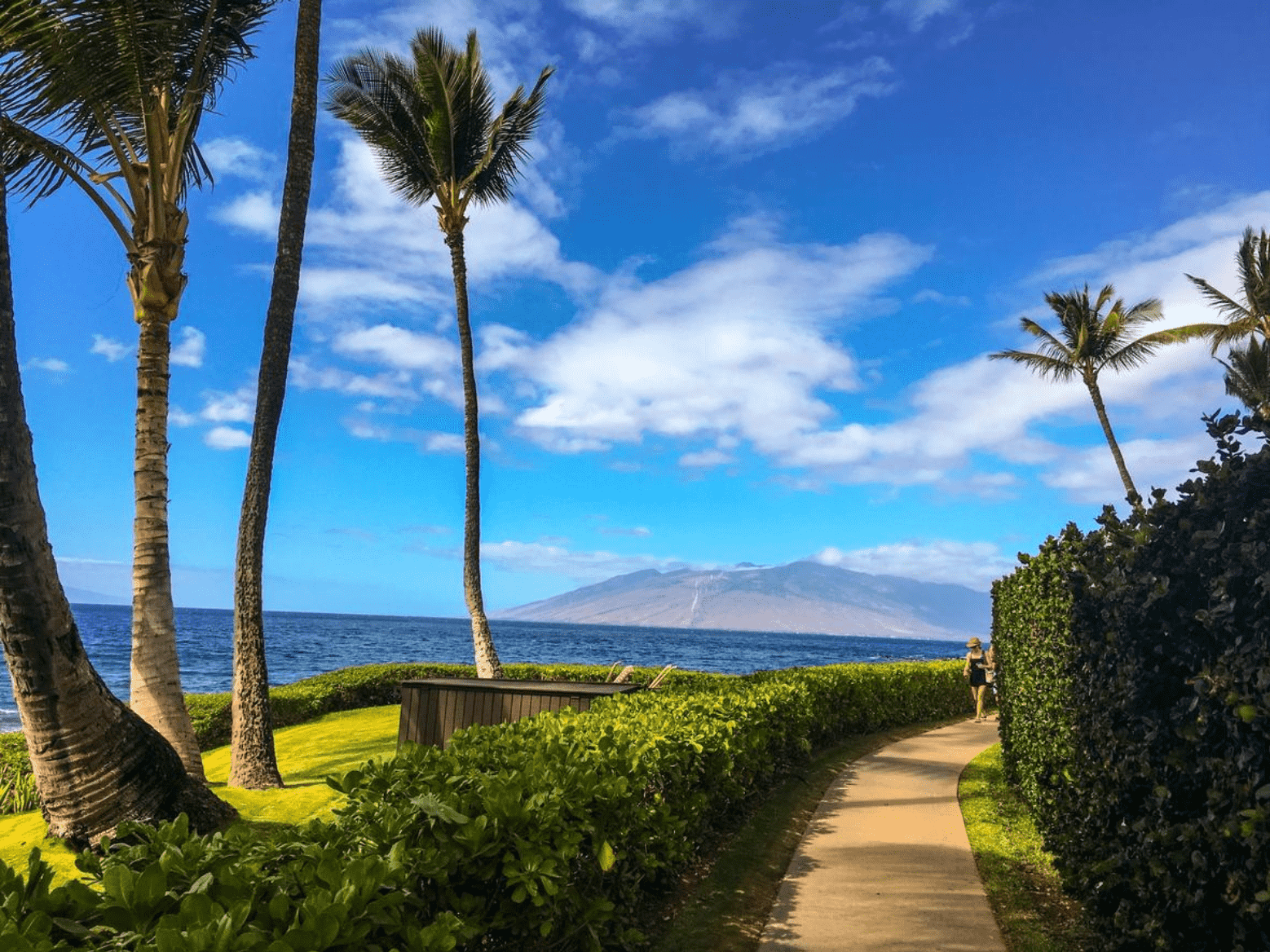 Wailea Beach boardwalk in South Maui, Hawai'i
Once you've unwound, there are plenty of local hiking trails, excellent snorkeling, lava fields, and sights to see. The Shops at Wailea offers a variety of excellent retail therapy when you've had your fill of unwinding at the local spas, beaches and swimming pools. The Wailea Beach Boardwalkis a lovely place for a sunrise or sunset walk or run (or people watch) while taking in the incredible Maui views.
Featured Maui Vacation Rentals
Palms at Wailea
2 Bedrooms, 2 Bathrooms | Wailea, Maui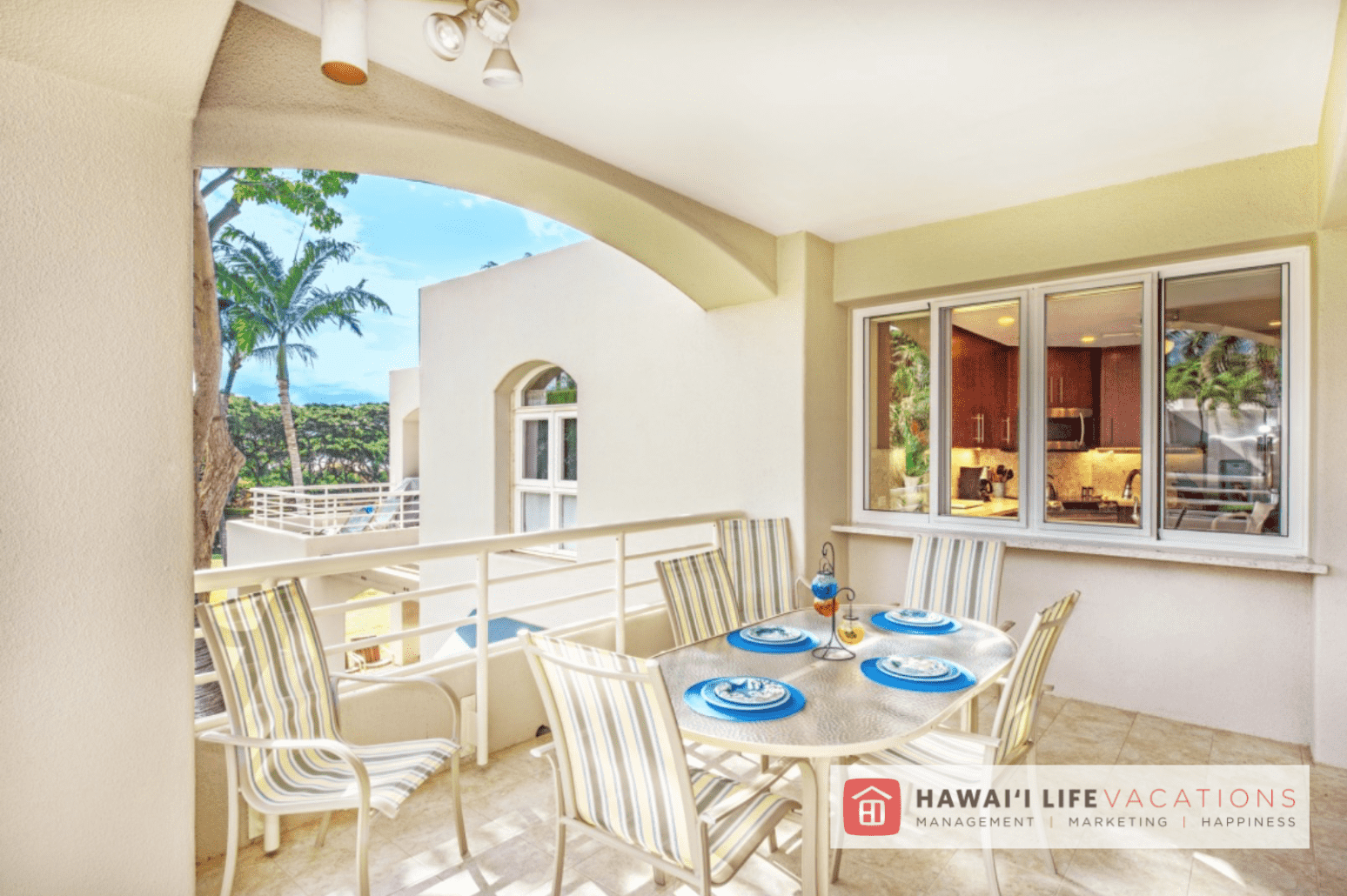 Within walking distance of one of Maui's most beautiful beaches as well as the Shops at Wailea with high end shopping and dining. Enjoy warm evenings on the spacious lanai, overlooking the lush tropical greenery below. The open plan concept, high ceilings and travertine flooring throughout create a bright and modern space, with lots of natural light from the floor to ceiling sliding glass doors.
Grand Champions
3 Bedrooms, 2 Bathrooms | Wailea, Maui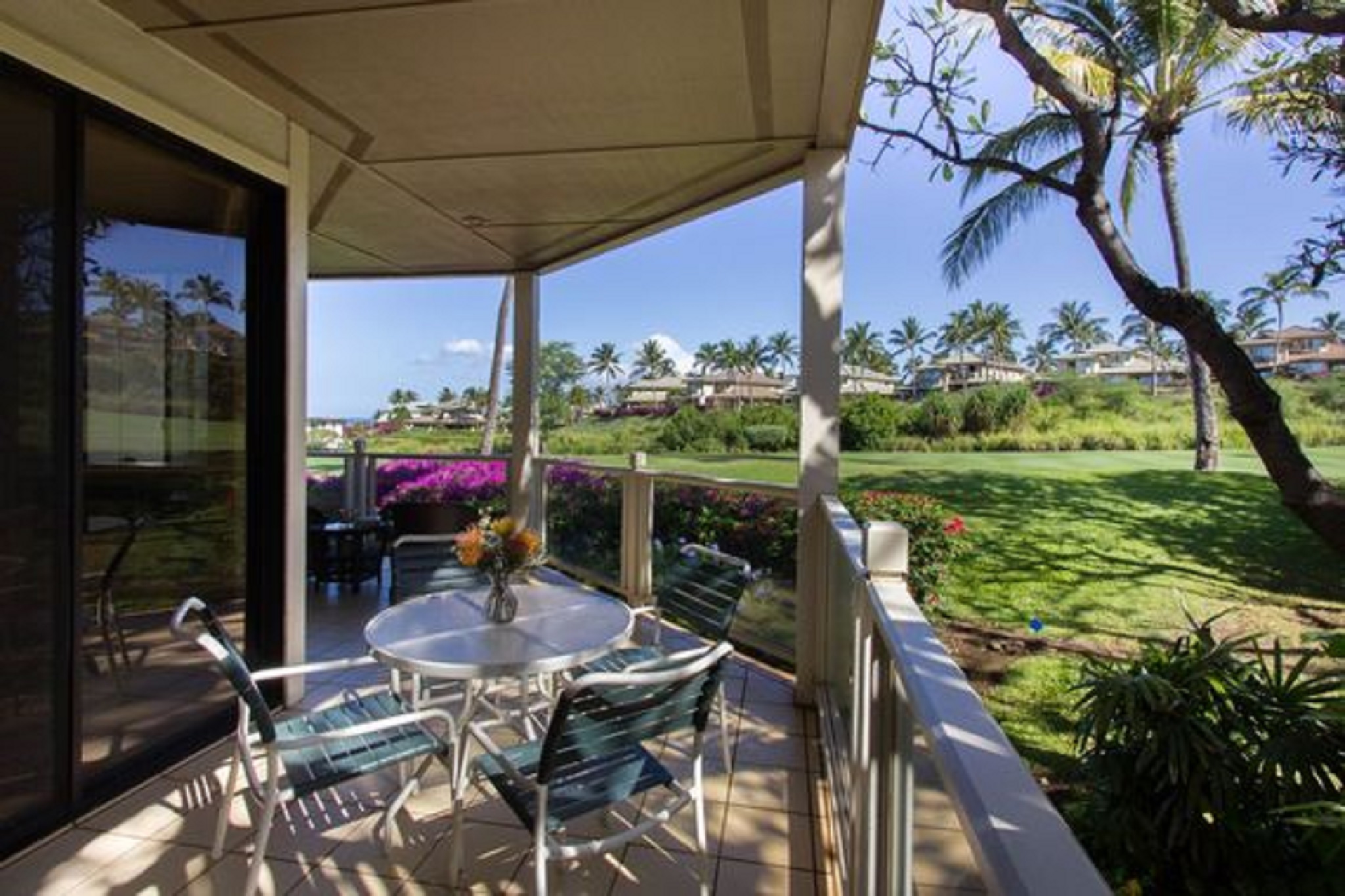 This three-bedroom villa is located on the Second Fairway of the Old Blue Course, and offers lovely views of the golf course, ocean, and beautiful landscapes from the large wrap-around lanai. Because of its strategic location in the complex, the villa offers guests lots of privacy in a beautiful setting.
---
Poipu, Kaua'i
If you do decide to visit Kaua'i, we can't say enough about the perpetually sunny town of Poipu on the island's southern shores.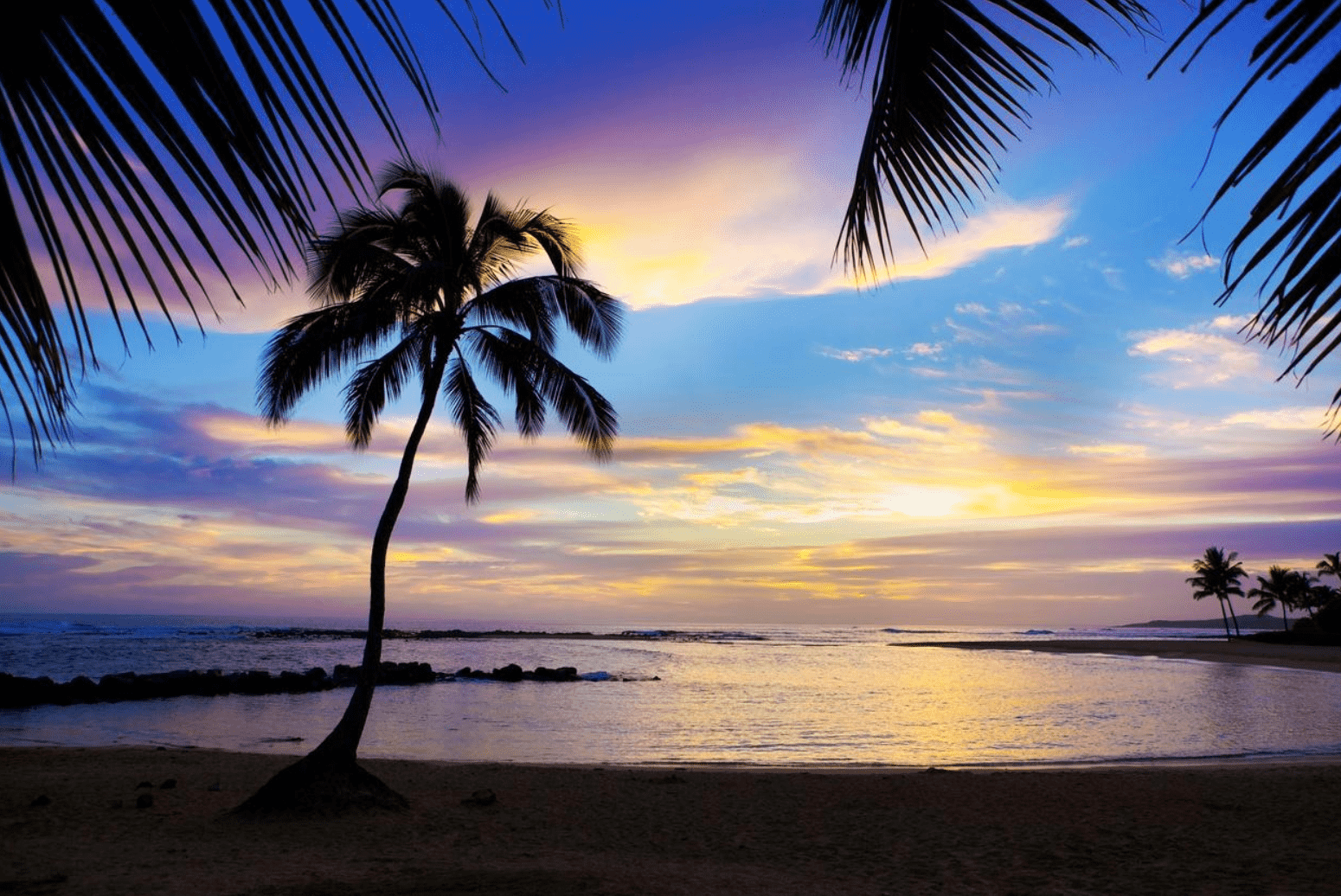 A colorful Hawai'i sunset, a tranquil beach & palm trees on Poipu Beach, Kaua'i, Hawai'i
Poipu offers great beaches, surfing, fine dining, resort living, plenty of excellent golf courses, and a tempting array of condos and homes to rent. Did we mention the shopping?
Featured Poipu, Kaua'i Vacation Rentals
Poipu Shores 301B
3 Bedrooms, 2 Bathrooms | Poipu, Kaua'i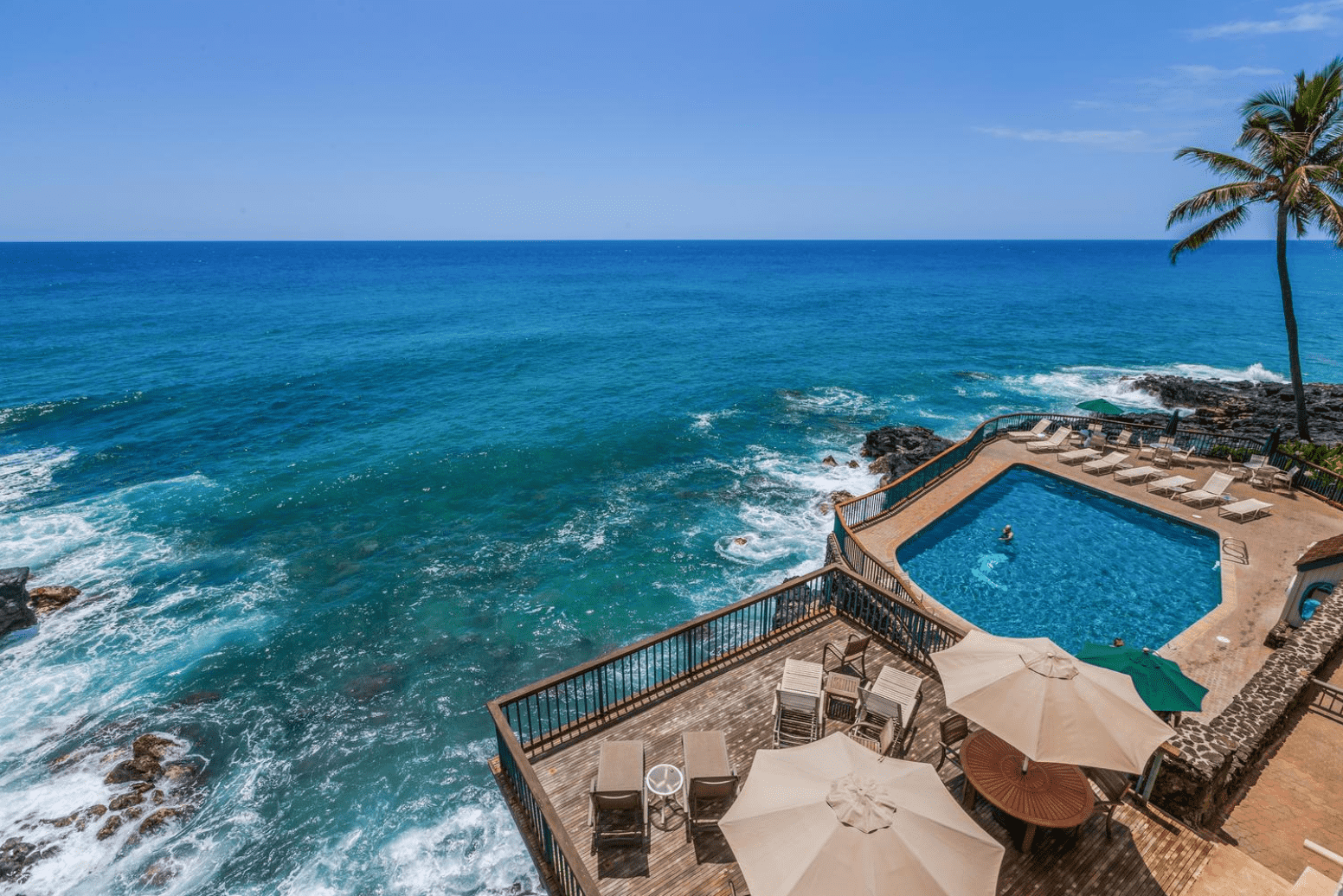 Poipu Shores is Kauai's premier oceanfront complex with unparalleled shoreline views. Enjoy whale watching and searching for sea turtles from your private lanai or basque in the sun by the oceanfront swimming pool. Paths along the ocean lead in both directions to the Grand Hyatt and Marriott Hotels and lengthy hiking trails along the rocky shore.
Prince Kuhio 401
2 Bedrooms, 1 Bathroom | Poipu, Kaua'i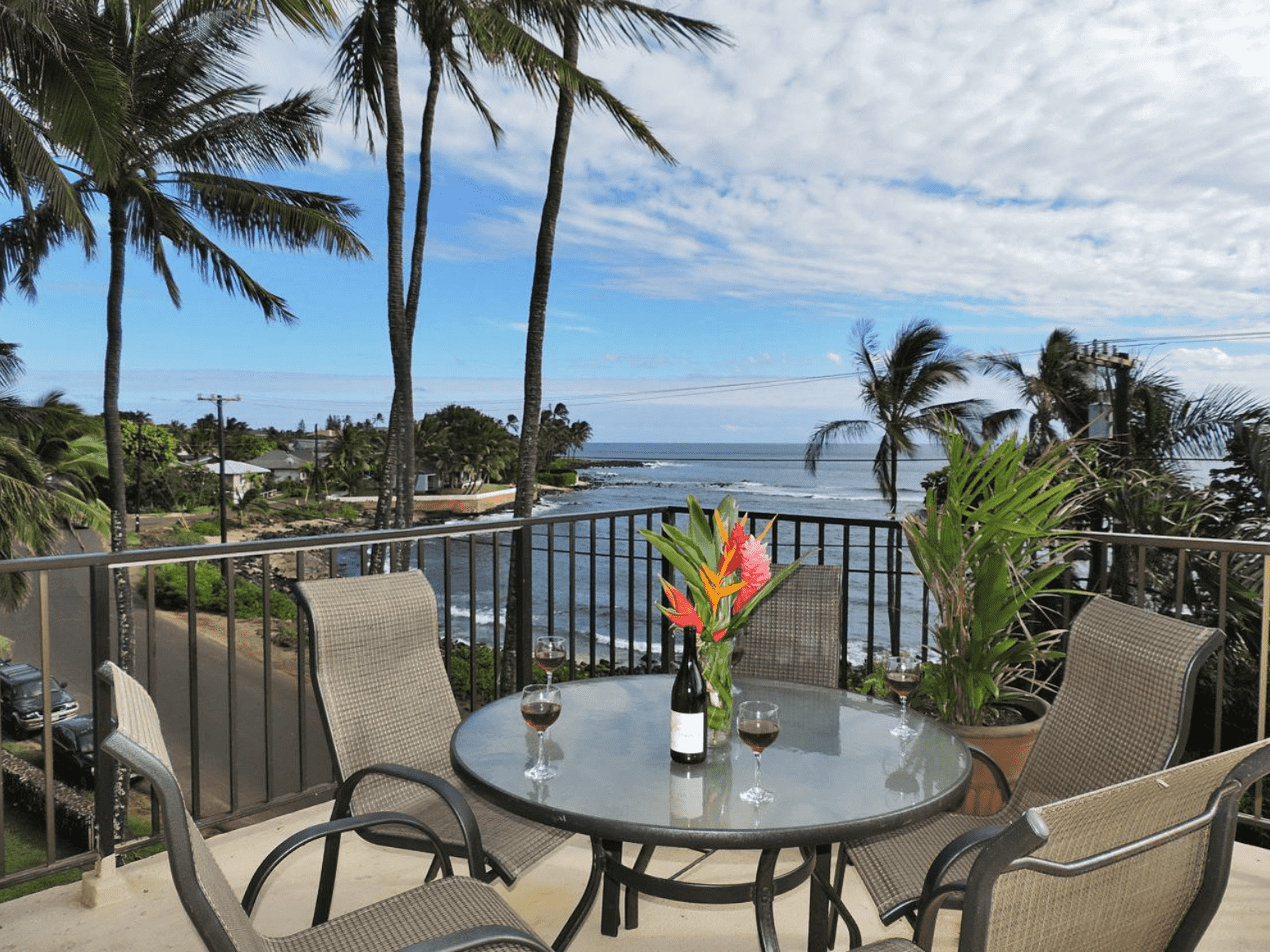 Welcome to our Penthouse Condo with an ocean view from every room. This spacious spot is 'above it all' on the fourth floor of the non-smoking complex. The penthouse has two bedrooms (each with a queen bed), huge living room, and an oversized private oceanview lanai.
---
Visiting and Rebuilding Kauai
If you choose to visit Kaua'i, we kindly ask you to leave the North Shore roads clear for emergency vehicles who are currently in the midst of rescue efforts. Please spend money at local businesses and in Kaua'i's many wonderful restaurants – our community needs your support in this difficult time. In the coming weeks, there will be plenty of rebuilding to do in Hanalei and beyond, so please avoid this area as recovery takes place. Mahalo nui loa!