5 May 2023
Best Place to Watch Sunset on Kauai 
Known for its idyllic scenery and outstanding vacation homes, like the ones you can rent from Hawaii Life Vacations, Kauai boasts countless awe-inspiring vantage points for watching a sunset that will take your breath away. And here on the Garden Isle, sunset gazing isn't just something to do at the end of your day at the beach. When the golden sun slips below the horizon, Kauai's skies become a tapestry of vibrant red, orange, and purple hues that make the sunset an event in itself. 
Today we'll explore the top seven spots to watch the sunset over the island. Whether you're a romantic at heart, a photography enthusiast, or simply looking to create lasting memories, these mesmerizing locations promise to make your Kauai vacation truly unforgettable.
Hanalei Bay
Situated on Kauai's North Shore, Hanalei Bay is a tranquil paradise known for its stunning sunsets and beautiful beaches. This crescent-shaped bay, framed by lush mountains and the Na Pali coast, features a two-mile coastline with three picturesque beaches — Black Pot Beach Park, Hanalei Beach Park, and Waioli Beach Park.
Visitors to Hanalei Bay can enjoy various water activities, such as swimming, snorkeling, surfing, and paddleboarding. Best viewed from Hanalei Pier or Waioli Beach Park, the captivating sunsets offer memories that will truly last a lifetime.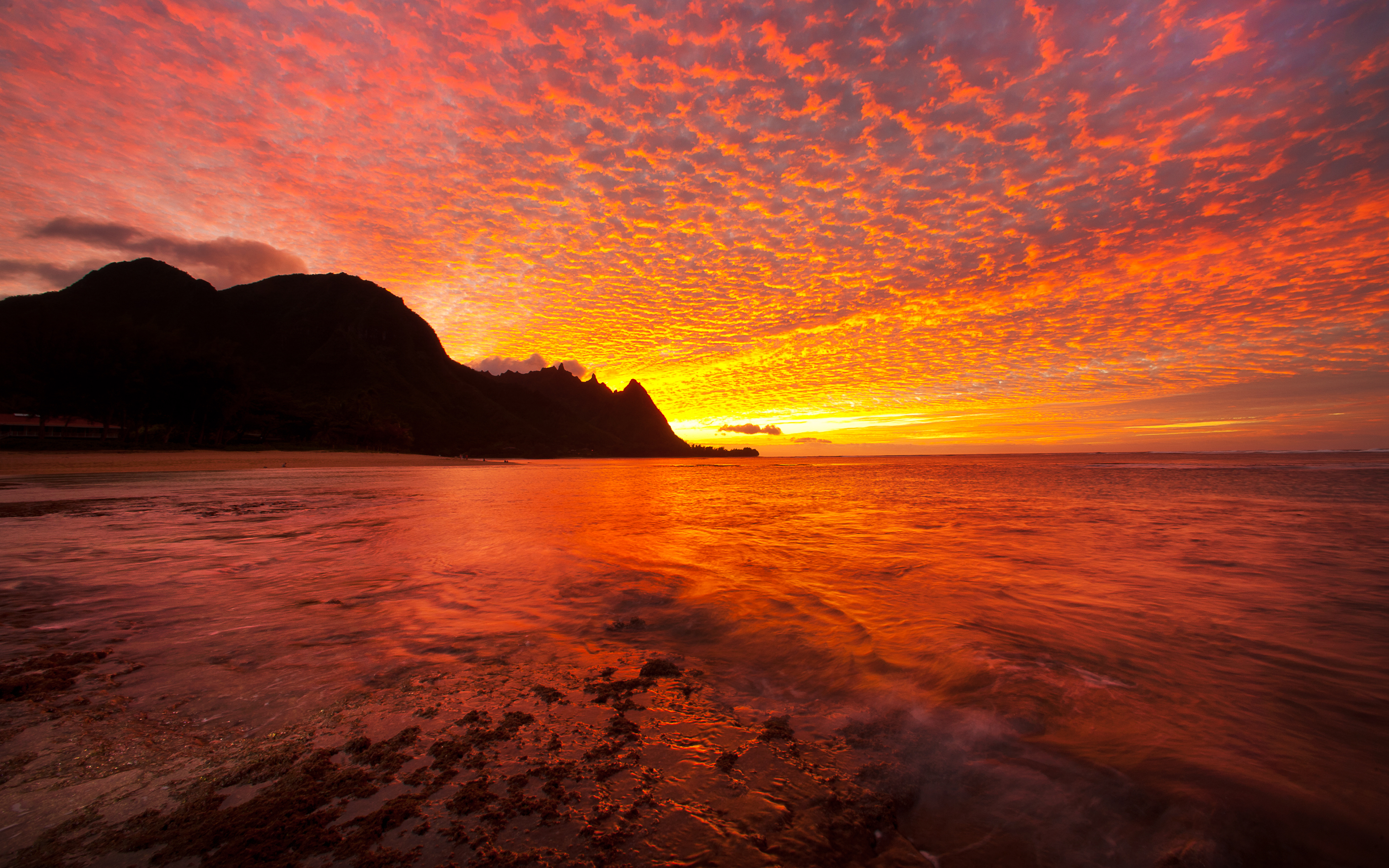 Tunnels Beach
Tunnels Beach, a hidden treasure on Kauai's North Shore, offers crystal-clear waters, pristine sands, and exceptional snorkeling and scuba diving during the day. Creating an extraordinary underwater environment, the intricate network of lava tubes and tunnels beneath the waves give Tunnels Beach its name. Dive in and explore vibrant coral reefs and a diverse array of tropical fish. Above water, the beach is perfect for beachcombing, photography, and witnessing stunning sunsets to end your day of adventure.
Ke'e Beach
Ke'e Beach, located at the end of Kauai's North Shore, is a tropical oasis with golden sands and turquoise waters. As the gateway to the enchanting Na Pali Coast and Kalalau Trail, Ke'e Beach offers spectacular vistas and unique opportunities to explore Hawaii's pristine wilderness.
For the adventurous, the beach marks the starting point for the 11-mile Kalalau Trail with its hidden beaches, valleys, and waterfalls. Ke'e Beach is also known for sunsets that cast a warm glow over the rugged cliffs of the Na Pali Coast. Day passes are required and must be purchased in advance before visiting, Visit the Division of State Parks Here for more information. 
Kilauea Point National Wildlife Refuge
Kilauea Point National Wildlife Refuge is a sanctuary for diverse wildlife on Kauai's North Shore. Established in 1985, this 203-acre refuge is home to various seabirds, spinner dolphins, Hawaiian monk seals, and migrating humpback whales. The iconic Kilauea Lighthouse adds a touch of history to the unparalleled setting.
On May 6th, the refuge hosts a special sunset viewing event in honor of Lighthouse Day, offering a mesmerizing spectacle of colors as the sun sets over the Pacific Ocean. Experience the beauty of Kauai's sunsets, surrounded by the serenity of the refuge and you'll see why it's one of the Garden Isle's true gems.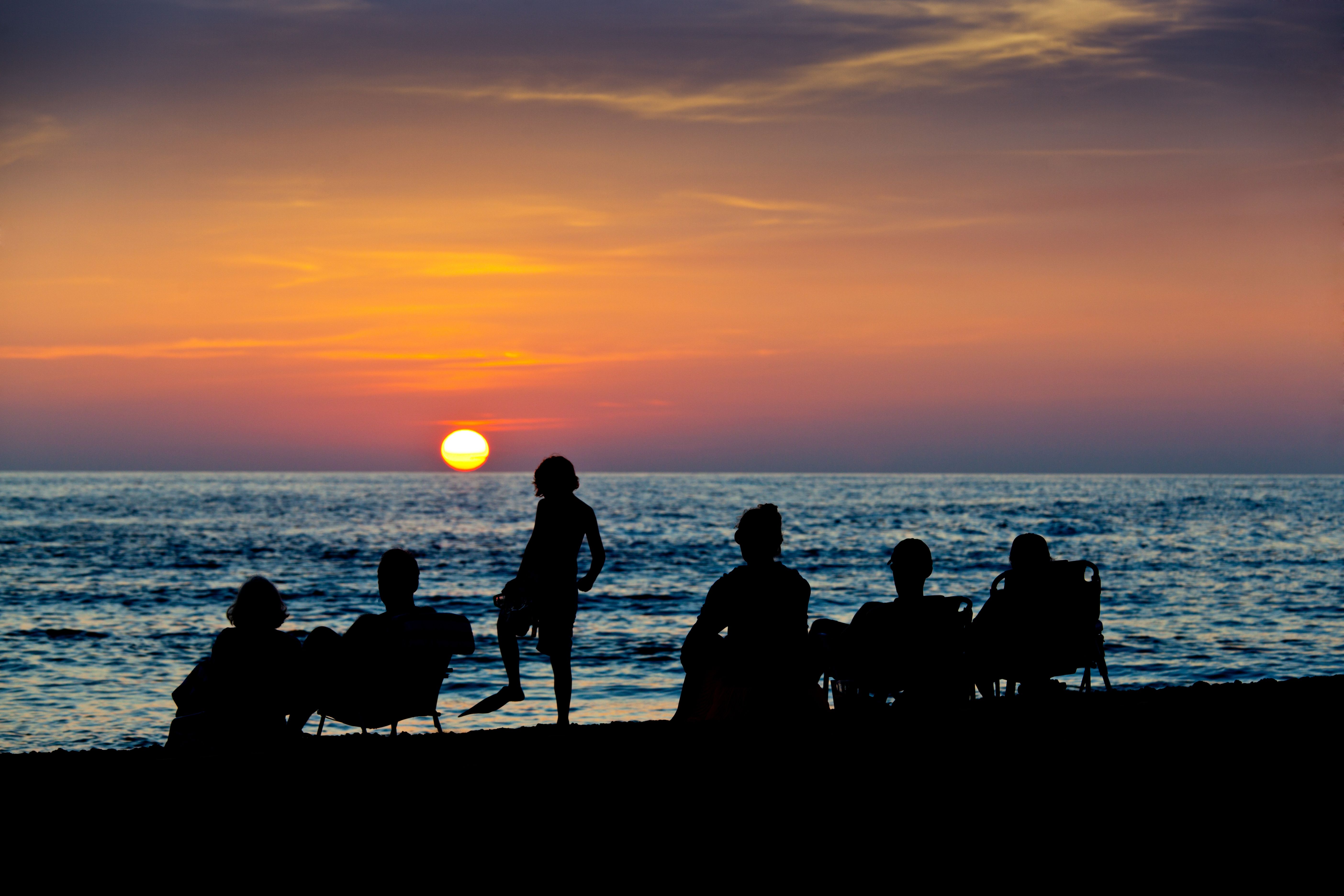 Polihale State Park
A remote haven on Kauai's western shore, Polihale State Park is a blend of adventure and seclusion. Accessible via a five-mile dirt road, the park spans 140 acres and features Hawaii's longest stretch of beach framed by the Na Pali cliffs.
Visitors can enjoy swimming, snorkeling, surfing, sunbathing, picnicking, and beachcombing at Polihale Beach before taking in the sunset. With dazzling colors casting a glow over the cliffs and ocean, it's sure to provide a mesmerizing end to the day.
Poipu Beach
Poipu Beach, a popular destination on Kauai's sunny South Shore, is known for its golden sands, azure waters, and remarkable sunsets. The beach's crescent-shaped coastline creates distinct swimming areas for daytime activities. And the bay's calm, shallow waters are perfect for families who want to snorkel, surf, and boogie board.
Poipu Beach is also home to colorful marine life, promising unique wildlife encounters and other memorable experiences. Best viewed from Makawehi Point or Poipu Beach Park's western end, the alluring sunsets add to the beach's overall beauty and enchantment.
Shipwreck Beach
Located on Kauai's South Shore, Shipwreck Beach offers soft sands, dramatic cliffs, and magnificent sunsets. After a day of sunbathing, beachcombing, and picnicking, head to Makawehi Bluff. The towering limestone cliff provides a fantastic vantage point for witnessing the beach's sunsets at dusk. 
Connect With Hawai'i Life
Dreaming of experiencing a beachside sunset yourself? Hawai'i Life offers unique rentals on Kauai, Maui, Oahu, and Hawai'i Island. With so many rental options on each island, there's bound to be one perfect for your Hawai'i vacation.

If you're ready to pack your bags and head to Kauai, we'd be happy to help you find the perfect vacation rental and answer any questions about your visit. Contact us today to get started! Vacations@HawaiiLife.com | 855.447.3685