12 May 2023
Tips for Helping Your Maui Guests Rise Above Plastic
Owning a vacation rental in Hawai'i is a great way to bring in additional income and can even help the local economy by supporting the tourism industry. An important but often overlooked part of being a Hawai'i vacation property owner is helping your guests protect the unique environment and ecosystems of the islands so that residents and visitors alike can enjoy them for centuries to come. 
This includes protecting Maui and the other islands of Hawai'i from the threat of single-use plastics. One of the most common forms of human waste in Hawai'i - especially from tourists - plastic is also one of the most enduring and permanent waste forms. 
Fortunately, the Surfrider Foundation works hard to help tourists and vacation homeowners both eliminate single-use plastics and keep the environment cleaner and more pristine for future generations. Here are some helpful tips from the foundation for helping your Maui vacation home go single-use plastic-free. 
1. Install a Water Filtration System at Your Property
One of the biggest changes you can make to help reduce single-use plastics is installing a high-quality water filtration system in your Maui vacation home. You can use a household filter at the water main instead or filters on the sinks. No matter which option you choose, it's important to let your guests know about the filters in a welcome email or welcome kit.
In addition to installing filters, it's also vital that you maintain those filters. By doing so, you'll prevent the water from tasting off, which is one of the main reasons vacationers may choose to buy bottled water instead of using in-unit water. 
2. Offer Reusable Water Containers
Whether you choose plastic or aluminum, reusable water containers are an excellent way to discourage single-use plastics while still helping your guests have an unforgettable vacation. As this can also cut down on the amount of gear guests need to pack for their vacation, many travelers will also view this as a perk. Consider it your way of helping your guests leave more room in their luggage for mementos and souvenirs that will remind of their amazing stay in your Maui vacation rental! 
For every 1 to 2 guests you expect to stay in your vacation home, aim for 1 to 2 portable water containers. This is an effective, sustainable way to ensure that there is enough water for everyone. Offering reusable water containers at your vacation rental can also make your vacation home stand out from the competition and attract the best patrons!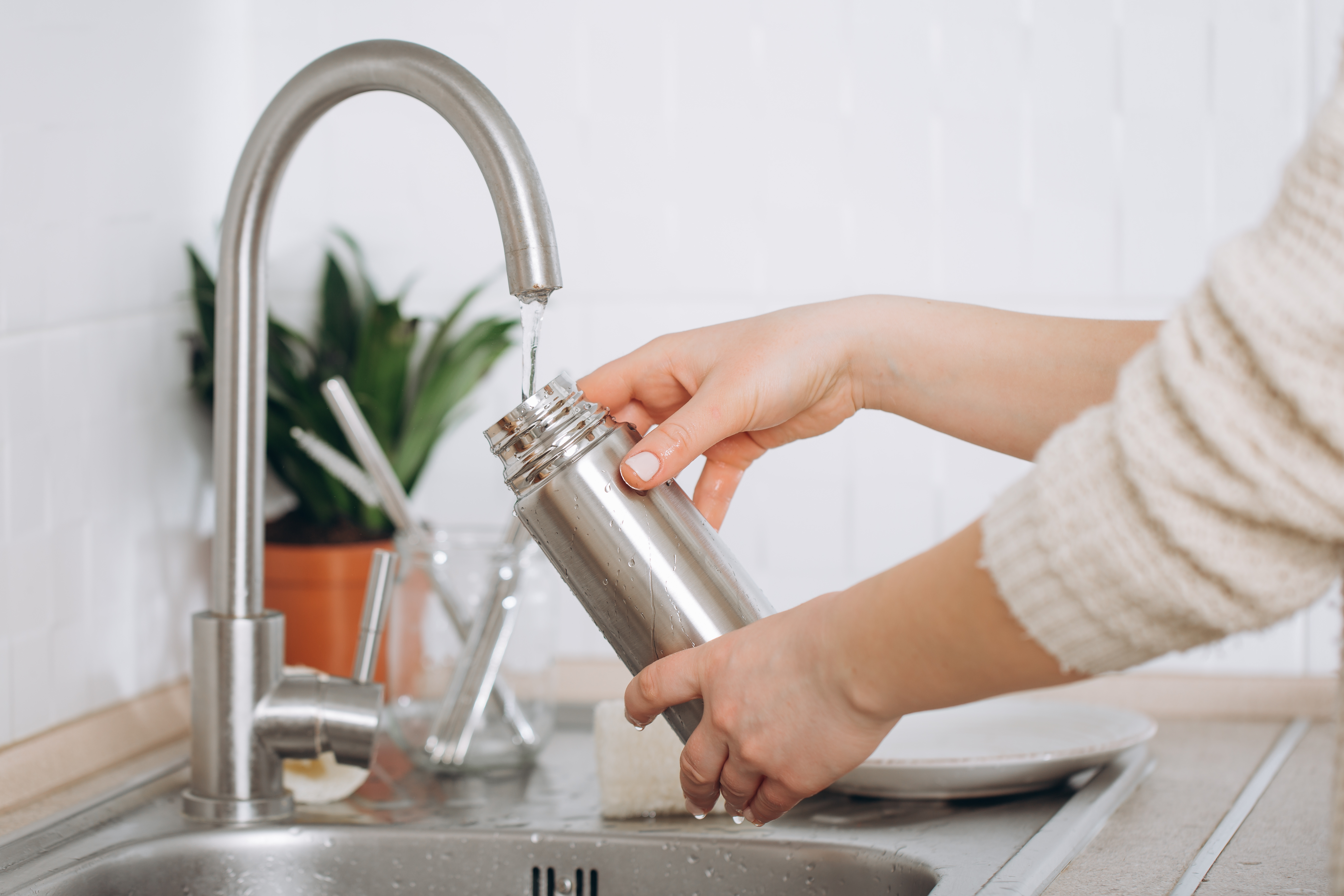 3. Use Glass and/or Aluminum Alternatives to Plastic Household Products
As much as possible, use reusable products and durable alternatives to plastic in your Hawai'i vacation rental. It's a fantastic way to stand up for the environment and differentiate your vacation from your competition.
This can include stocking your rental home with glass or aluminum soap trays, pitchers, dishes, and other products. You can also use bamboo or other wooden, portable silverware and grilling tools on the lanai. Not only will your eco-conscious guests appreciate these extras, but you may even help the not so eco-conscious go home with some new, environmentally-friendly habits! 
4. Provide a List of Places to Refill Reusable Water Containers
Go beyond offering reusable water containers and make sure that your guests know where they can refill those containers. This can be as simple as providing a list of refill locations. And guests will especially appreciate tips on where to refill their bottles when they are visiting Maui's many beaches, historical sights, and other places of interest. 
5. Offer Reusable Food Storage Options
Help your guests avoid single-use plastics while they stay at your Maui vacation home by including reusable food storage in the kitchen.
Consider oven-safe glassware, wax-covered cloths instead of cling wrap, or silicone storage and cooking bags. Not only do these options eliminate single-use plastics, but they can also help people become aware of the alternatives out there… which will make them more likely to switch when they return home from Maui. 
Tips for Turning Your Maui Vacation Home Into a Plastic-Free Zone
These tips are just the beginning of all you can do to turn your money-making vacation home into a sustainable green machine. For more tips and help converting your vacation home into the sustainable oasis of your guests' dreams, check out the Surfrider Foundation. It's free to join and the Rise Above Plastics on Vacation program offers educational materials to teach you and your guests about the problems with plastic and how to be part of the solution. 
And remember, while reducing the amount of plastic in your Maui vacation home is the goal, you don't have to be perfect. Every step you take to reduce plastic use makes a difference. 
Less Plastic and More Bookings
Whether you're just looking to get more guests to book a stay at your Maui vacation home or are looking to find even more ways to go green, reach out to Hawai'i Life.
We help vacation homeowners connect with guests and help vacationers find the perfect rental for them. We can also help your Hawai'i home stand out among other rentals, as well as offer tips that make your home more sustainable… and get you better ratings and reviews from guests. 
Ready to get started? 
Contact Hawai'i Life Vacations, today!