14 Apr 2023
Eco-Friendly Ideas for Hawai'i Vacation Homeowners
The beauty of Hawai'i is simply unparalleled, and as a Hawai'i vacation rental owner, you can be part of preserving our islands for future generations. Embracing eco-friendly ideas for your rental home is an excellent way to contribute to sustainability while saving energy costs significantly.
As a Hawai'i vacation homeowner, you have a unique opportunity to make a meaningful impact on the environment while making your rental more inviting for eco-conscious guests. Here are a few environmentally-friendly tips and ideas to consider adopting that can inspire others to join the movement toward a greener Hawai'i.
Appliance Upgrades
In our Hawai'i rental, appliance upgrades are a straightforward way to save significant energy. Consider ENERGY STAR-rated appliances, which offer improved energy efficiency and, in turn, reduced greenhouse gas emissions. Also, consider installing motion-activated lights to save on energy bills.
Eco-Friendly Kitchen Supplies
Embrace eco-friendliness in the kitchen by offering filtered water in glass jugs or bottles, as well as providing reusable bags for grocery shopping. Store tea bags in glass jars with lids, and store coffee in glass jars, paper sachets, or bags. Opt for bamboo or cotton dish brushes, dishcloths, and tea towels, and choose unbleached, reusable paper towels or serviettes. Replace plastic cutting boards with bamboo or wooden cutting boards. And stock up on reusable containers with lids or beeswax wraps as a sustainable food storage alternative for leftovers.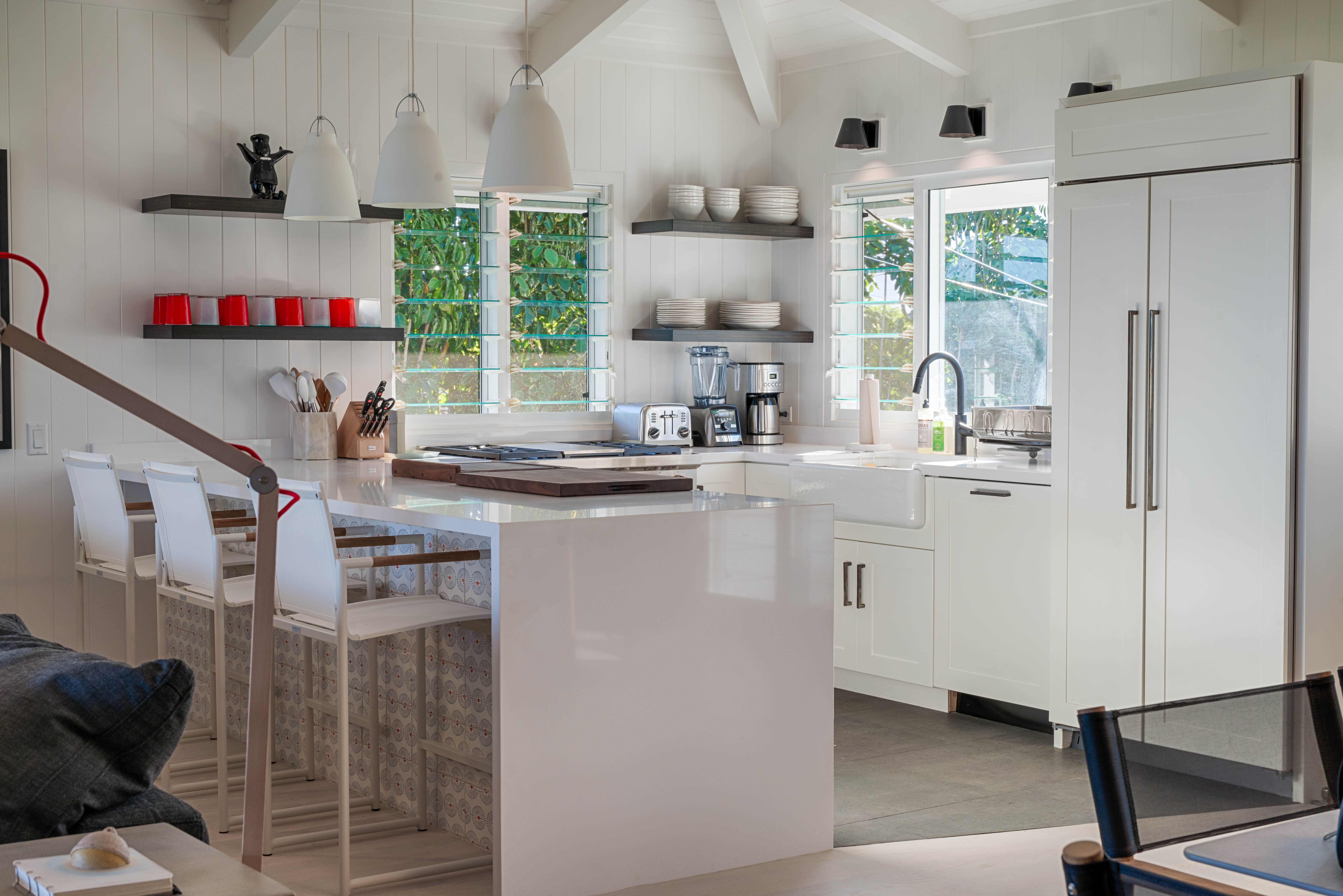 Environmentally-Friendly Laundry Essentials
To reduce energy consumption, adopt eco-friendly laundry practices by providing guests with a rack to air dry clothes. You can also integrate the use of wool drying balls in the dryer to accelerate the process. Finally, when purchasing laundry powder, transfer it to a smaller container with a scoop, such as a tablespoon, to encourage using less product and reducing waste.
Solar Panels
In Hawai'i, homeowners' average annual energy bills can top out at nearly $4,000. Fortunately, you can slash these costs while appealing to eco-friendly travelers by investing in solar panels. In Hawai'i, the price of a residential solar system varies, with a 4kW system purchased outright costing around $12,000, while a financed 10kW system may set you back around $27,000. Built to last for up to 30 years, most homeowners see the savings after an average payback period of 6 to 10 years, making solar panels a sound investment for your Hawai'i vacation home. What's more, there is a 30% federal tax credit for solar installations between 2022 and 2032.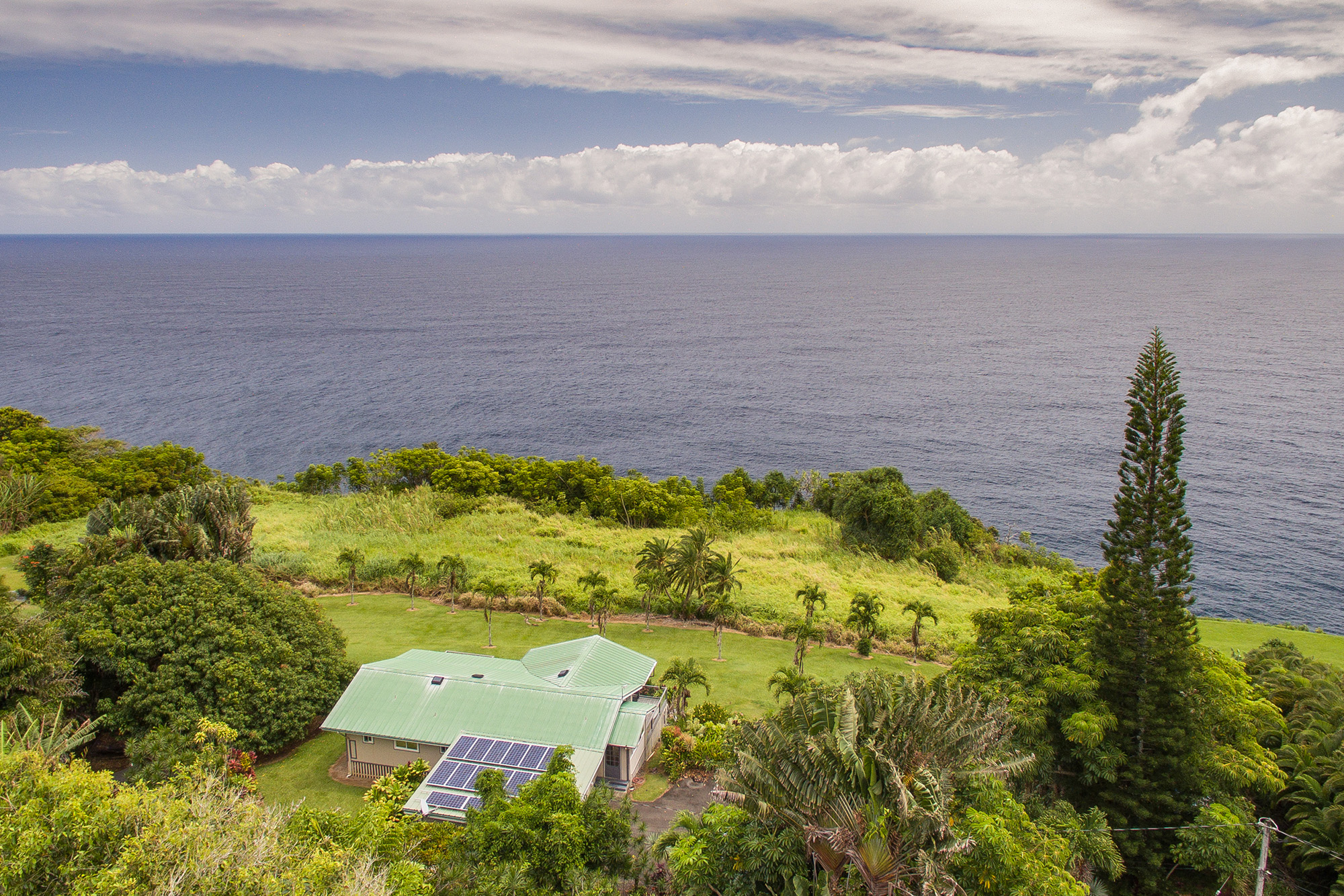 Stock Up On Reusable Items 
With the Hawai'i ban of single-use plastic bags and limited recycling options in some areas, it's crucial to provide eco-friendly alternatives to guests. Stock kitchens with reusable items like glass and metal utensils, tableware, and water bottles. And replace plastic soap dispensers with refillable stone or glass versions.
Although sustainability efforts can save money, the focus should be on offering a green experience for eco-conscious guests. This can include having clearly marked recycling bins with recycling guidelines and providing instructions for long-term guests on pick-up schedules. You can also include reusable grocery bags in welcome baskets and encourage guests to bring them home, reminding them of the environmentally-friendly accommodations you provided. 
Paper & Water Conservation
The U.S. consumes over 70.6 million metric tons of paper each year. As a rental owner, you can help reduce this by using 100% recycled paper products like toilet paper, paper towels, and facial tissues.
Encourage eco-friendly practices by investing in an outdoor shower, which conserves water, reduces utility bills, prevents mold and sand in your home, and offers a unique experience for guests. Enhance sustainability indoors by installing faucet aerators and low-flow faucets in kitchens and bathrooms, costing only $10 to $20 per upgrade and saving over 2,700 gallons of water annually.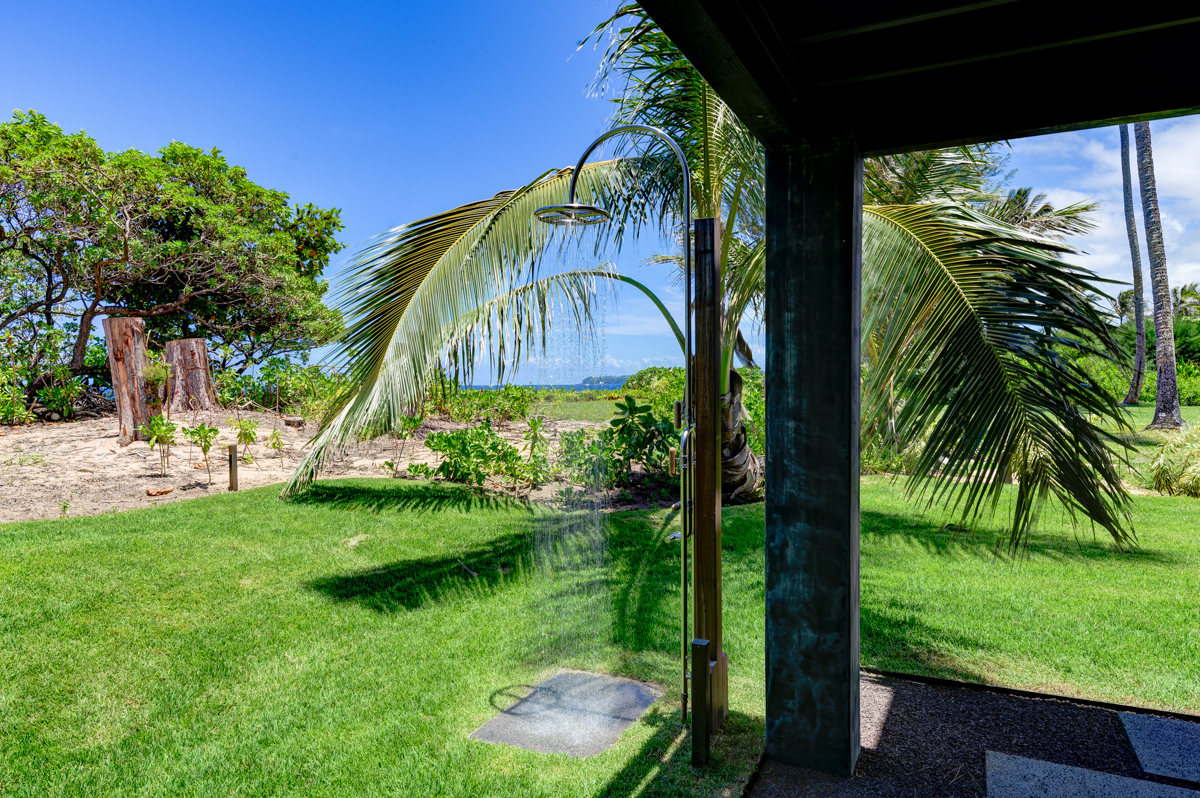 Local Products & Services
Eco-conscious guests will value your commitment to using locally-made, sustainably-sourced products to furnish, decorate, and stock your vacation rental. For example, opt for organic, locally-crafted toiletries and Hawai'i-made linens. For house cleaning and maintenance, hire local businesses to support the community. Local service providers also have shorter travel distances, minimizing environmental impact.
Hawai'i Life's established relationships with local service partners can also help. Our property management services oversee housekeeping, yard maintenance, repairs, gas delivery, septic tank inspections, window washing, carpet cleaning, and more, ensuring a sustainable approach to managing your Hawai'i rental property.
Planet-Friendly Furnishings
In an eco-friendly approach to furnishing your rental property, prioritize durable, high-quality furnishings to save money and reduce waste. Opt for natural materials like wood, bamboo, cotton, jute, or wool when possible, as they're eco-friendly alternatives to synthetic materials like plastic, vinyl, or PVC. 
Connect With Us
When it comes to your Hawai'i rental property, these eco-friendly improvements can minimize your ecological impact, trim expenses, appeal to eco-conscious guests, and optimize your profits. Above all, promoting sustainable tourism can contribute to a healthier, more sustainable future for our beautiful islands. 
At Hawai'i Life, we excel in managing well-appointed accommodations while addressing the distinct preferences of travelers. We prioritize your property investment and provide unwavering support from booking to check out. For innovative suggestions on green enhancements to your Hawai'i vacation rental, reach out to us today via email or phone at Vacations@HawaiiLife.com or 855.447.3685.