28 Oct 2022
Hawaii Homeowner Guide: Top Home Amenities Searched by Guests 
Most travelers planning a trip to Hawai'i will search for a vacation rental based on amenities. In fact, filters make it easier than ever for potential guests to find their perfect vacation rental. When the Hawai'i vacation rental you own has the top amenities, it can take your property from barely being a blip on visitors' radar to consistently getting website traffic and bookings. And not all amenities are created equal. There are certain amenities that are searched for more than others. Keep reading to discover what the top amenities are and why guests are searching for them in the first place. 
The In-Demand Essentials
No matter the size of your property or your budget, there are some amenities that every vacation rental should offer. These are a few of the amenities that aren't just desirable, but essential. 
Fully-Equipped Kitchen with extra appliances
Most vacationers aren't interested in going out to a restaurant for every single meal. And many look forward to spending more time cooking with family while on vacation, motivating them to look for rentals that have a kitchen. In fact, 64% of travelers report booking a vacation rental instead of a hotel room because they want a kitchen to cook their own meals in. 
This amenity is in high demand, so take advantage of it by upgrading your rental's existing full kitchen. Give guests a spacious kitchen that has the appliances they've been dreaming of by including an electric can opener, electric wine bottle opener, a toaster oven, a blender or Vitamix, and a slow cooker. Even access to a kitchenette will provide your guests with the ability to prepare the basics. If your kitchen is limited on space, you can still find room for a coffee maker, toaster, mini fridge, microwave, and a few other essentials.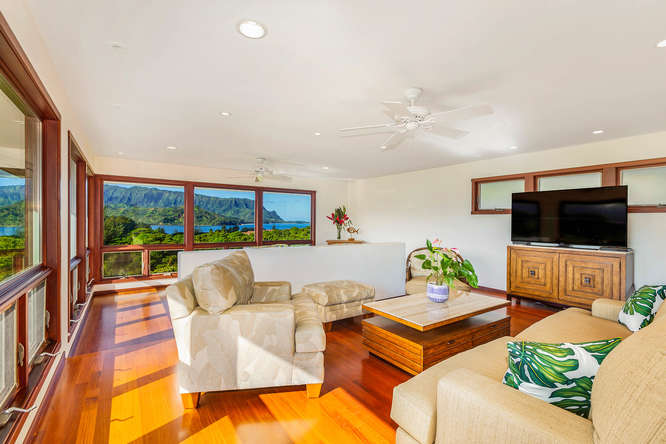 TV and High-Speed Internet / Wi-Fi
If you're wondering what kind of entertainment package to provide guests staying at your Hawai'i vacation rental, consider that most people enjoy unwinding in front of the TV, even when vacationing in paradise. But a TV with basic cable won't cut it, especially for guests traveling with children. To ensure that your rental property appears in more searches, offer free Wi-Fi high speed internet in addition to a widescreen TV. 
Some guests will still need to check emails, update social media, attend Zoom meetings, chat online, conduct some business, and stay connected even while on vacation. And most guests will appreciate the ability to readily access their Amazon Prime, Peacock, Hulu, Netflix, and other video streaming platforms when they need a break from the sun. If your vacation rental is a larger home or condo, or is located in a resort, we recommend investing in a booster or other device for optimized speed. In addition, be sure to display the rental's Wi-Fi information and password in a visible location. 
The Conveniences & Comforts of Home
One of the reasons travelers choose vacation rentals over hotels is to enjoy the conveniences that they are accustomed to in their daily lives. Here are some of the comforts of home that the majority of guests are searching for in a Hawai'i vacation rental. 
Air Conditioning
Many Hawai'i guests won't even consider renting a vacation home if it doesn't have an air conditioning system, which is why they search for A/C specifically. While portable units and wall-mounted box units are an inexpensive option, most guests prefer central A/C. Central A/C is a considerable investment, but it's worth it. Your property's page will be seen by more travelers, while assuring guests that they'll vacation in comfort. Of course, any air conditioning is better than nothing, as long as it's an A/C system that is clean, quiet, and functional. Work with your property manager to have the A/C serviced regularly and have all filters cleaned or replaced every quarter.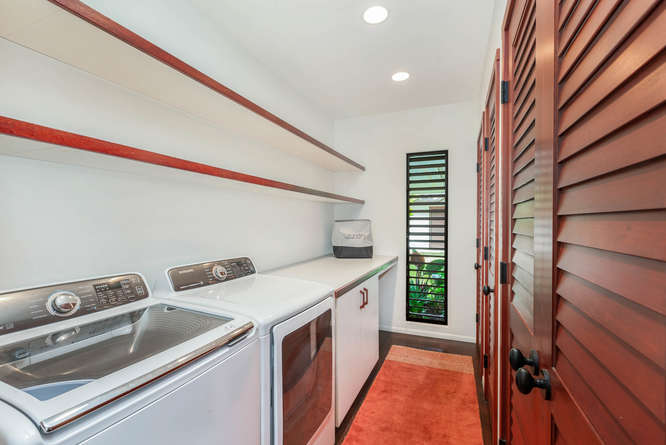 Washing Machine & Dryer 
Most renters who stay at your vacation property for a week or more will likely need to do laundry at some point. And no one wants to spend their Hawai'i vacation washing dirty clothes in a laundromat! Provide a washer and dryer on property for guests, along with travel size detergent, some dryer sheets, and a collapsible drying rack. It's one amenity that will undoubtedly make their stay stress-free, so they can get their laundry done and focus on taking in the sights and sounds of Hawai'i. And with a laundry facility on site, it will make your life easier since you'll be able to wash linens between guests' stays.
The 5-Star Amenities
To provide a 5-star experience for every guest, go above and beyond the basic amenities and comforts of home. Here are a few luxury amenities that will generate positive reviews, so guests can truly feel pampered when they stay at your Hawai'i vacation rental.
Swimming Pool
We can't emphasize enough the appeal of a vacation property with a swimming pool, especially in Hawai'i where guests can enjoy the pool year round. Even vacation rentals on the beach will get more bookings if they have a pool, as everyone likes unwinding poolside on a sunny day. That's why a swimming pool is one of the most highly sought-after amenities.
If your property has a large enough yard, consider installing an in-ground swimming pool. One of the most attractive amenities you can offer, a pool will increase your rental prospects almost instantly and add value to your property in the long-term. If your vacation rental already has a swimming pool, enhance the luxury appeal by keeping the deck well maintained, decorating the pool area with water-proof outdoor furniture and lights, and including inflatable floats, beach balls, beach towels, and other water sports accessories.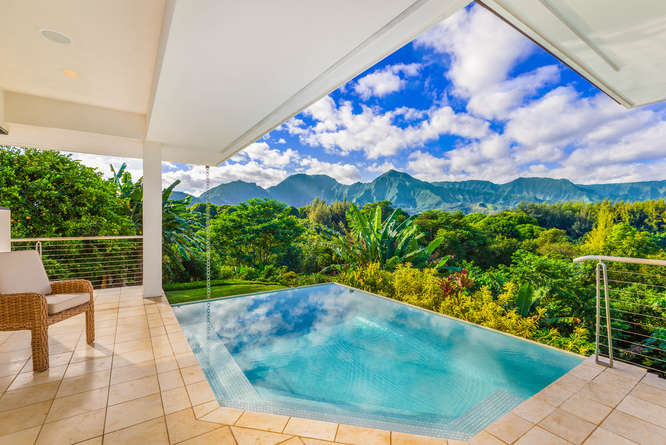 Private Hot Tub
A private hot tub adds a touch of luxury that will immediately attract guests searching for a vacation rental. It's no wonder that this is one of the amenities that guests search for the most and rental homeowners have zero hesitation investing in. In fact, you can usually rent a vacation property with a private hot tub at a higher price point per night than other vacation rentals. If you're planning on upgrading your rental by installing a hot tub, a tub with complicated settings or fancy lights is not necessary. A larger, private hot tub, however, will be greatly appreciated. And a clean, functioning hot tub is not optional! To keep the hot tub clean and keep heating costs down, invest in a quality hot tub cover and have it serviced regularly. 
Ready to enhance your guests' experience by investing in a hot tub, but not sure where to install one? Poolside is always ideal, but even if you don't have a pool, a hot tub can easily be installed on a back lanai or in even a smaller backyard. 
Epic Views
All it takes is a quick look at Hawai'i Life's Vacation Rentals page to see that "Ocean Views" is one of the top amenities guests search for. Don't underestimate the location of your own vacation rental and the views it offers. Whether there are partial ocean views from the lanai, full ocean views from a beachfront rental, or views of one of Hawaii's majestic mountains, guests will embrace the ability to enjoy memorable vistas. On your rental page, you can further emphasize how amazing the views are with professional photography. Before you invest in photos showcasing that view, however, be sure to maximize those views by trimming any plants or trees that might block the view. And if you have a lanai that is screened in, remove the screen and offer an open air lanai with uncompromised views. 
Adding or upgrading a few of the amenities listed above can give your vacation rental a serious competitive edge. At Hawai'i Life, our team is available to help you enhance your Hawai'i luxury rental and attract more prospective guests. Your Hawai'i real estate investment is our top priority so contact us today for more ideas on how to add, upgrade, and market the top vacation home amenities searched by guests.