5 Oct 2023
Unveiling the Hidden Gems of Hawaiʻi: 6 Travel Spots You never Knew Existed!
There's a lot more to Hawaiʻi than just pristine beaches, luxurious resorts, and take-your-breath-away picture-perfect landscapes. From majestic volcanoes to cascading waterfalls, the islands of Hawaiʻi are a must-visit destination full of natural wonders. 
Yet, in Hawaiʻi, there's definitely more than meets the eye! Beyond the well-traveled tourist paths lie treasure troves of hidden gems and amazing travel experiences. While the draw of more popular attractions brings crowds, the savvy traveler (and perhaps repeat Hawaiʻi traveler) can find more secret spots by venturing off the beaten track and embracing Hawaiʻi with a local perspective.
We encourage you to immerse yourself in Hawaiʻi's quieter, less-touched corners. Discover serene havens where you can unwind and soak in the innate beauty of our islands. 
Unveil the hidden gems of Hawaiʻi, ensuring your journey is always unique and memorable. 
Six Hidden Gems of Hawaiʻi
Mermaid Caves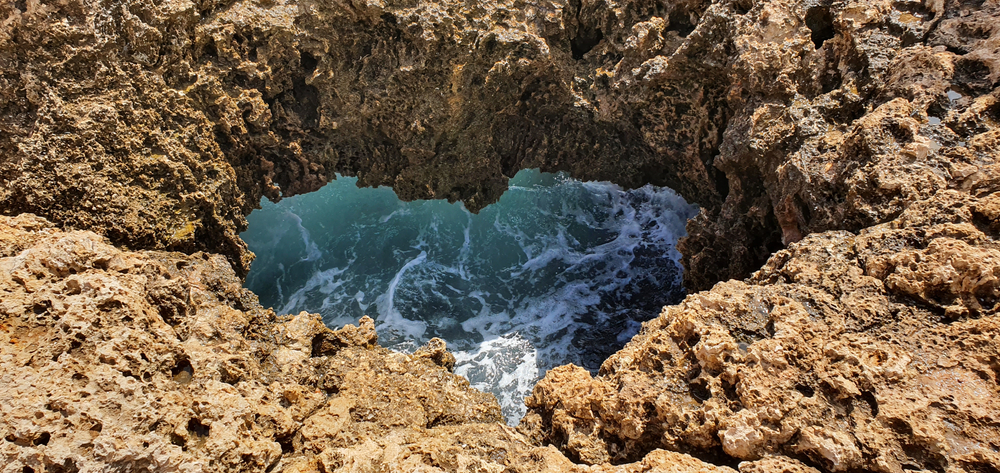 West Oahu's Mermaid Caves, also known as the Mermaid Tunnels, are a unique charm to seek at Nānākuli Beach Park. These caves are incredible because of their hidden allure and the incredible lighting reflected on the water. 
To reach them, cave explorers must traverse sharp lava rocks known to cut the feet, so make sure you tread with water shoes on. Once there, you'll descend through an open hole into the cave, revealing an underground grotto fit only for a mermaid. The caves earn their "Mermaid" nickname from the enchanting way sunlight filters through the openings, creating a magical underwater display. 
When exploring Oahu's Mermaid Caves, please heed caution. Water-filled caves can pose severe risks with quickly rising tides and swells, potentially leading to sudden danger. For those unprepared or inexperienced, Mermaid Cave's beauty can be admired (and photographed) by visitors from a distance. 
Park at the Laumania Ave lot near Nānākuli Beach to access this hidden gem. Head toward the ocean, follow the street to the lava rocks, turn left, and walk along the lava until you spot the cave entrance, usually with fellow adventurers nearby.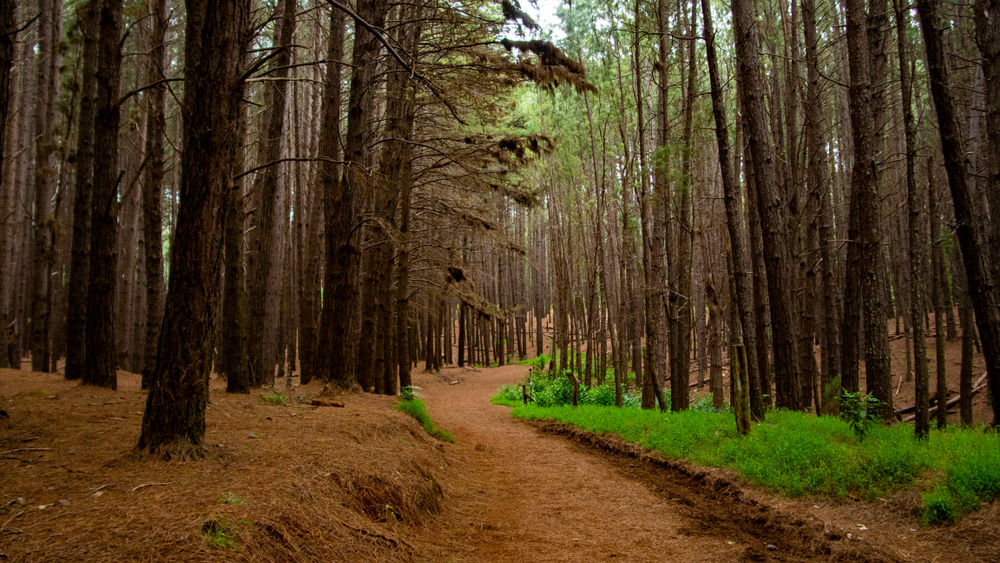 Maui's Redwood Trail is located in Haleakalā State Park's Polipoli Spring Recreational Area.
The 4.6-mile Redwood Trail loop meanders through a forested wonderland, starkly contrasting the sun-soaked beaches surrounding the Island of Maui. 
When walking the Redwood Trail, nature lovers will see towering redwood trees reminiscent of Northern California's Avenue of Giants, casting shadows on the forest floor. Walking along the trail, you'll find yourself immersed in a sometimes misty woodland forest, with a crisp and fragrant scent of eucalyptus throughout the hike. 
This remarkable trail allows for many views and vistas, allowing hikers to gaze out over rolling hills and see the Pacific Ocean stretching to the horizon. 
Visiting Maui's Redwood Trail in Polipoli is like discovering a well-kept secret and an invitation to experience the island's lesser-known wonders. So, venture beyond the typical tourist destinations and let Maui's Redwood Trail inspire you for years to come.
Kauaʻi's National Tropical Botanical Gardens (NTBG)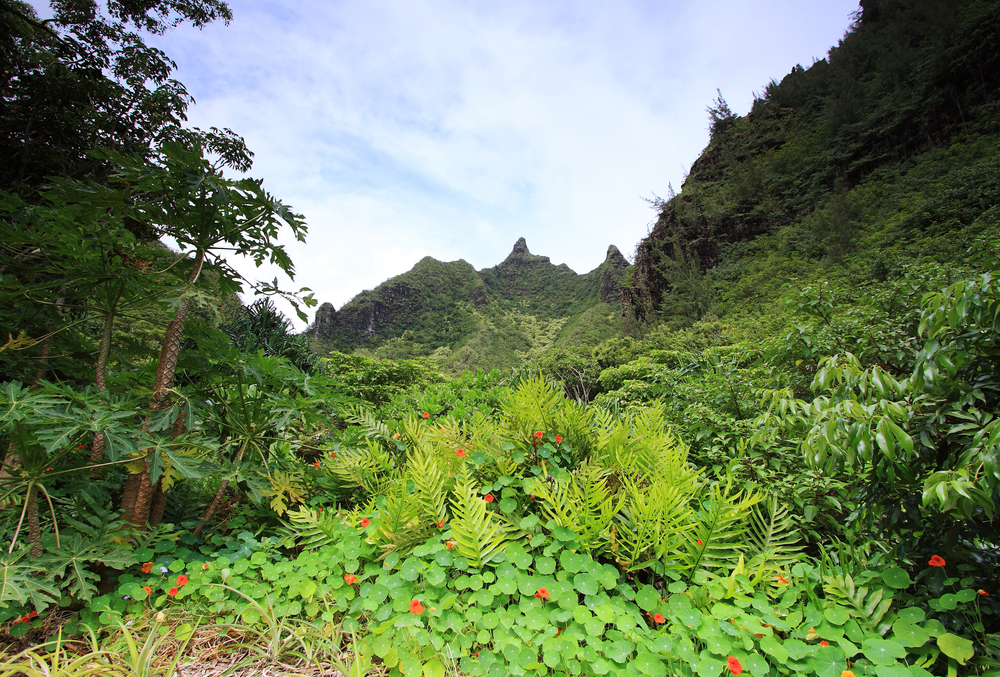 The National Tropical Botanical Gardens of Kauaʻi (NTBG) has three different botanical gardens on the Garden Isle. All offer an unparalleled experience for nature enthusiasts and eco-tourists alike. The three gardens are the Allerton Gardens, Limahuli Gardens, and McBryde Gardens—each its own unique botanical gem.
Allerton Gardens, an enchanting 100-acre masterpiece, features towering Moreton Bay fig trees, sculpted hedges, and tranquil water features. Rare tropical plants and magnificent birds find refuge in this living work of art with a history connected to Queen Emma, widow of Kamehameha IV.
Limahuli Gardens, on the North Shore of Kauaʻi, offers a glimpse into Hawaiʻi's native landscapes. Guests can explore terraced taro fields, ancient Hawaiian structures, and dense forests while spotting endangered native birds like the ʻIʻiwi and the Nene goose.
McBryde Gardens is a paradise for plant lovers, housing one of the world's largest collections of Hawaiʻi's native flora. This ethereal Kauaʻi rainforest is also home to endangered species like the Alula bellflower palm and the Kauaʻi ʻElepaio bird.
The National Tropical Botanical Gardens of Kauaʻi are more than tourist attractions; they are living laboratories for conserving Hawaiʻi's endangered species. They also support ecotourism by providing a sustainable source of income for research and protection efforts on the island. Here's a handful of fantastic gardens to find and explore while on Kauaʻi.
Green Sand Beach
Papakōlea Beach, aka "Green Sand Beach," is on Hawaiʻi's Big Island.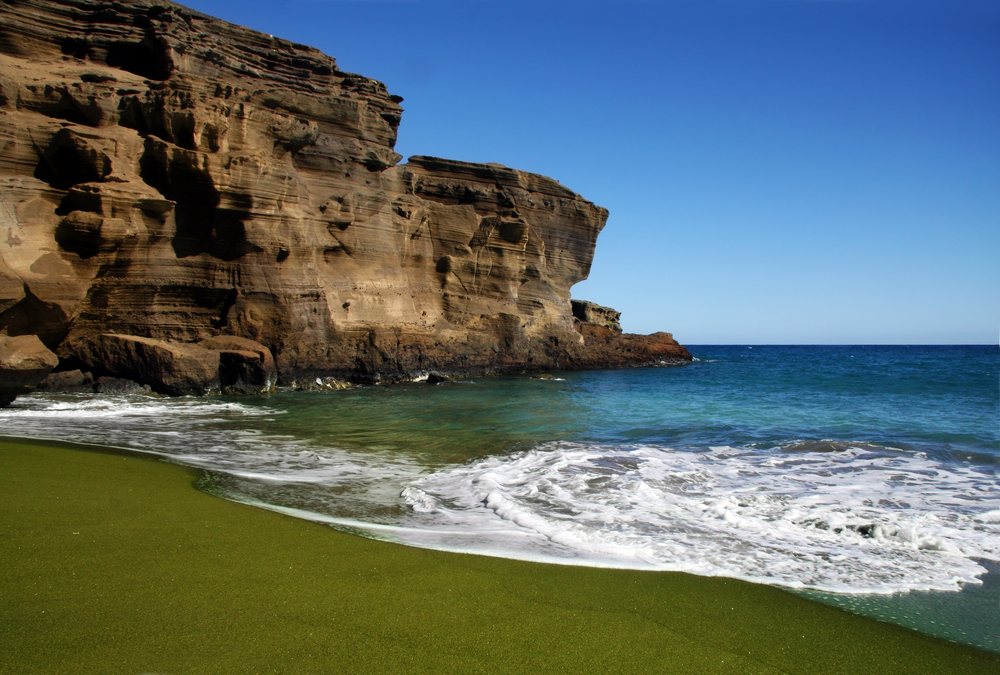 It's a geological masterpiece renowned for its striking green sands–  one out of four of our planet's green sand beaches. For certain, this natural wonder offers a rare travel experience that attracts visitors from across the globe.
Papakōlea's distinctive olive-green hue results from a mineral called 'olivine.' For gemstone lovers, olivine is essentially the same compound as peridot. Over centuries, the olivine-rich lava rocks surrounding this area eroded, creating this uniquely green beach. Combining Hawaiʻi's lush flora and fauna, blue Pacific waters, and green sand, this locale is an awe-inspiring visual spectacle.
Apart from Papakōlea Beach, the other three green sand beaches in the world are:
1. Talofofo Beach, Guam
2. Punta Cormorant, Floreana Island, Galapagos
3. Hornindalsvatnet, Norway
Without a doubt, visiting Papakōlea Beach is an essential choice for all travelers exploring the Big Island's many varied and surreal landscapes.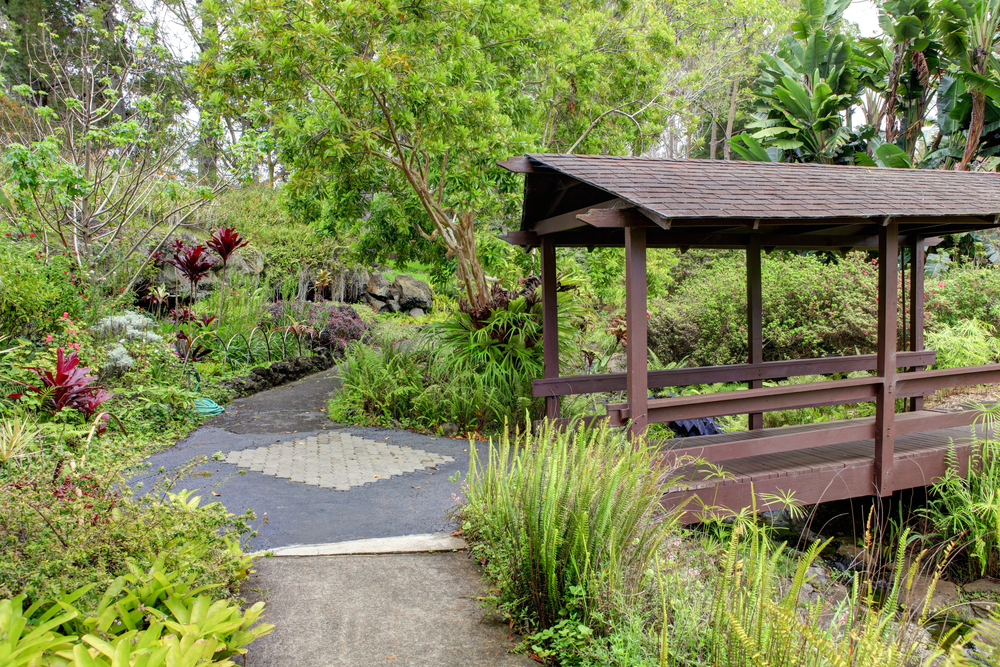 Visiting Maui's Sacred Garden of Maliko is a unique and spiritually significant experience. Nestled between the jungles of lush Haiku and Makawao, this is a true hidden gem waiting to be found on the Valley Isle.
The Sacred Garden of Maliko isn't just a garden and tropical plant nursery. It's a sanctuary for meditation, yoga, full moon events, and spiritual reflection. The garden also has two medieval labyrinths that visitors can wind through.
Without a doubt, the owners and caretakers have created a perfect environment for residents and visitors seeking peaceful moments and nature.
The on-site gift shop offers a wide range of spiritual and locally crafted items, from crystals and jewelry to herbal remedies. It's a perfect place to find unique Maui-made souvenirs and gifts.
The best time to visit is in the morning when the garden is most peaceful, and you can enjoy the sounds of birds and tranquility without crowds.
The Blue Room, aka Waikapalaʻe Wet Cave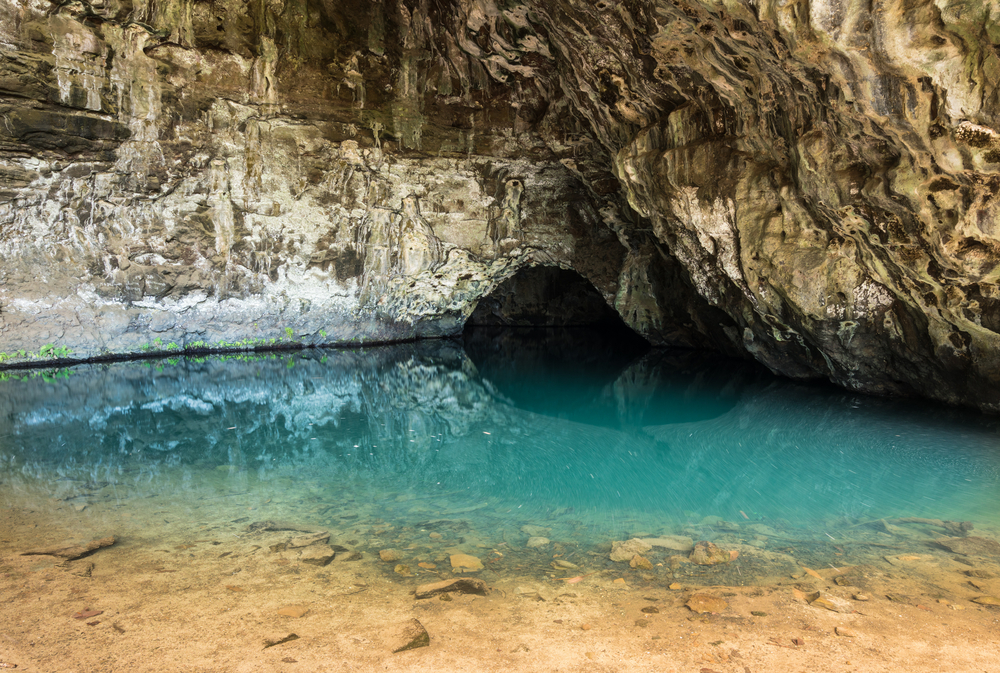 Kauaʻi's unique Blue Room cave is a mystic secret spot named after its stunning blue waters. 
This cave, also known as the Waikapalaʻe Wet Cave, also carries a magnetism due to its legends of a Hawaiian Moʻo goddess. In ancient Hawaiian lore, the Moʻo take the form of giant reptiles, geckos, and sometimes humans. Most Moʻo are female shapeshifters and considered ʻaumukua (ancestors) to native Hawaiians.
The cave's name, "Blue Room," comes from the radiant blue glow that bathes its waters when the sunlight hits just right. To witness this enchanting phenomenon, visit during bright daylight hours. 
Visitors can park in the ocean-side lot at the end of Keʻe Beach to find the Blue Room. While exploring this natural wonder, avoid going when it's dark or rainy, and watch your step as the entrance and the cave are slippery. 
Upon arrival, some visitors may recognize Blue Room because it was featured in the film, "Pirates of the Caribbean: On Stranger Tides."
Explore Hawaiʻi's hidden treasures, a world of unique wonders beyond the tourist hotspots. From Maui's towering redwoods to Oahu's mystical Mermaid Caves, each hidden Hawaiian gem offers a truly singular experience. 
These treasures reflect Hawaiʻi's unparalleled beauty, inviting transformative journeys. It's not just about landscapes; it's about connecting with culture, history, and the aloha spirit.
Hawaiʻi's allure lies in what you feel and experience, not just what you see. Trust Hawaiʻi to continually leave you with cherished memories and a profound connection to her islands.
Plan Your Hawaiian Holiday in Advance
Whether you envision unwinding with a captivating novel or embarking on exhilarating walks amidst breathtaking vistas, the Hawaiian Islands promise an unforgettable experience! If you're eager to immerse yourself in the beauty of these islands, it's time to kick-start your Hawaiian adventure planning.
For detailed information about the vacation rentals offered by Hawaʻ'i Life, situated closest to your desired vacation destinations, please don't hesitate to contact us today.