25 Oct 2017
Hawaiʻi is home to the most magnificent waterfalls in the world, so for visitors wishing to indulge themselves with breathtaking tropical landscapes, Oahu is a geographical gold mine of breathtaking beauty. However with only a handful of waterfalls being easily accessible, there are a few stand-out falls worth trekking into. The hikes range from easy strolls for those who prefer sauntering through nature, or more adventurous hikes of up to two hours. Regardless of which waterfall one visits, there are plenty of scenic wonders to take in. So lace up those hiking boots, grab the water and prepare to experience Hawaiʻi like you've never seen it before.
Maunawili Falls
Adventure seekers chasing an adrenaline rush often gather at Mauawili Falls in Kailua for a daring plunge into a pool of cold water. Once considered off the beaten path, Maunawili Falls has become a popular destination spot for locals and visitors alike who wish to experience a day of daring exploits. Located near Pali Hwy on the Kailua side of the Ko'olau Mountians, Maunawili Falls cascades 20 feet down the cliffside and usually hosts several dare devils jumping off the rocks and swimming in the pool of icy water at the foot of the falls.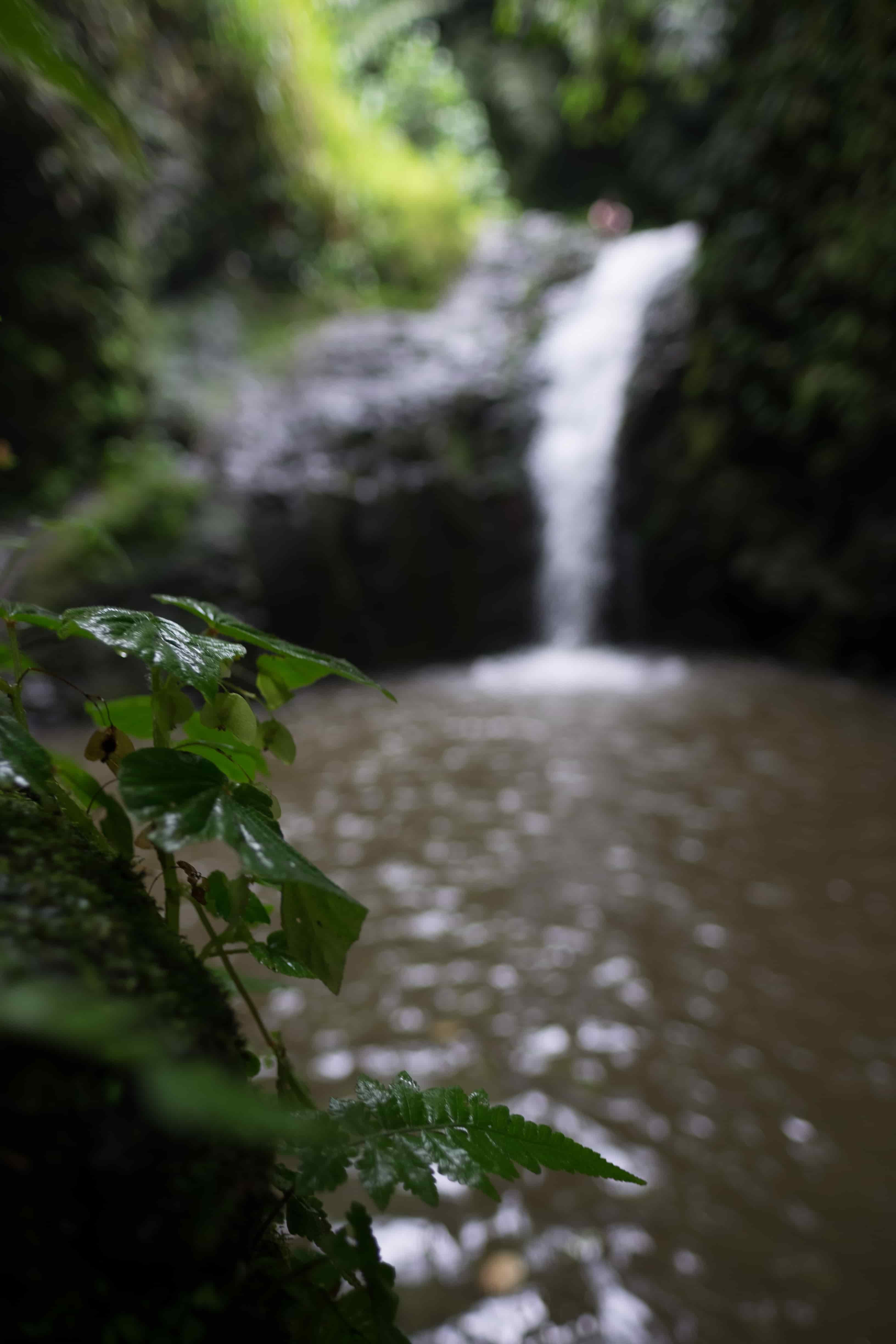 There are signs posted on site about the possibility of the water being contaminated with leptospirosis, a bacteria dangerous to humans and animals, so swim at your own risk. Better yet, bring a picnic lunch and a camera and enjoy the serene beauty of the falls from dry land. The hike into Maunawili Falls is about 2.5 hours round trip. Good tennis shoes, a towel, sunscreen, bug spray and water are recommended. The unmarked trail is muddy and slippery as it crosses streams so prepare to get dirty. The end of the trail is the reward of soaking in the abundant beauty of paradise!
Vacation Rental Near Maunawili Falls:
Kailua Beachside | 4 bedroom, 4 bathroom estate home with private beach access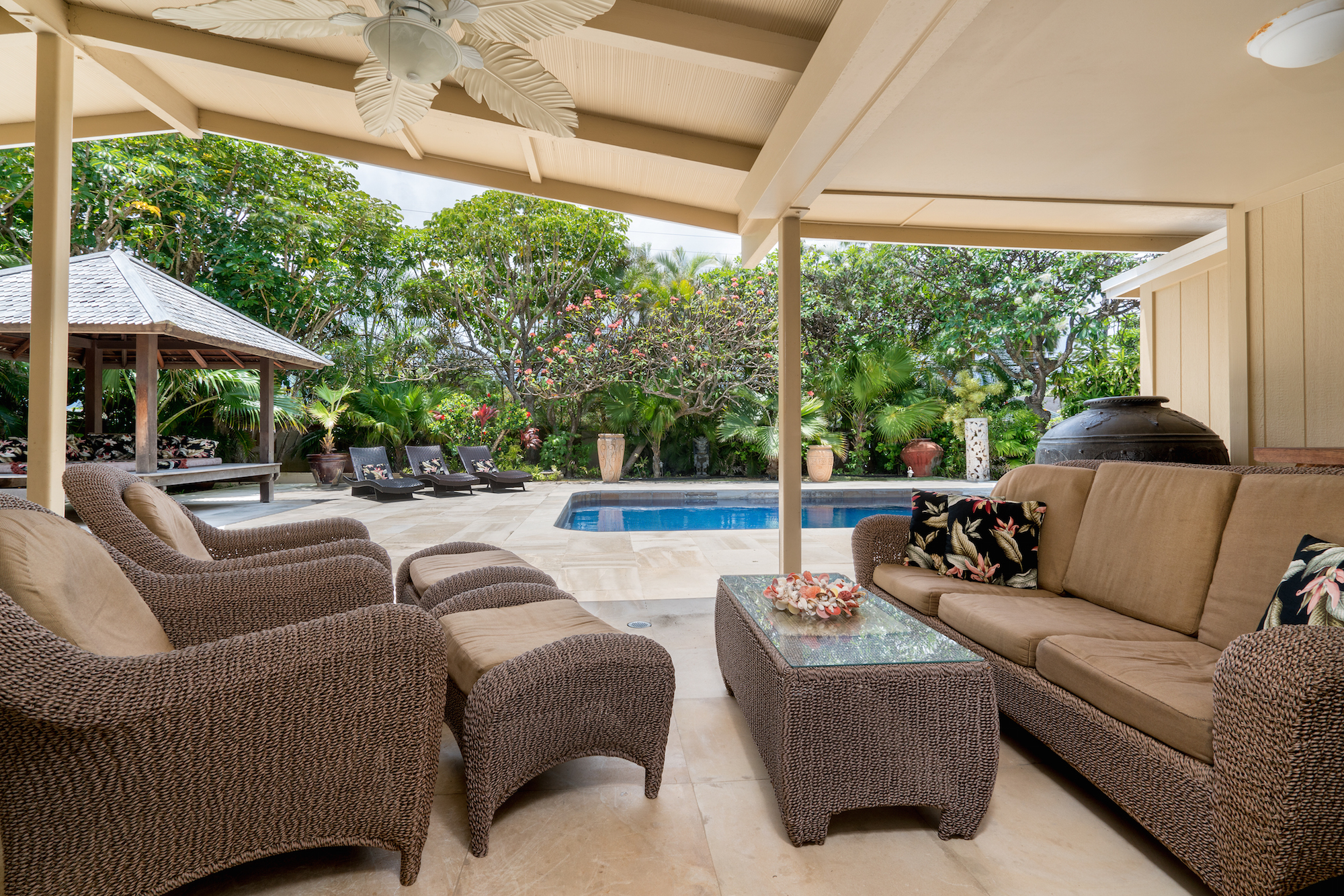 Manoa Falls
The waterfall located nearest to Waikiki, and arguably one of the most magnificent waterfalls on Oahu, is Manoa Falls. Nestled in the back of the lush Manoa Valley, Manoa Falls are a short 45-60 minute hike through bamboo forests and patches of tropical wild flowers. The falls cascade an impressive 150 feet into the pool below. The trek to the falls is relatively flat, yet can be treacherous due to the sometimes muddy trail. Manoa Valley is the wettest spot on the island of Oahu making Manoa Falls a sight to behold.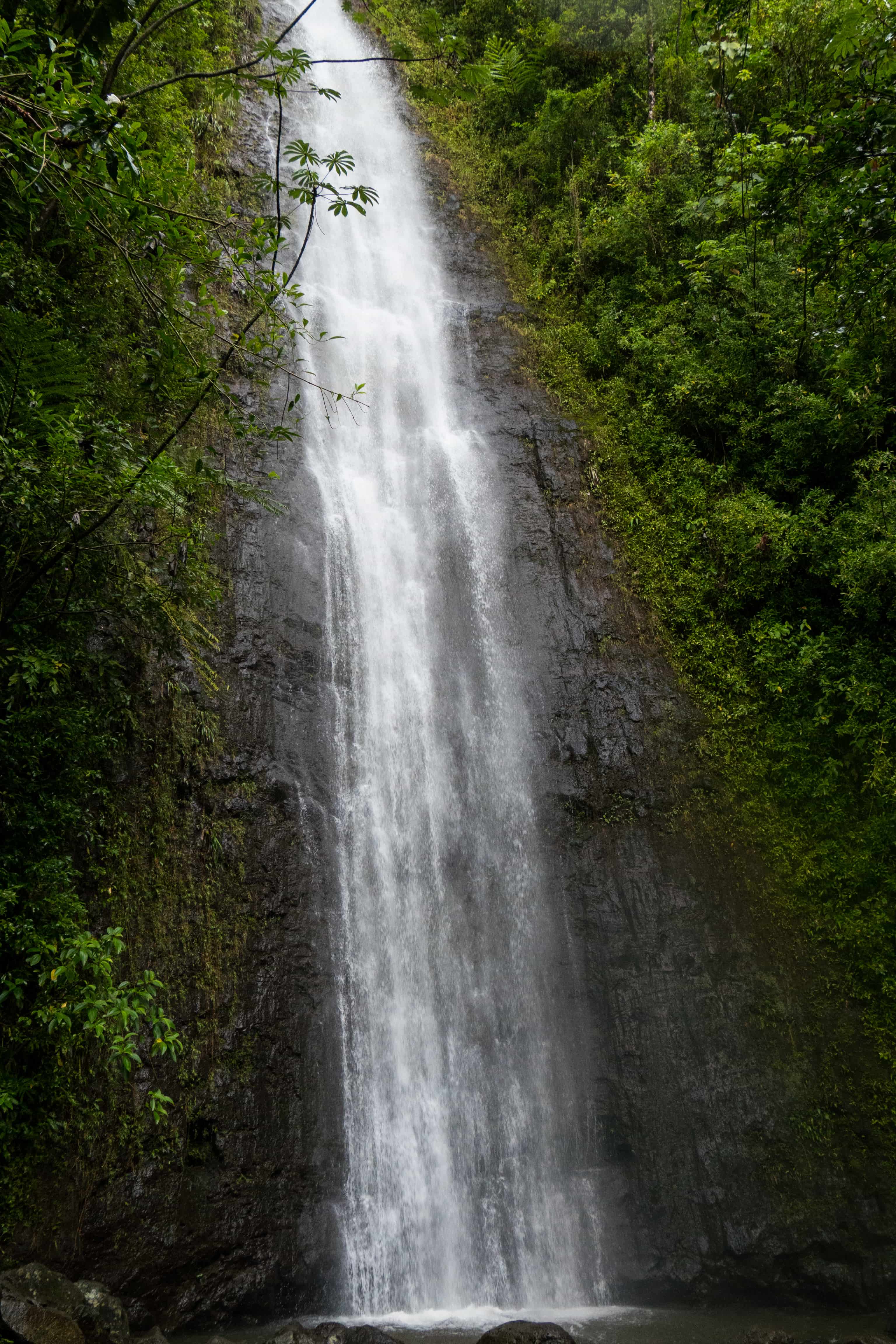 Because of its close proximity to Waikiki and its beginner friendly trail, Manoa Falls is one of the most popular waterfalls. Its dramatic beauty more than makes up for the crowds. The scenery may be somewhat familiar as scenes from 'Jurassic Park' and the TV series 'Lost' were filmed in the same area. From Waikiki, going westbound, take H1 to the Wilder exit. Continue to Punahou and Manoa Rd. Park in the Paradise Park lot or in the residential area.
Vacation Rental Near Manoa Falls:
Foster Tower | 1 bedroom oceanfront condo steps from Waikiki Beach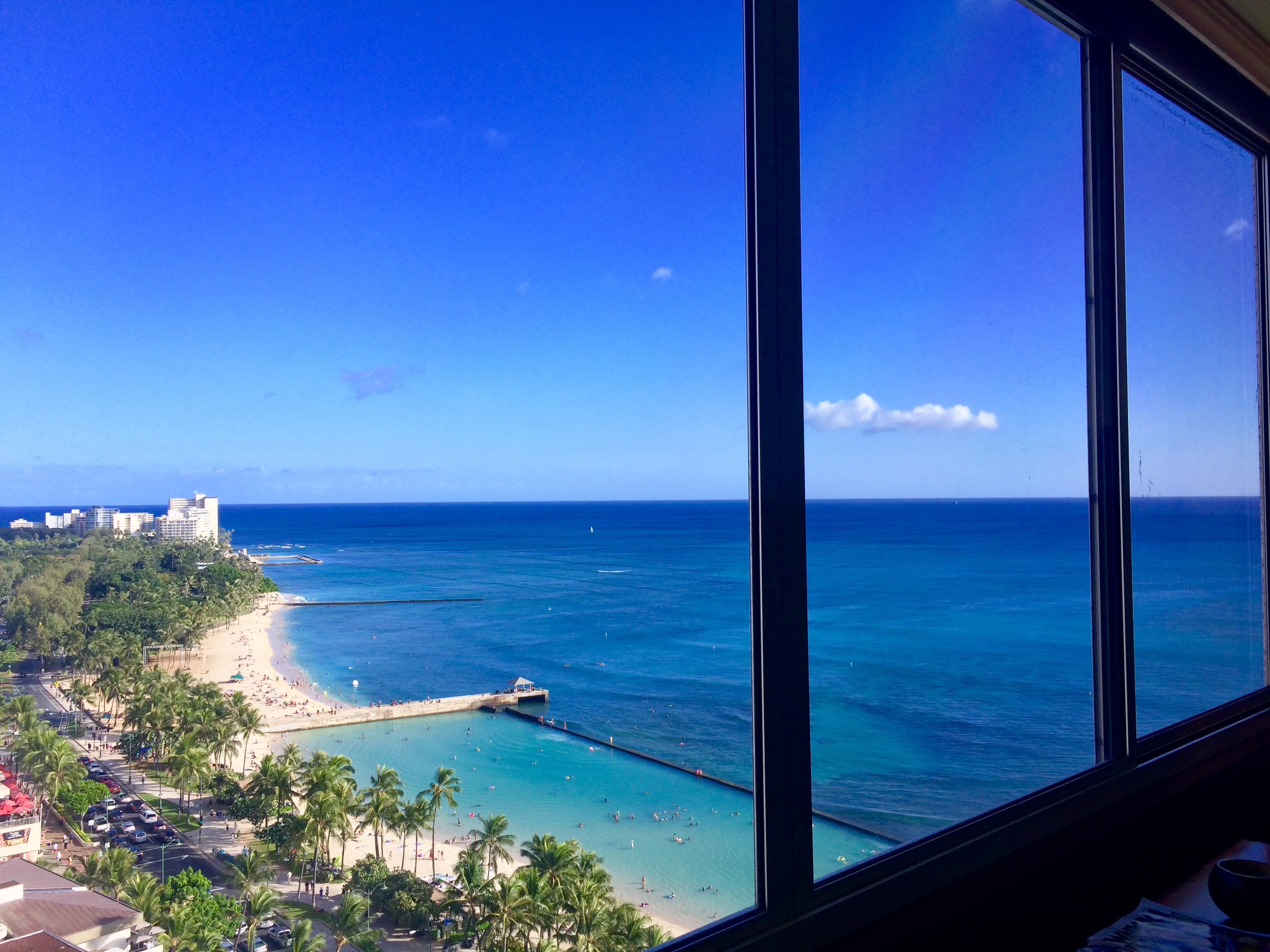 Waimano Falls
Quickly becoming a favorite hike on the island of Oahu is the trail into Waimano Falls. This three-mile round trip hike traverses over tree roots and under rainforest canopies before spilling out into the valley below. Waimano Falls are visually stunning with two enticing pools at the bottom for hikers wanting a refreshing dip. Young, daring locals are often seen clip jumping 20 feet into the bottom pool below.
Like all the waterfalls in Hawaii, good judgment is required when choosing to swim in the pools as the bacterial infection, leptospirosis, is always a possible threat. The falls are a great way to spend a day both people watching and enjoying nature. Access Waimano Falls from the Manana Trail in Aiea on Koma Mai Drive at the end of a residential area.
Vacation Rental Near Waimano Falls:
Blue Mahina at Sunset Beach | 4 bedroom beachfront home on Sunset Beach on Oahu's North Shore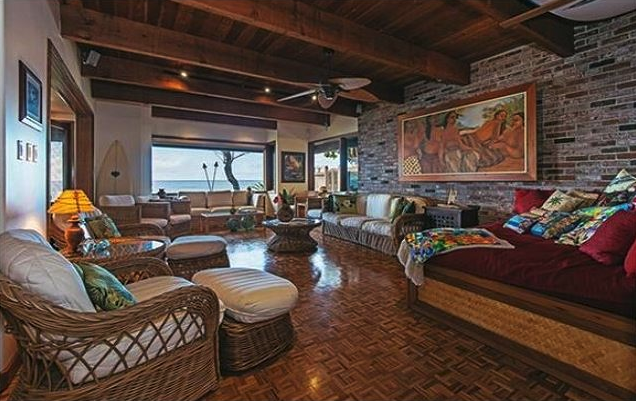 Waimea Falls
Waimea Falls is located in Waimea Valley, and is also known as 'The Valley of the Priests.' Home to several important archaeological sites, the valley is culturally important to the Hawaiian people. The hike to the falls is an easy 3/4 mile on paved road through beautiful botanical gardens. The 45-foot high falls tumble downward into a picturesque pool surrounded by tropical flowers. The pool is often filled with friends and families relaxing and enjoying the day. Waimea Falls also has a changing room. Lifeguards on duty (and life jackets) making Waimea Falls a great outing for families with children.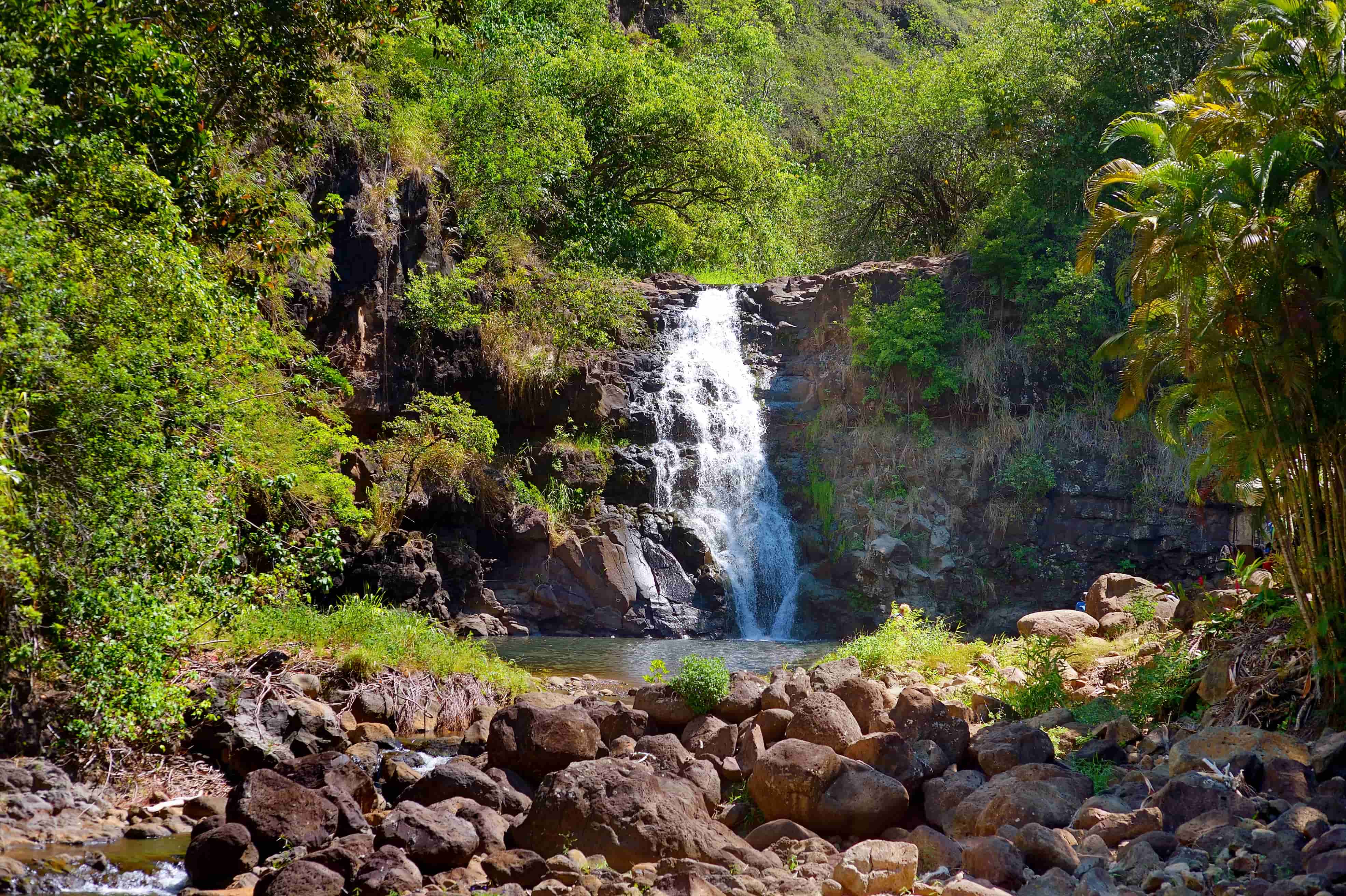 A ticket is required to enter the valley. Admission is $16 for adults and $12 for children. Access to Waimea Falls is located in Waimea Falls Park between Old town Haleiwa and the North Shore. 
Vacation Rental Near Waimea Falls:
Kuilima Estates | 2 bedroom condo on the Fazio Golf Course in Turtle Bay Resort, North Shore of Oahu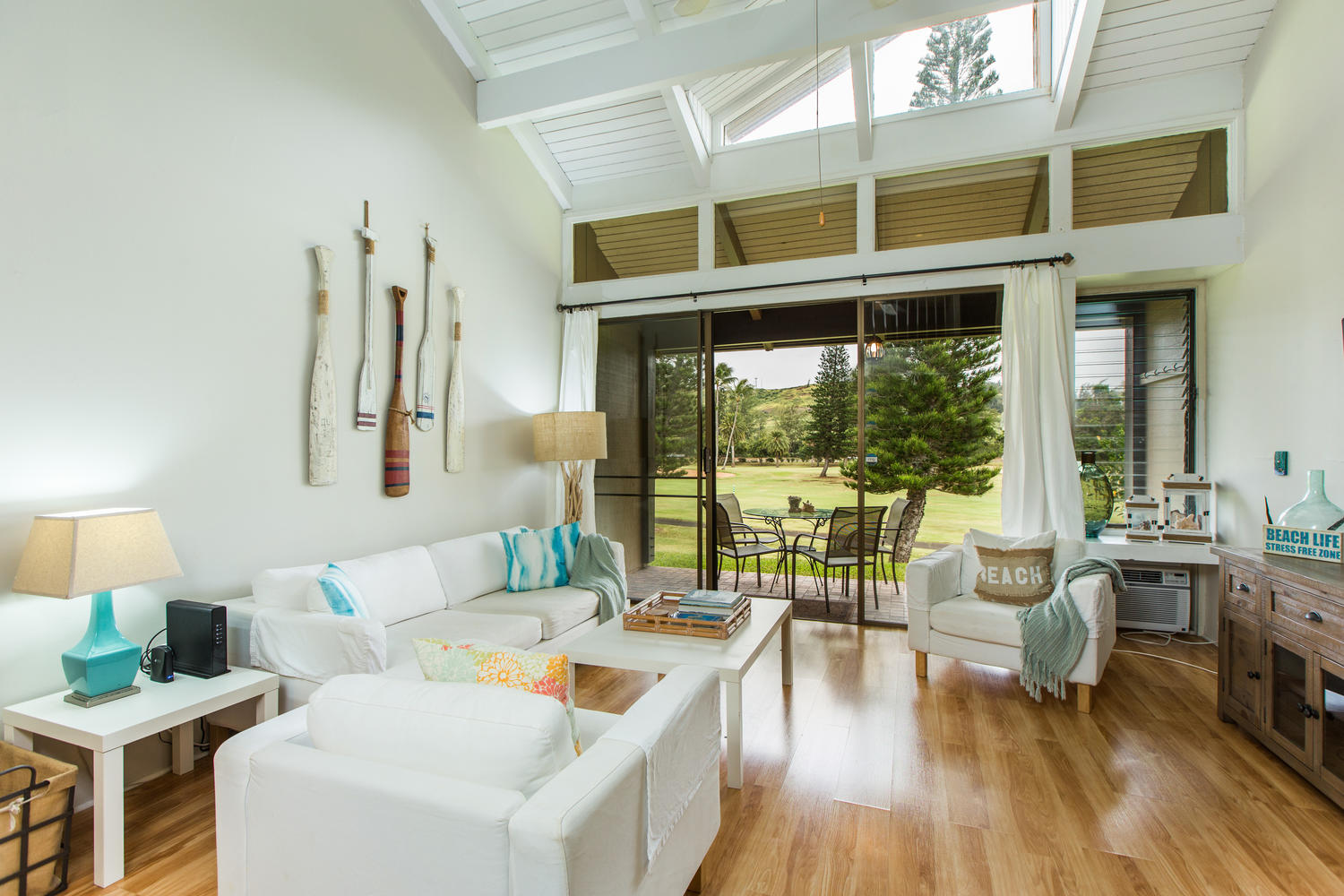 Each of these Oahu waterfalls offers unique and beautiful experiences. Enjoy exploring these gorgeous natural wonders, have fun, stay safe and bring a camera!