18 Nov 2022
Best Spots for Snorkeling: Oahu
If you're planning a Hawai'i vacation on Oahu, get ready to fall in love with the island's landscape and seascape. Oahu boasts 112 miles of beautiful coastline complete with coral reefs full of marine life, so be sure to make time to visit one of the island's incredible snorkeling spots and explore the beautiful world that's waiting below the sea. Keep reading to find out where to snorkel on Oahu, what to bring, how to stay safe, and more.
The Best Snorkel Spots for Beginners
For beginners, the best places to snorkel on Oahu are Hanauma Bay and the Lagoons in Ko Olina. Located on the West Shore, the Ko Olina Lagoons are accessible year-round, very protected and calm, making for safe conditions. No matter your age or ability, you'll delight in all the fish you can see
A famous snorkel spot, Hanauma Bay is beginner friendly and close to Waikiki. For more than 50 years, Hanauma Bay has been a Marine Life Conservation District, and the fish here are not easily frightened. No matter which of these beginner snorkeling locations you choose, both offer easy beach access to calm waters, with lifeguards on duty to keep everyone safe.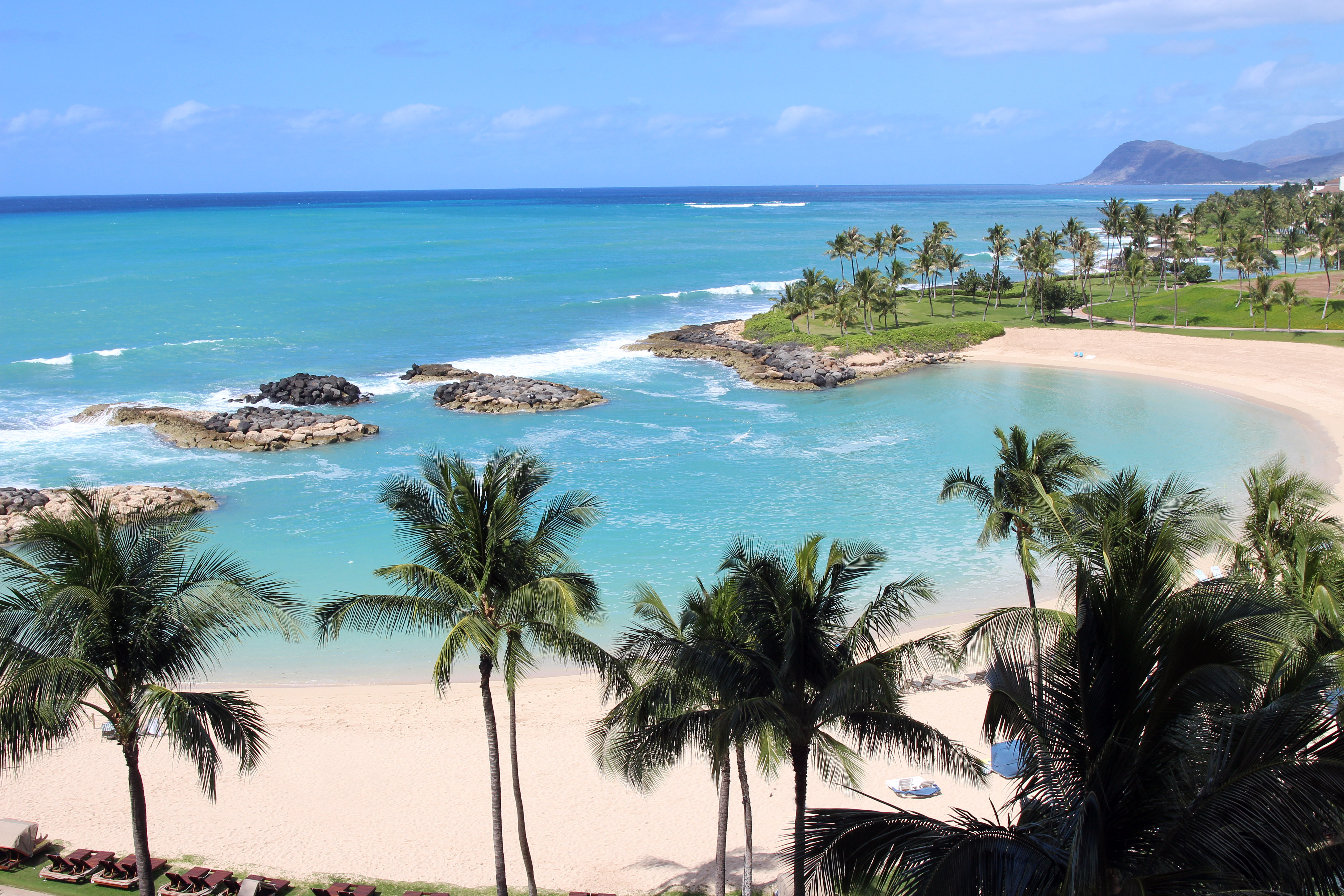 The Best Snorkel Spots for Seeing Marine LIfe
The many friendly fish in Hanauma Bay also make it an ideal snorkel spot for seeing an array of fascinating aquatic life up close. Here, the fish are more well adjusted to people than in other snorkel spots. 
Another excellent area for snorkeling with marine life on Oahu is Electric Beach. The warm water discharged from a nearby electric plant attracts a wide variety of fish while making it easy to spend more time snorkeling without getting cold. 
The Best Snorkel Spots for Seeing Honu
If you specifically want to see honu (sea turtles), the best places to spot these gentle creatures while snorkeling on Oahu are Aweoweo Beach Park and Turtle Canyon. Aweoweo Beach Park is ideal for families, as it has picnic tables, a playground, public restrooms, and even a basketball court if you're looking for something fun to do after snorkeling. When snorkeling, keep in mind that honu are protected by the state and federal government. For their own protection, you should at no time touch the sea turtles.
Located offshore of Waikiki, Turtle Canyon is best accessed by catamaran, kayak, or a snorkeling tour. And it's one of the most reliable snorkeling areas to see honu on Oahu's South Shore. With many small, dense formations of coral, Turtle Bay lives up to its name, providing a natural station for honu to visit and have the reef's small fish clean their shells.
In addition to Turtle Canyon, there are several other snorkeling areas that are best reached by boat. A snorkeling tour enables you to safely access these spots while providing all the gear and instruction necessary. Check out offerings from companies like Manu Kai, North Shore Catamaran, or Ocean Joy.
The Best Snorkel Spots for Families
When it comes to family-friendly snorkeling spots on Oahu, Kuilima Bay checks all the boxes. The keiki will enjoy snorkeling around in the bay's tranquil blue waters, and parents will appreciate the facilities and shelter from the elements. 
Located on the North Shore, Shark's Cove is also a snorkel spot that's popular with families. Within the well-protected cove, there is open water full of fish and small, tidal pool marine animals. Here, the water is very shallow and free of a current. Shark's Cove is also near Hale'iwa Town, where you'll find plenty of dining options for lunch or dinner with the family. And don't forget to top off your day of snorkeling with shave ice!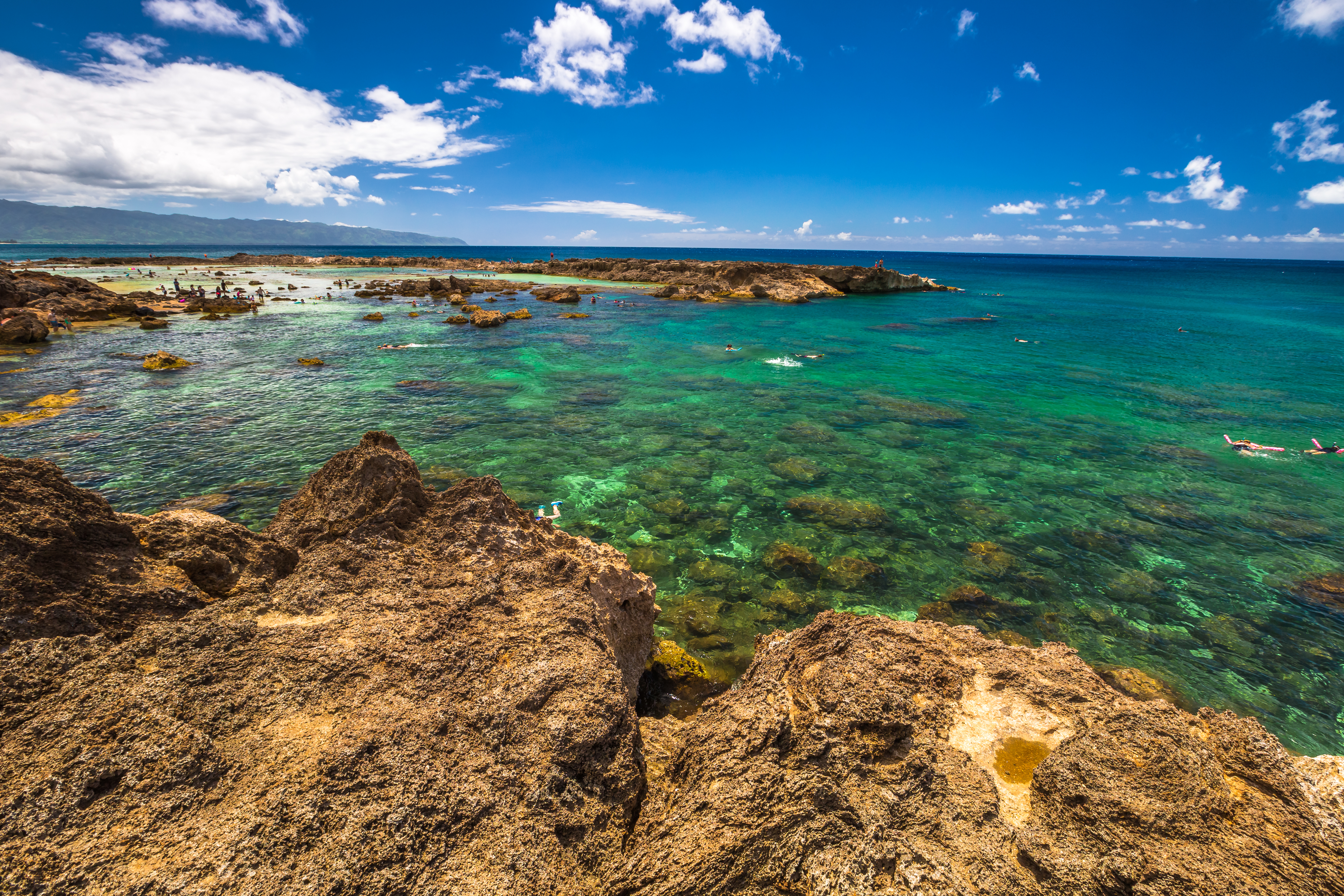 The Best Snorkel Spots Overall
If you can only go to one while vacationing on Oahu, here are some snorkel spots to choose from that are popular with nearly everyone:
Located on the North Shore, Three Tables is a small, gorgeous sandy beach that happens to offer access to the best coral this side of the island. Three Tables is part of the Pupukea Marine Life Conservation District and gets its name from the table-like formations of coral found here. As fishing is not permitted at Three Tables, snorkeling around these flat coral formations means more fish to admire.
Part of the Sans Souci Recreational Park, Sans Souci Beach includes the protected Waikiki Marine Life Conservation District, which also does not permit fishing. And where they are protected, the fish prevail. If you're vacationing in Waikiki, Sans Souci is the closest beach to you.
Thanks to a protective rock wall that blocks the majority of waves that would otherwise disrupt your snorkeling session, Kuilima Cove is unique compared to most North Shore snorkel spots. Located adjacent to Turtle Bay Resort, Kuilima Cove is ideal for snorkeling year-round.
Oahu Snorkeling Safety & Tips
Ready to begin your snorkeling adventure? Here are a few important things to remember before getting in the ocean to snorkel on Oahu: 
Consider buying your own snorkeling gear, as it's more economical if you plan to use your snorkel gear at least a handful of times. As they have been deemed dangerous, we do suggest that you skip the full-face mask. 

Go with actual reef-safe sunscreen. Although many sunscreens are labeled "reef safe," they may still contain one or more chemicals that are toxic to Hawaii's coral reefs and marine life. When purchasing sunscreen, look for a zinc-based cream free of oxybenzone, octinoxate, or avobenzone.

Wondering when the best time of year is for snorkeling on Oahu? The South Shore tends to be calmer during the winter months, while the North Shore has better snorkeling conditions during the summer, as the ocean isn't as rough. 

As far as the best time of year for snorkeling, opt for a morning session, since the visibility is better, the wind is calmer, and the fish are more active. Before entering the ocean, always check local conditions. 

Safety first! That means you should only snorkel out as far as you are comfortable, always watch out for coral, rocks, waves, and sea urchins… And never venture into high surf conditions unless you have sufficient snorkeling experience.
Always snorkel with a partner. Not only is it safer, but it's more fun too. And your snorkel buddy could literally save your life should there be an emergency! 

Although it may appear to be a bunch of rocks and plants submerged in water, the reef is a living animal made up of millions of tiny animals. As such, don't step on anything except sand and the beach. 
Start Planning Your Oahu Snorkeling Adventure
After a day spent under the sea, you'll be grateful to come home to a comfortable Hawai'i vacation rental. At Hawai'i Life, our luxury vacation rentals include properties in all sizes and styles. To find the rental that's best for you, call us at 855-447-3685. 
*The information provided in our blogs is for entertainment purposes only. Any actions taken upon the information on this website is strictly at your own risk.