21 Aug 2020
Conveniently located just a few miles northeast of Oahu's bustling Waikiki, you'll find the charming, laid-back town of Kane'ohe. The area features lush landscapes, calm bay waters, cool trade winds, and epic views of the Ko'olau Mountain Range. With a higher level of annual rainfall, the landscape is rich in agricultural history. Here you will find vegetable gardens, tropical fruits, colorful flowers, and thriving wild vegetation. With so much natural beauty to discover, keep reading as we share some of the most scenic spots in Kane'ohe, Oahu! 
1. Ho'omaluhia Botanical Garden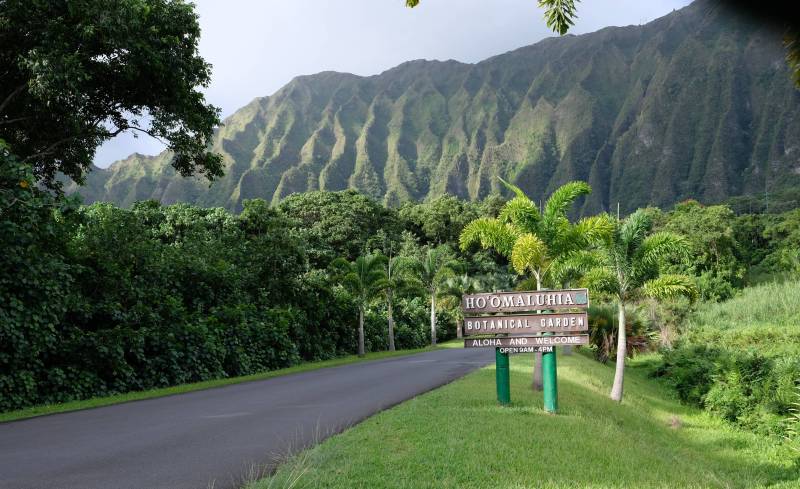 Ho'omaluhia Botanical Garden, in the residential neighborhood of Keapuka. With 400 acres of nature preserve, these gardens are the largest on O'ahu and feature an abundance of diverse flora and fauna from around the world. By car, bicycle, or foot, a paved road offers visitors easy access to tour the gardens and surrounding greenery. Be sure to stop by the information center at the entrance to learn more about the many plant species features throughout the gardens. Also, enjoy some of the closest views of the Ko'olau Mountain Range you can find on the island! The picturesque mountain face is frequently stocked with waterfalls from the abundant rains on Windward Coast of O'ahu.  
Other activities include picnics, walking trails, camping in the Kahua Nui campgrounds, catch-and-release fishing, and guided tours. Open daily with free admission, Ho'omaluhia Botanical Garden is a must-see! Visit the Honolulu Government Parks website HERE before your visit for printable maps, events, hours, and updated visitor information.  
2. 

Byodo-In Temple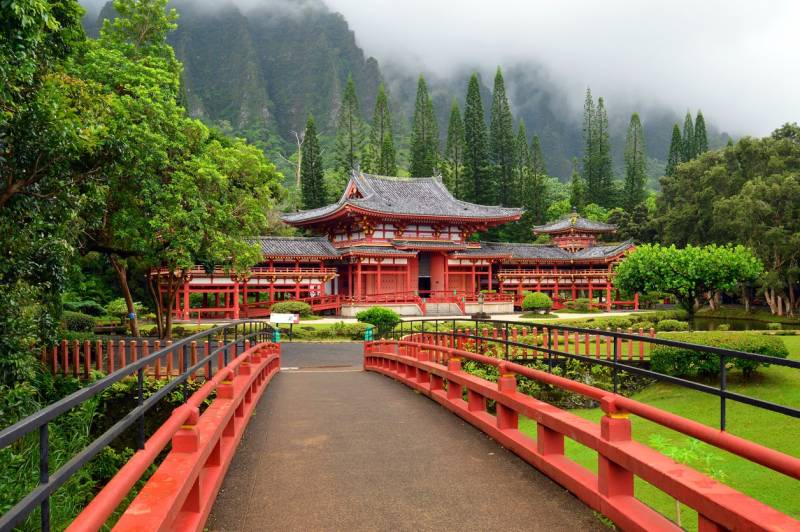 Continue north from the botanical gardens along the Kamehameha Highway for about five miles, and you'll reach the beautiful Byodo-In Temple, located in the Valley of the Temples. Built in 1968 to celebrate the 100th anniversary of Japanese immigration to Hawaii, the architecture of the temple replicates that of a 900-year-old temple near Kyoto, Japan. As a non-religious site, anyone is welcome to stroll through the temple and manicured gardens and enjoy koi ponds and white peacocks, all with the stunning Ko'olau Mountain Range a backdrop. Visitors are sure to discover a renewed sense of peace and serenity after savoring these tranquil landscapes.
Also featured in popular TV series such as Hawaii Five-O and Magnum, P.I., and included in National Geographic's 2019, "20 of the world's most beautiful Buddhist temples," the Byodo-In Temple is sure to enchant its visitors! Check out their website for more visitor information, Temple Attractions, and Event Planning HERE. 
3. The Kane'ohe Bay Sandbar


Kane'ohe Bay's calm waters are popular for activities such as fishing, boating, kayaking, and paddling. One of the most popular destinations is the Kane'ohe Bay Sandbar, located in the middle of the bay. This naturally-occurring sandbar creates shallow waters and exposed beach during low-tides. The area can stretch as much as one-mile-wide and six miles long! 
Protected by the reef, residents and visitors commute to this temporary oasis for sunbathing, snorkeling, walking, and beach games. Located about one mile from shore, the sandbar can be accessed by boat or kayak. Boat charters and kayak rentals are available from the nearby He'eia Kea Harbor. Contact your Hawaii Life Vacations personal concierge to arrange a private tour. Holidays and weekends can attract crowds, so we recommend you find your spot early in the day. With little to no shade protection, be sure to bring plenty of sunscreen! 
Kane'ohe provides visitors with an abundance of diverse activities, culture, and history. Easily accessible on the Windward side of Oahu, come for an afternoon or spend several days. Whether exploring the beautiful scenery, checking out the local malls and shopping, or relaxing in the calm waters, there is something for everyone. Check out some of our nearby vacation rentals below!