27 Jun 2018
Hawaiian cooking blends foods of 19th-century immigrant laborers from China, Japan, Korea, the Philippines and Portugal with those of indigenous Hawaiians. In addition, because of the mid-century military presence across the islands, Hawaiian cuisine also incorporates flavors from mainland Americana. With such a diversity of cuisine and culture, there is surely something to delicious to please any palette. 
Try out some of these Island-style recipes at home! 
Ahi Poke Salad

 
Raw Fish Salad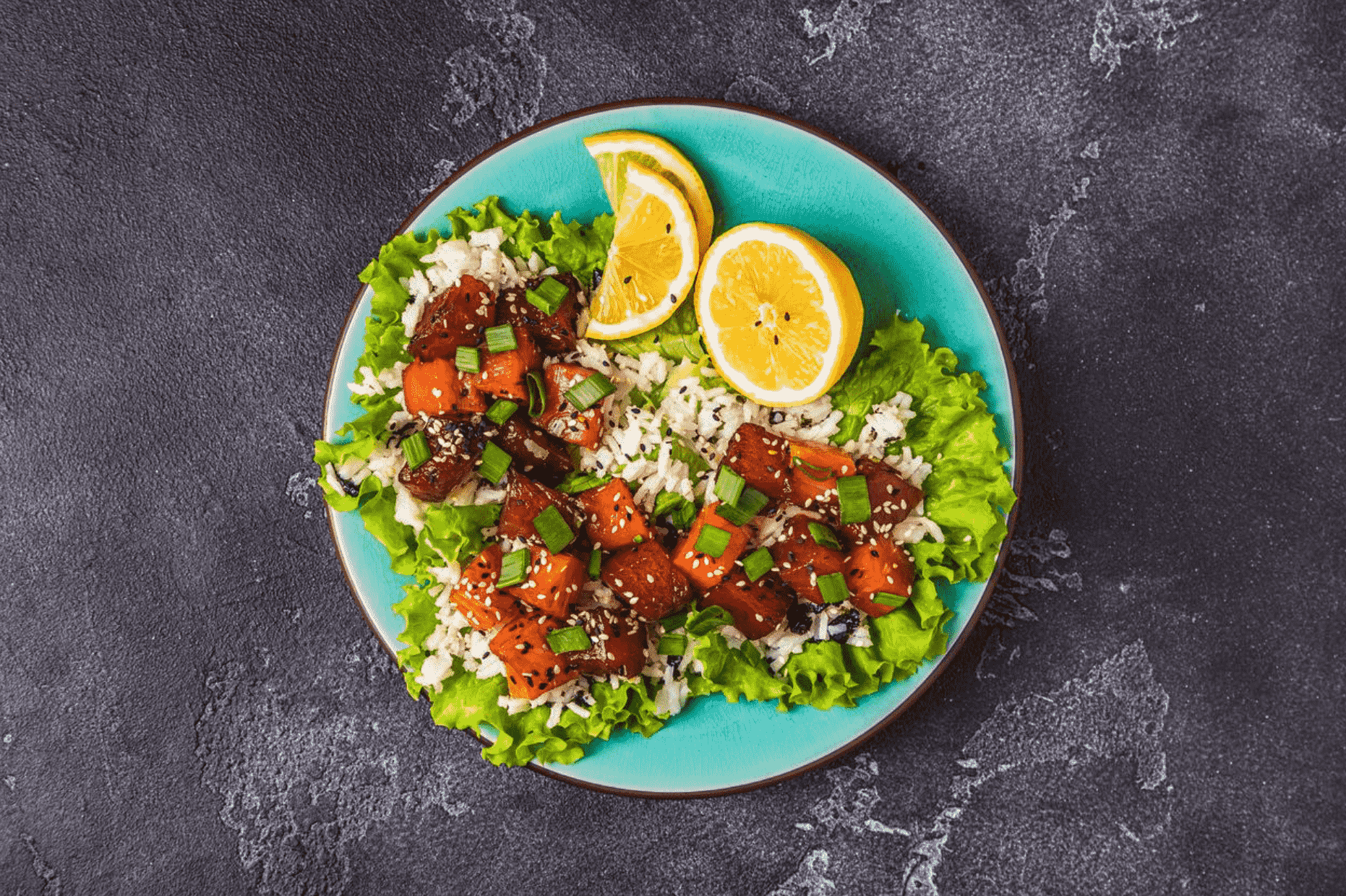 Recipe by: SKYELIGHT | www.allrecipes.com
1 1/4 pounds ahi tuna, cut into 1/2 inch cubes

1/4 cup minced onion

1/4 cup minced green onion

1 teaspoon minced fresh ginger

2 tablespoons lightly crumbled wakame seaweed

1 tablespoon ground roasted macadamia nuts

2 teaspoons sesame oil

1 1/2 teaspoons crushed red pepper flakes

8 leaves iceberg lettuce

2 tablespoons cilantro leaves, for garnish
Mix together the ahi tuna, minced onion, green onion, ginger, seaweed, macadamia nuts, sesame oil, and red pepper in a mixing bowl. Cover and refrigerate at least one hour, for the flavors to come together. Arrange the lettuce leaves on a serving platter, spoon the ahi poke on top, and garnish with the cilantro. Optional, serve with rice.
Learn the History of Hawaiian Poke
Spam Musubi

 
Popular luncheon meat snack in the tradition of Japanese o-musubi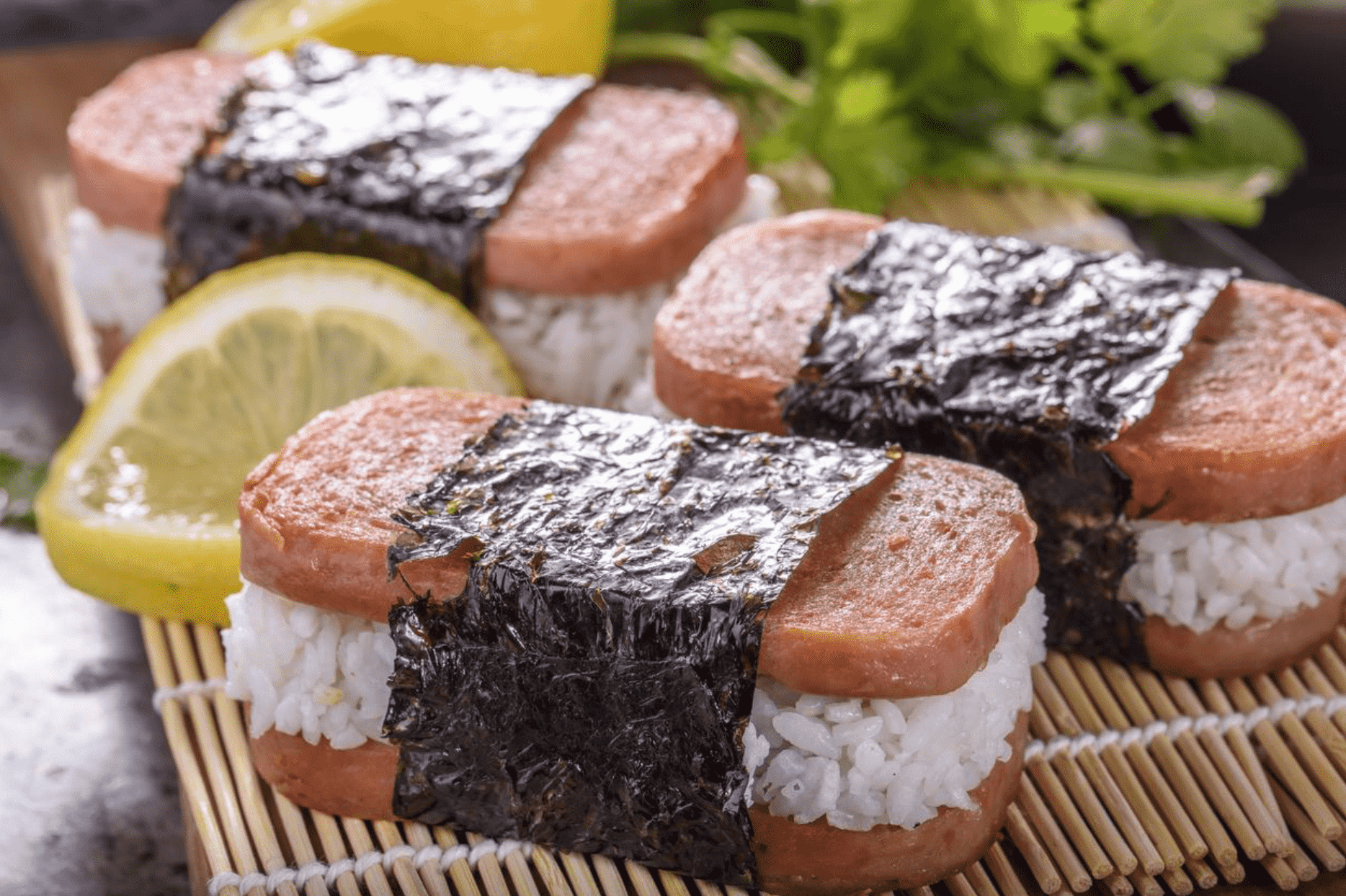 Recipe by: Rashad Maiden | www.allrecipes.com
2 cups uncooked short-grain white rice

2 cups water

6 tablespoons rice vinegar

1/4 cup soy sauce

1/4 cup oyster sauce

1/2 cup white sugar

1 (12 ounce) container fully cooked luncheon meat (e.g. Spam)

5 sheets sushi nori (dry seaweed)

2 tablespoons vegetable oil
Soak uncooked rice for 4 hours; drain and rinse.
In a saucepan bring 2 cups water to a boil. Add rice and stir. Reduce heat, cover, and simmer for 20 minutes. Stir in rice vinegar, and set aside to cool.
In a separate bowl, stir together soy sauce, oyster sauce, and sugar until sugar is completely dissolved. Slice luncheon meat lengthwise into 10 slices, or to desired thickness, and marinate in sauce for 5 minutes.
In a large skillet, heat oil over medium high heat. Cook slices for 2 minutes per side, or until lightly browned. Cut nori sheets in half and lay on a flat work surface. Place a rice press in the center of the sheet, and press rice tightly inside. Top with a slice of luncheon meat, and remove press. Wrap nori around rice mold, sealing edges with a small amount of water. (Rice may also be formed by hand in the shape of the meat slices, 1 inch thick.) Musubi may be served warm or chilled.
Huli Huli Pineapple Chicken
Huli means to turn. Huli huli chicken takes its name from the Hawaiian word for "turn" because while roasting, the chicken is turned back and forth several times.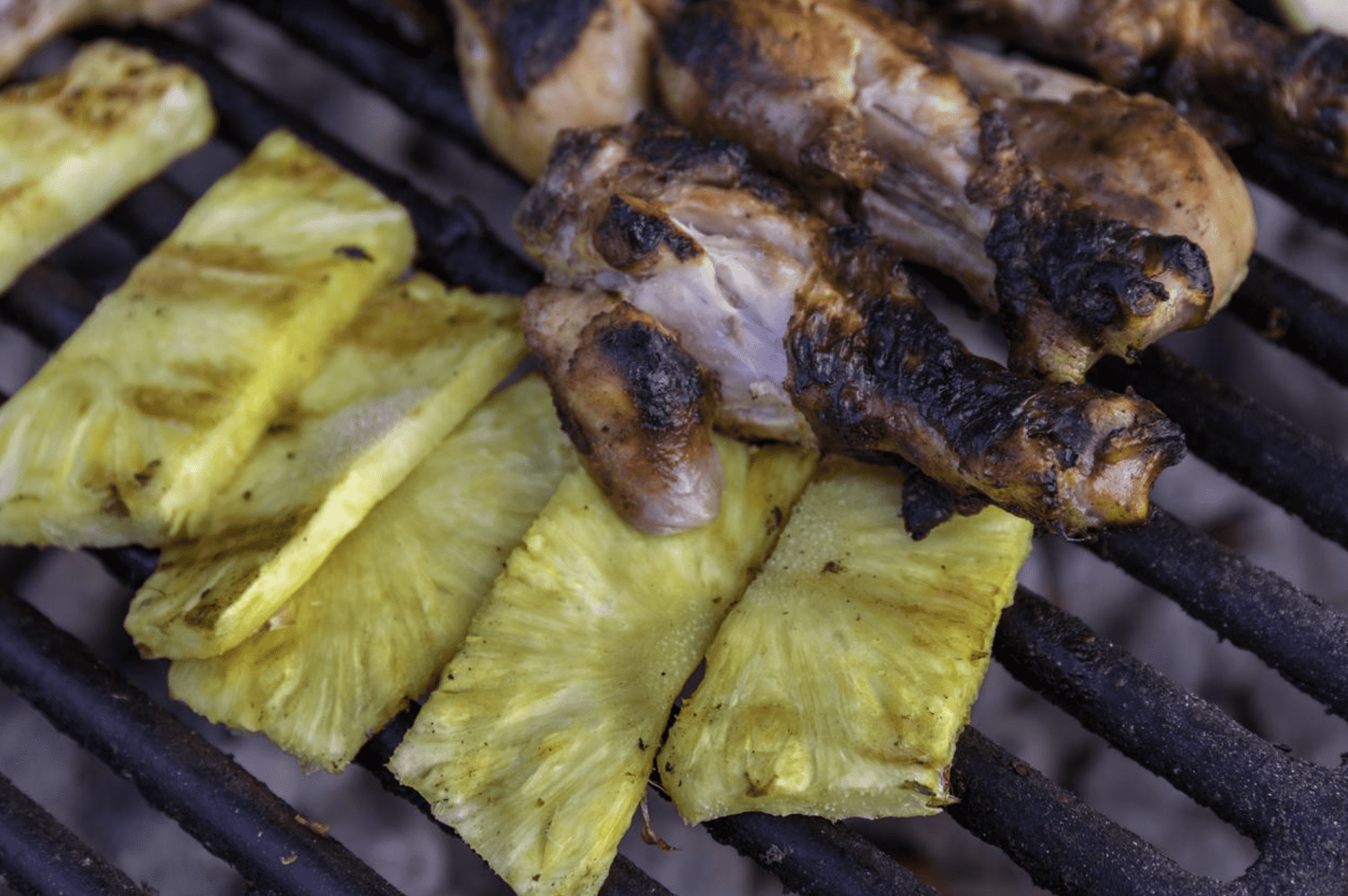 Recipe by: Mark Bender | www.allrecipes.com
1 (20 ounce) can crushed pineapple in juice

3/4 cup brown sugar

1/2 cup shoyu (Japanese soy sauce)

1/3 cup ketchup

1/3 cup red wine

1/4 cup Worcestershire sauce

1 (1 inch) piece fresh ginger, minced

1 clove garlic, minced

4 drops liquid smoke, or more to taste (optional)

3 (3 1/2) pound fryer chickens, quartered
Stir pineapple, brown sugar, shoyu, ketchup, red wine, Worcestershire sauce, ginger, garlic, and liquid smoke together in a pot; bring to a boil, reduce heat to medium-low, and simmer, stirring occasionally, until sauce is reduced and thickened, about 30 minutes. Cool completely. Transfer 1 1/2 cups sauce to a bowl and refrigerate.
Place chicken pieces in a large bowl and pour remaining sauce over the top; toss to evenly coat. Cover the bowl with plastic wrap and marinate in the refrigerator, 4 hours to overnight.
Preheat an outdoor grill for medium-high heat and lightly oil the grate.
Remove chicken from marinade; discard used marinade.
Cook chicken on the preheated grill until caramelized, about 5 minutes per side. Reduce heat to low and cook, turning and basting frequently with reserved 1 1/2 cups pineapple sauce, until no longer pink at the bone and juices run clear, 10 to 15 minutes more. An instant-read thermometer inserted into the thickest part near the bone should read 165 degrees F (74 degrees C).
Kalbi Ribs 

Korean inspired BBQ short ribs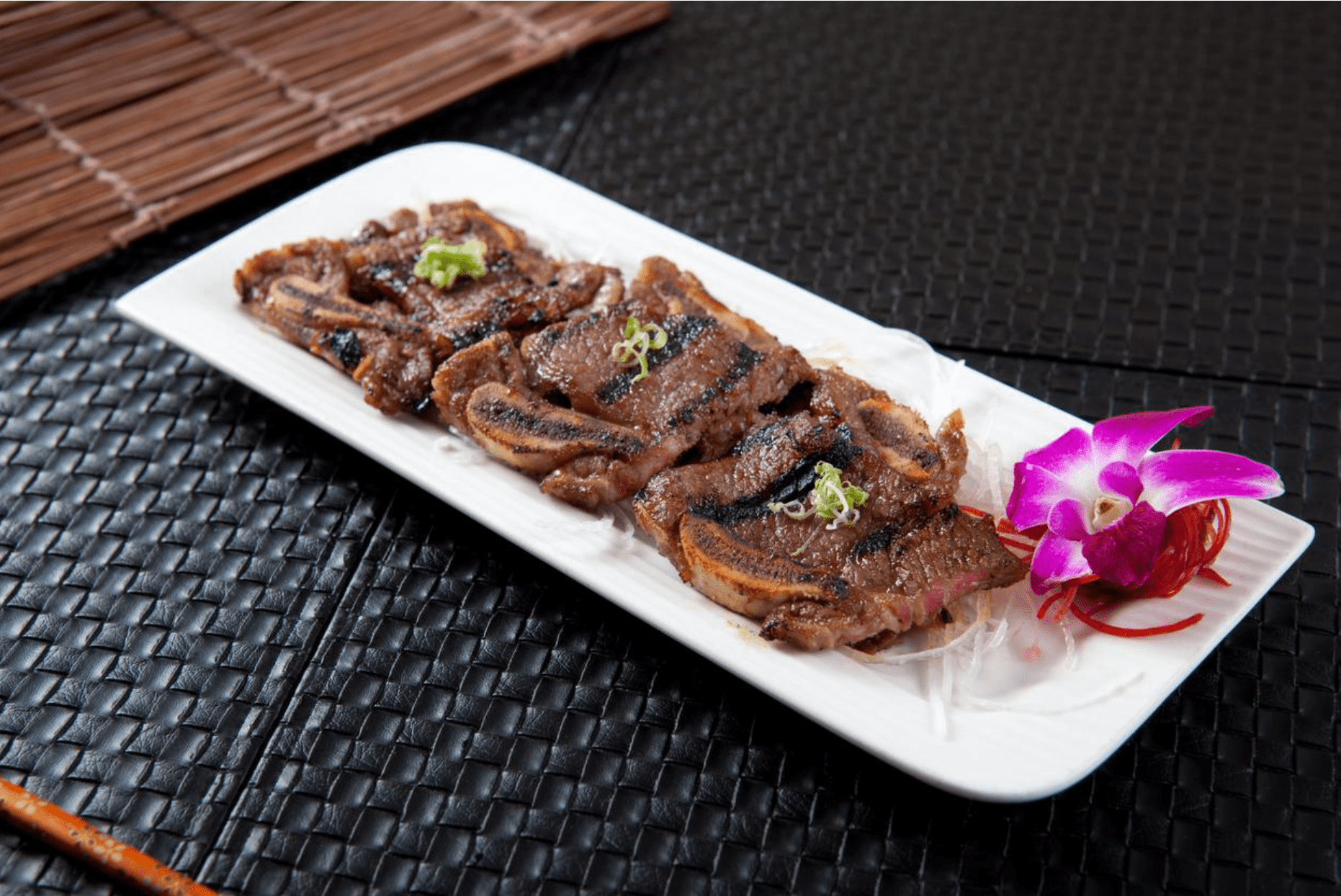 Recipe by: DeenaMae | www.allrecipes.com
3/4 cup water

3/4 cup white sugar

3/4 cup soy sauce

1 tablespoon sesame oil

1 clove garlic, minced

2 pinches ground ginger

2 pounds beef short ribs, or more to taste
Whisk water, sugar, soy sauce, sesame oil, garlic, and ginger together in a large glass or ceramic bowl. Add beef short ribs and toss to evenly coat. Cover the bowl with plastic wrap and marinate in the refrigerator, 8 hours to overnight.
Preheat an outdoor grill for medium-high heat and lightly oil the grate. Remove short ribs from the marinade and discard marinade.
Cook short ribs on the grill until evenly browned, 3 to 4 minutes per side. An instant-read thermometer inserted into the center should read 145 degrees F (63 degrees C).
Sesame Crusted Mahi Mahi with Soy Shiso Ginger Butter Sauce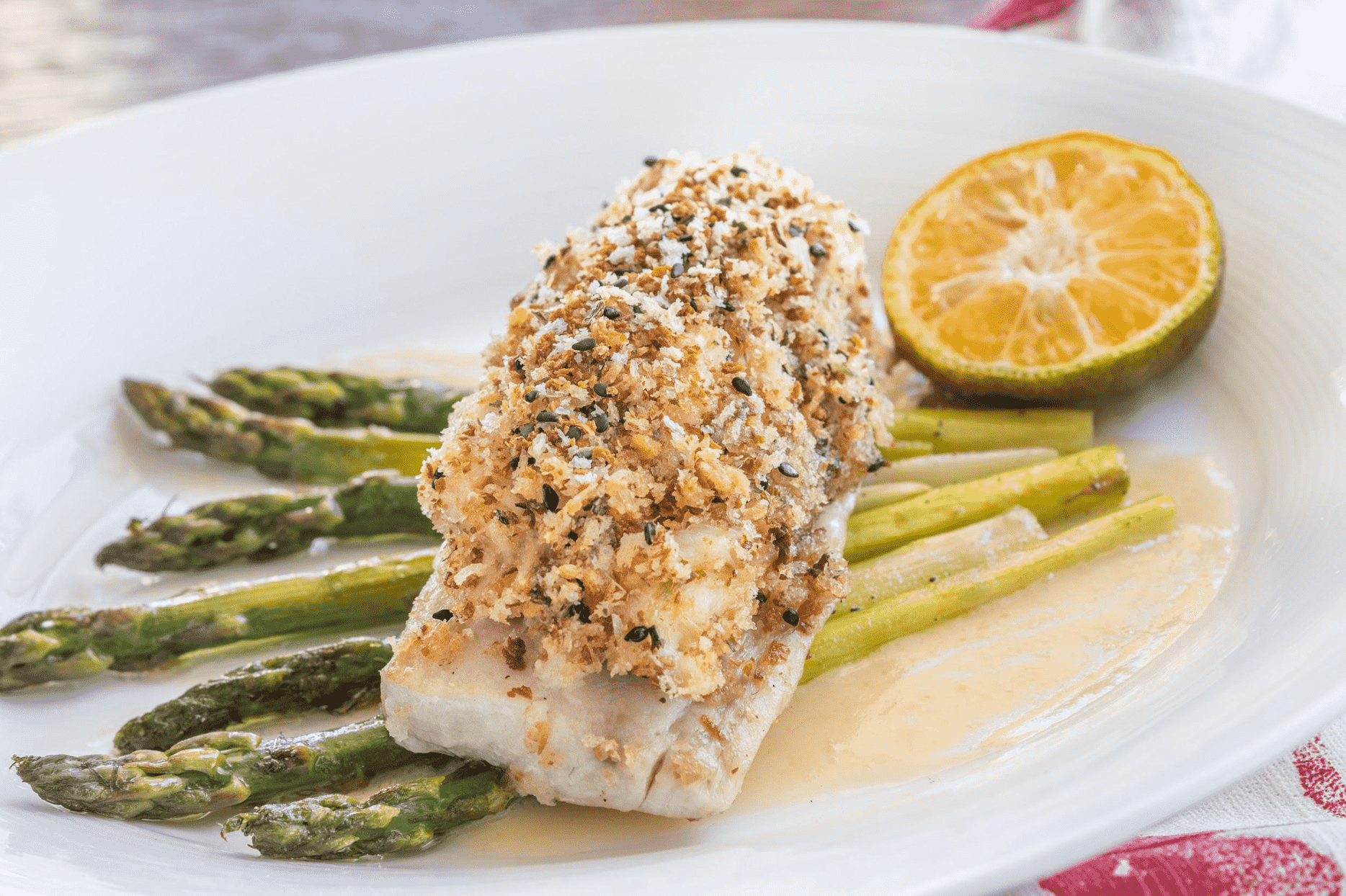 Recipe by: Ryan Nomura | www.allrecipes.com
3 shallots, minced

2 teaspoons minced fresh ginger root

1 lemon, juiced

1/2 cup dry white wine

1/2 cup heavy cream

1/2 cup unsalted butter, chilled and cut into small cubes

3 tablespoons soy sauce

4 shiso leaves

coarse kosher salt

ground white pepper

2 tablespoons canola oil

6 (6 ounce) mahi mahi fillets

4 tablespoons sesame seeds
In a saucepan over medium heat, combine shallots, ginger, lemon juice, and white wine. Cook until liquid is reduced to approximately 2 tablespoons. Stir in heavy cream, and bring to light boil. Reduce cream by half; do not burn. Stir in soy sauce, then transfer to blender. Blend on low while slowly adding butter, a few cubes at a time, until all of the butter is emulsified. Roughly chop or tear shiso, add to sauce, and blend for about 10 more seconds. Season to taste with kosher salt and pepper. Keep sauce warm.
Preheat oven to 425 degrees F (220 degrees C).
Heat oil in a large saute pan over high heat. Season both sides of the fillets with kosher salt and white pepper. Mix together white and black sesame seeds, and place in a plate or flat dish. Press the TOP side only of each fillet into the mixture, and press seeds into fish so it sticks. Make sure that the crusted sides are evenly crusted with the seeds. When oil is smoking, add fish, sesame seed side down to pan, and be careful of oil splatters. Pan sear fish for about 30 to 45 seconds per side. Place pan into oven, or transfer fish to baking sheet, and cook in oven for about 5 to 6 minutes. Serve sesame crust side up with ginger butter sauce.
Potato Mac Salad
Potato Macaroni salad also known as "potato mac salad" is a popular side dish served in plate lunches all over the Hawaiian Islands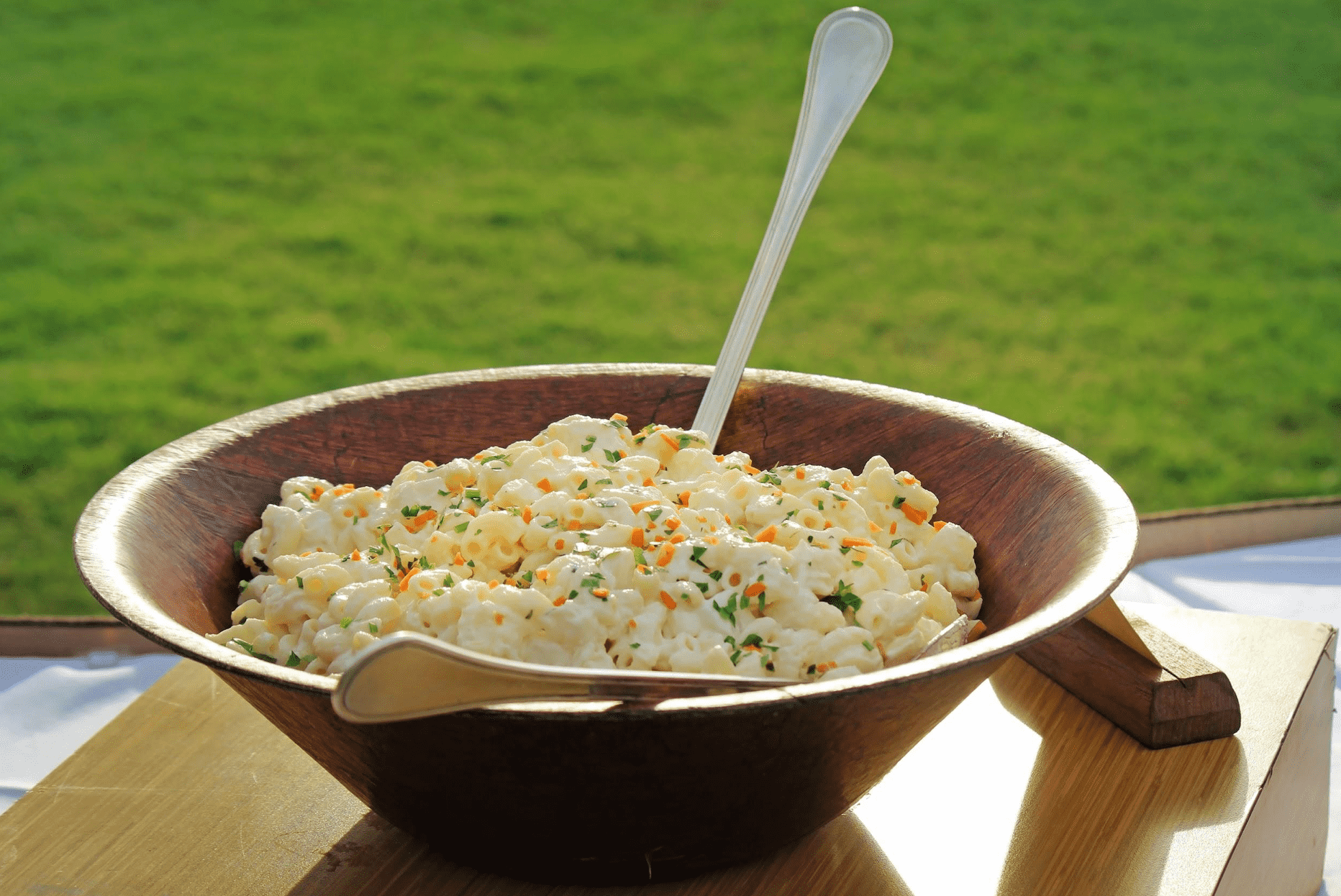 Recipe by: Tuihalalalala | www.allrecipes.com
5 eggs

7 large potatoes, peeled and cubed

1 cup elbow macaroni

3 cups mayonnaise

1 tablespoon sherry vinegar (optional)

1 1/2 teaspoons curry powder

1 teaspoon celery seed

salt and black pepper to taste

2 cups grated carrots

1 cup frozen green peas, cooked, drained

1 small sweet onion, finely chopped
Place the eggs into a saucepan in a single layer and fill with water to cover the eggs by 1 inch. Cover the saucepan and bring the water to a boil over high heat. Once the water is boiling, remove from the heat and let the eggs stand in the hot water for 15 minutes. Pour out the hot water, then cool the eggs under cold running water in the sink; peel and chop the cooled eggs.
Bring a large pot of salted water to a boil. Add potatoes and cook until tender but still firm, about 15 minutes. Drain and set in the refrigerator to cool.
Fill a large pot with lightly salted water and bring to a rolling boil over high heat. Once the water is boiling, stir in the macaroni, and return to a boil. Cook the pasta uncovered, stirring occasionally, until the pasta has cooked through, but is still firm to the bite, about 8 minutes. Drain in a colander set in the sink; rinse with cold water.
Whisk together the mayonnaise, vinegar, curry powder, celery seed, salt, and pepper in a bowl. Combine the cooled potatoes, macaroni, chopped eggs, carrots, peas, and onion in a large bowl. Carefully stir in the dressing; cover and refrigerate overnight.
Ono Butter Mochi
Japanese-inspired sweet and chewy rice cake dessert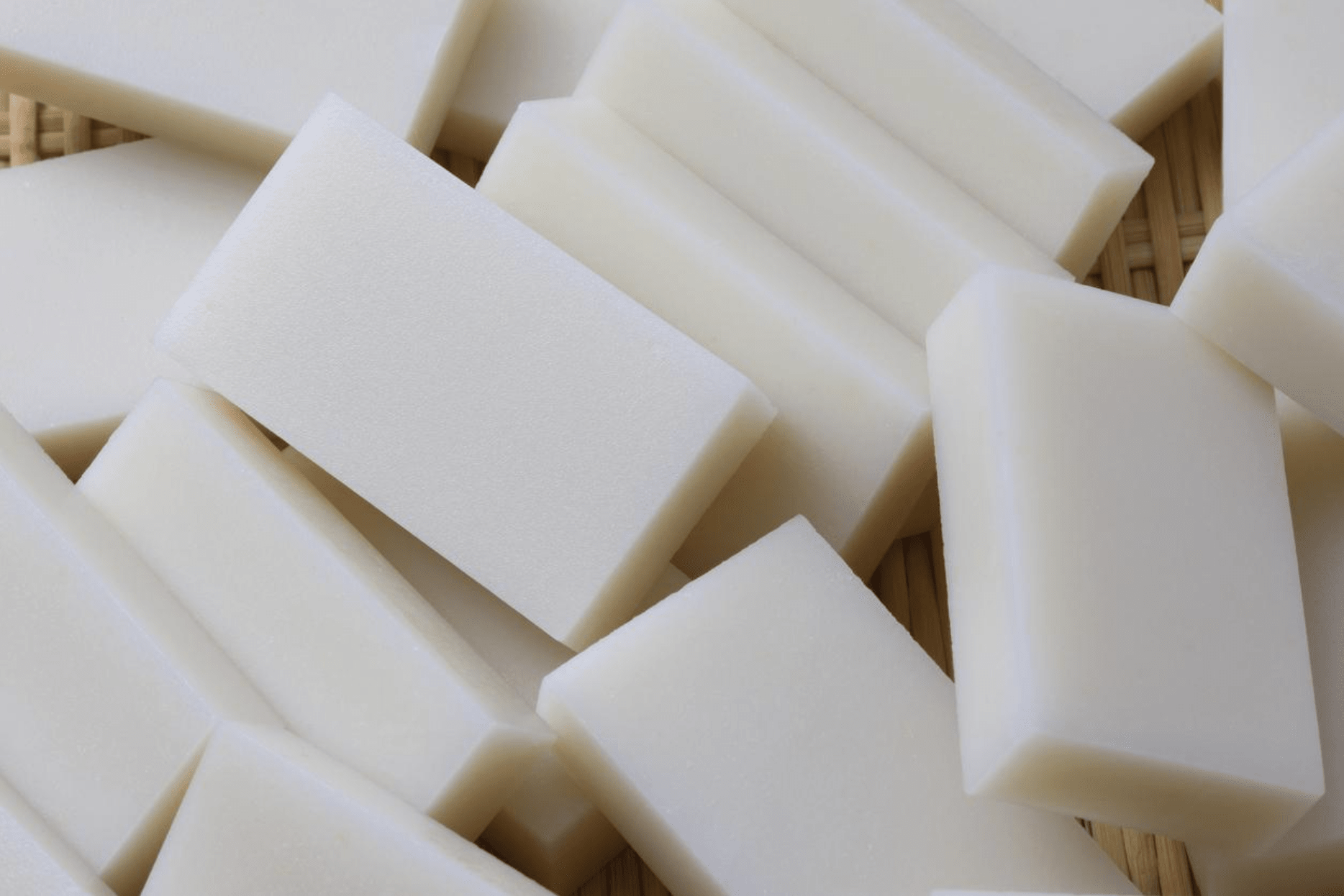 Recipe by: SAXONY | www.allrecipes.com
1 pound mochiko (glutinous rice flour)

2 1/2 cups white sugar

1 teaspoon baking powder

1/2 cup butter, melted

3 cups whole milk

5 eggs

1 teaspoon vanilla extract
Preheat the oven to 350 degrees F (175 degrees C). Grease a 9x13 inch baking dish.
In a medium bowl, whisk together the eggs, vanilla and milk. In a separate larger bowl, stir together the rice flour, sugar, and baking powder. Pour the wet ingredients into the dry ingredients, and stir to blend. Mix in melted butter and coconut. Pour into the prepared pan.
Bake for 1 hour in the preheated oven. Cool completely, then cut into squares to serve.
Malasada
Portuguese Fried Dough Pastry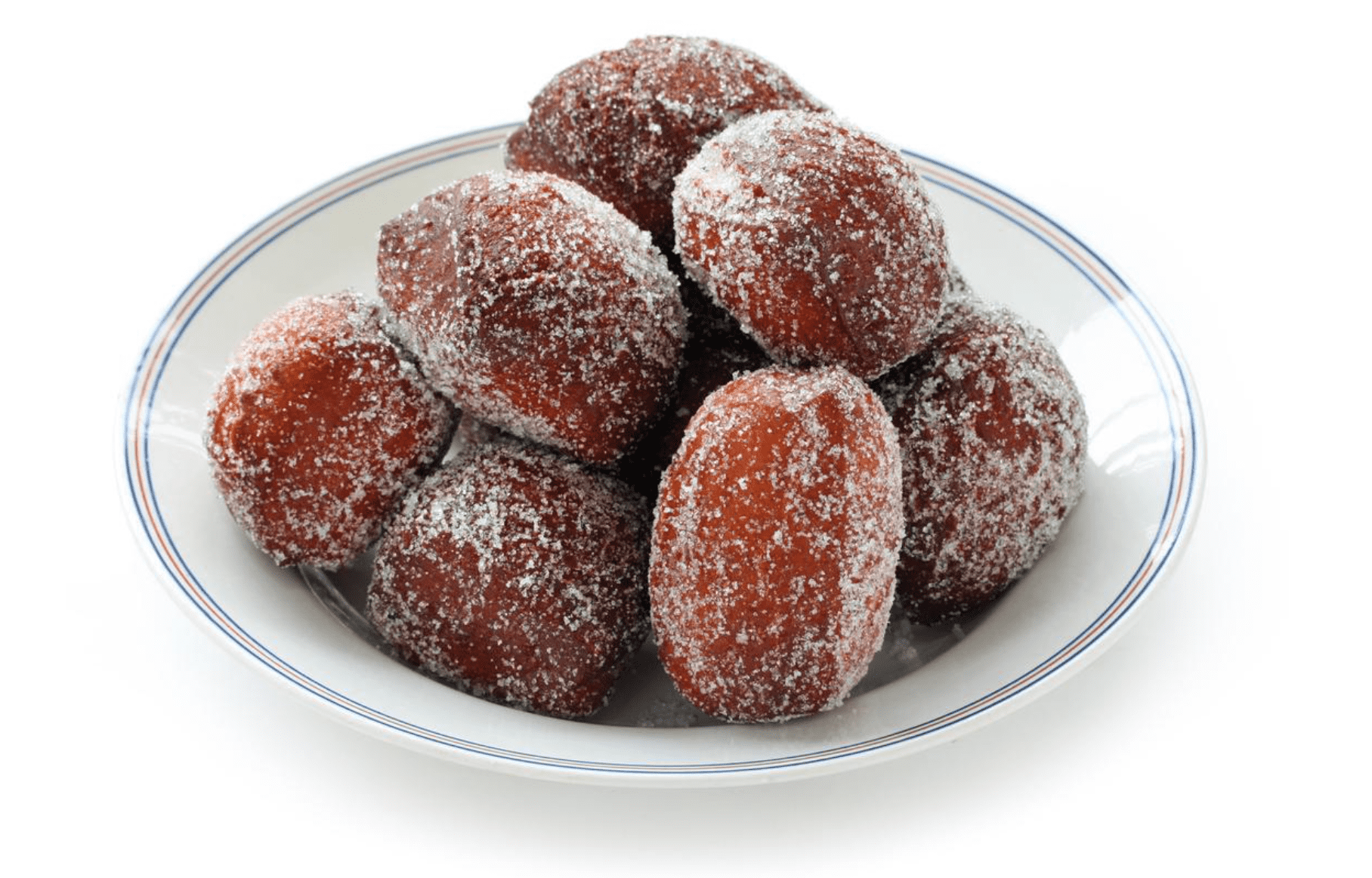 Recipe by:IDAJ | www.allrecipes.com
1 (.25 ounce) package active dry yeast

1 teaspoon white sugar

1/4 cup warm water (110 degrees F/45 degrees C)

6 eggs

6 cups all-purpose flour

1/2 cup white sugar

1/4 cup butter, melted

1 cup evaporated milk

1 cup water

1 teaspoon salt

2 quarts vegetable oil for frying

2 cups white flour

 
In small bowl, beat eggs until thick.
Put flour in large bowl, making a well in the center. Into the well add yeast, eggs, 1/2 cup sugar, melted butter, milk, 1 cup water, and salt. Beat thoroughly to form a soft, smooth dough. Cover, let dough rise until doubled.
Heat oil to 375 degrees F (190 degrees C). Drop dough by big teaspoonfuls into oil, fry until golden brown. Drain on paper towels, shake in a bag of sugar to coat, and serve hot. 
Coconut (Haupia) and Chocolate Pie
Haupia is a traditional coconut milk-based Hawaiian dessert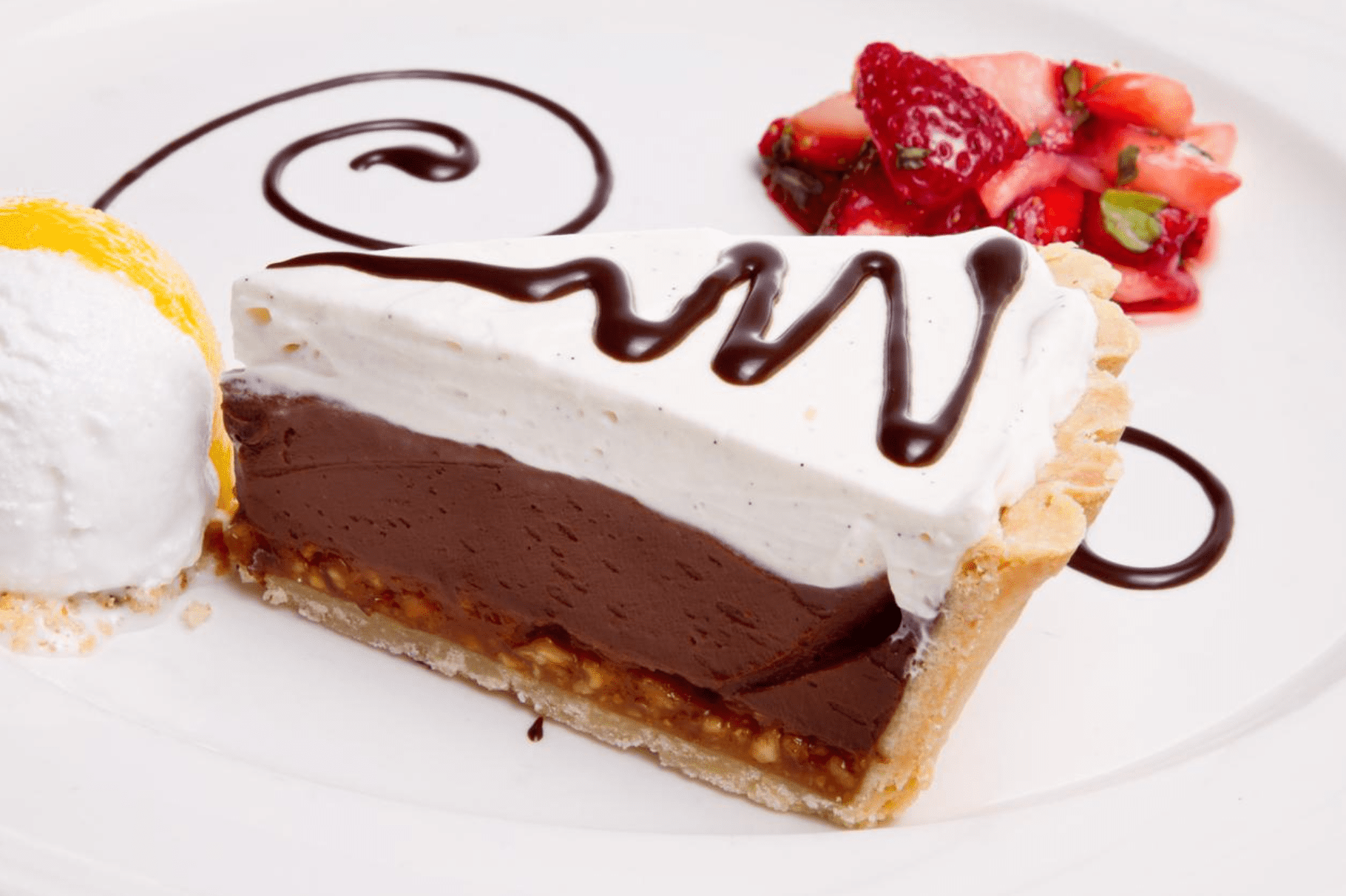 Recipe by: HOKU3 | www.allrecipes.com
1 (9 inch) unbaked pie crust

1 cup milk

1 (14 ounce) can coconut milk

1 cup white sugar

1 cup water

1/2 cup cornstarch

1 1/4 cups semi-sweet chocolate chips

1 1/2 cups heavy cream

1/4 cup white sugar
Preheat oven to 350 degrees F (175 degrees C). Bake crust for 15 minutes, or until golden brown. Set aside to cool.
In a medium saucepan, whisk together milk, coconut milk and 1 cup sugar. In a separate bowl, dissolve the cornstarch in water. Bring coconut mixture to a boil. Reduce to simmer and slowly whisk in the cornstarch. Continue stirring mixture over low heat until thickened, about 3 minutes.
In a glass bowl, microwave chocolate chips for 1 minute or until melted. Divide the coconut pudding evenly into two bowls. Mix chocolate into one portion. Spread on the bottom of the pie crust. Pour the remaining portion of pudding on top of the chocolate and spread smooth. Refrigerate for about an hour.
Whip cream with 1/4 cup sugar until stiff peaks form. Layer the cream on pie; if desired garnish with chocolate shavings.