8 Aug 2018
The Tahitians have Poisson Cru, the Peruvians have Ceviche, and the Hawaiians have Poke. Poke (pronounced po-kay) means to "slice" or "cut crosswise into pieces" in Hawaiian. It's believed that poke was first prepared by native Hawaiians centuries before Western travelers arrived on the islands.
History and Modernization of Poke
Not so long ago, this very traditional and unique Hawaiian dish was prepared at home for family, luʻau and other celebrations. It was a practical and simple way of preparing raw fish in a warm and semi-tropical climate when refrigeration was unavailable. Hawaiians developed several ways to cook or preserve fish, which was an important source of protein in the diet. Fish not cooked in the imu, broiled over coals, or boiled in gourds by adding red-hot stones was preserved by salting and drying.
Another favorite preparation, and the origin of today's poke, involved salting and seasoning of raw fish that had either been massaged (lomi) or, in the case of a larger fish, cut into bite-size pieces. Traditional seasonings for this form of poke included seaweed or limu, roasted ground kukui nut or ʻinamona, and seasalt or paʻakai. The additional of green onions, chili peppers, and shoyu that have now become typical of modern poke were not available to Hawaiians before Western or Asian contact.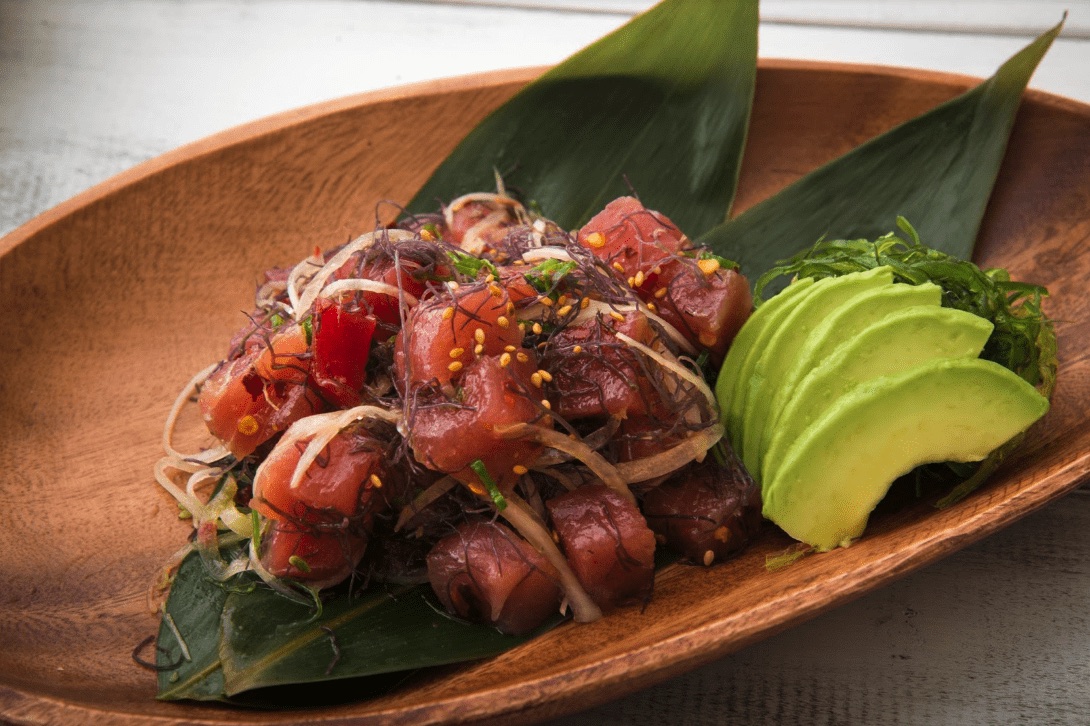 One of the greatest changes in the modernization of poke has been the greater variety of fish that is now available to the consumer and the distances it travels to our markets. Traditionally, the majority of fish came from the shoreline and reefs. The supply was supplemented by fish cultivated in saltwater and freshwater ponds. The availability of different fish was insured by careful conservation. Fishing grounds were protected from over fishing and a kapu system prevented catching fish during their spawning season. Fishes like weke, kole, manini and palani were plentiful and used more than the ahi, aku and marlin, which we have become accustomed to seeing in the markets today.
Preparation of Poke
Although the preparation of traditional poke appears deceptively simple, great skill was required and salt was essential, both for preservation and taste. Knowledge of salt gathering and preparation from locations along the seashore were passed down in families from generation to generation. Even today, some locations in Hawaiʻi are valued for the quality and taste of the salt they produce; especially prized is the salt from Hanapepe, Kauaʻi, with its rust color, and the salt from Kaʻena Point on Oʻahu for its purity. Drying and cleaning of the salt are time-consuming and were once an important part of the Hawaiian lifestyle.
Equally valued as a condiment and a major part of the taste and nutritional value of traditional poke was seaweed or limu.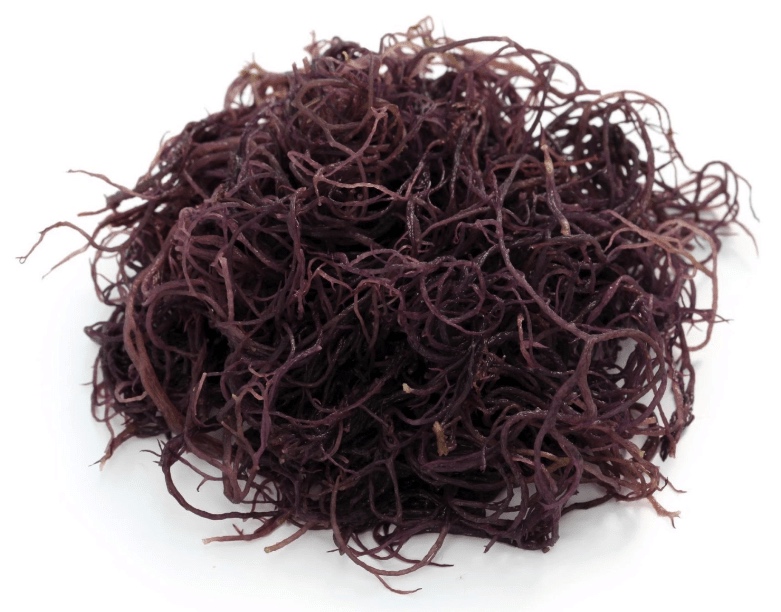 In pre-contact days, Hawaiians depended greatly on limu for its nutritional value; they have names for more than eighty different types, although in recent times, no more than fourteen are harvested. Limu kohu, the type of seaweed most often used for poke, is still gathered by independent fishermen who collect the limu in secret locations along the coastline. More recently, aqua-farming and cultivation of limu has become more prevalent and safer. Limu kohu is a soft, reddish-brown limu with a distinct marine or iodine scent flavor; limu kohu is generally found only in rough water areas and is dangerous to collect when exposed at the low tides. After gathering, limu is carefully and painstakingly cleaned to remove the tiny rocks, sand and pieces of coral that are lodged in it branches.
The third and final ingredient for traditional poke is ʻinamona: roasted, ground, and salted kukui nut which adds balance and a nutty flavor to the fish.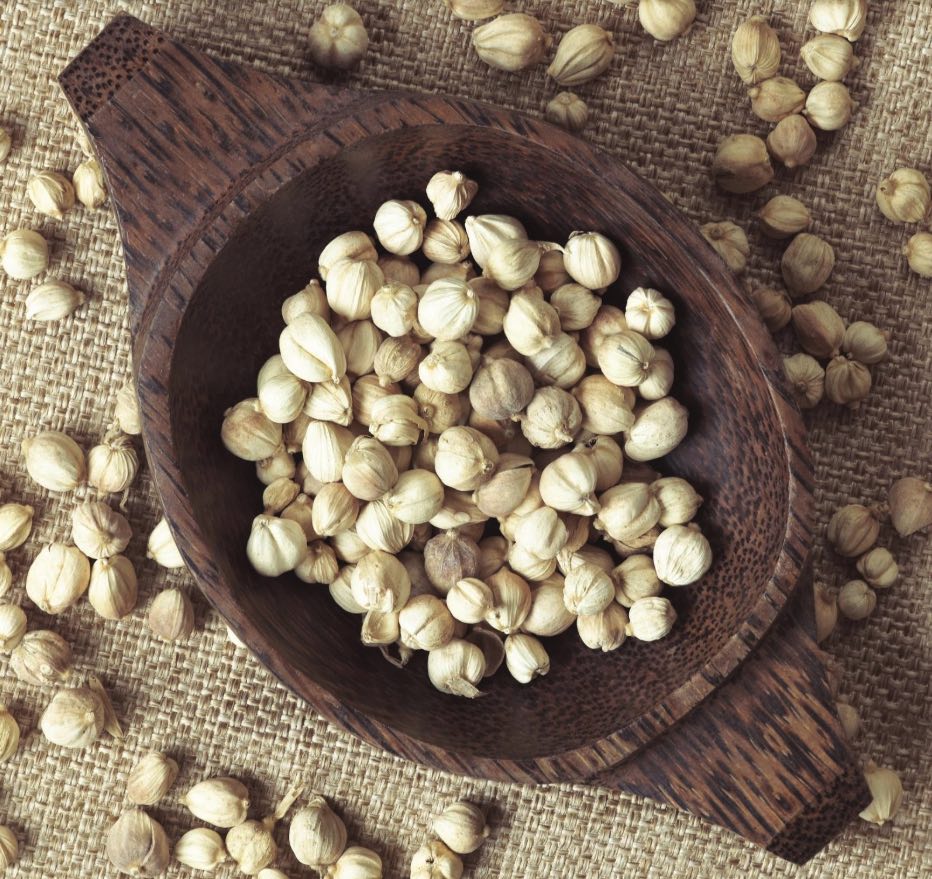 The kukui nut (candlenut) tree was brought from the South Pacific by early Polynesian settlers. Before the development of sugar plantations, the forest along the wet, windward coast were covered with trees which at times rose to heights of ninety feet. The nut has many uses including fuel, light, oil, dye and medicine, as well as flavoring. Although kukui nut trees have become less abundant, ʻinamona is still made commercially by a small number of companies around the state.
Time to Experience Poke!
Poke has evolved from this traditional style of food that was an essential part of the Hawaiian diet. The availability of new ingredients, combined with the extraordinary creativity of todayʻs chefs have changed poke forever.
Learn to Make Ahi Poke Salad & Other Traditional Hawaiian Dishes
For those who have not learned to make poke at home, the instant availability of so many different varieties found at the local supermarket or fish markets has made poke a local favorite for pupu and parties.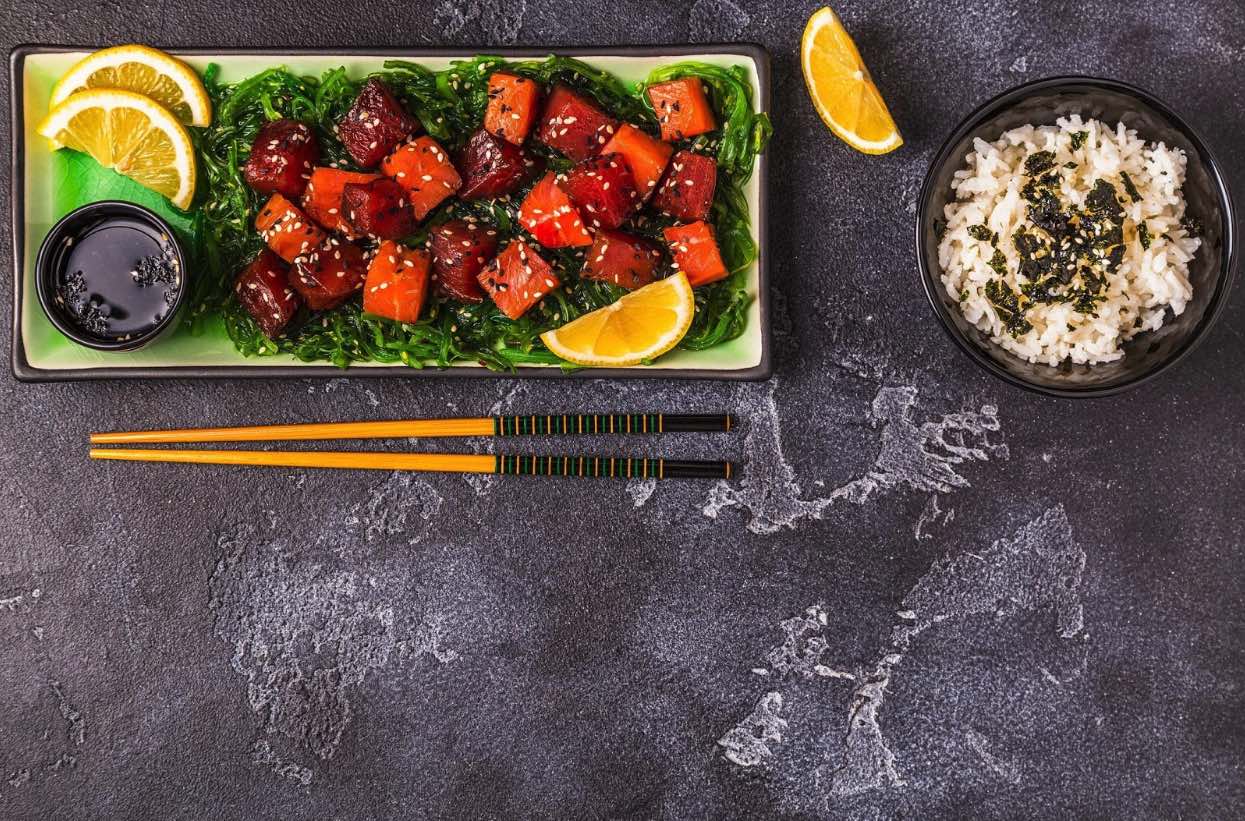 Here's some "poke lingo" you can use when trying a few different varieties of poke at a few of my favorite local poke spots:
Ahi — Yellowfin (Big Eye) tuna
Aku — Bonito (Skipjack) tuna
Limu — Common Hawaiian term for seaweed. More than 350,000 pounds are consumed annually in Hawaiʻi.
Limu Kohu — Small, red, spicy seaweed which grows on the edge of reefs. Rolled into balls for storage after cleaning.
Lomi — In Hawaiian, to rub, press, squeeze, mash fine, massage, rub out. The process of preparing salt salmon or raw fish by working with fingers.
Ogo — Japanese word for a mild and delicate red-green limu.
Paʻakai — Sea salt. Important in Hawaiʻi as a means of preparing food and as a condiment or relish.
Now that you have the poke lingo down, go out a try a few of my favorite Big Island poke spots!
Suisan Fish Market — Located in Hilo near the Wailoa Boat Harbor is where you will find the 100 + year old Suisan Fish Market at 93 Lihiwai Street: For a fantastic variety of poke sold by the pound and fresh fish, Suisan is a must! Buy yourself a poke bowl to eat outside in front of the shop or across the beautiful Lili'uokalani Park.
Umeke's Fish Market Bar and Grill — Serving Aloha Daily, Umeke's popular Fish Market Bar and Grill is found at 74-5563 Kaiwi St in Kailua-Kona. Voted the best poke in Hawai'i in both 2016 and 2017. From poke bowls, poke nachos, fish tacos to burgers and dessert, you won't be disappointed.
Foodland Stores — The Foodland / Sack n' Save is the largest locally owned grocery store in Hawai'i. Its fish and seafood deli serves up some of the freshest and 'ono varieties of poke found island wide. If you can't decide what variety of poke you want, ask for a sample or two! When you go to the checkout, the cashier will even ask you if you prefer chopsticks or a fork.