2 Sep 2022
Create an Outstanding Outdoor Space in Your Home
When it comes to Hawai'i vacation rentals, outdoor spaces with an abundance of amenities are in high demand. Updating the outdoor living space of your vacation rental not only improves your guest's experience, but also makes your rental stand out in searches. Here's how to transform your vacation rental's outdoor space from ordinary to outstanding! 
Start with the Basics
No matter how spacious your vacation rental, convenient the location, or stunning the view, a guest will find it hard to appreciate if you neglect to keep the property clean, tidy, and well maintained. Visitors to Hawai'i spend just as much time outside as they do inside their rental, so make sure that the outdoor area is just as clean as any room in the house. Take a walk around your rental (or have your property manager do so) and check for any outdoor lights that need replacing, lawns that need mowing, landscaping that needs weeding, hedges (or palm trees) that need trimming, cracked driveways or walkways that need repairing, and peeling paint that needs a fresh coat.   
Landscape Like a Pro… or Hire One! 
If you have a well-manicured lawn, you're off to a good start. But consider that part of Hawaii's allure is the lush foliage that thrives here. To really make outdoor living areas pop, use native flora of varying sizes and colors to frame driveways, lanais, pools, and patios. Consider planting perennials like awapuhi (tropical ginger) and heliconia alongside monstera, since these perennials will compliment the monstera's leaves and bloom season after season. For particularly sunny spots, plant plumeria, hibiscus, and succulents that will welcome the sun and greet guests anytime of year. 
Just keep in mind that unless you have automatic watering systems, you'll want to use resilient, low-maintenance plants that can go several days without watering. You can also maximize the colorful array of plants and flowers that grow so well in Hawai'i by implementing professional landscaping to turn your vacation rental's outdoor space into a tropical oasis. With a professional landscaping business in your corner, you're sure to end up with an outdoor space so stunning that you'll want to share photos of it anywhere your rental is listed… and attract even more guests!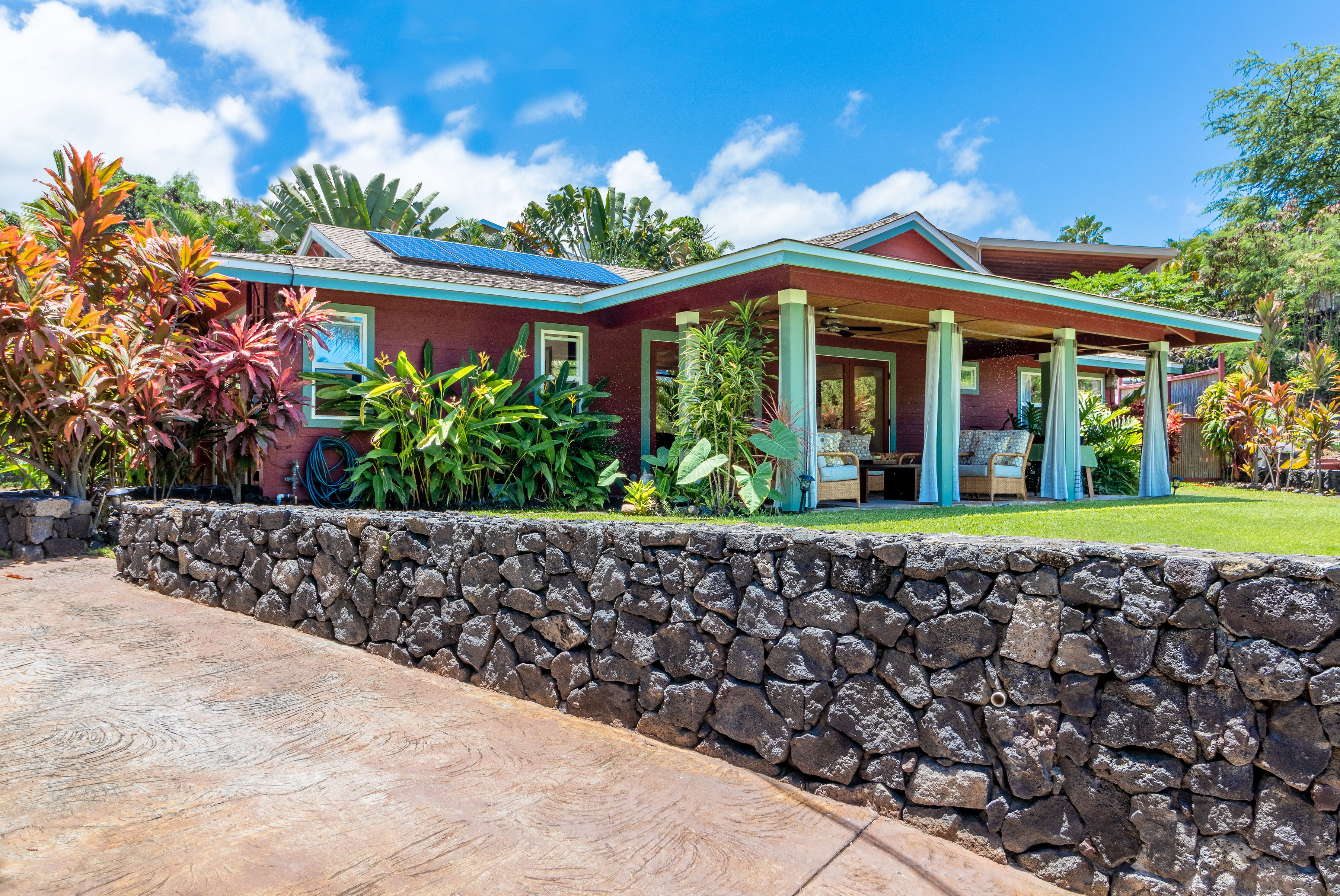 Enhance Al Fresco Dining
Outdoor spaces that are well-maintained and thoughtfully-designed create the perfect setting to relax. As guests drink in Hawaii's unrivaled views while sharing a home-cooked meal, your vacation rental will be the source of a lifetime of memories.  Enhance their experience by providing a table and chairs for two to four guests. Depending on what the weather is like in your corner of Hawai'i, you may want to set the table ahead of time. If that's not an option, have plenty of glasses, plates, and utensils in the kitchen for guests to take outside. For rentals that cater to families, consider providing plasticware as an alternative to glass, which can easily break and become a concern for you and your guests.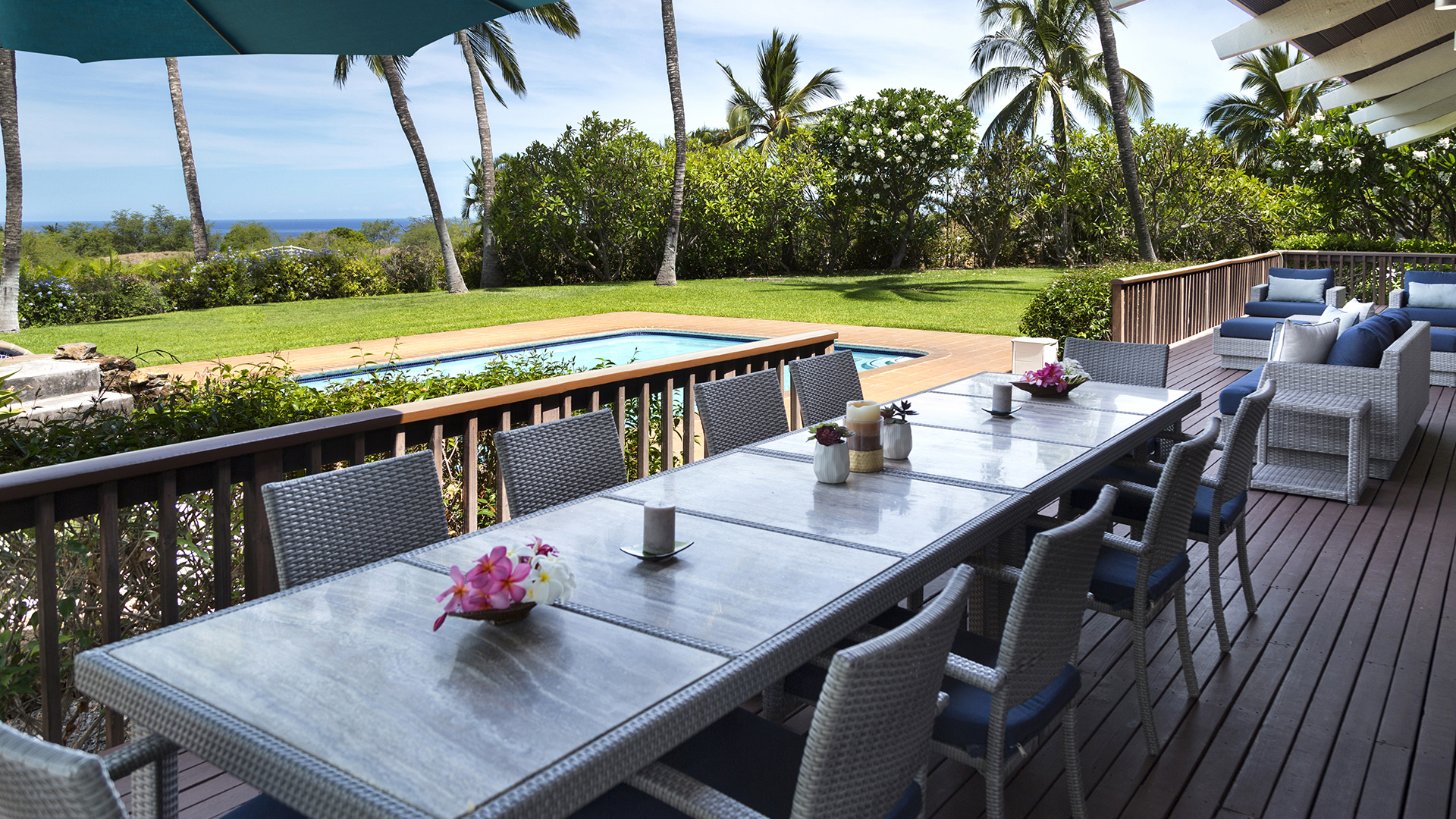 Focus on Comfortable, Durable Furniture
Furniture that is attractive, comfortable, and durable makes all the difference when it comes to dining al fresco and relaxing outside in Hawai'i! On the other hand, furniture that is broken, outdated, or faded will definitely garner attention from guests, but for the wrong reasons. When it comes to outdoor furniture, replace anything that is showing wear and tear. 
While plastic may be ideal in the case of dinnerware, consider investing in outdoor furniture made of materials that are higher quality and weather-resistant, like teak or a canvas-performance fabric such as Sunbrella®. For outdoor dining sets, add tropical, weather-proof cushions to chairs and washable placemats for the table. You can arrange cozy chairs and a loveseat or couch around a coffee table in large spaces, while small lanais may only need a few chairs with colorful cushions and space-saving side tables. For the pool deck, adjustable lounge chairs are expected, but you'll want to do more than just meet expectations.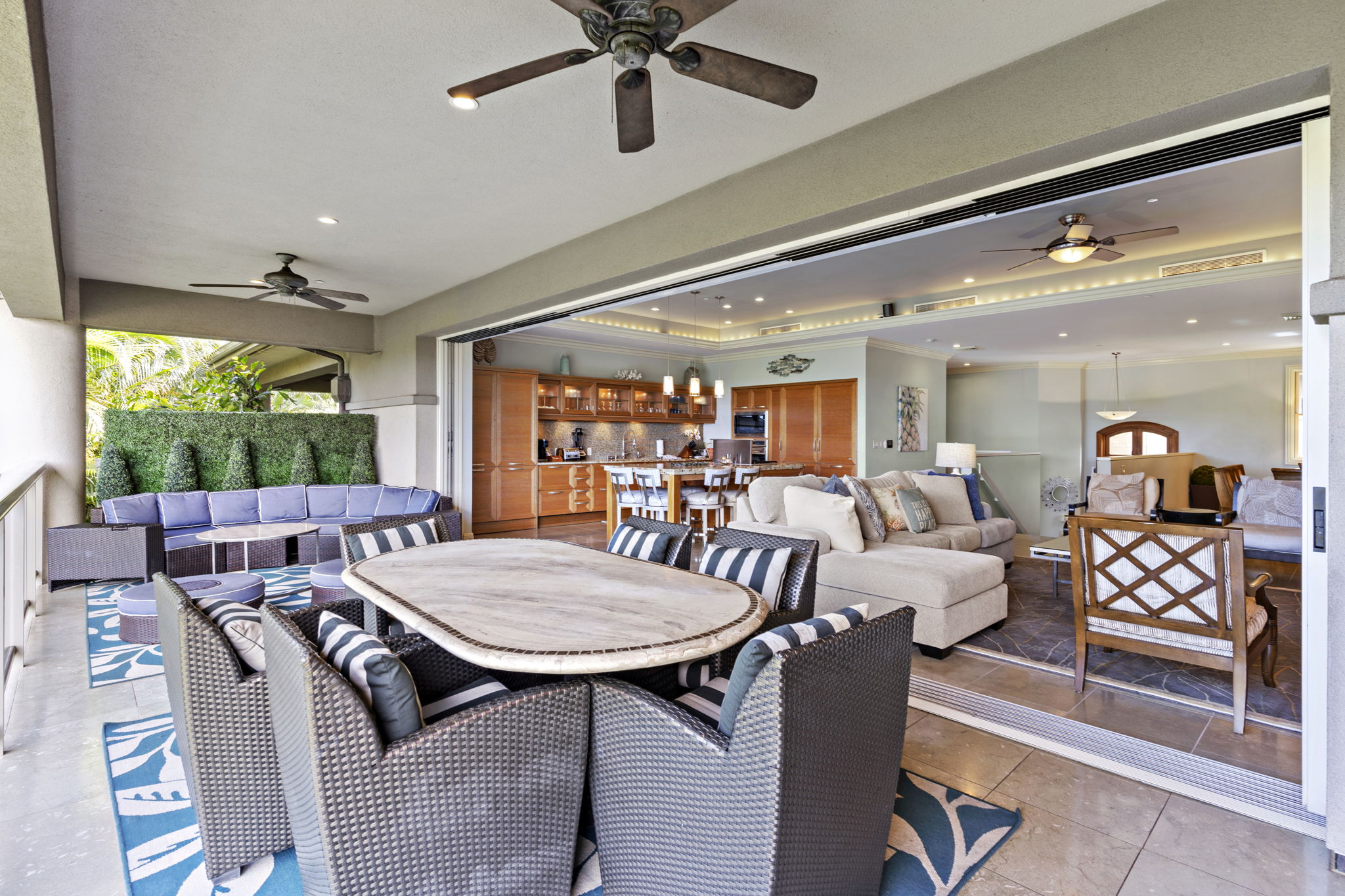 Exceed Poolside Expectations
Among all the outdoor amenities searched for by those looking at vacation rentals, hot tubs and pools are the most popular. If your Hawai'i vacation rental has one or both of these amenities on the property, be diligent about keeping pools, hot tubs, and water features in immaculate condition with regular cleaning, safety inspections, and maintenance. 
Hot tubs should be heated prior to the arrival of guests. And instructions for both tubs and pools should be easy for guests to find and follow. To really impress visitors, offer water toys, fun noodles, inflatable rafts… and large, plush towels for an extra dose of poolside pampering. If your vacation rental doesn't offer a hot tub or pool, and it's in your budget, it's time to enhance your property with one or both of these amenities. Providing a clean, safe pool or hot tub that is well-equipped with all the extras can go a long way toward taking your rental from being booked occasionally to being in high demand.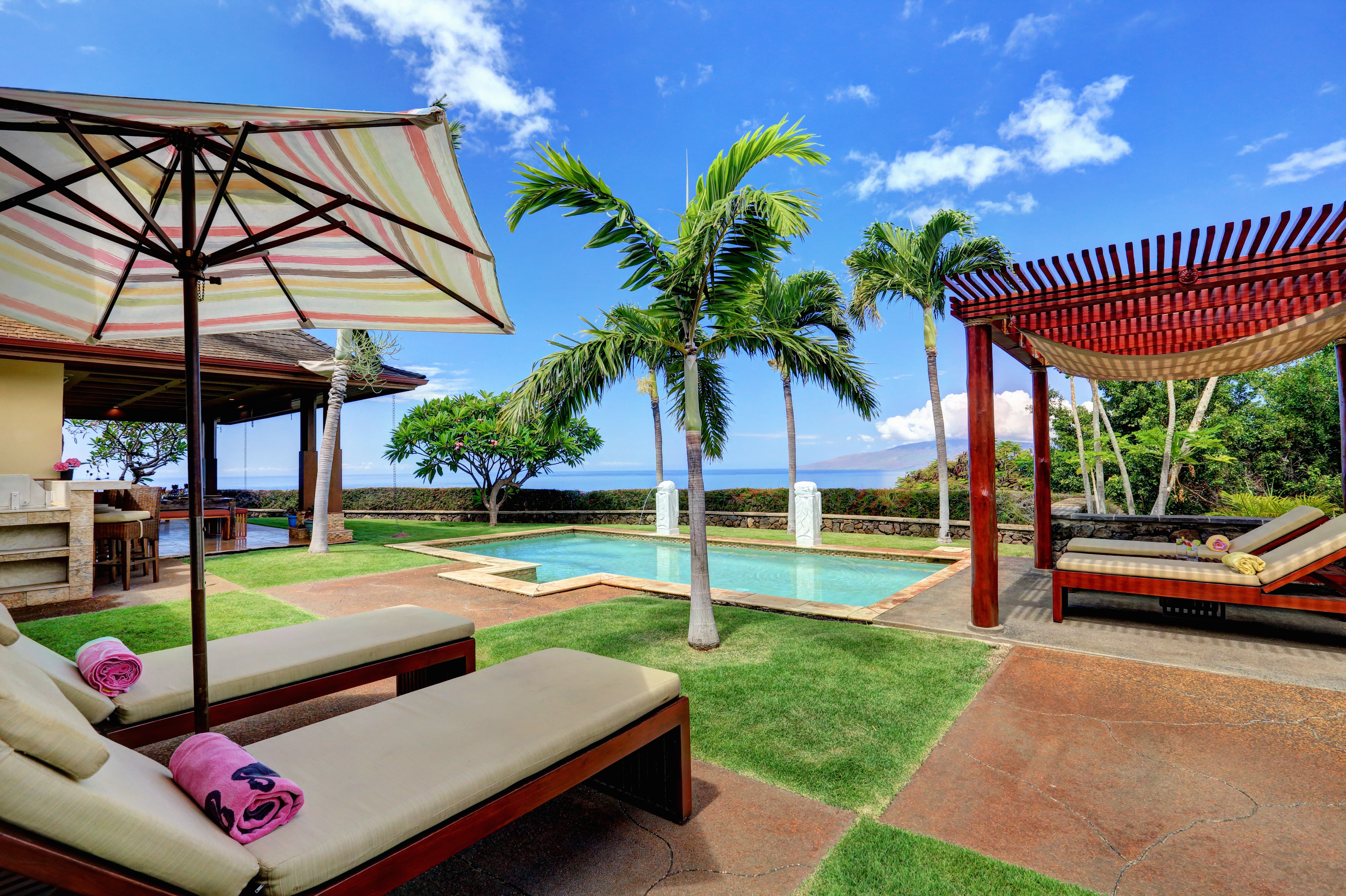 Fire Up the Grill 
In Hawai'i, it's always BBQ season, so why not let your guests indulge in grilling their dinner (or lunch or breakfast). Add a grill to your outdoor space and you'll attract the many families who often book a rental specifically for its barbeque. Just be sure the grill is always cleaned between visits, safe, and ready for grilling! Don't forget to provide the aluminum foil, spatulas, tongs, and other necessary utensils. And go the extra mile by offering easy-to-follow instructions on installing propane if necessary, turning it on, and even a few recipes or tips for where to get ono (delicious) local food to grill.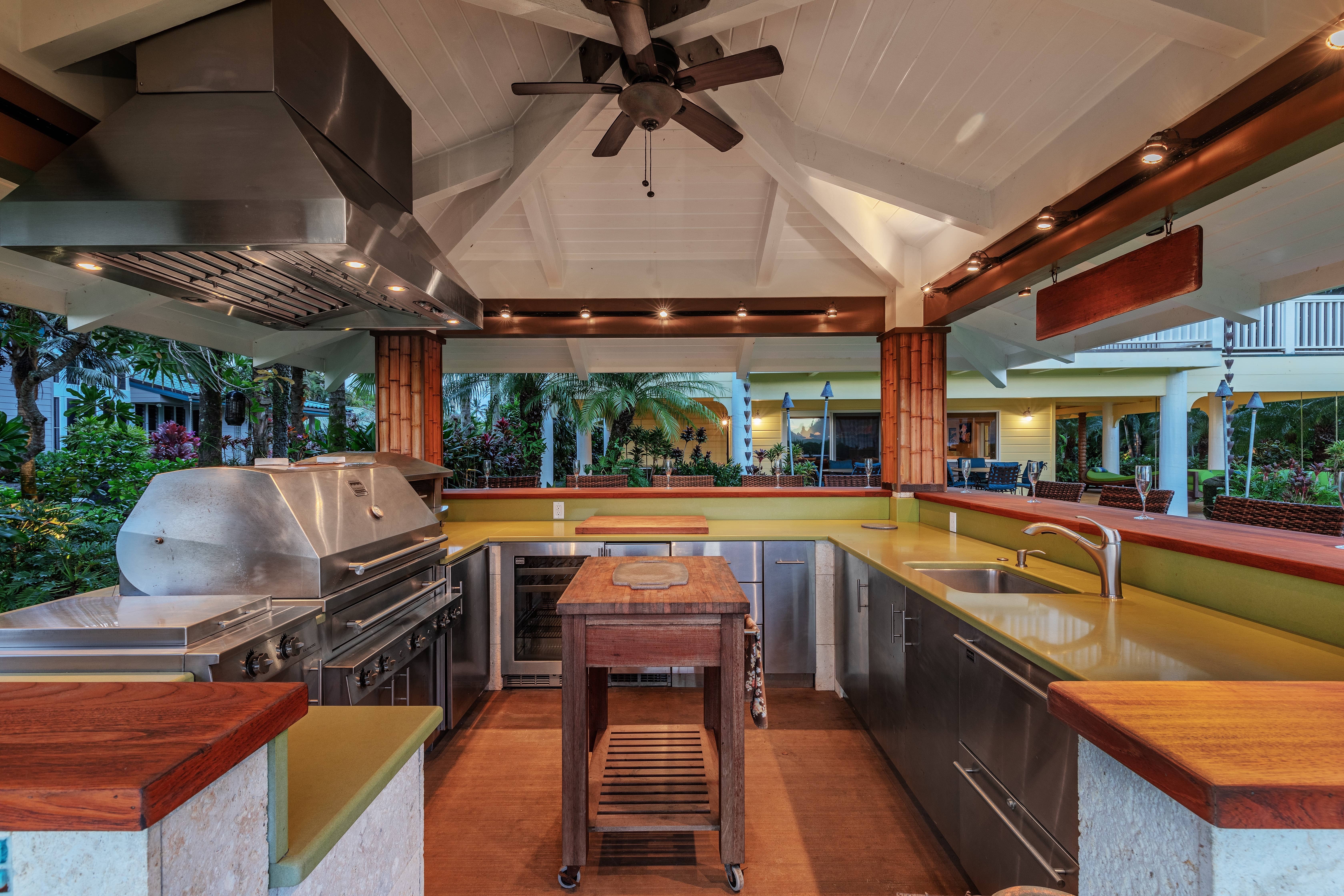 Design a Lanai to Live On
Make a lasting impression with a lanai that is thoughtfully designed and encourages guests to live outside and enjoy their tropical surroundings. Plants always add a depth of natural beauty, but be sure that they are low-maintenance and will remain healthy with minimal watering and pruning. Succulents are an excellent choice as they are easy to care for and look fantastic in planters that can be placed on tables or against railings. Furniture on the lanai should be designed around the unique perspective that your property offers, whether that's mountain vistas, sunrise views, or views of the sun setting into the sparkling blue ocean. 
Take your lanai's appeal up a level by hanging a hammock for napping in between adventures. And when the sun goes down, guests can continue to embrace outdoor living and sip a cocktail under the stars if your lanai has the essentials. Citronella candles can keep the bugs at bay - Just be sure they won't blow over easily and be a fire hazard. And lighting should be understated for ambiance, but bright enough to keep guests safe as they head indoors for the night. Think string patio lights that are functional and fun!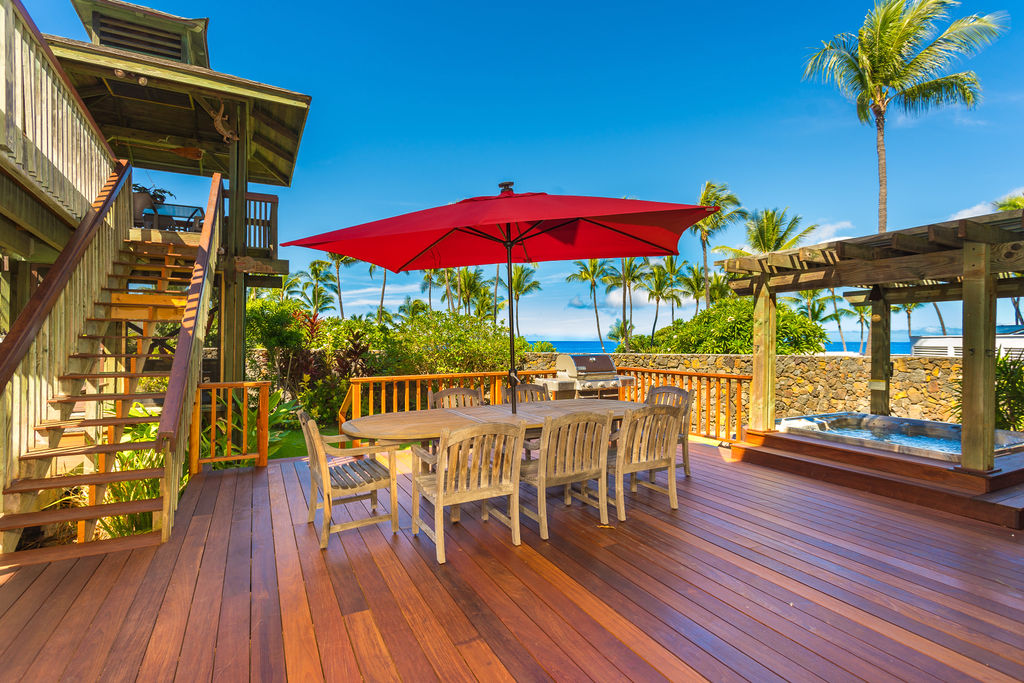 Don't Forget Shade & Shelter 
Now that your vacation rental's outdoor space is so alluring, don't let the elements ruin a guest's perfect stay. To provide shade from the sun's harmful rays and shelter from rain and adverse weather, invest in a retractable awning, or patio umbrellas for tables and lounge chairs. With plenty of shady spots for guests to cool off and find protection from Hawaii's intense sun, they'll enjoy the outdoor lifestyle that makes our islands so special!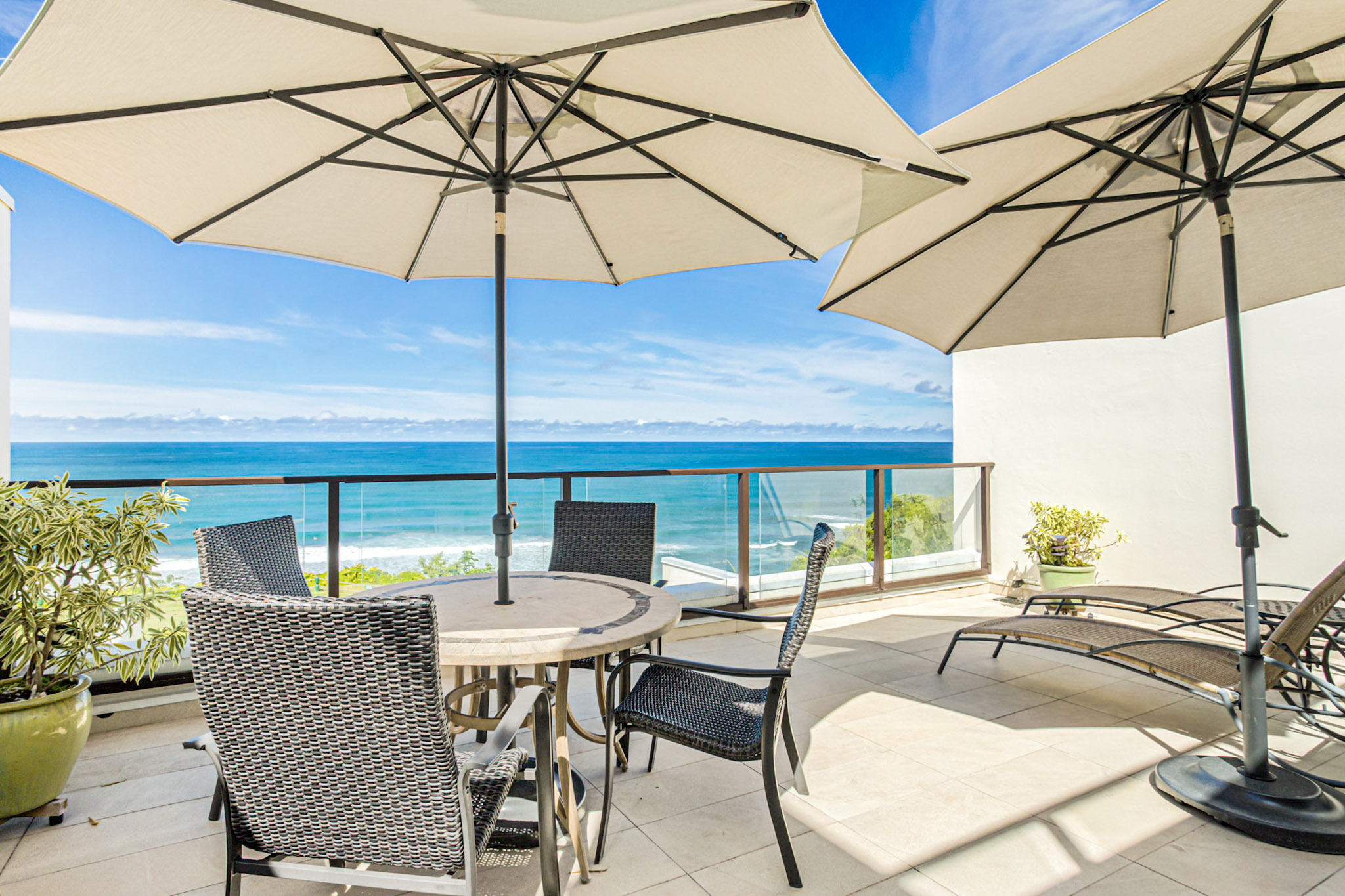 Contact Us
A few key updates to your Hawai'i vacation rental's outdoor living space can make a massive impact on your guests' experience and help you generate more income. To maximize your property's performance, however, give it a serious advantage by working with the professionals at Hawai'i Life. 
Hawai'i Life specializes in real estate and management of luxury properties across the island chain. Our team makes your investment our top priority and our property management services include the arrangement and supervision of housekeeping, yard maintenance, repair technicians, gas delivery, window washing, carpet cleaning, and more.
For more ideas on how to revamp your rental home's outdoor living space and even add value to your property, connect with us today by email or phone at Vacations@HawaiiLife.com or 855.447.3685.