23 Jul 2021
Honolulu's Gold Coast offers a beautiful stretch of coastline that runs from the edge of Waikiki to the base of Diamond Head, Honolulu's most iconic landmark! Step out of the hustle and bustle of busy Waikiki to visit some of the stunning beaches, parks, and attractions the Gold Coast has to offer. 
Gold Coast Activities for the Whole Family 
The famous Diamond Head Monument is a part of the Ko'olau Range of volcanoes that began erupting below sea level over 2.6 million years ago! The hike to the top of the crater is short and steep, and the trail takes you through several historic tunnels installed during wartime. Visitors will enjoy stunning panoramic island views, the famous Diamond Head lighthouse, a U.S Coast Guard Facility, and vast ocean views - on a clear day you can even see the nearby island of Molokai! 
With visitors to the park exceeding 3,000 people per day, it's wise to arrive early! The entrance opens at 6 a.m., and the gates are locked at 6 p.m. daily and all visitors must be out of the park by this time. Facilities here include restrooms, water fountains, food concessions, picnic tables, trashcans, and a visitor center. Be sure to bring lots of water, sunscreen, a camera, and the family! 
Location: Diamond Head Visitor Center, Diamond Head, Honolulu, HI 96815
Hours of Operation: Open daily 6 a.m. - 6 p.m. (closed Wednesday)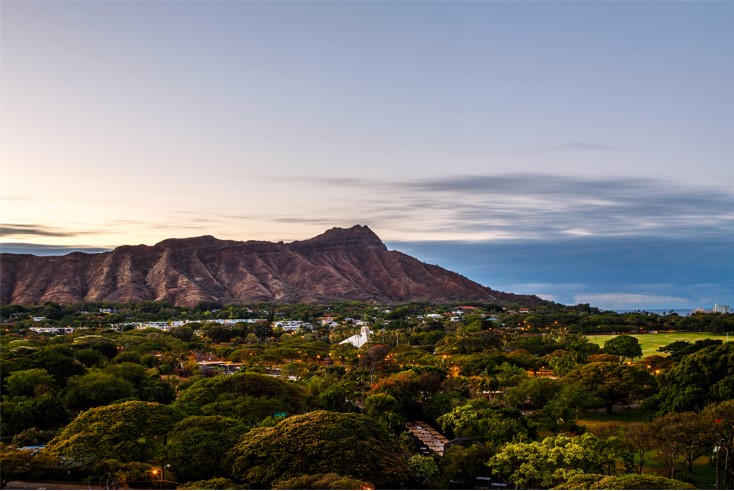 The Honolulu Zoo covers a 42-acre area inside the Queen Kapiʻolani Park and is the only zoo in the United States to be established by "king grants." In 1877 King David Kalakaua, Hawaii's "Merrie Monarch,'' granted 300-acres of land to be used for Kapi'olani Park, now the largest public park in Hawaii. 
A great place to learn about indigenous Hawaii species, it features over 1,230 animals organized into three ecological tropical zones: Rainforests, African Savanna, and Pacific Islands. A newer highlight is the Asian elephant exhibit!  Plan to spend a few hours here and arrive early in the morning to beat the heat and catch the animals when they are most active. In addition to the dining concessions available in the park, visitors are allowed to bring a cooler with their own food and drink. 
Their mission is to inspire stewardship of our living world by providing conservation, education, and meaningful experiences to the community. The Zoo emphasizes Pacific Tropical ecosystems and our values of malama (caring) and ho`okipa (hospitality).
Location: 151 Kapahulu Ave., Honolulu, HI 96815
Hours of Operation: Open Daily, 10 a.m. to 4 p.m.
Just down the road from Honolulu zoo along the beautiful shoreline, you will find the Waikīkī Aquarium. Opened on March 19, 1904, it is the second-oldest public aquarium in the United States! As an institution of the University of Hawaiʻi at Mānoa since 1919, several ongoing research projects have been designed to restore and protect native Hawaiian species, as well as other threatened or endangered species. 
A great place to spend a few fun hours with the family, the aquarium is divided into 13 different display areas with diverse exhibits and habitats that are home to over 3,500 different marine animals! They also offer a variety of family-friendly events and classes that provide a fun approach to education and conservation with hands-on activities.  
Location: 2777 Kalakaua Ave, Honolulu, HI 96815
Hours of Operation: Open Daily, 9 a.m. to 4:30 p.m.


Ready to visit Oahu's Gold Coast? Check out some nearby vacation rentals below for easy access to these three family-friendly gold coast attractions. Contact us at Hawaii Life Vacations for more information on how to book your next Hawaii vacation and allow our personal concierge to help make all of your arrangements before you arrive!
Contact us by email at Vacations@HawaiiLife.com or phone 855.447.3685