21 Sep 2020
We are pleased to share some new measures recently introduced by the State of Hawaii to help protect both visitors and our island communities.
Safe Travels Pre-Testing Program - 

Begins October 15, 2020

Beginning on October 15, 2020, Hawaii is ready to welcome you with a new pre-travel testing option for Hawaii visitors. 

While the 14-day quarantine has been the only option for those wishing to visit Hawaii for several months, the state's new pre-travel testing program is a promising new way for travelers to bypass the 14-day quarantine period upon arrival to the state. You'll be able to travel safely to Hawaii using one of the following two options: 
1. Quarantine for 14 days. 
All residents and visitors arriving from out-of-state to Hawaii are subject to a mandatory 14-day self-quarantine. 
What does a traveler to Hawaiʻi need to do to avoid Hawaii's 14-day quarantine? See option 2. 
2. Take A Pre-Travel Covid-19 Test
Announced in a news briefing held on September 16, 2020, the long-anticipated pre-testing program allows visitors who have obtained a negative result on a Covid-19 test taken within 72 hours of their arrival in Hawaii to avoid the mandatory quarantine period. 
You'll be able to visit the islands with relative ease beginning in mid-October. Visitors can soon enjoy a safe vacation in a sunny destination where there are relatively low infection rates while helping to protect our island communities. Here's how the pre-travel testing program works: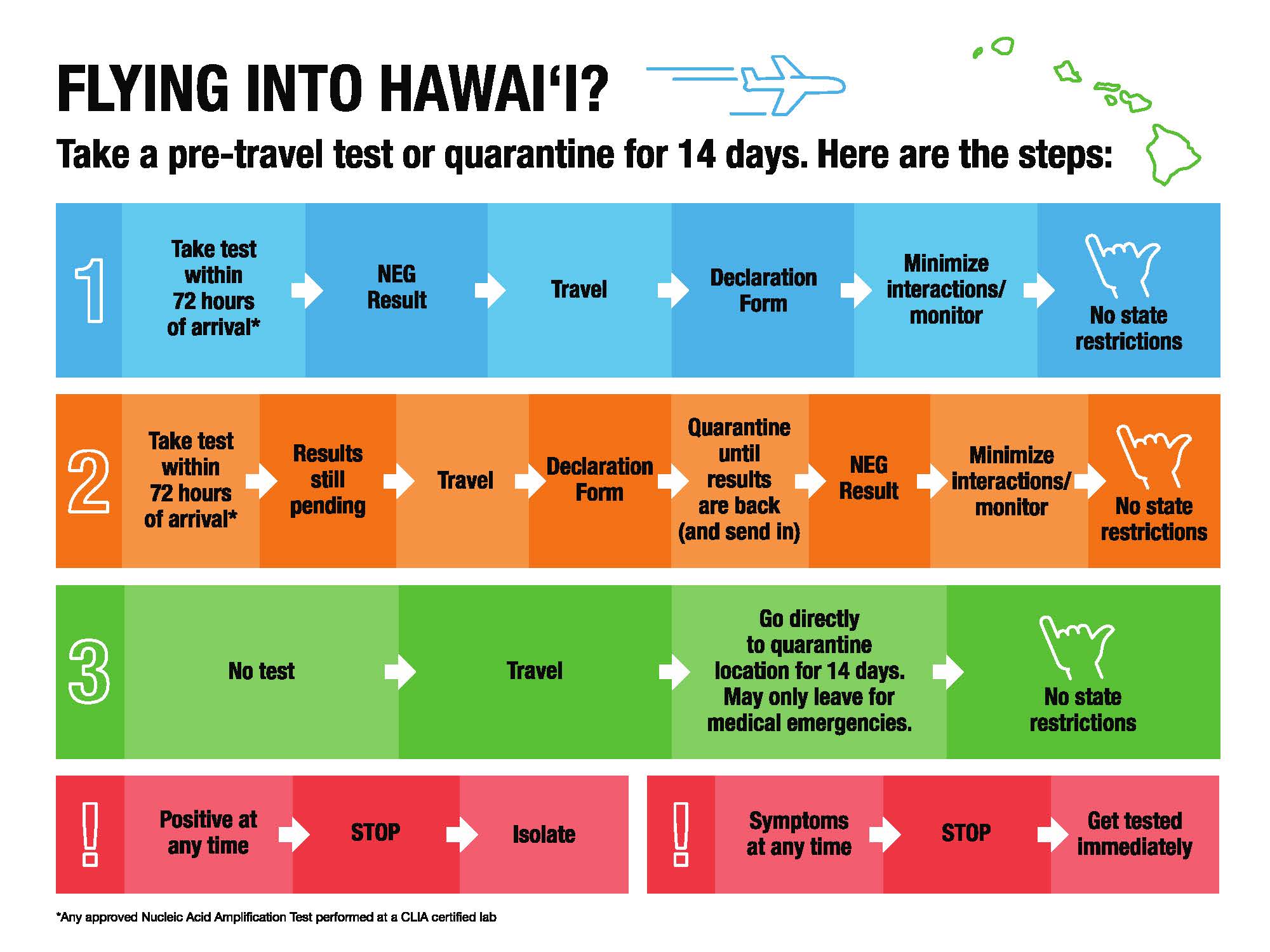 From hawaiicovid19.com: Evidence of a negative COVID-19 test result must be provided upon arrival to the Hawaiian Islands. The State of Hawai'i is requiring all travelers to Hawai'i to take an FDA-approved NAAT test from a CLIA certified laboratory within 72 hours of their arrival. Travelers also will have their temperatures checked upon arrival and must fill out a travel and health form.
For more information on the pre-testing program, please visit the State of Hawaii's FAQ page here. 
Important information to note: 
Every Traveller must complete the Safe Travels Registration and Load their COVID-10 NAAT Test on their phones to avoid the 14 day quaratine and keep it with them throughout their visit. 

State COVID-19 Website

Tests 

MUST

 be taken by one of Safe Travel Partners to be eligible to get out of quarantine.  If the test comes from any agency outside this list – it will be declined. 

Safe Travels Partners

 
Hawaii's Safe Travels Online Form - 

Begins 

September 1, 2020

Beginning September 1, 2020, Safe Travels introduces an online form that digitizes and simplifies the current paper-based process. The mandatory Safe Travels travel and health form is part of a multi-layered screening process designed to keep our communities safe. The new online form will be mandatory for all travelers visiting Hawaii, with a goal of reducing the amount of time you'll spend standing in line for the airport screening process in Hawaii.

Travelers opting for pre-travel testing, as described above, will be able to upload their negative test results when they complete their travel and health forms on the Safe Travels digital system, found at travel.hawaii.gov.

For more information on the Safe Travels digital form, please visit the State of Hawaii website here.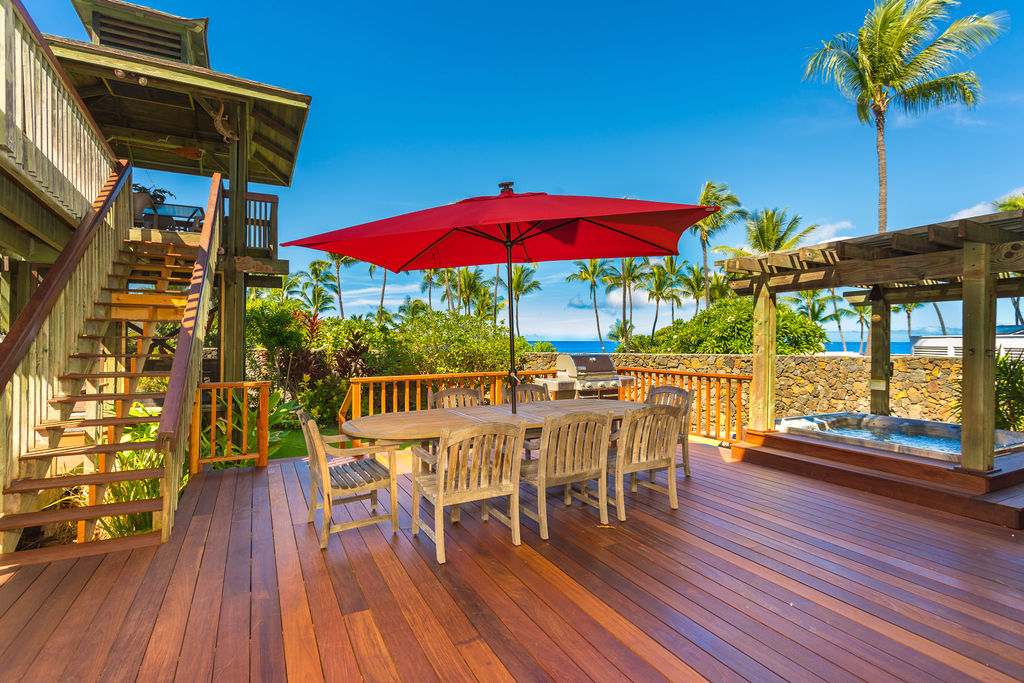 2 Bedroom, 2 Bathroom located in Kailua-Kona, Big Island. Ready to Book Now! 
Hawaii Life Vacations Provides Added Layers of Safety
As a locally owned and operated community, we care deeply about the island communities where we live, work and play. We want to ensure that Hawaii residents stay safe and healthy. With that in mind, we take our responsibility to you, our guests and clients, and to our neighbors to heart. 

We offer a full array of concierge services that help visitors adhere to the 14-day quarantine period. We'll stock the fridge and prepare our Hawaii vacation rental properties for you and your family, making sure you have everything you need to spend a wonderful first two weeks enjoying time by your backyard pool or soaking up the sun on your lanai.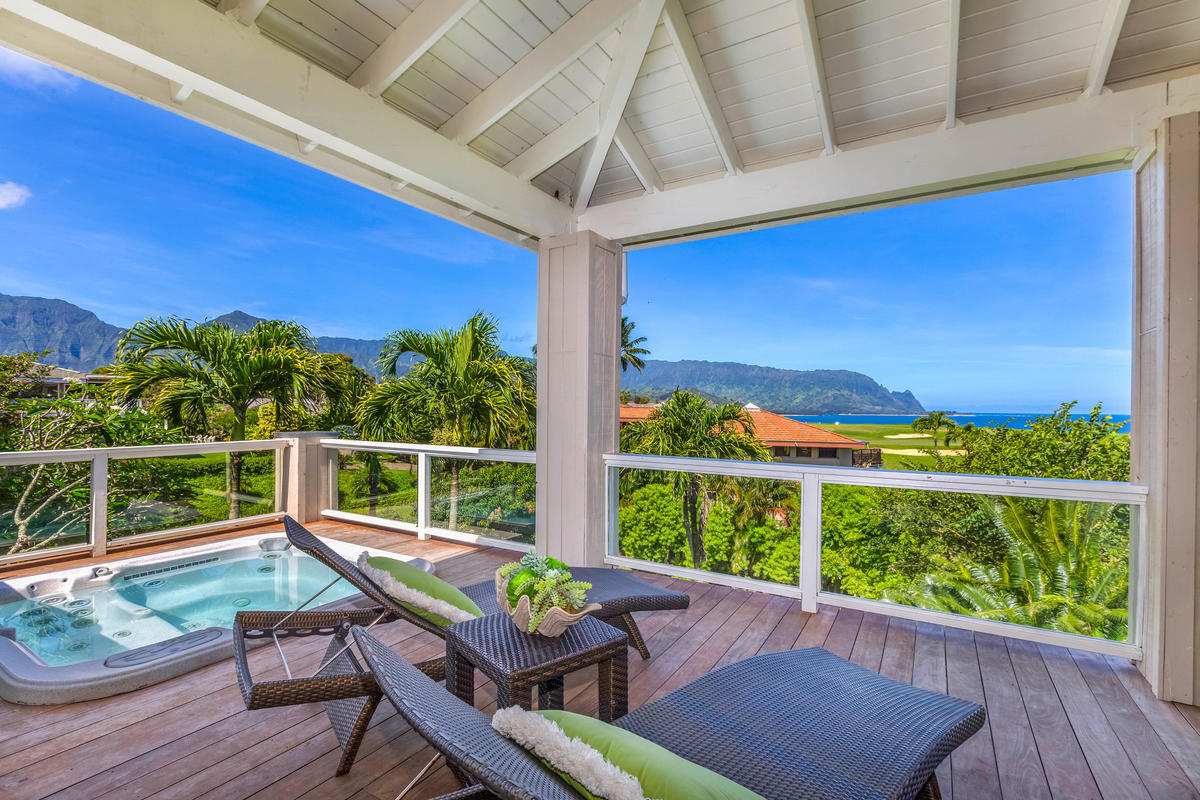 3.5 Bedroom, 2.5 Bathroom located in Princeville, Kauai. Ready to Book Now! 

For the peace of mind of our homeowners and guests, we instituted our 5-Point Checklist in April to ensure that each home is thoroughly sanitized before and after each use. 
We developed our Staying Safe Together policy for the benefit of Hawaii Life guests and our communities across the state. As we noted in our Stay Safe Together page, if you're seeking a safe retreat from the world, Hawaii Life Vacations has you covered. We offer a curated selection of luxury properties across the state, and we have a relaxing and rejuvenating vacation in store for you.