29 Apr 2022
Five Hawai'i Rentals for a More Eco-Friendly Vacation
With April comes the celebration of Earth Day, an occasion that has many of us making eco-conscious resolutions for the rest of the year. And fortunately, we don't have to compromise those sustainable commitments and environmentally-friendly habits just because we're on vacation. 
Ecotourism is booming, and with it comes more eco-friendly vacation rentals to choose from than ever before. In fact, it's becoming significantly easier to minimize your carbon footprint, conserve resources, and even support conservation efforts while on vacation. Ready to enjoy a more sustainable Hawai'i getaway? Here are 5 Hawai'i rentals for a more eco-friendly lifestyle vacation: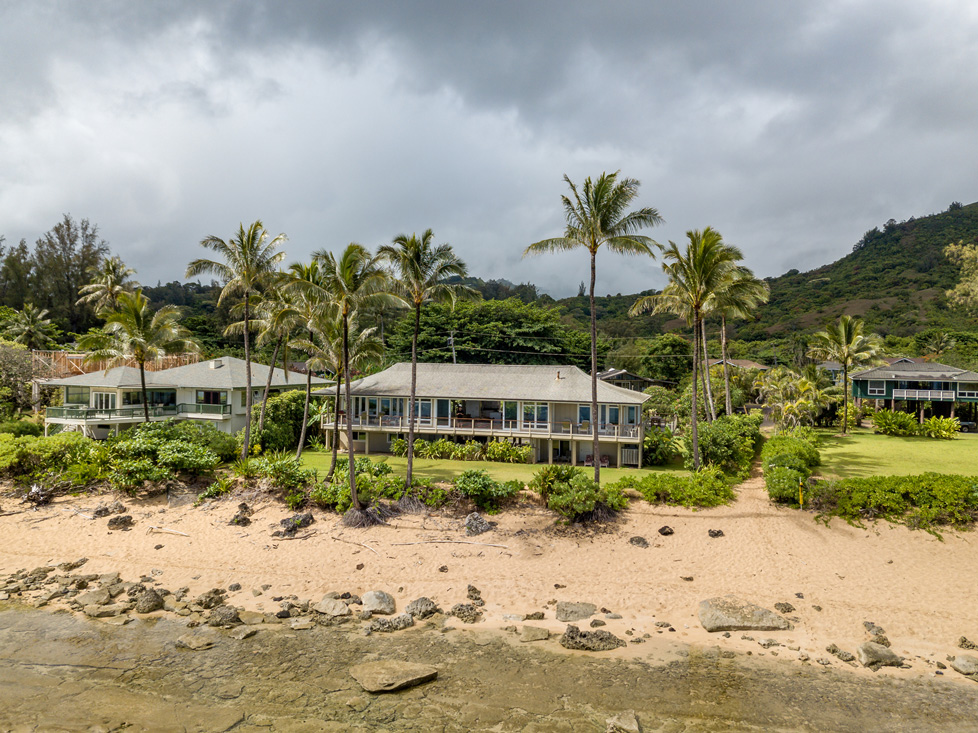 This eco-friendly home is proof that planning a more sustainable vacation doesn't have to mean skimping on comfort and elegance. Located in the serene, tropical community of Haena, this four-bedroom vacation rental is steps from the beach and world's away from ordinary. With extensive solar, battery backup, and a near zero carbon-footprint, your stay at this Haena oasis will be fueled by the Hawaiian sun. Awaken to the gentle tradewinds blowing and spend the day soaking up the sun on the white sand at nearby Hanalei Bay, or on an epic hike along Kalalau trail, which follows the great Napali Coast. And end your day with breathtaking views of that same sun setting into the sparkling ocean from King Hale's lanai. Read all about this beachfront, solar-powered rental, Here.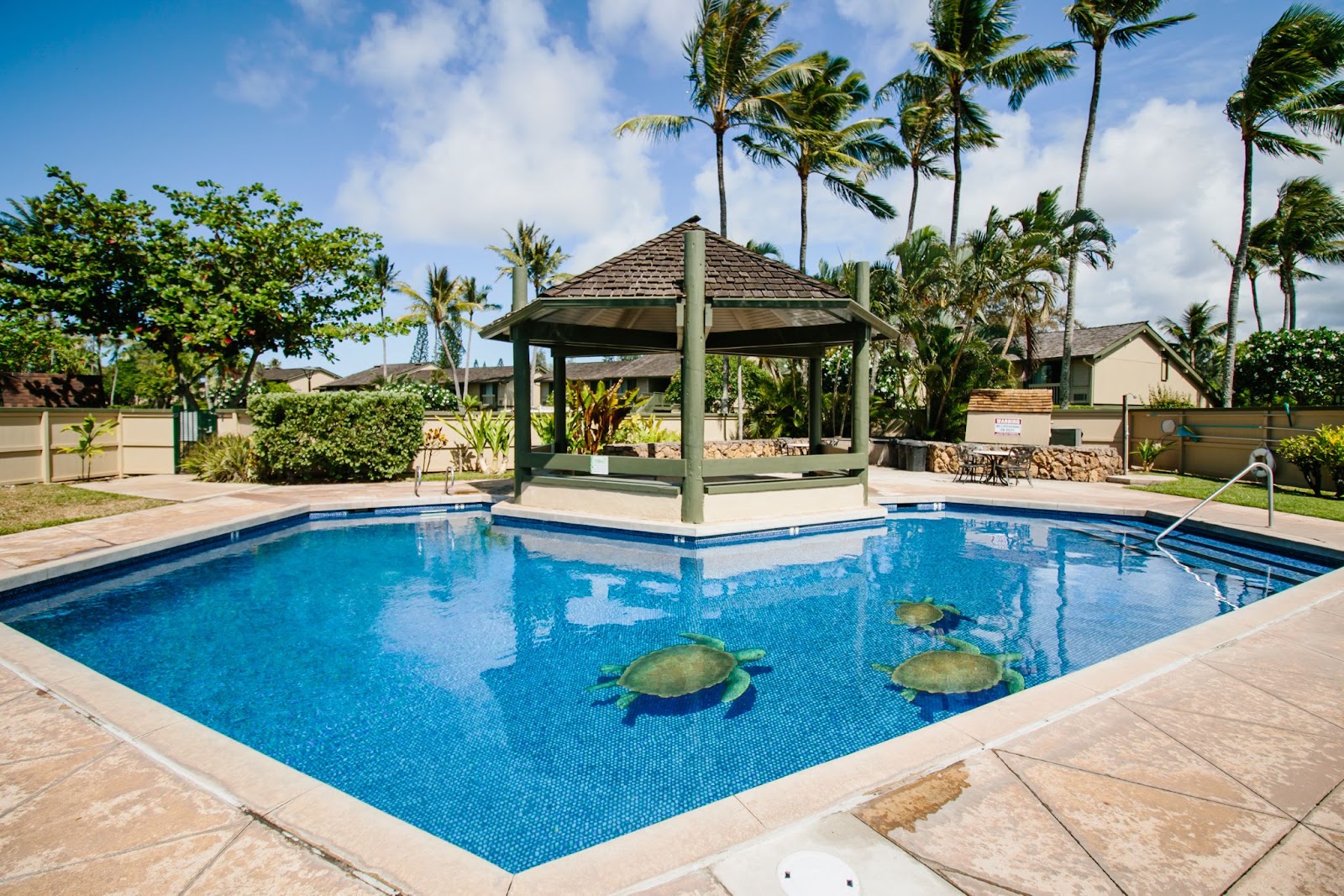 Our next bright, spacious vacation rental is found in the exclusive community of Turtle Bay. If you're in need of some all-natural pampering, this two-bedroom, Kuilima Estates condo has you covered with bath and body products made from wholesome ingredients that are good for your hair, skin, and the planet! When you're not relaxing at this private, North Shore resort, reap the physical and mental benefits of connecting with nature by exploring the miles of beach trails that connect to Kuilima Estates and lead to a hidden bay lined with tropical banyan trees. Or visit Kualoa Ranch, a 4,000-acre private nature reserve. For a hands-on experience and memorable lesson in the importance of sustainability and ocean conservation, book the Malama Experience. Learn more about this tranquil Turtle Bay condo's all-natural goodness, Here.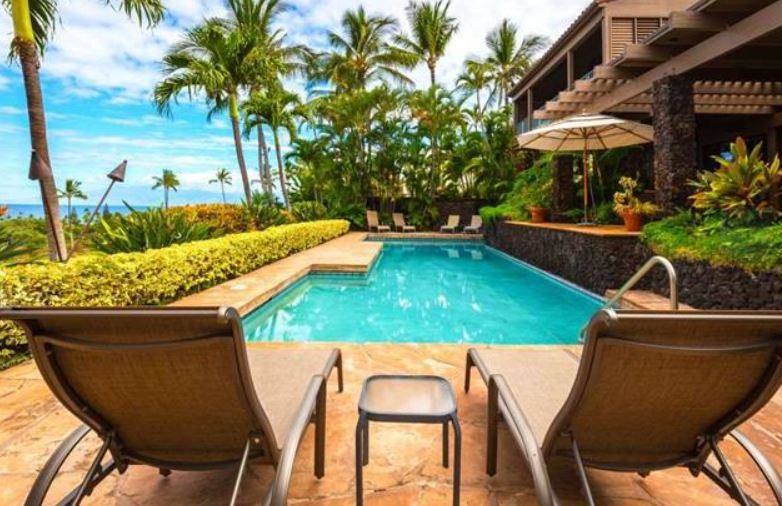 Sometimes reducing your impact on the environment can be as easy as staying at a vacation rental with an eco-friendly pool, which makes Huaka Mahina a natural choice for your next Hawai'i vacation. This four-bedroom home's private pool takes advantage of solar-power to keep you warm and offers expansive ocean views to take your breath away. The lush, tropical foliage surrounding you while you take another lap is sure to bring you closer to nature, as is this luxurious home's proximity to North Ka'anapali Beach. North Ka'anapali is considered one of the best beaches in the U.S. and after a stroll along this three-mile stretch of sand, you'll be reminded why our beaches and oceans are worth protecting. Read more about this Ka'anapali Hideaway Here.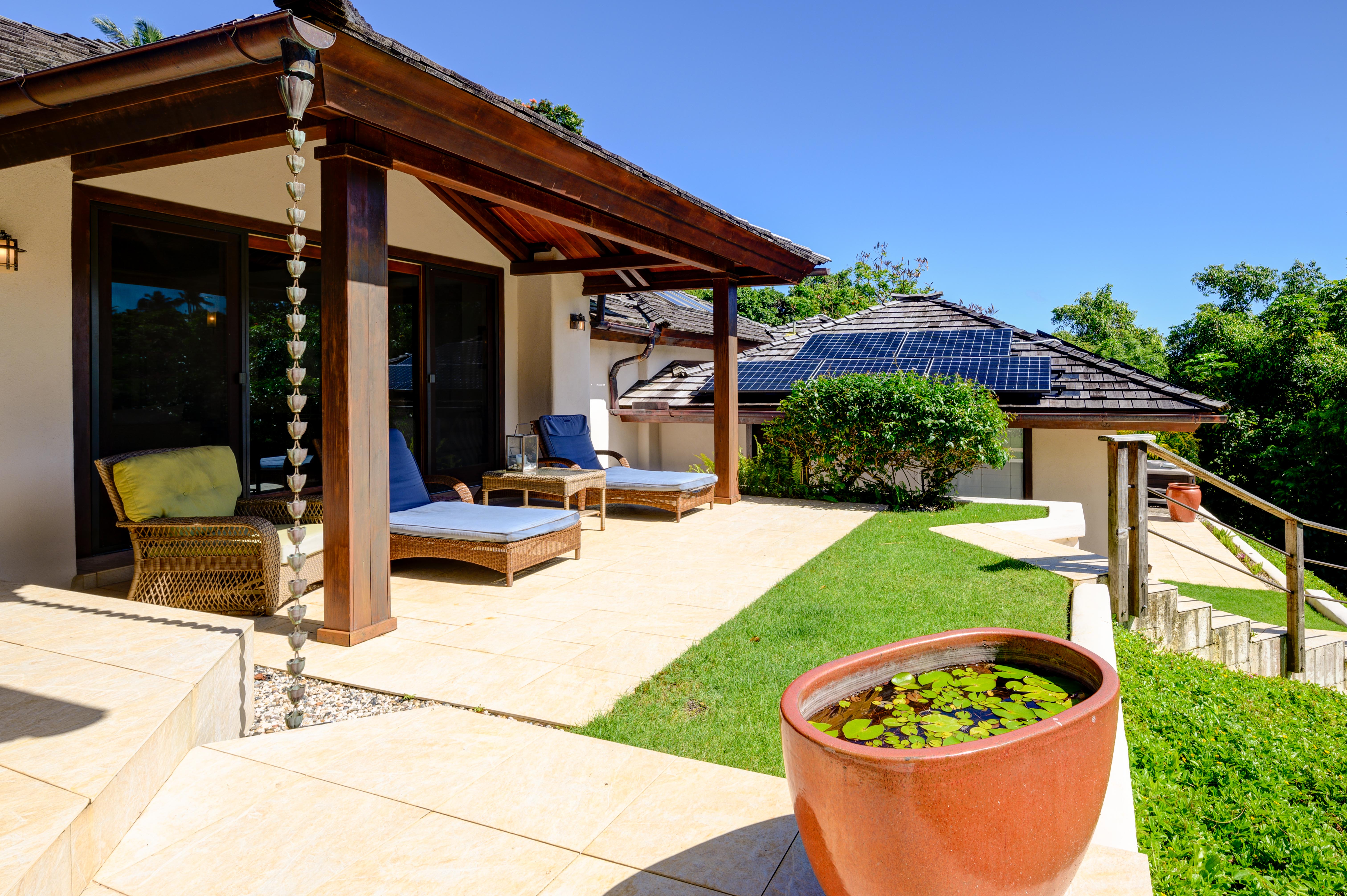 From this cliffside home, you'll enjoy Mother Nature showing off the untouched beauty of Kauai's lush valleys. And since this three-bedroom rental is powered by Tesla, you can be part of the energy consumption change by powering your vacation sustainably and burning less fossil fuels. Tesla-powered vacation homes rely on the Powerwall to store electricity from solar panels, providing the house with electricity at night, on overcast days, and during power outages. This vacation rental is just one example of how the entire island of Kauai is on pace for meeting 80% of the island's energy demand with renewables by the mid-2020s. While you're visiting the Garden Isle, you can keep your adventures eco-friendly by taking one of the three bikes at Kapiolani to Hideaways Beach for a snorkel session or to explore famed Hanalei Bay. Find out more about how you can book Kapiolani, Here. 
Read about another impressive Tesla-powered rental option, Ainamalu Hale, Here.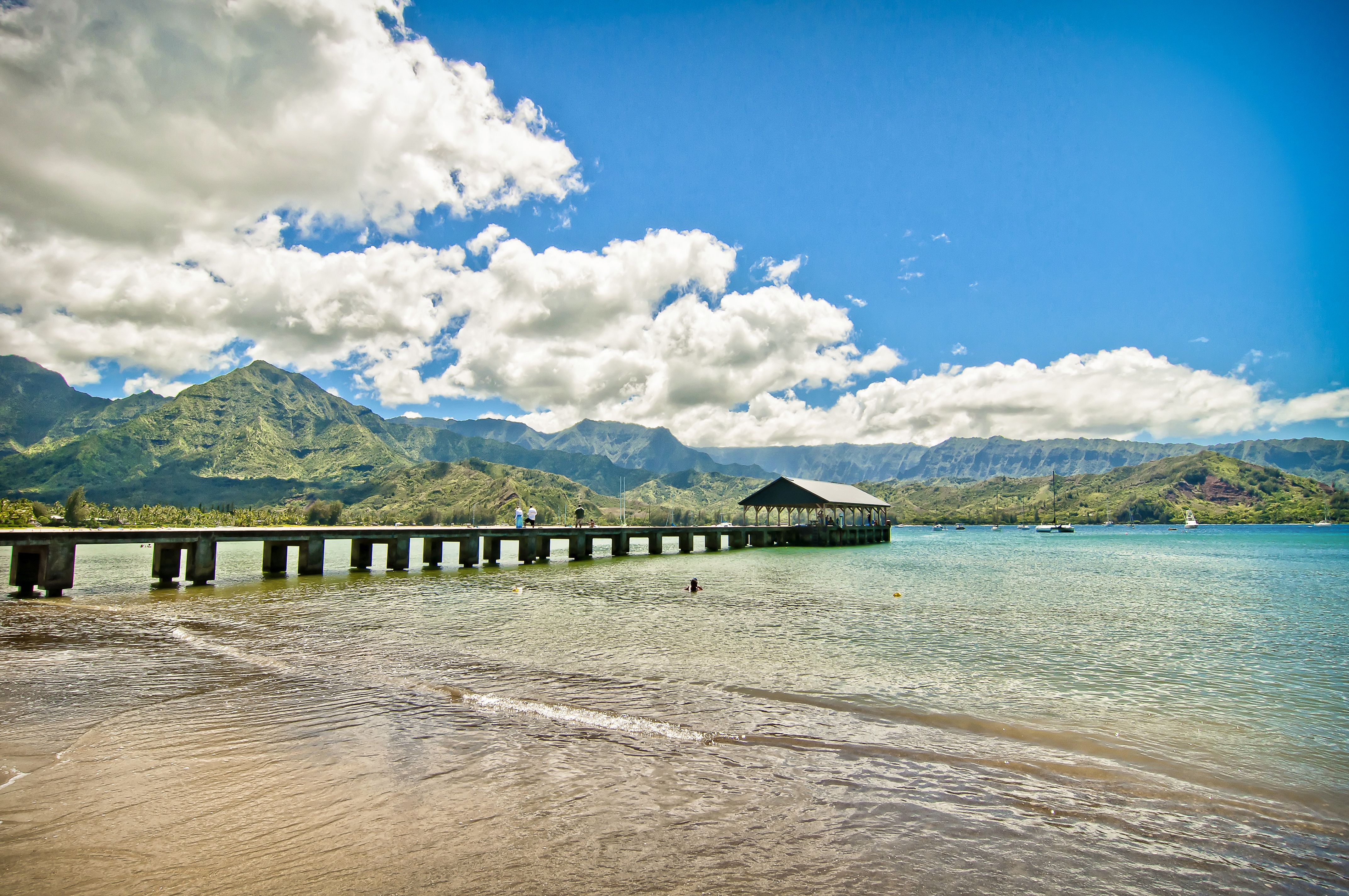 Small choices can make a big impact, like staying at a vacation rental that takes special care to protect the ocean. At Nami Nori (Hanalei Pier House), ocean-friendly landscaping protocols are in place due to its proximity to the Hanalei River and the Pacific Ocean. No herbicides or other harmful chemicals are ever used in Nami Nori's landscaping, which is critical considering that this three-bedroom home is a mere 30 steps away from Hanalei Bay. And since this highly sought-after vacation home is two blocks from Hanalei town and a one-minute walk to the beach, just leave the gas-guzzling vehicle behind and enjoy the stroll. Or spend the day lounging on the lanai and gazing at the deep blue ocean you're helping to protect. Get all the ocean-friendly details on the Hanalei Pier House, Here. 

Book Your Eco-Friendly Hawai'i Trip Today
While the impacts of mass tourism can sometimes be negative, you can enjoy the sights and sounds of Hawai'i and feel good knowing that you're doing your part to malama aina (care for the land) when you stay at a more eco-friendly vacation rental. At Hawai'i Life, we are committed to protecting the natural and cultural heritage of Hawai'i, and supporting our local community and businesses through more planet-friendly practices in the travel industry.
Ecotourism is increasing in popularity, so it's never too early to start planning your sustainable getaway. To learn more about our vacation rental options and which best fits your needs, please call us at 855-447-3685 or email Vacations.HawaiiLife.com