30 Dec 2021
How to Plan a Successful Workcation (Work + Vacation)

Your first reaction might be: Oh no, the protected boundaries of work and vacation are being mixed? 
However, for many of us the past two years have meant working from home due to the COVID-19 pandemic and the boundaries between work and leisure have become increasingly more blurred. If you're already working remotely, a workcation can be a great way to ditch the cramped apartment and the monotony of working from inside the same four walls to throw a bit of adventure in the mix. It can also provide dedicated time away from other distractions to focus on important projects. In fact, 2021 has seen a steady rise in workcations as people yearn to travel, stay safe, and maintain their work.
A workcation can be any length of time, from a couple of weeks to several months if your situation permits. Some travel solo while others integrate a workcation with their family vacation. Here at Hawai'i Life Vacation Rentals, many of our accommodations offer extended stay discounts, high speed internet, and home offices or workspaces so you can easily establish your productivity zone! Hawai'i Life also has vacation rentals across the islands, so if you want to island hop, stay in different locations on the same island, or find the perfect place for the duration of your stay, you'll find Hawai'i Life has some excellent places to consider. Check out our blog post, 10 Hawai'i Luxury Homes Ideal for Workcations for some ideas!
Maybe you're wondering: Can I really be productive on a workcation?
While this may largely depend on your specific work, recent studies show remote and hybrid work can actually be a path to a better work-life balance and increased productivity. Although workcations may not be the right fit for everyone, with a little preparation they can be a truly rewarding experience for most. Keep reading for our:
Top 7 Tips on how to have a Success Workcation in Hawai'i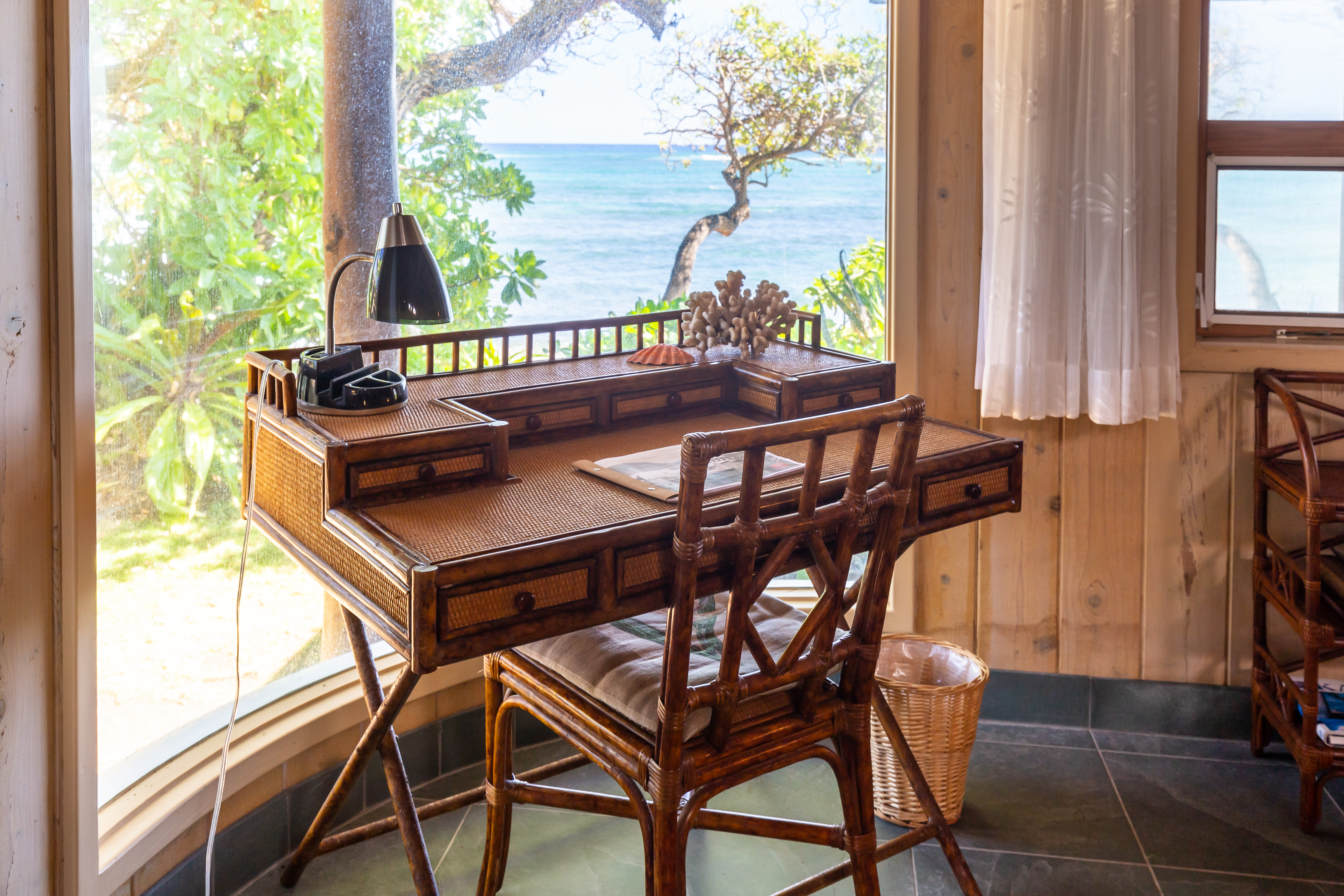 1. Prep before you go
As the saying goes "measure twice, cut once". Preparation can make a big difference in your workcation productivity and workflow. Depending on your work, this may mean doing some advance organizing or material gathering before you leave, you may need to prep your team, or wrap up other projects before you depart, or maybe it means making arrangements on the home front.
2. Make sure you bring what you need to be comfortable and productive
This not only means remembering your phone and laptop charger but also the items that help you get in the zone. Maybe this means bringing a bag of your favorite coffee or tea to brew, or the clothes that help you feel comfortable/most productive (maybe it helps if you "dress-up" for work), and your favorite earbuds or sound canceling headphones if you're traveling with others.
3. Set up a productive space(s)
When you arrive, set up your workstation. Maybe you need to move some furniture around to get things just right. Could the dining room table be the perfect space to spread out? A cozy corner of the living room? You might also consider places outside your rental, such as a coffee shop, shared workspace, or library? For some, changing up location can be helpful, for others one spot is optimal.
4. Setting boundaries
How do you want to structure your workcation? 50% work 50% vacation? Or more of an 80% work 20% leisure split? Whatever your desired ratio, make sure to protect both your work time and vacation time. When you're working, you're working and when you're playing you're playing. This might sound obvious but it's amazing how much energy you can expend worrying about work when at the beach or wishing we were at the beach while working. This can take some practice, maybe turning off the phone, or making others aware when you are and are not available.
5. Setting SMART goals
Before you leave, set some goals for yourself. Oftentimes people set goals that are too general so it can be helpful to break them down into smaller steps. The SMART acronym: Specific, Manageable, Attainable, Realistic, and Timely can be a helpful tool in creating effective goals, you can find a nice definition and some examples here on Indeed's website.
6. Optimize peak productivity times
Work when you know you'll be the most productive. Maybe that's early morning, late afternoon, or 10pm. Make sure you reserve these times for your work and build your vacation time around the rest. Maybe your day looks like going for a run or walk on the beach in the morning, then putting in some productive hours during the day before heading out for a late afternoon swim and dinner. Maybe you work best when you can spend a few full days working and then take a day off––do what works best for you.
7. Make some plans for your vacation time as well
Maybe there are some special activities or places you want to prioritize while you're visiting Hawai'i. (e.g. see the sunrise on Haleakalā, night snorkeling with manta rays, hike through Kokee state park, see Kilauea Volcano, or eat at Roy's). You may want to make reservations ahead as many activities book-up, plus it's always nice to have a few exciting things to look forward to in the midst of working.
We'd be happy to assist you in finding your perfect vacation rental and answering any questions you may have about visiting. We can help you create the Hawai'i Life and workcation you're dreaming about. We hope to see you in the Aloha state! 
855.447.3685