19 Jan 2021
One of the benefits of remote work and distance learning is that families have more freedom and flexibility to embark on extended getaways together in a Hawaii luxury home. At Hawaii Life Vacations, many of our clients take advantage of long-term vacation opportunities to create a new home-away-from-home experience and ride out the pandemic in warmer weather. 
Working from home has quickly become the new normal, with 42 percent of the U.S. workforce now working remotely full-time. Although a necessary byproduct of the 2020 health and safety measures, many companies have been developing plans to continue this trend post-pandemic, according to a recent Stanford news article. 
One family who rented a five-bedroom Oahu vacation rental with a pool told us, 
"Our employers switched to work-from-home until mid-2021, and the local schools for our first-grader were distance-only, so we had unusual flexibility to live in a new place while keeping our existing jobs." Read more about their experience and a temporary move to Hawaii here.
 At Hawaii Life, we offer short and long-term Hawaii luxury home rentals that are fully-equipped with essentials for your home office, remote learning classroom, or digital workspace. Check out our recent blog post to learn a few tips on successful distance learning from one of our Hawaii vacation rental properties.
Our Hawaii vacation rental homes offer a variety of workspace designs to fit your family's needs. Here we share just ten of the many home office and workspace options available for your extended family stay in our Hawaii vacation rentals.
Papio Place - Hanalei, Kauai 
3 Bedrooms, 2 Bathrooms 
This Kaui vacation rental has everything you need for superior productivity with these two available workstations, including adjustable height desks, dual monitors, comfortable chairs, air conditioning, and extra electrical outlets.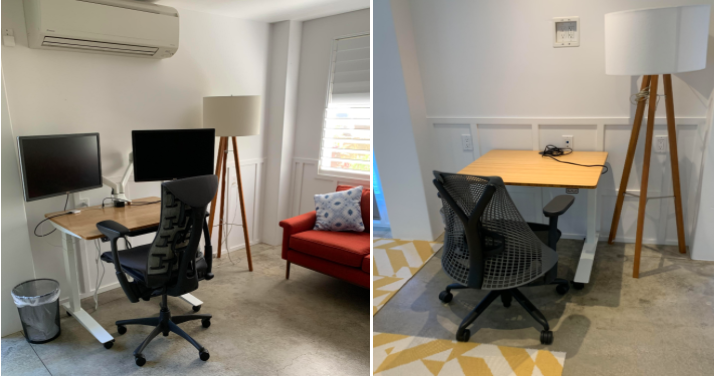 Maui Kamaole J221 - Kihei, Maui 
2 Bedrooms, 2 Bathrooms
Keep all of your projects and supplies organized with ample cabinets and drawers, not to mention the large desk workspace at this fantastic Maui vacation rental.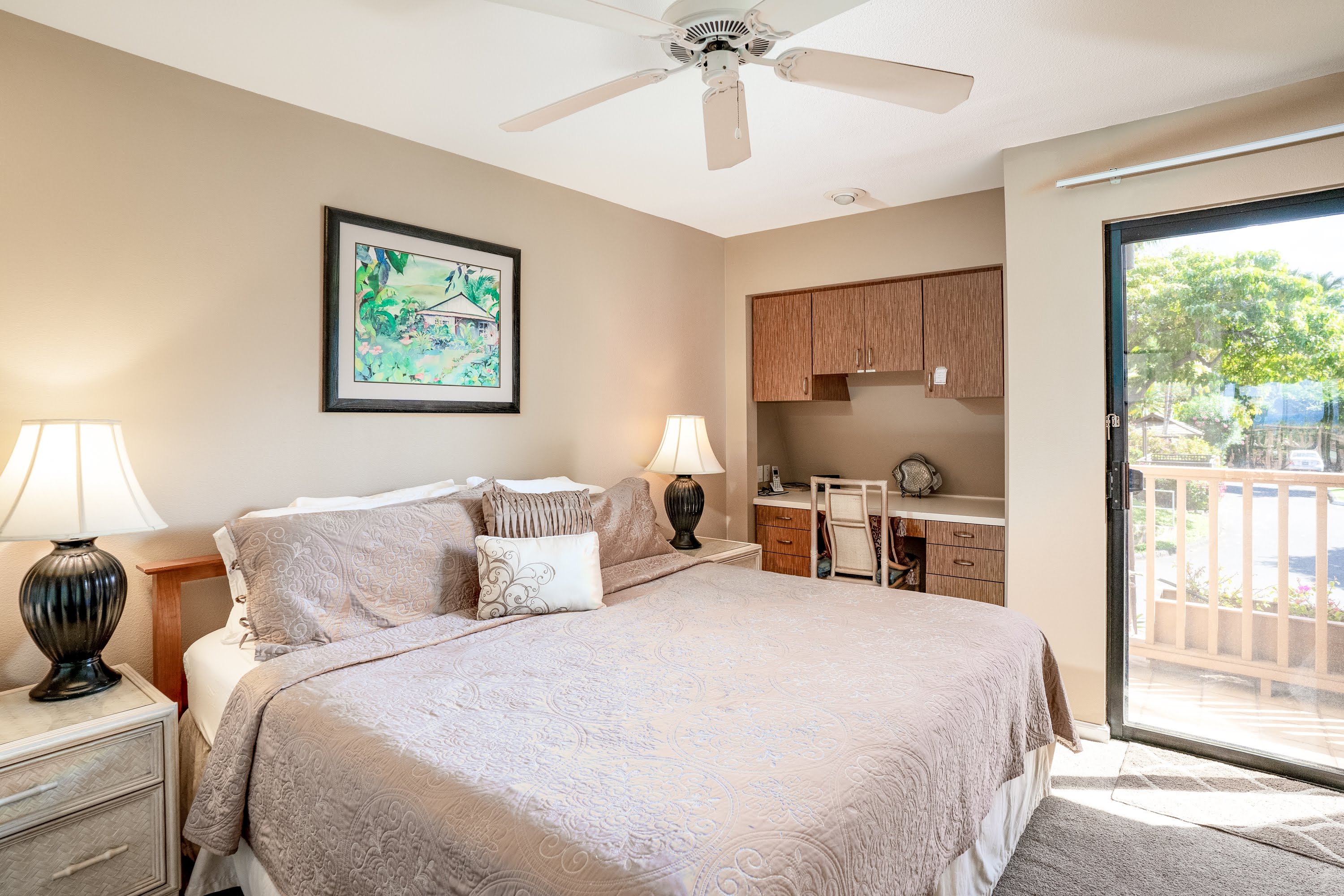 Niulani Lanikai - Kapaa, Kauai
4 Bedrooms, 4 Bathrooms 
Savor a relaxing backdrop throughout your busy workday and see how quickly the time flies!

Blue Mahina - North Shore, Oahu
4 Bedrooms, 3 Bathrooms
This home includes a total of four workstations, four ergonomic chairs, and four large monitors. Plenty of space for your home-office, digital classroom, or virtual conferences. 
 .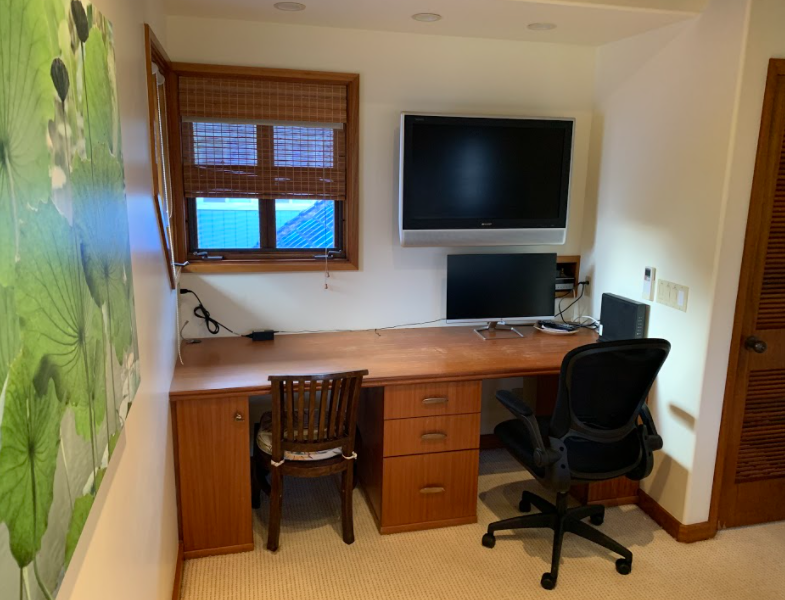 Hale Emmalani - Princeville, Kauai
2 Bedrooms, 2 Bathrooms 
Your executive corner comes fully-equipped with an organizational cabinet, speaker, paper shredder, phone, and large windows to let in plenty of Hawaii sunlight.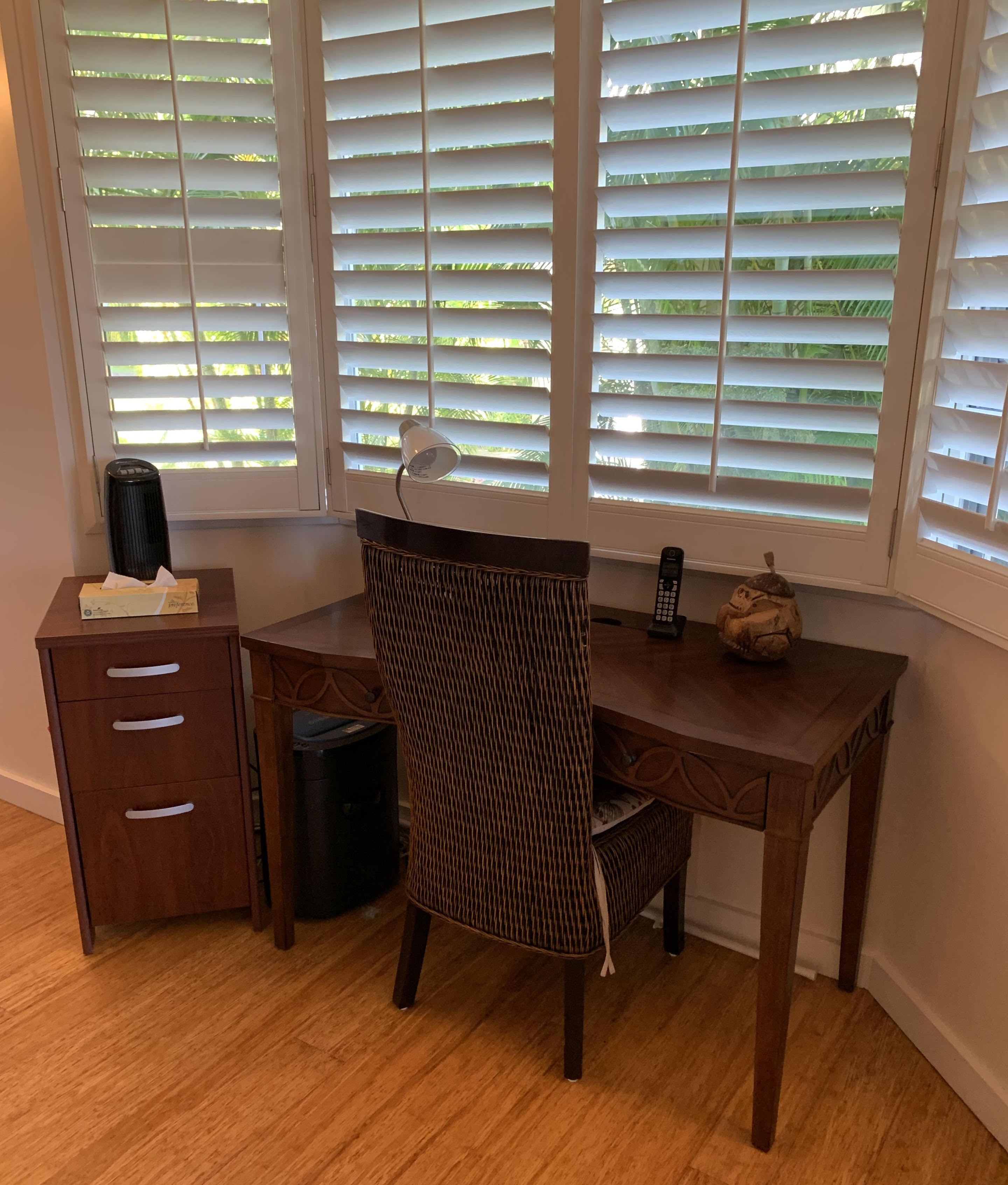 The Green Pineapple Estate - North Shore Oahu
4 Bedrooms, 3.5 Bathrooms 
Enjoy a bright and private workstation available in the master bedroom or a large conference-style table available in the studio. 
Turtle Bay West studio with Loft, North Shore Oahu 
1 Bedroom, 1 Bathroom
Centrally located (if Oahu's epic North Shore winter big wave surfing is your idea of "central"), this workspace includes an extra-large HD flat-screen TV/DVD, wireless internet with 200 MB speed, fully equipped for Zoom meetings and teleconferencing, cable TV, local phone, a fax/print/scan machine, and work desk.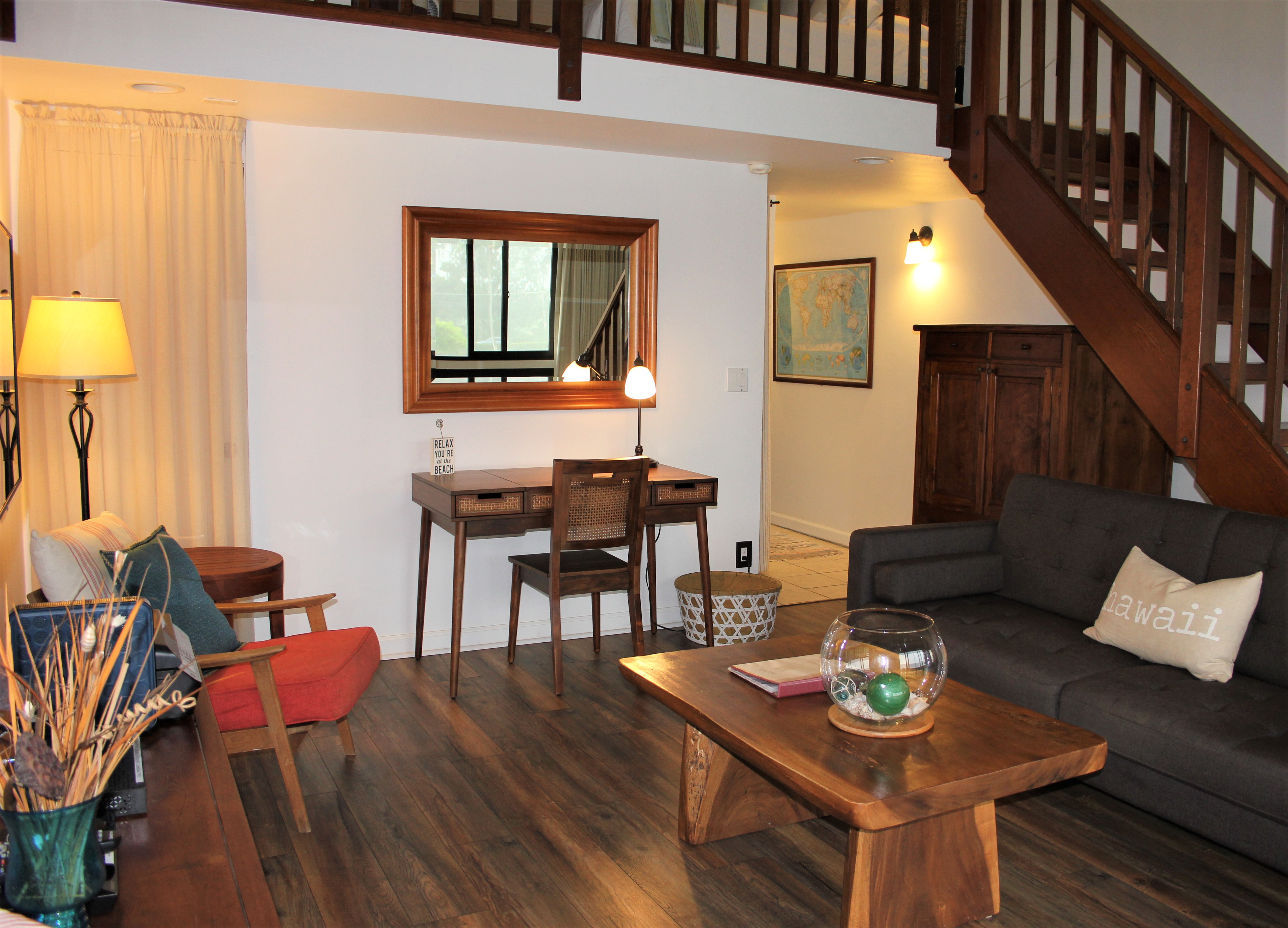 Aloha Spirit - Lahaina, Maui
2 Bedrooms, 2 Bathrooms
Check everything off your personal, professional, and household to-do Lists from your efficient work zone!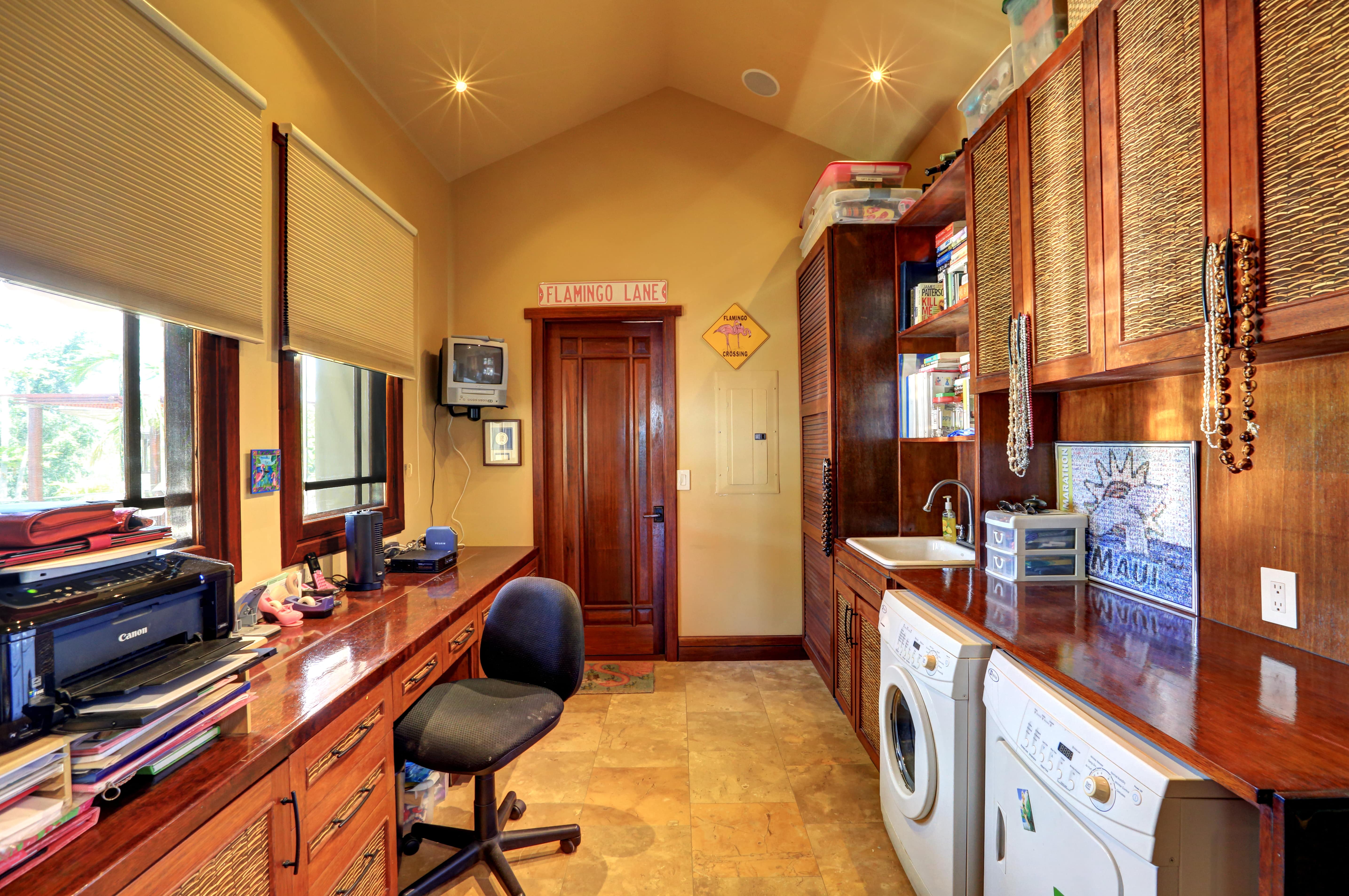 Hale Kula Kai - Princeville, Kauai
2 Bedrooms, 3 Bathrooms 
Your distraction-free workspace offers a tranquil ambiance to help you stay calm and focused.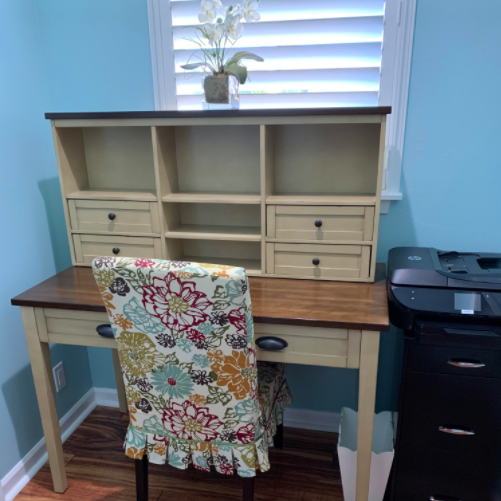 Hale Naninoa - Hanalei, Kauai
5 Bedrooms, 3 Bathrooms
Ideal for a digital classroom, virtual programs, or study zone. Convenient location to keep everything and everyone organized!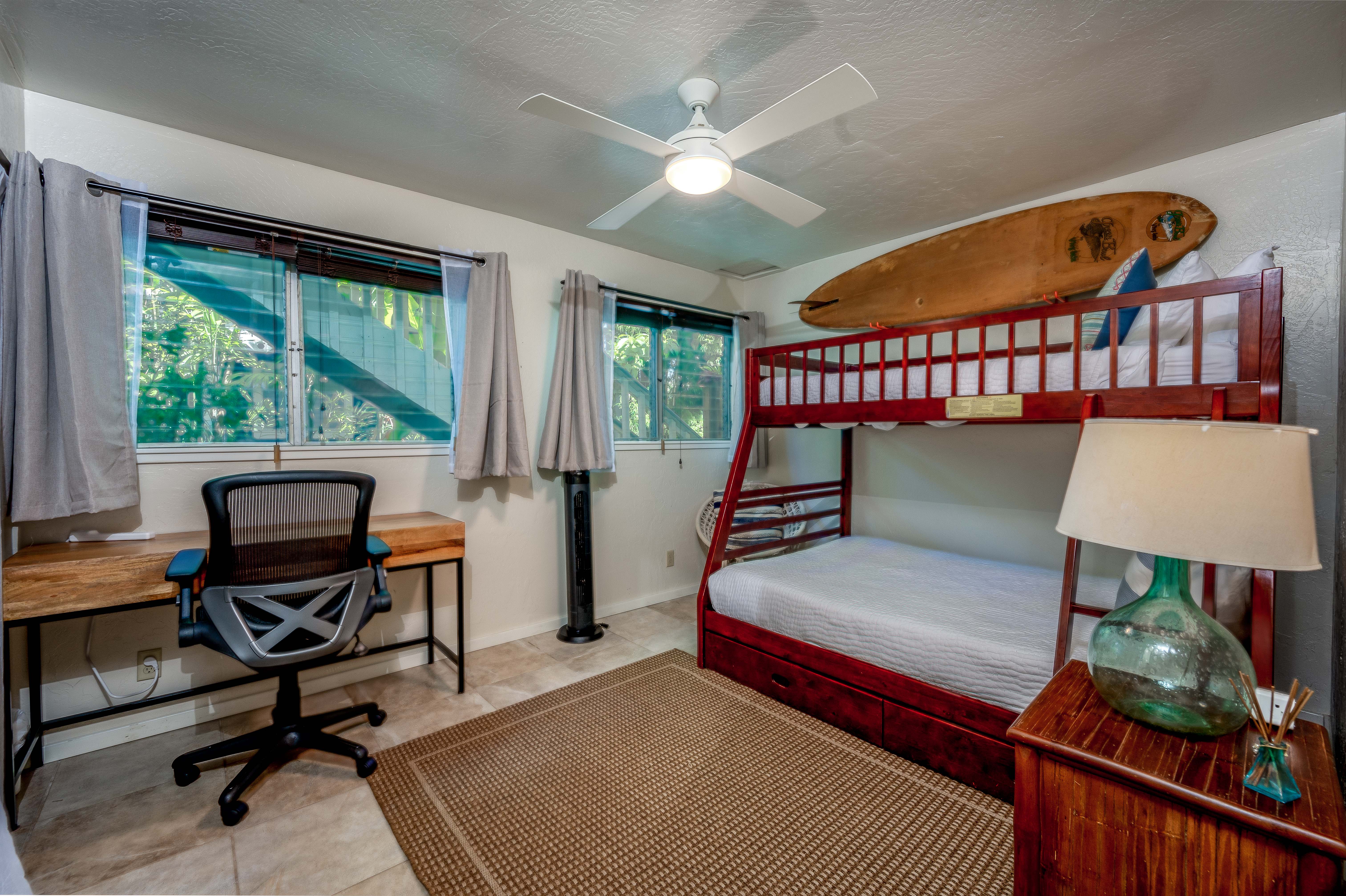 Discover Your Luxury Hawaii Home for Workcations 
At Hawaii Life Vacations, we want to help you discover the perfect balance between work and play! Whether you require a lot of space, additional computer monitors, printers, extra storage, or simply a quiet spot with your laptop, our luxury Hawaii homes offer a variety of workspaces that meet your unique needs. For more information in helping you choose the perfect Hawaii vacation rental for your needs, please give us a call at 855-447-3685.