17 Sep 2021
The Big Island of Hawaii boasts unique and beautiful vacation rentals, as the island's landscapes include both white sand beaches and snow-capped peaks. Stay in the historic town of Kona where King Kamehameha lived or the tropical town of Hilo with its many shops, art galleries and restaurants. Experience it all when you book a vacation rental on the Big Island.
Keep reading for our Top 5 Big Island rentals that offer you spectacular ocean views! 
Located on a quiet oceanfront property just south of commercial Kona, this two-bedroom two-bath vintage cottage boasts a large covered lanai, classic Hawaiiana furnishings and a grassy yard with parking. The kitchen, which offers both a bar and a dining table for four, has ocean views to the north and south, where whales splashing about offshore can be seen regularly from November-March. Two surf spots are located just out front to either side — one for all levels and one for experts only — and a sshop where most all water sports needs can be fulfilled, including rentals of both surfboards and dive gear. This charming cottage has the upside of mixing time with labor of love!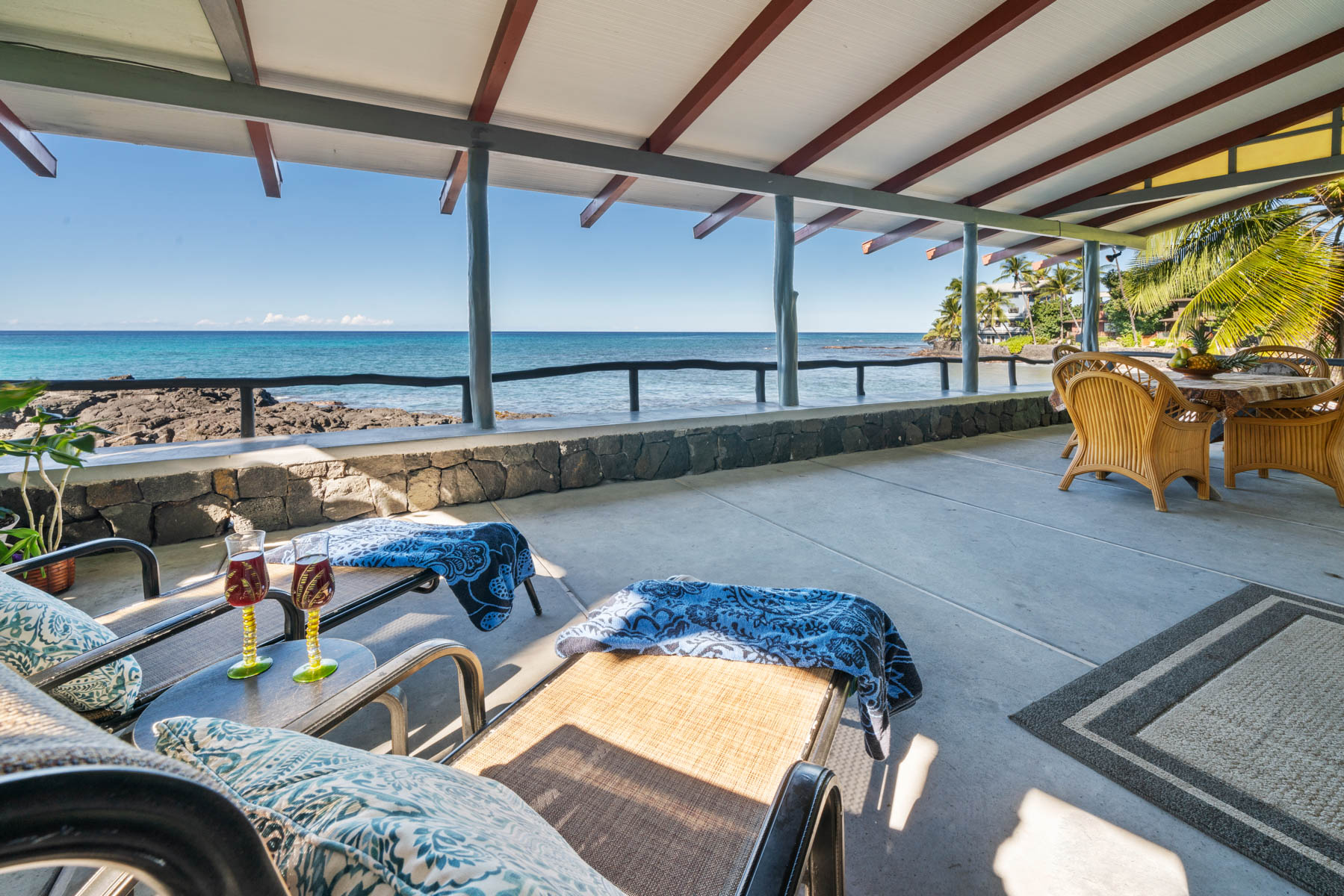 Located on the beautiful Kehena coastline and the historic "Red Road", which is one of the most scenic roads in the entire state, this lovely 2 bedroom 2 bath home on this private dead end street and within walking distance of the Kehena Black Sand Beach. It is THE perfect destination for exploring all of the wonders and beauty of the east side of the Big Island. Sometimes you can even watch dolphins play in the bay below from the lanai!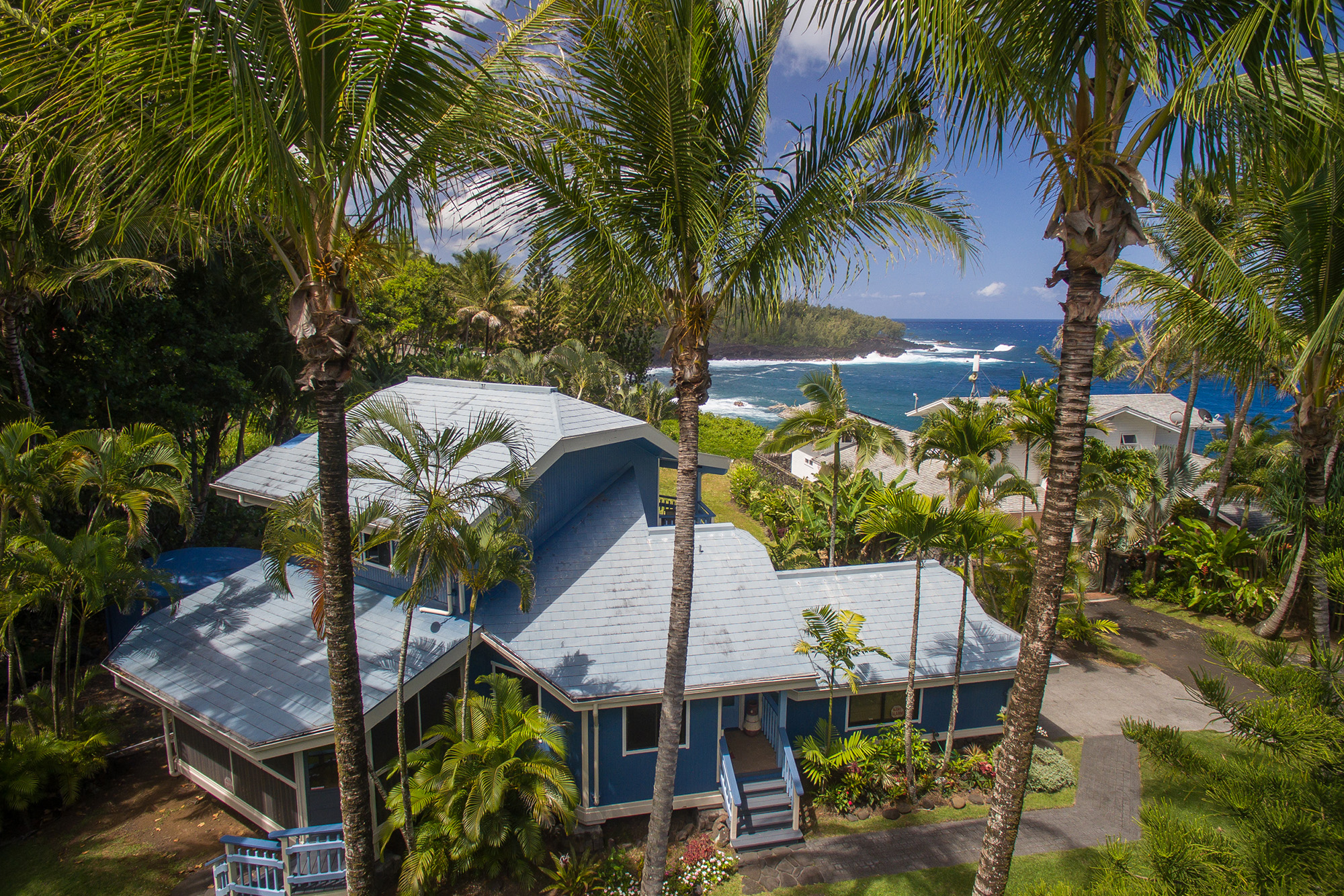 This beautifully decorated 4 bedroom, 2 bath home is located on a private acre parcel along the Hamakua Coast just north of Hilo where there is nothing to block your views of the mighty Pacific! The large open windows fill the home with light, beauty and magnificent views. Come during the winter months and you will have a front row seat for all the whale activity that you can possibly take in. From this convenient location, explore old Hilo town with its great farmers market and historical museums and must see stops. Also discover beautiful Akaka Water Falls Park and the Old Mamalahoa Highway, the original highway built back in the 20's that took you from Hilo town to the beautiful horse country of Waimea.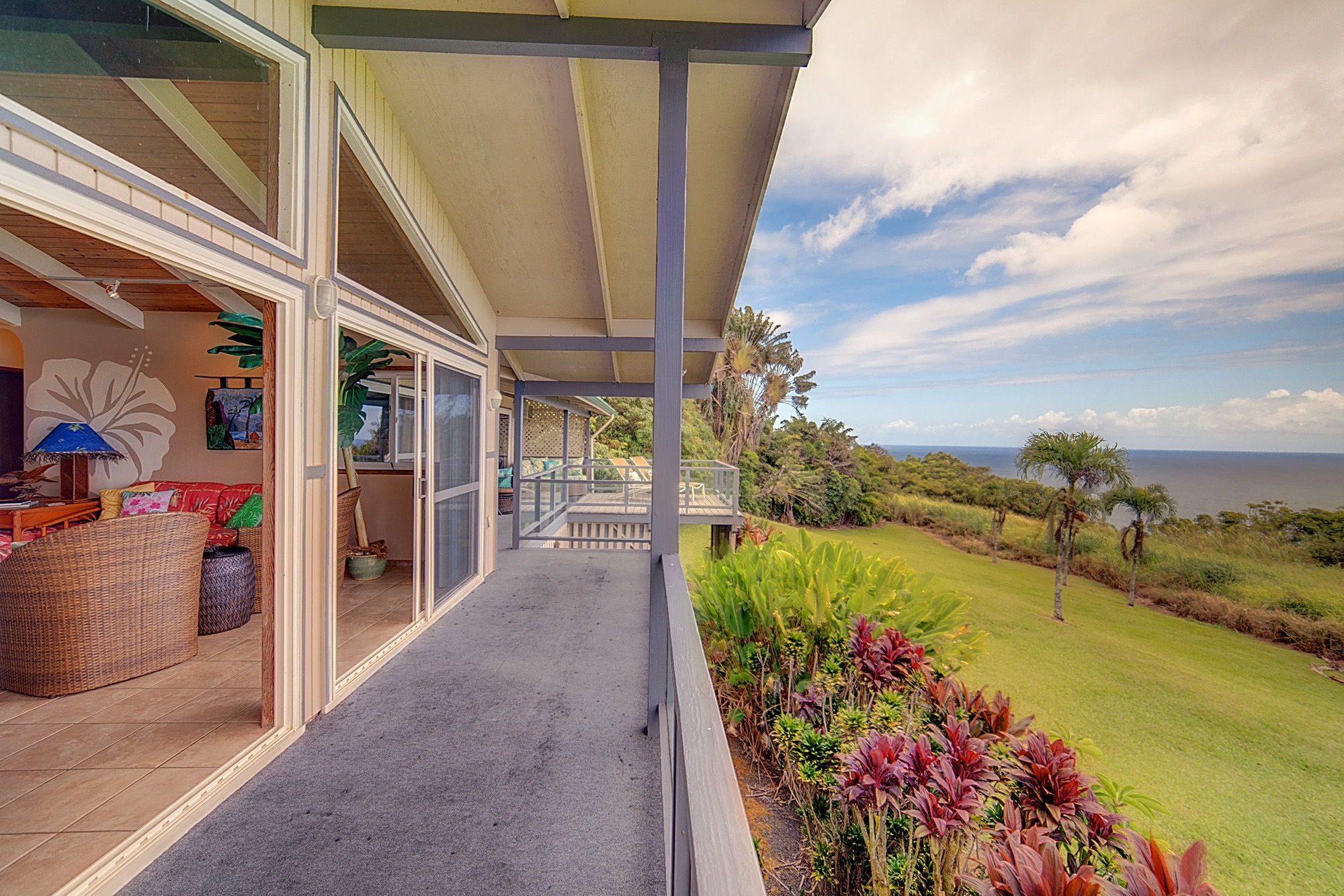 This exquisitely appointed, almost beachfront home is perfectly maintained with cozy comfort in every room. Spectacular ocean views from the home and the special vista viewing tower makes this 2BD/2BA + Den the perfect Hawaiian getaway. 
Outside you will discover a large deck perfect for cooking a meal or relaxing in the hot tub. There is a Weber Genesis propane grill and an outdoor dining area for 6. There are two additional chairs, an umbrella for the table, and seat cushions as well if needed. The hot tub is covered under the deck so that you can enjoy its splendor rain or shine. The two chaise lounges on the lawn are perfect for reading a book while catching some rays. The house provides 2 boogie boards and snorkel gear to help enhance your ocean adventures!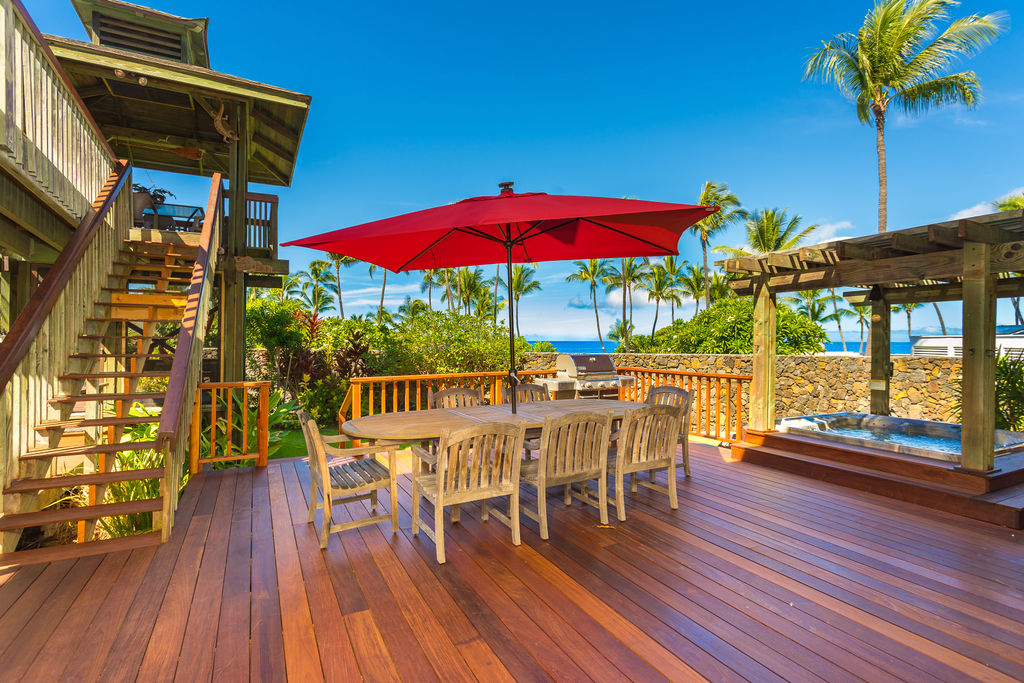 This beautifully decorated 3 bedroom, 2 bath home is located on a private acre parcel along the Hamakua Coast just north of Hilo! This brand new vacation rental home with ocean views sleeps 7, max 4 adults and 3 kiddos. The landscaping and grounds are spectacular, featuring a 6 foot tall Buddha and meditation space as well. The French doors open to allow those trade winds to fill the home. No air conditioning needed here!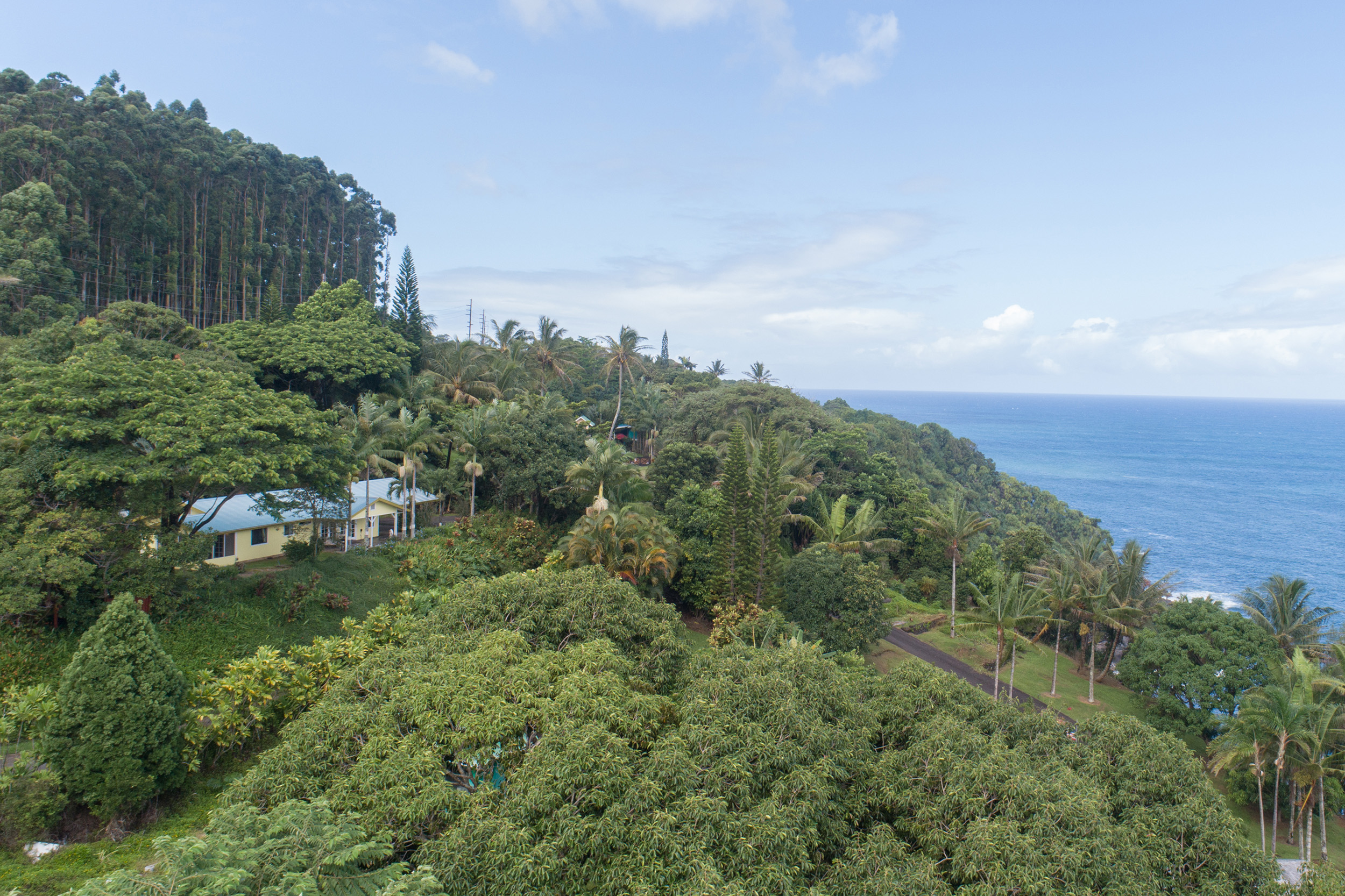 Plan the Perfect Family Getaway at Hawaii Life Vacations
Whether you're traveling with your significant other, family, or friends, you're sure to have the utmost experience during your stay with Hawaii Life Vacations. Our extensive accommodations are great for groups of nearly any size. To learn more about our availability, please give us a call at 855-447-3685!