30 Dec 2022
Best Spots for Snorkeling on Maui
There are so many incredible places to visit when on vacation in Maui, especially if you love the water. While swimming, surf lessons, and sailing tours are always memorable, you can't beat the snorkeling on Maui. 
From fish and sea turtles to sea stars, anemones, and sea cucumbers at home in the coral reefs - adventure awaits under the sea. Ready to discover Maui's best snorkel spots? Let's dive in! 
Snorkeling on Maui's North Shore
For the first snorkel spot, let's take it from the top, or rather, Maui's North Shore. Here you'll find Honolua Bay, an expansive bay that is important to Hawaii's history, culture, and ecology, as the bay's waters are part of the Honolua-Mokule'ia Bay Marine Life Conservation District. To reach Honolua Bay, you'll take one of two fairly easy trails to the beach, both of which may involve hiking through a beautiful forest and wading through a calm stream. It will be worth it once you find yourself floating among the diverse marine life in the sheltered bay.
Heading south from there, along Maui's west coast, you'll come to the serene Kapalua Bay. A C-shaped cove protected by two reefs on both sides, Kapalua is perfect for snorkelers of all ages and abilities. Just off the beach, you'll find the reef teeming with marine animals. You may want to hit up Kapalua earlier in the morning, as the bay can get crowded during the day. 
Early birds also get the best experience at postcard-perfect Napili Beach. Sheltered from high swells, Napili's right side boasts tidal pools that make for pleasant snorkeling. The best snorkeling spot, however, is the far right of the beach, as it tends to be more sheltered there. This saltwater playground is also known for various Maui reef fish and plenty of silver needle fish to delight snorkelers.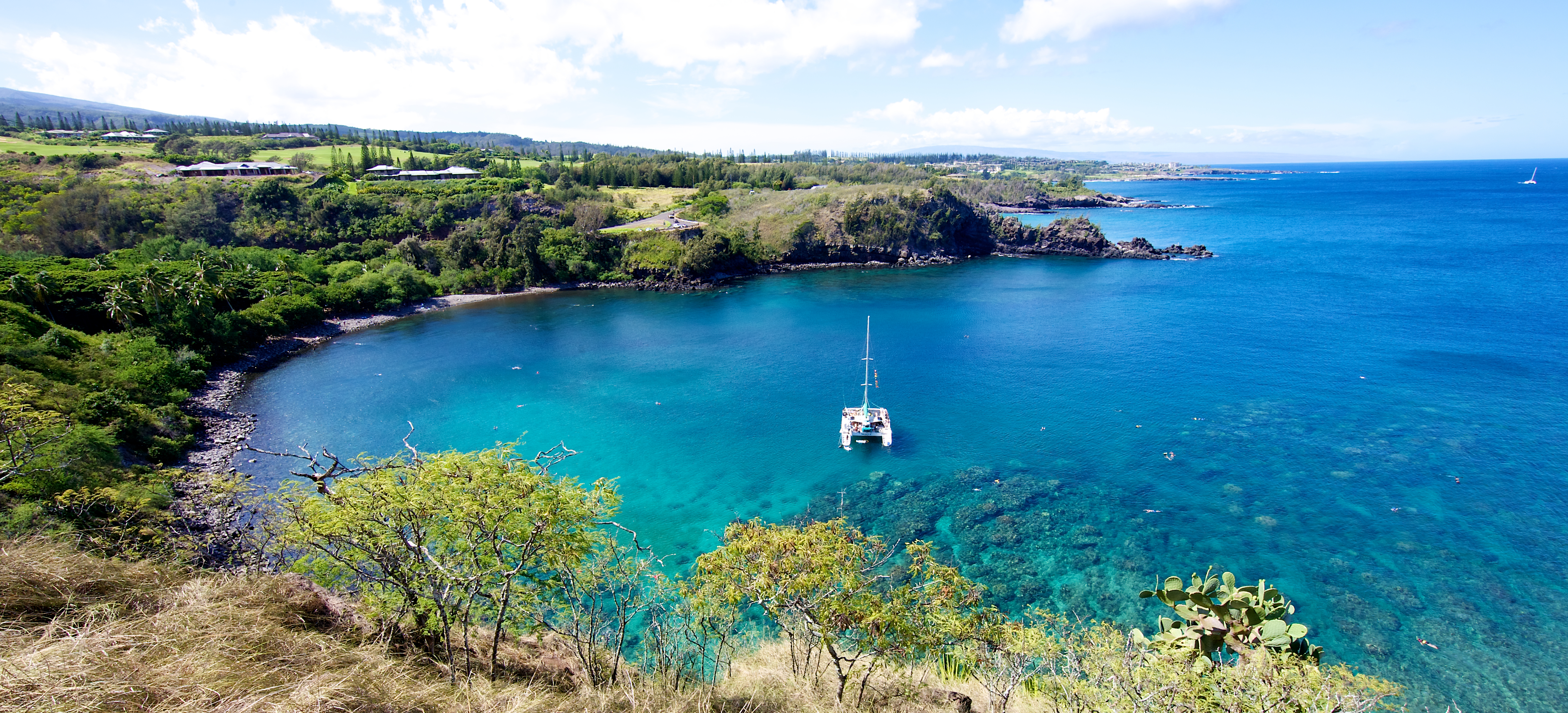 Snorkeling in Lahaina & Kihei
If you're on a Hawai'i vacation with your kids, be sure to take them snorkeling at Baby Beach in Lahaina. South of Napili, this soft, sandy beach is family-friendly and perfect for beginners. Once everyone feels confident in their snorkeling abilities, you can head to Mala Pier, just around the northern end of Baby Beach, where the water is deeper and there are more fish to behold. 
For those who come to Maui to relax, there's Charley Young Beach. Found on the northern section of Kamaole 1 Beach Park in Kihei, the peace and quiet make this beach a favorite among locals. The beach extremities along the rocks are the best place to snorkel at Charley Youngs and when you're ready for a break, you can easily get out of the water, as the beach's fine, golden sand extends from shore to ocean and makes a convenient natural entry. 
As you head from Kihei to Lahaina, look for Keawakapu Beach, a white sand beach lined by luxury homes and resorts. Before you hop in the water, stop to take in the breathtaking views of the islands Kaho'olawe and Molokini. Then wade into the ocean on the right hand side, where you'll discover a little coral reef that's home to butterfly fish, honu (sea turtles), and even the occasional eel! Or snorkel along the whole beach and be mesmerized by the patterns on the seafloor. With the interaction of sand and waves forming stunning lines and shapes, it's like a natural aquatic art exhibit. 
Although there are several snorkel spots that claim to be "Turtle Town," Maui's Maluaka Beach is the original. About 20 minutes south of Kihei, the beach's tranquil, uncrowded waters are a snorkeler's dream come true. As the name suggests, Maluaka attracts plenty of sea turtles, or as the locals say, "choke honu."
Snorkeling in Wailea
South of Kihei lies Wailea Beach, an exquisite stretch of sand fronting Grand Waileaand Four Seasons Resort Maui. The beach is accessible, making snorkeling here easy. Just stick to the beach's right end for the best visibility. If you swim past the left end, there are less fish and the visibility is low. As Wailea Beach is in a resort location, it tends to get busy throughout the day, so mornings are your best bet for a stellar snorkel experience.  
Polo Beach features two sandy crescents, clear water, and gentle waves to float along. The southern end is near Polo Beach Club and the northern edge is close to Fairmont Kea Lani Resort. There's plenty to see when snorkeling in either spot, including majestic honu and colorful fish. And while Polo Beach can get crowded at times, there is lots of parking available.
If you want options, head to Po'olenalena Beach. With three areas that are brimming with healthy coral reefs and marine life, snorkeling here can be outstanding when the water is calm. The best place to snorkel is the beach's north end and the best time to go is early, as the surf can get rough and rip currents strong if you go later in the day. If it gets too choppy and unsafe for snorkeling, lounge on the beach's golden sand beach until dusk and enjoy Po'olenalena's spectacular sunsets.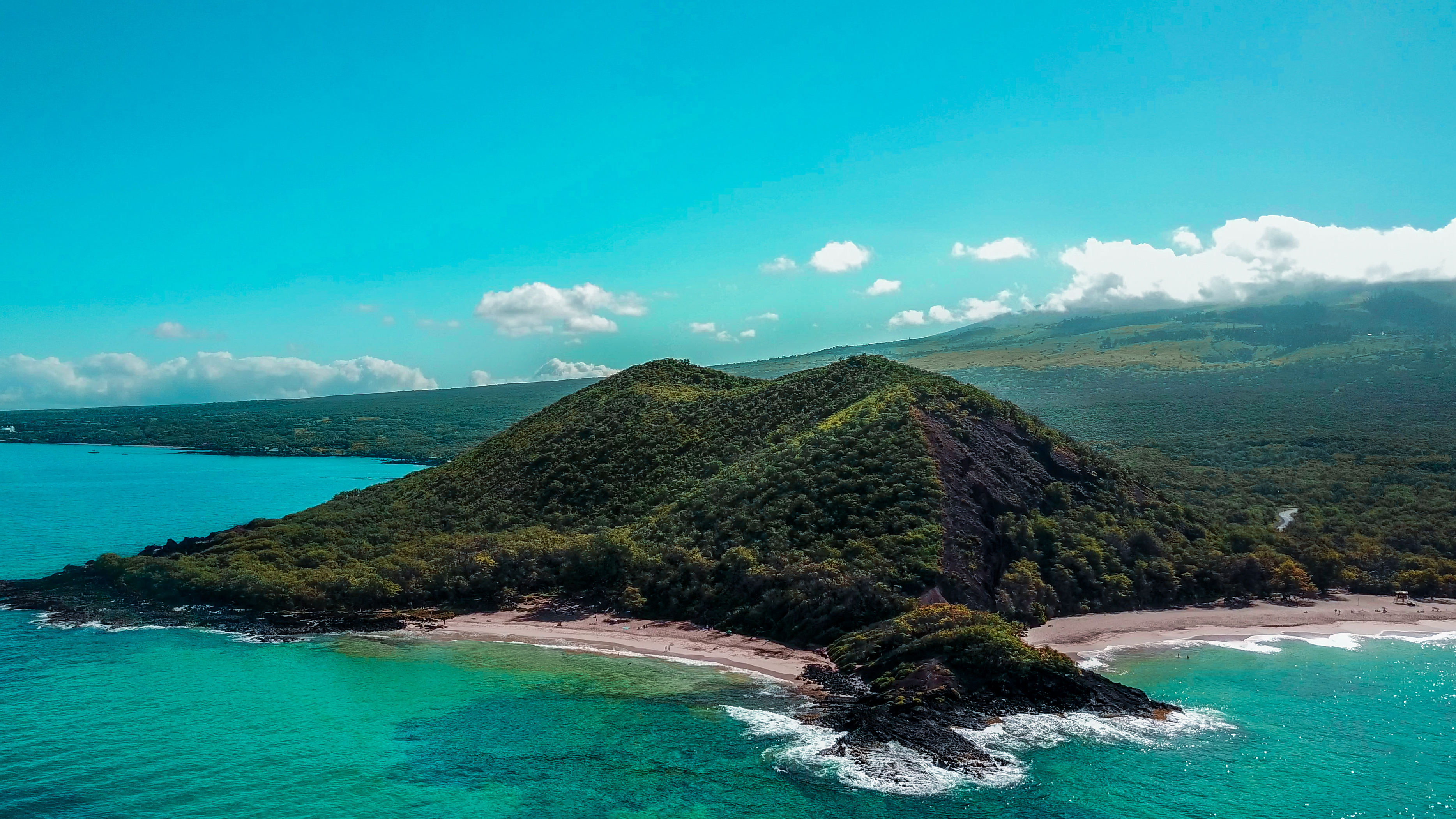 Snorkeling in Makena
As you head south from Wailea, you'll come to Makena Beach State Park. Nestled between two lava outcroppings in the park is Big Beach. Offering unforgettable views of Molokini and Kahoʻolawe, this white sand beach is one of Maui's largest beaches. Big Beach boasts undeveloped shorelines and protection from the trade winds, making it ideal for anyone seeking a secluded alternative to the busier snorkeling spots.
Just south of Maalaea Bay you'll find La Perouse Bay in Ahihi Kinau Natural Area Reserve. Ahihi Kinau's coastline is a beautiful, rugged mix of pristine water, coral, lava rock shoreline, and seabed. A marine life conservation district, the Reserve prohibits fishing of any kind and sea life thrives here. You'll need to drive past Makena to reach the bay, which isn't particularly remarkable when it comes to visibility. Nearby coves such as Kalaeloa, Moanakala, and Mokuha, however, offer superb conditions for seasoned snorkelers. Here you may spot honu, dolphins, and occasionally eels. La Perouse's coral is unique in that there are many places where it isn't high enough to reach the water's surface, so there's a sense that you're floating through a maze with otherworldly views of the seascape below.
Maui's Off-Shore Snorkel Excursions 
Just off Maui's south coast is Molokini crater, a crescent-shaped islet located in the Alalakeiki Channel. You may want to make a day of snorkeling in the crystal clear waters of this volcanic atoll, since the only way to reach it is by boat. Home to an expanse of coral reefs, manta rays, monk seals, ulua, more than 250 species of fish, and an array of colorful marine life, the crater is an aquatic paradise. With reef visibility of up to 150 feet, it's easily one of best snorkeling spots in Hawai'i.
Maui Snorkeling Safety & Tips
Ready to begin your Maui snorkeling adventure? Here are a few important things to remember before getting in the ocean to snorkel: 
In addition to tropical fish, honu, crustaceans, and other marine creatures, you may also see rays, spinner dolphins, and octopi while snorkeling on Maui. Please look but do not touch these protected, precious animals. Although it may appear to just be rocks and plants submerged in water, the reef itself is a living animal made up of millions of tiny animals. With this in mind, do not step on anything except sand and the beach. 
When it comes to snorkeling gear, it may be more economical to buy your own. We do suggest that you skip the full-face mask, however, as they have been deemed dangerous. And for sunscreens, keep in mind that any labeled "reef safe" may still contain one or more chemicals that are toxic to Hawaii's coral reefs and marine life. Look for a zinc-based cream free of oxybenzone, octinoxate, or avobenzone when shopping for sunscreen.
The best time of day for snorkeling teens to be mornings, when the visibility is better, the water calmer, and the fish more active. No matter when you snorkel, always put safety first and check local conditions before entering the ocean. Never snorkel in high surf conditions unless you have sufficient snorkeling experience, only snorkel out as far as you are comfortable, always watch out for rocks, waves, rip tides, and sea urchins… And always snorkel with a partner for optimal safety and fun! 
Start Planning Your Maui Snorkeling Adventure
Snorkeling is undoubtedly one of the most popular activities among visitors to Hawai'i. And in Maui's clear waters, you can snorkel with raccoon butterflyfish, pink and blue parrotfish, triggerfish, and even the colorful humuhumunukunukuapua'a, the state fish of Hawai'i. 
Ready to plan your snorkel trip to Maui? At Hawai'i Life, we're here to help. To learn more about our rental options and find a Maui luxury vacation rental closest to your favorite snorkel spot, please contact us today!
Vacations@HawaiiLife.com | 855.447.3685
*The information provided in our blogs is for entertainment purposes only. Any actions taken upon the information on this website is strictly at your own risk.