24 Jun 2022
Top 12 Books for Guests Staying in your Hawai'i Vacation Rental
Culture. History. Food. Inspiration. Aloha. 
Spruce up your vacation rental home and enhance your guests' experience with some island-inspired tomes filled with glossy pages and attractive covers. Here are 12 books that are perfect to display on the coffee table or line the bookshelf of your vacation rental with. Guests will find these reads helpful and inspiring as they enjoy their time in Hawai'i.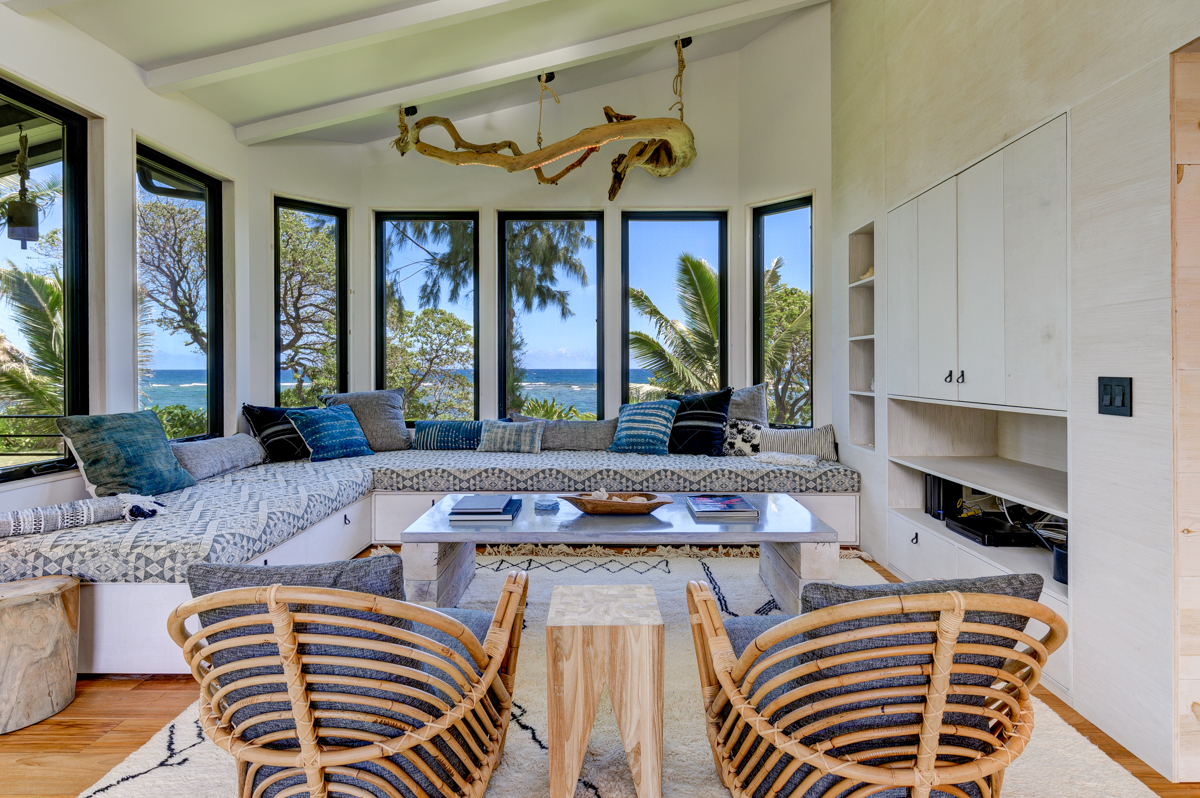 1. 7th Edition O'ahu Revealed: The Ultimate Guide to Honolulu, Waikiki & Beyond
by Andrew Doughty
Your vacation home guests will certainly want to return to the rental every year after getting their hands on this guidebook. Righteously nicknamed, The Gathering Place, the island of O'ahu is where many first-time visitors to Hawai'i choose to go, especially families with children. Honolulu, Waikiki Beach, Pearl Harbor, and Diamond Head are on everyone's list, but Doughty's comprehensive guide brings to light off-the-beaten-path areas and the unique nuances that can make a visit feel more local and immersive. 
2. 10th Edition Hawai'i the Big Island Revealed: The Ultimate Guidebook
by Andrew Doughty
The Big Island of Hawai'i is just that — the biggest and youngest of all of the Hawaiian islands. Doughty's guide showcases its wondrous diversity in full and alluring detail. Visitors can drive up to a snow-capped mountain of nearly 14,000 feet, then cruise down to a heavenly beach and snorkel in warm waters on an 85°F day. Explore exotic rainforests, stark lava deserts, crystal clear waters packed with fish, an erupting volcano, old Hawai'i towns, and modern out-of-this-world resorts. Swim with dolphins, hike around smoldering craters, luxuriate in decadent spas or roll around on a black or even green sand beach. 
*Revealed Travel Guides are available for all Hawaiian Islands and offer comprehensive accessibility with ebooks and apps to inspire your vacation home renters to come back and explore what Hawai'i has to offer.
3. Volcano: Images of Hawai'i Volcanoes
photography by Douglas Peebles
Speaking of active volcanoes, Hawai'i Island's Kīlauea Volcano has been active for the last 35 years and has an allure that no other geological formation possesses. Let your guests be mesmerized by spectacular images of pressurized jets of molten earth propelling into the air and rivers of lava glowing bright orange, illuminating an otherwise pitch-black night. All these sights are captured by the superlative lens of renowned island photographer, Douglas Peebles. This collection of spectacular and sometimes eerie images captures all the power and majesty that will continue to leave visitors in awe for centuries.
4. Surfing: He'e Nalu
by Mutual Publishing
The third addition of this inspirational line, Surfing is a collection of over 30 universal quotes and inspirational proverbs accompanied by more than 35 vintage photographs of Hawaii's favorite sport. Ancient Hawaiians dubbed this pastime he'e nalu. The first word he'e can mean to run or flow, like liquid, to slip or glide along. Nalu, or wave, implies the surging, rolling motion of the ocean. Put the two together and you have he'e nalu, wave sliding. This classic compilation will have your guests inspired to jump in and ride some waves.
5. Aloha Kitchen
by Alana Kysar
In Aloha Kitchen, Alana Kysar shares recipes that locals have made their own, blending decades of the cultural influences that make up the rich tradition of Hawaii's multiethnic cuisine. The cookbook is as much a feast for the eyes as it is the palate. With delicious photography, accessible recipes, and engaging writing, Aloha Kitchen will take your visitors into the homes, restaurants, and farms of Hawaiʻi, while tracing the recipes' geographic origin and history on the islands, and exploring the cultural and agricultural influences that have made dishes like plate lunch and poke crave-worthy, culinary sensations worldwide.
6. Pidgin to Da Max
by Douglas Simonson
While Hawai'i is an English speaking destination, visitors will find that the colloquial language is as unique as its food. Generations of immigrants trying to communicate despite language barriers made a significant impact on local slang and Pidgin to Da Max is a humorous, illustrated dictionary of the resulting Hawaiian Pidgin words and phrases. With the definitions of most of the words and phrases also given in Pidgin, the book is clearly not intended to be used as a Pidgin-English dictionary, although a reader unfamiliar with the dialect would likely understand most of the entries from context and the illustrations. The book is intended to be an entertaining, introspective look at the language many locals speak on a day-to-day basis.
7. The Natives Are Restless: a San Francisco Dance Master Takes Hula to the 21st Century
by Constance Hale
Anyone who has ever watched a hula performance understands that it is not just a choreographed dance, but a unique form of storytelling. In The Natives Are Restless, journalist Constance Hale presents the untold story of Hawaii's traditional dance art, through Kumu Patrick Makuakane (a Hawai'i-born, San Francisco–based hula master), and Na Lei Hulu i ka Wekiu, his 350-person arts organization. The book's photographs and illustrations weave the poignant story of the ancient Hawaiians' resilient culture, telling a modern story of this emerging, electrifying new form of hula.
8. Ohana Means Family
by Ilima Loomis and illustrated by Kenard Pau
"This is the land that's never been sold, where work the hands, so wise and old, that reach through the water, clear and cold, into the mud to pick the taro to make the poi for our 'ohana's luau." Families with keiki (kids) will appreciate books that they can share with them about Hawai'i's culture. With a poetic text in the style of The House That Jack Built, 'Ohana Means Family allows readers to join a family, or 'ohana, as they farm taro for poi to prepare for a traditional luau celebration. Acclaimed illustrator and animator Kenard Pak's light-filled, dramatic illustrations pair with Ilima Loomis' text to celebrate Hawaiian land and culture. 
9. Aloha is…
by Tammy Paikai and illustrated by Rosalie Prussing 
One of the most universally known Hawaiian words, "aloha" evokes so much emotion that it's hard to explain. It simply must be experienced! This beautifully illustrated children's book will allow both adults and keiki to learn the various meanings of the word "aloha" as actions of respect, love, patience, taking care of each other, and the island. It is a delightful and playful look at our island home and what it means to live aloha each day. 
10. Too Many Mangos
by Tammy Paikai and illustrated by Don Robinson 
A wonderful example of Aloha is told in the story of Too Many Mangos. This is a sweet story of two young Hawaiians, Kama and Nani, who help their grandpa pick mangoes from a mango tree. But this time, they've picked too many, so they load up their wagon and share the tasty treats with friends and family. Along the way, they introduce their friendly neighbors to young readers and convey the many ways to enjoy the treasured island fruit. This sweet story shares the joys of island living while teaching a valuable lesson about friendship and community. 
11. Tiki of Hawai'i: A History of Gods and Dreams
by Sophia V. Schweitzer
These days, tikis are often found on the shelves of souvenir shops all over Hawai'i and are a quaint reminder for visitors' of their time in paradise. For Polynesians, however, the tiki represents an ancient religion, in which deities, nature, and man warred with each other in battles that would make commoners and kings tremble with fear. Tiki of Hawai'i: A History of Gods and Dreams by Sophia Schweitzer reveals a rich, colorful, and entertaining picture of tiki, and imparts an understanding of a cultural purpose far deeper than that provided in souvenir shops.
12. The Aloha Shirt 
by Dale Hope with Gregory Tozian
Another classic take away and synonymously sentimental piece is Dale Hope's book, The Aloha Shirt, which provides a stunning pictorial history of the evolution of the Hawaiian shirt as a symbol of relaxation, casual dress, and the allure of life in the Islands. With over 400 images of aloha shirts, Hawaiian motifs, labels, and rare historical photographs, The Aloha Shirt explores the history and folklore associated with this timeless and renowned garment. A special feature of the book is the gallery of shirts, which shows the best collection ever assembled of rare and valuable aloha shirts currently owned by private collectors. It will make your vacation home guest appreciate the iconic shirt enough to buy one of their own.
Speaking of souvenirs, be sure to label the books in your vacation home "Property of Unit XYZ" so none of them end up going home with guests as an accidental keepsake!
Your Local Hawaii Property Management Team
At Hawai'i Life, we know how important it is to help your guests enjoy the best that Hawai'i has to offer. From displaying appealing books and providing high-speed internet, to upgrading to ENERGY STAR-rated appliances and making finishing touches that will impress guests the moment they arrive, our local property management team can walk you through the process of getting your home rental-ready. 
Connect with us! Our local team is here to assess your goals and revenue potential, and assist you with your rental property needs so that you can transform your beautiful rental home into a profitable investment. To book a Free 15-minute consultation, CLICK HERE