11 Oct 2017
For all hiking enthusiasts, or just folks who'd like to do some ambling while on island, below are a few select hikes that should result in numerous "oohs" and "ahhs" along the way…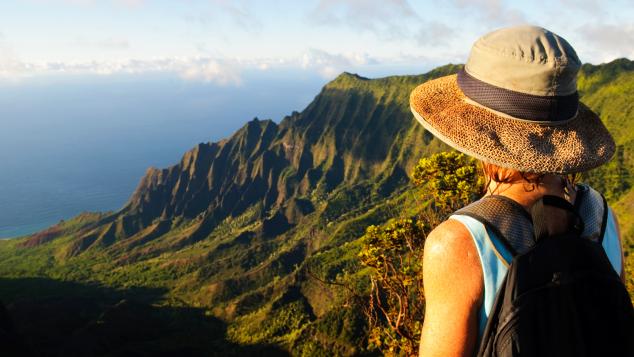 North Shore Hiking Trails
With something for everyone, the North Shore offers hikes through forests and pastures, up ridgelines and along the dramatic and epic coastal cliffs.
1. Wai Koa Loop – Beginner to Moderate
This 5-mile loop located in Kilauea is suitable for hikers and bikers alike. While we give it an "Intermediate" rating, don't fret, as the difficulty is due more to its length rather than any aggressive terrain or elevation gain.
Starting out through the Kilauea Woods, with soaring Albizias and Norfolk Island Pines, it's a pleasant introduction to the amount of lush greenery that visitors will encounter along the trail. Continuing through the United States' largest Mahogany Forest, with approximately 86,000 Honduras Mahogany trees, the trail comes to a clearing where the West Makaleha Mountains offer the first expansive views and put everything in perspective.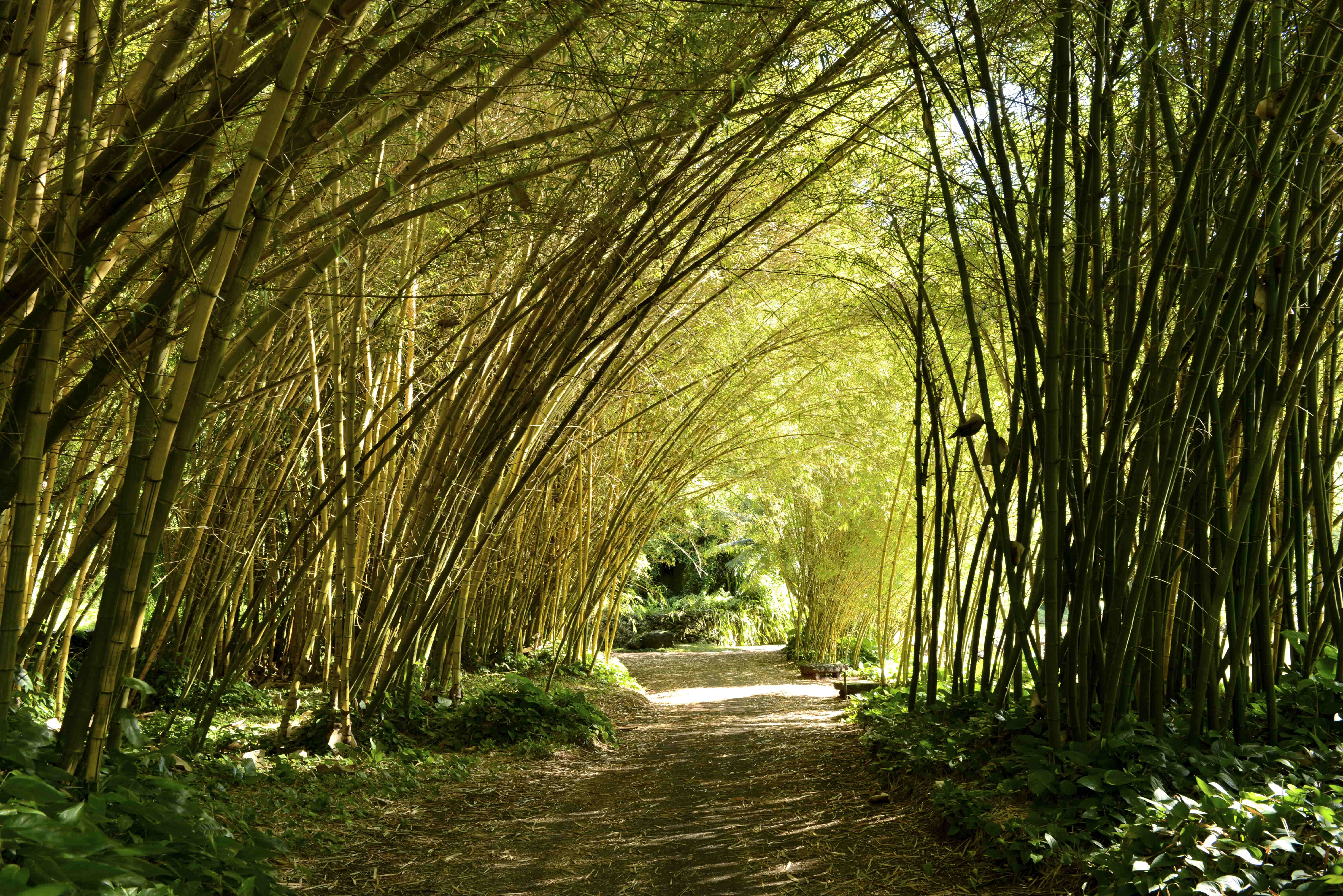 Moving along, hikers will pass community gardens, guava orchards, and a large hydroponic facility that supplies many local restaurants with greens. Passing Kalihiwai Lagoons, which once grew fresh water prawns and today holds tilapia, bass, and koi, the pinnacle stop on the journey will be the historic stone dam lookout and gardens.
Over 130 years old, this dam was constructed as a water source for sugar plantations of days gone by. Still providing irrigation to Wai Koa Plantation, this hidden treasure holds numerous pockets of peace and serenity and offers a phenomenal inland contrast to Kauai's mostly coastal activities.
Getting There: In Kilauea, look for Kauai Mini Golf on Kuhio Highway (Hwy 56). The trail starts and ends there.
STAY NEARBY: Honu Lani | 3 Bedrooms, 2 Bathrooms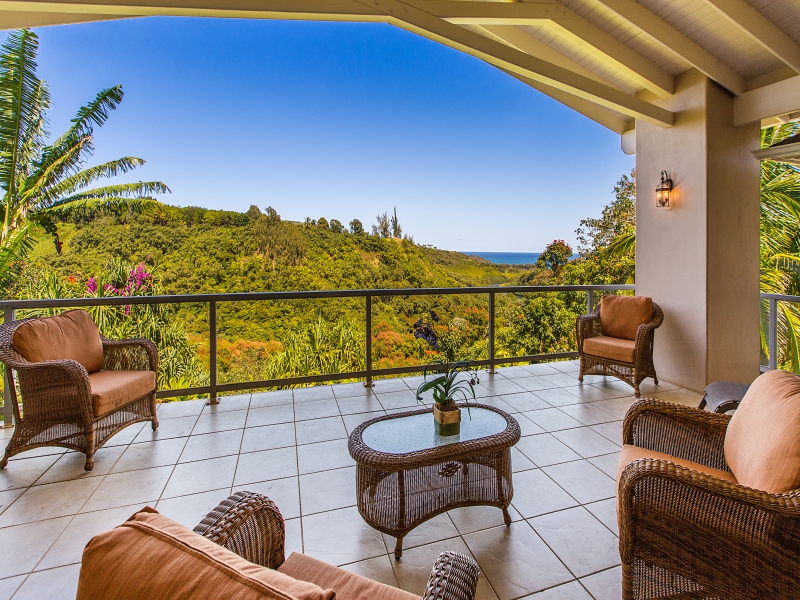 Beautifully decorated, and well maintained this perfect retreat is surrounded with lush tropical vegetation and greenery! Perched above with breathtaking views of the Ocean and the Mountains.Kilauea is conveniently located on the North Shore of Kauai between Kapaa and Hanalei It is minutes away from an abundance of shopping, fine restaurants, and world class golf. Anini Beach is a beautiful, tropical ocean front community that has been home to various celebrity residents. It is known for its long barrier reef and calm water inside the reef.
2. Okolehau Trail – Moderate to Difficult
Also dubbed "Hanalei River Trail" and "Hihimanu Trail," this ridgeline ascent behind Hanalei offers a one-of-a-kind 'behind the curtains' view of the valley and the ocean beyond. After a few hundred yards of mild forest meandering the trail turns left and thus begins a breath-stealing (not to be confused with breath-taking) half-mile climb to the first vista, a clearing next to an electrical tower that gives a taste of what visual splendor awaits those who proceed.
For many, this initial climb and view may suffice. For those who wish to venture on, the hike tames down a bit, following the ridgeline and offering several other perches with which to absorb the magic that is Hanalei Valley.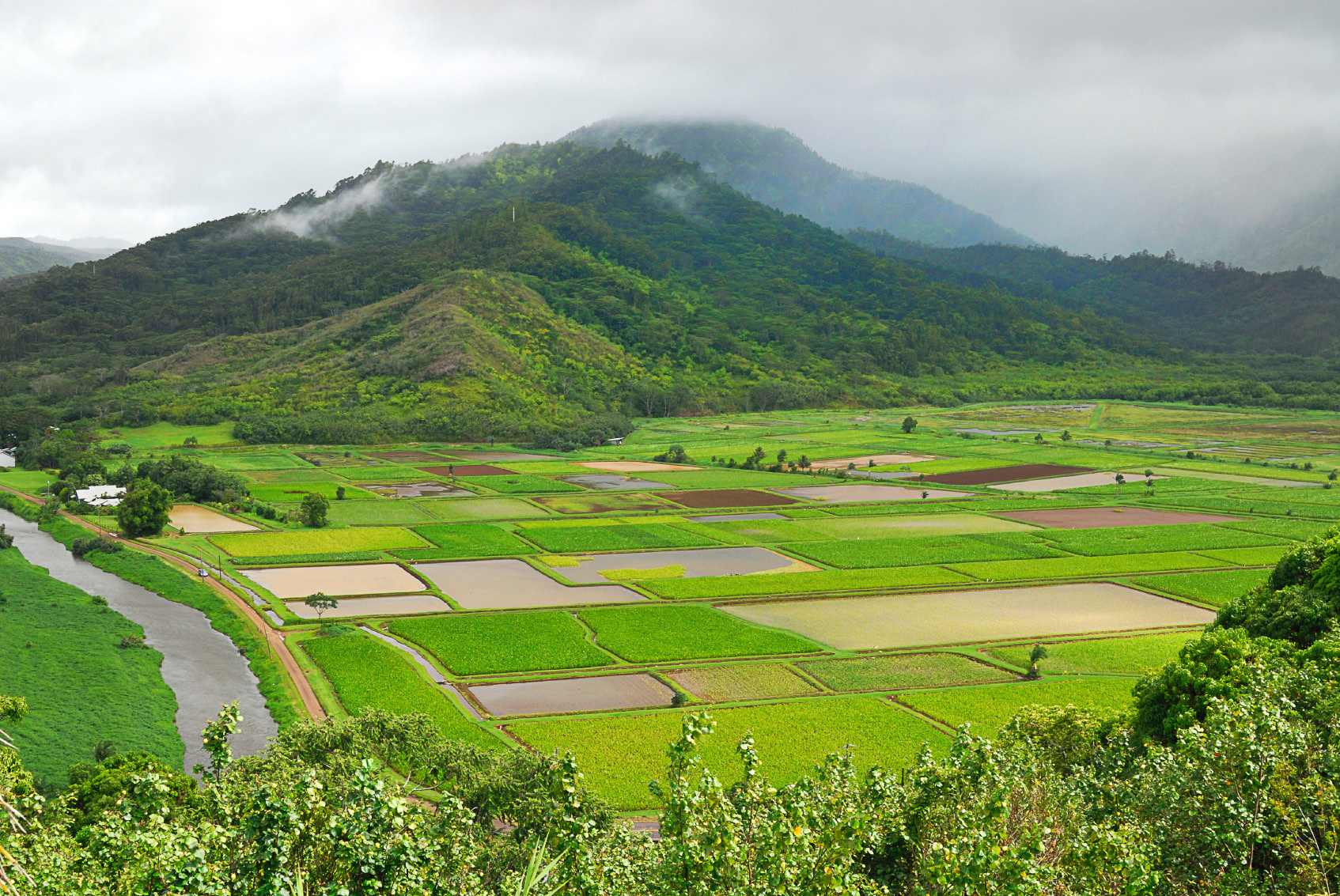 For the truly adventurous, the trail continues on and turns into a rope-assisted climb (literally) of Hihimanu Ridge (Kauai's "Twin Peaks"). This last section is arduous, can be dangerous, and should only be attempted by experienced hikers who don't have a fear of heights. As well, if planning on doing the entire climb, it'd be wise to start early and bring plenty of water. The round trip hike should take around 4-5 hours if moving at a decent pace.
Getting There: Coming down the hill from Princeville, cross the one-lane bridge to Hanalei and turn left to drive between the river and taro field. After 0.5 miles look for parking on the left. The trailhead is across the road.
Stay Nearby: Camp Magic | 3 Bedrooms, 2 Bathrooms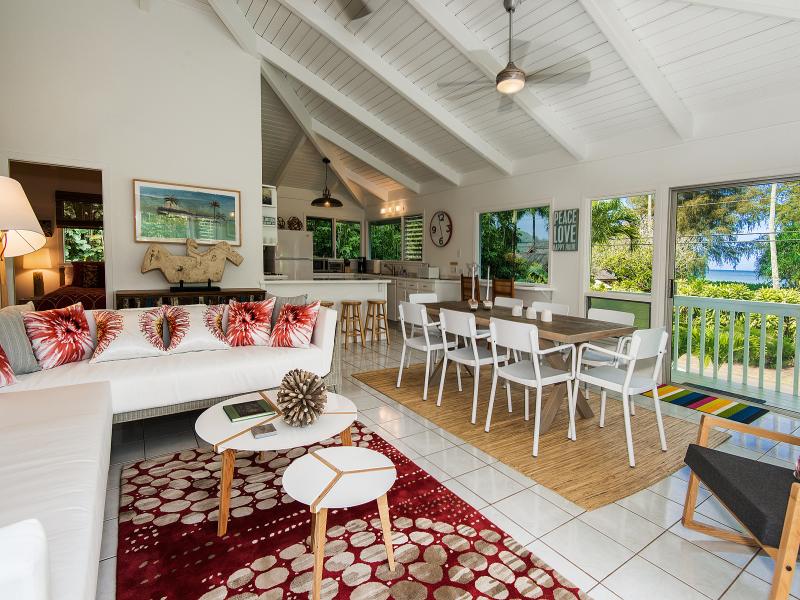 Camp Magic is located just across the street from Hanalei Bay and beach where you can indulge all your ocean adventures or just relax on the warm sand and enjoy the mountain views. You might even get to experience a rainbow over the mountains with waterfalls cascading gently behind. Hanalei is one of the most beautiful places in the world! Ideally located, this is one of the few private retreats on Kauai where you can easily walk to meet your desires. 
3. Na Pali Coast – Beginner to Difficult
The internationally renowned Kalalau Trail is, in a word, epic. Offering an 11-mile (one-way) hike with some of the most incredibly lush and dramatic terrain on earth, most who venture upon this trail will want to stop after the first two miles, at Hanakapiai Beach.
Starting at the Ke'e Beach trailhead, after an initial quarter-mile ascent, the real trail begins and winds its way in and out of canyons with minor elevation change. After approximately 1.8 miles, the trail begins its descent towards Hanakapiai Beach. As signposts along the trail will mention, Hanakapiai Beach has extremely dangerous currents and has taken many a lives, so heed caution, be smart, and stay out of the water.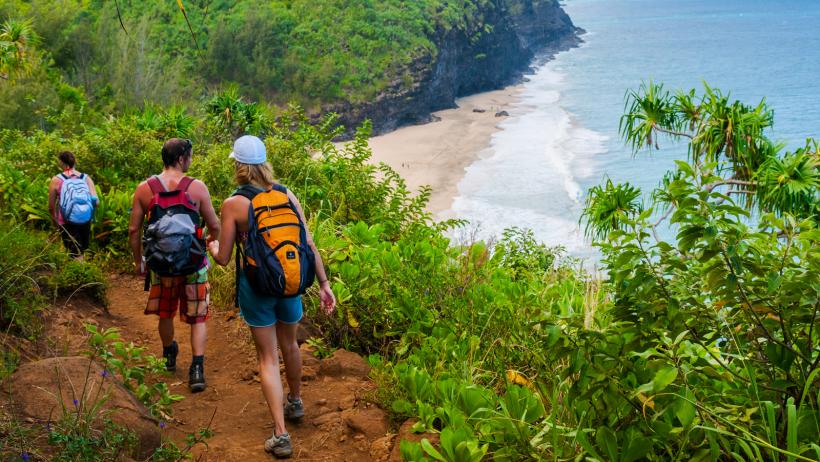 For those who wish to bite off a bit more, there is a 2-mile trail that begins at Hanakapiai Beach and heads up-valley to Hanakapiai Falls, which offers a chilly water plunge as a reward. It should be noted that those attempting to go all the way from the Ke'e Beach Trailhead to Hanakapiai Falls will be hiking 8 miles – 4 miles in and 4 miles out – so be sure to bring plenty of water and snacks.
For anyone planning on hiking past Hanakapiai Beach, or hiking the entire 11 miles and camping in Kalalau Valley, please note this not only requires proper hiking gear but a permit as well (read: you will be fined without one). The latter half of the trail is extremely difficult, sketchy at times, and is not for the novice hiker.
Getting There: Drive to the northern end of Kuhio Hwy (Hwy 560), park and look for the trailhead by the beach. Overflow parking is several hundred yards before the end of the road.
Stay Nearby: King Hale | 4 Bedrooms, 4 Bathrooms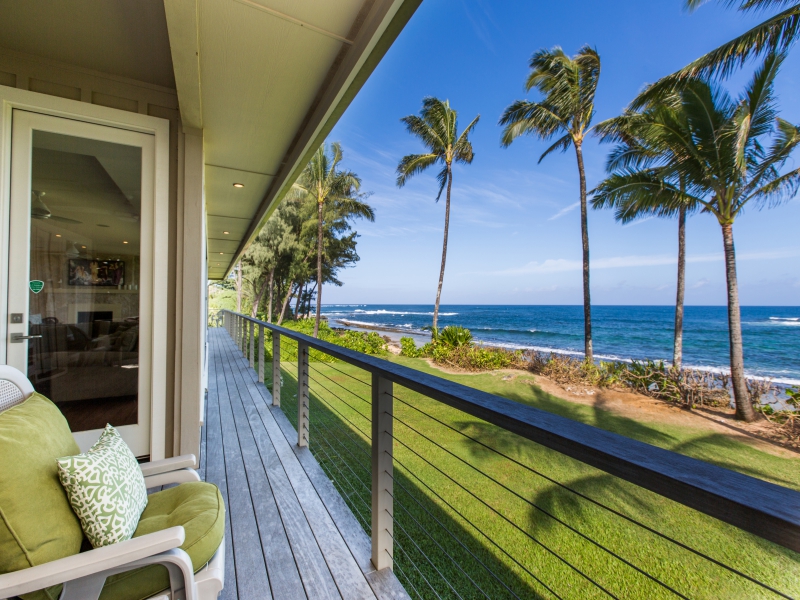 Elegant and spacious King Hale, set beachfront in a lush tropical jungle, is located in the serene community of Haena, just 4 miles north of Hanalei. Here you will discover beautiful stretches of white sand beaches and the most breathtaking of sunsets.This home is built around an elevated open floor plan that is ideal for family gatherings or gracious entertaining. The fully-equipped gourmet kitchen with top-of-the-line appliances and granite countertops is perfect for intimate meals or large dinner parties. In the nook off the kitchen, a round dining table with seating for 8 overlooks the blue Pacific Ocean.
East Side Hiking Trails
Kauai's East Side offers several unique inland hikes that lead to waterfalls, postcard-worthy vistas, and the feeling of being in the middle of nowhere and everywhere all at once. 
4. Ho'opi'i Trail – Moderate
Though this 2.2-mile trail can be a bit tricky to find, the hypnotic sounds of gushing water as a reward may make the effort worthwhile. The hike starts out on a dirt path (once a dirt road) guarded by an old metal gate covered in shrubbery.
Descend the dirt path (muddy path after rains) until you level off and a few distinct trail options appear on the left. They all go in the same direction, the Kapaa Stream, so pick one and keep an eye out for the smaller single-track trail that meanders along the stream. Once you hear the Upper Falls, keep an eye out for a route down. Use caution as this can be very slippery and note that whatever you go down, you'll have to go back up.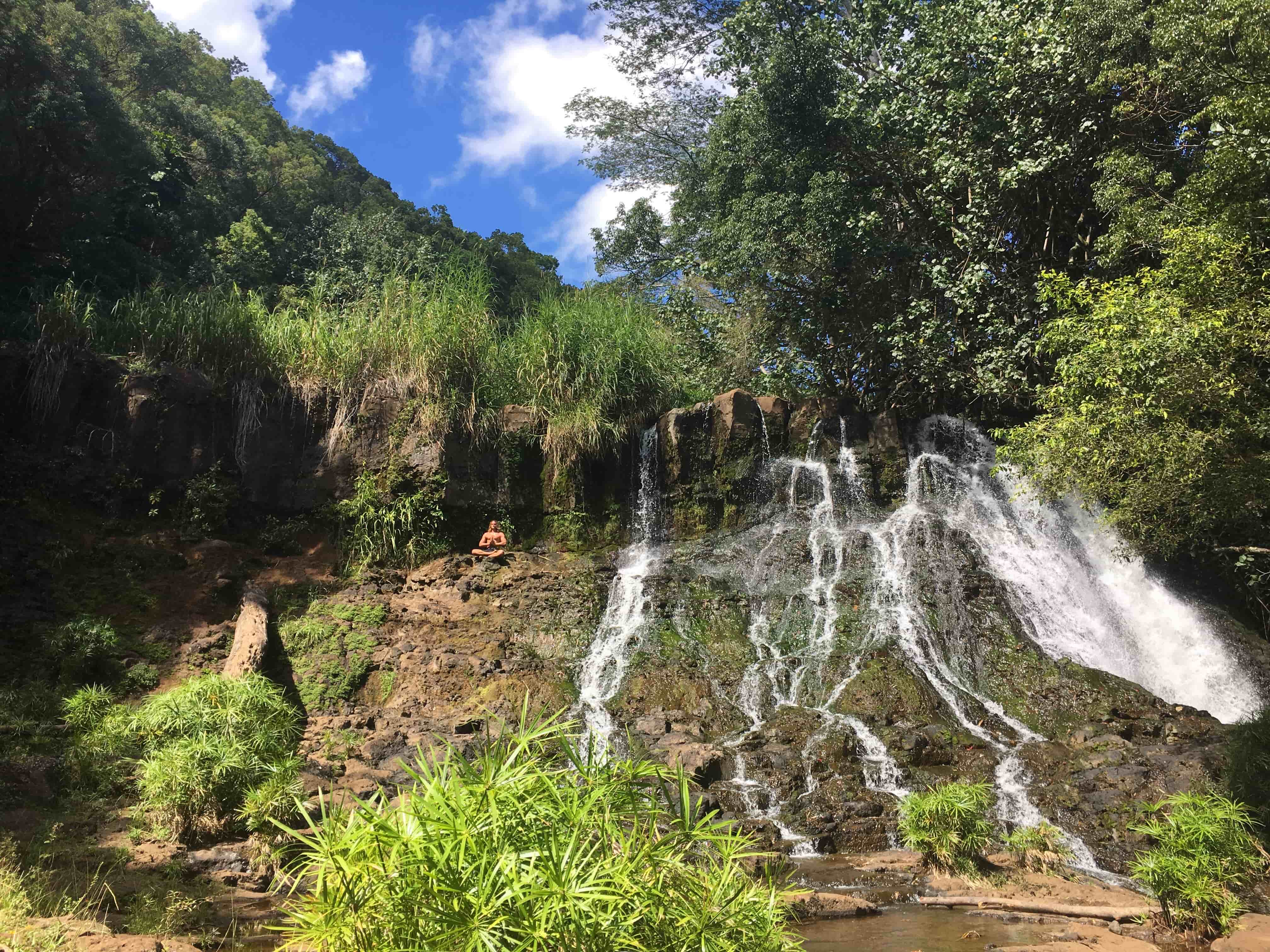 If you'd like to continue to the Lower Falls, make your way back up to the single-track trail and continue in the direction of the stream. After working its way inland, the trail forks. Take the option to the left, back towards the stream.
Once you reach a T, the option to the left will lead you to the top of the falls, with no way of getting to the bottom, and the option to the right will lead uphill, past the falls, and offer another option to the left to go to the bottom of the falls.
Choose your own adventure and be safe, especially on the slippery slopes heading down to the falls. Whenever your heart's desires (or your camera's memory cards) are full, return the way you came.
Getting There: Turn right onto Kapahi Rd. off of Kawaihau Rd., drive 0.3 miles and look for unmarked trailhead on left. Park on the side of the road.
Stay Nearby: Kai Halulu | 3.5 Bedrooms, 3.5 Bathrooms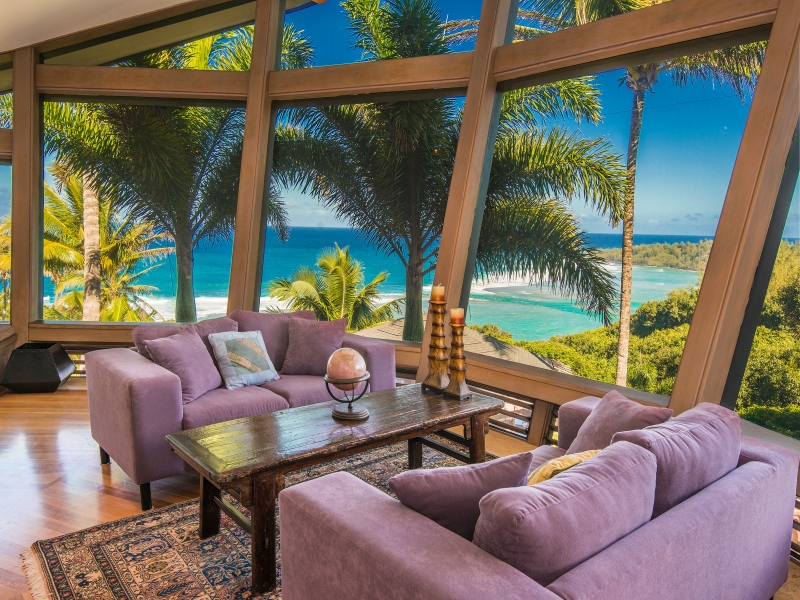 This private and elegant house is a masterfully crafted one-of-a-kind home that boasts exquisite custom design and detail throughout both the exterior and the interior. Perched cliffside on 10 acres above Pila'a Beach on Kauai's North Shore, this property offers numerous spots to take in the sprawling views of the crystal blue Pacific to the east and verdant mountains to the west. As well, a private walking path from the property leads to a remote and idyllic beach below.
5. Nounou Mountain Trail, a.k.a. "Sleeping Giant" – Moderate to Difficult
If you're in Kapaa town and look West, you'll notice the ridge line looks like a gigantic figure napping, with its head to the South and feet extending North. This is Sleeping Giant and standing atop its peak offers sweeping views of the entire Wailua Valley from Anahola to Lihue, with the big blue pacific in the background.
The switchback-style trail is steep, moderately strenuous and takes hikers through thickets of guava and ironwood. At the three-way junction near the top, take the path to the left, where after 3 or 4 minutes more should appear a picnic table. Once here, you will be on the giants chest, so drink it all in (the view, and some water) because the hard work is over. It's not recommended to continue on (to the giant's head) as the trail becomes quite dangerous.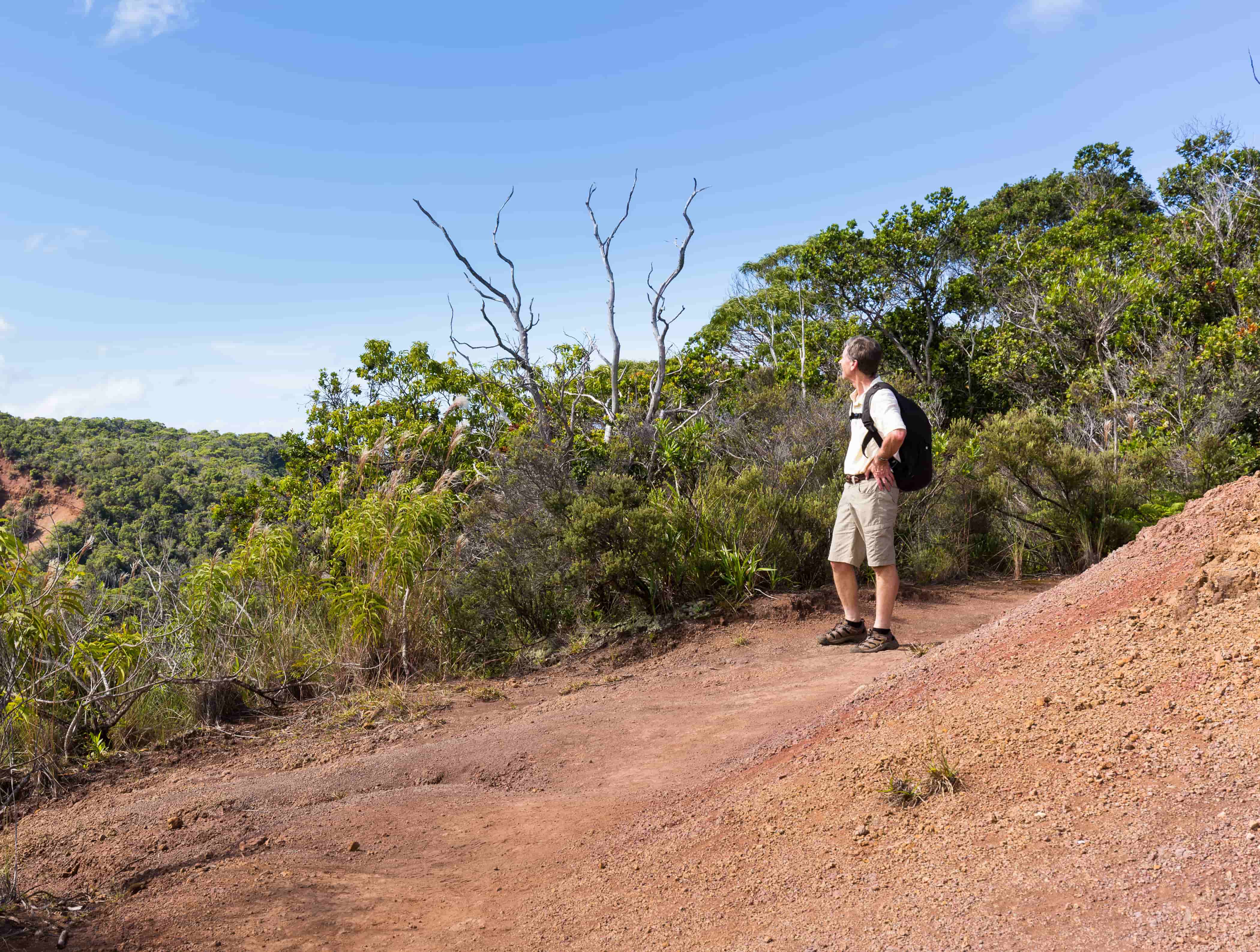 We recommend starting early while it's still cool and the light is spreading throughout the valley.
Getting There: Take Haleilio Rd. off of Kuhio Hwy (Hwy 56) for one mile until you see telephone pole 38 and the trailhead sign nearby.
Stay Nearby: Anahola Beach House | 3.5 Bedrooms, 3.5 Bathrooms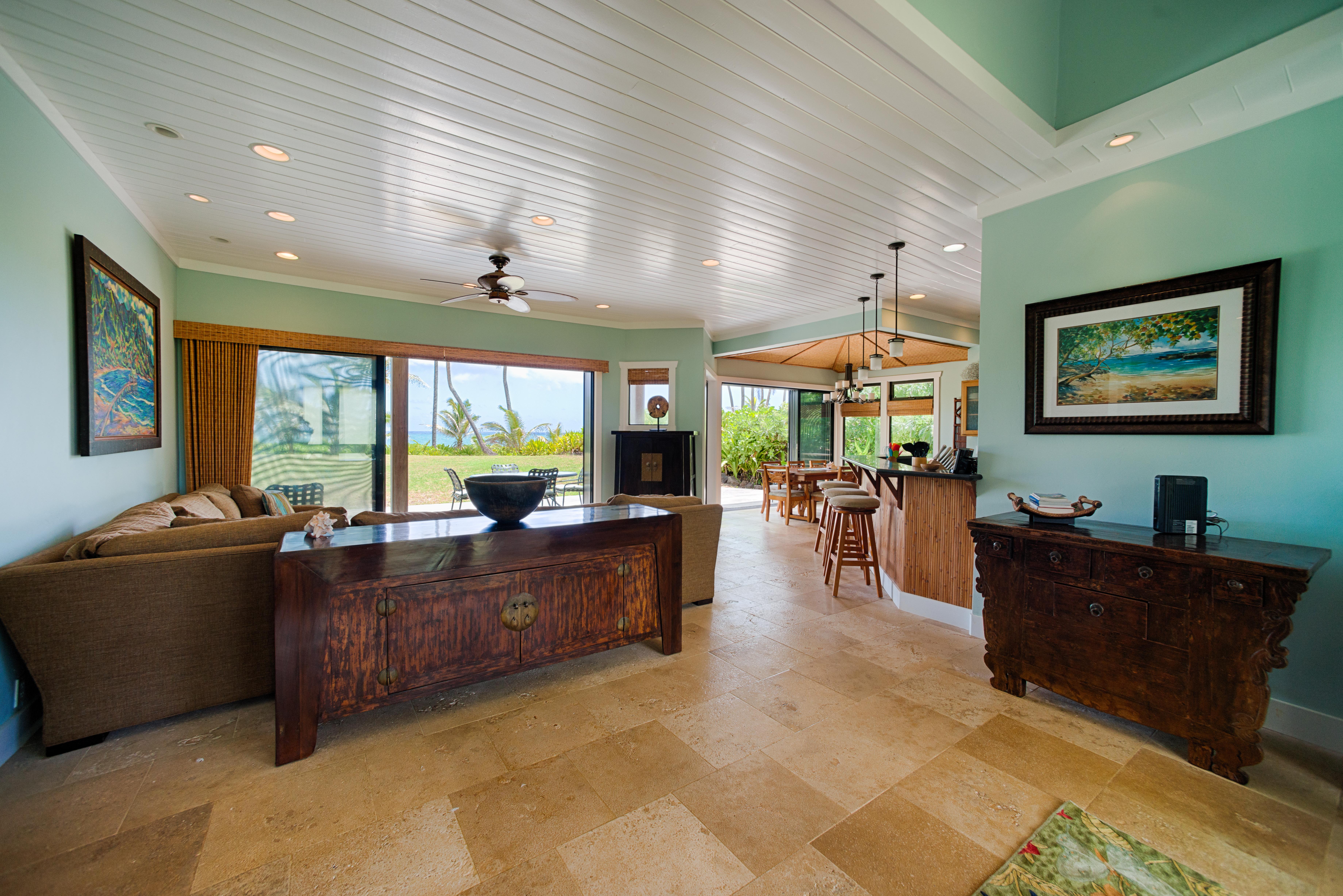 Once you settle into the serenity of Anahola Beach House, you may lose track of time soaking in the unique Hawaiian experience of Anahola village. Anahola village is located just 10 minutes to Kapa'a and Kilauea, 15 minutes to Princeville and 25 minutes to Hanalei. Surrounded by the stunning mountains of Kauai's Coconut Coast, the village has an authentic quiet charm that is reminiscent of days past. Anahola Beach, one of Kauai's few sandy bottom beaches is perfect for swimming, surfing, kayaking, body boarding, SUP, shell-picking and sun bathing. If you feel like testing out the Hawaiian art of throw net, it's also perfect for fishing.