3 Jun 2022
Top 6 Hawaii Vacation Rentals with Amazing Pools 
When you vacation in Hawai'i, the idea of being near the ocean is always alluring. But ocean waves and the crowds they attract aren't everyone's cup of iced tea! For those travelers who prefer to cool off in a calmer, more private environment, you can't beat staying at a Hawai'i vacation rental with its own swimming pool. From a tropical lagoon to a black bottom swimming pool, the pools at these Hawai'i vacation rentals are so amazing that you may be tempted to spend your whole vacation in the water. 
Perched on a bluff above the Big Island's Waipio Bay is Waipio Heaven, a custom-built home made for families who want a vacation that strikes the balance between adventure and relaxation. Explore the raw beauty of the Hamakua Coast one day. Spend the next lazing in a lagoon-like pool tucked away in a lush green setting after you awaken to the song of tropical birds and pick fresh fruit from the organic orchard. This beach-entry pool boasts a concealed rockslide and waterfall. Hop out to enjoy the hot tub, breathtaking ocean views, and enchanted sunrises with Maui on the horizon. Then hop back in for a dip before heading to bed, where you'll fall asleep to the gentle nighttime rains.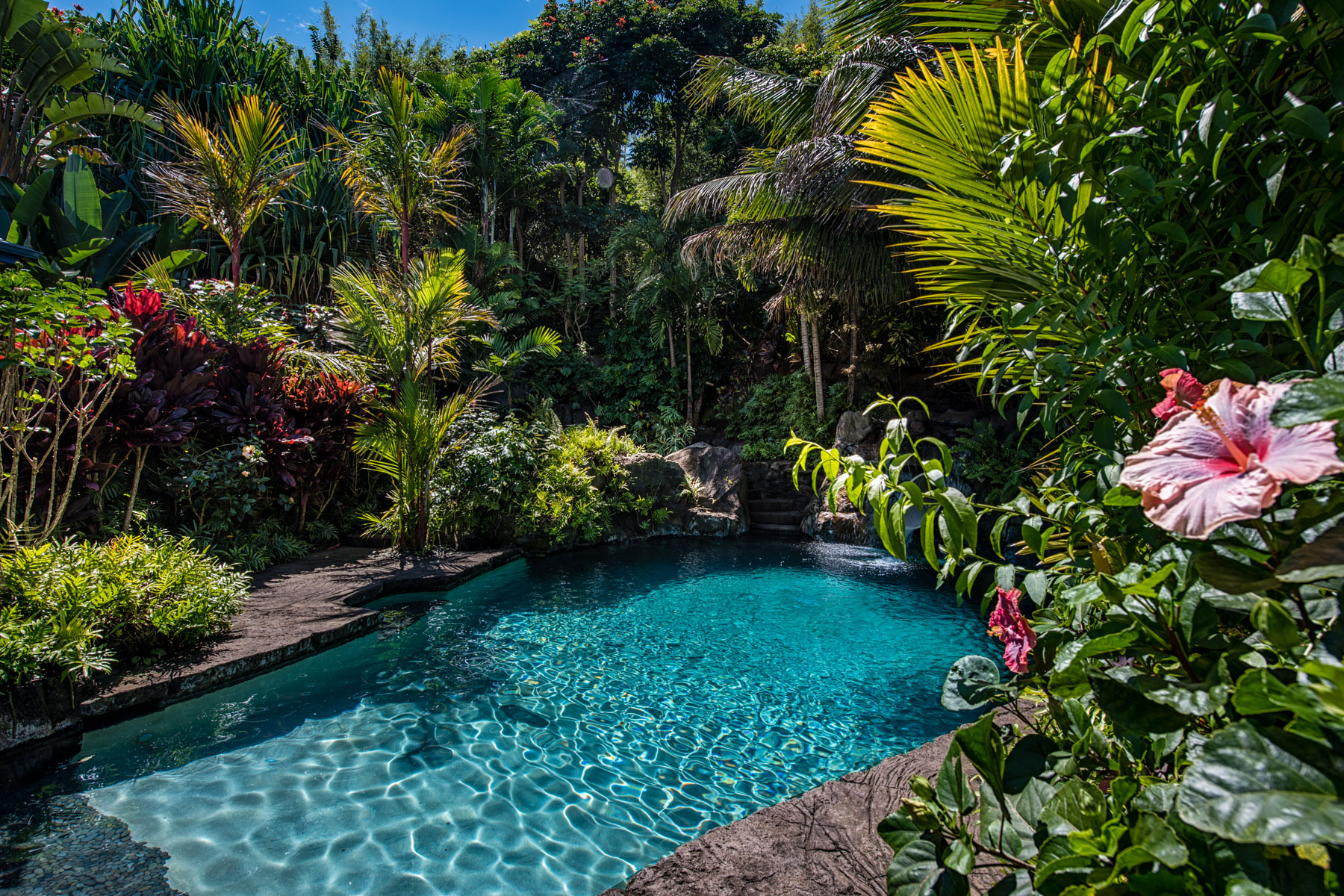 On a private road, just a few houses off Oahu's Kailua Beach is Kailua Beachside, a single-story vacation rental that's perfect for families! The interior living area of this four-bedroom, four-bath home opens up to a covered lanai and gorgeous, private swimming pool. The pool can also be accessed from the master bedroom. With an outdoor dining table and bar area, chaise lounges, a covered bale with a daybed, and newly renovated full bathroom with shower, the pool area has everything you need to enjoy outdoor living at its best. Should you crave a day at the beach, this stunning vacation home even offers access to the white sands of Kailua Beach.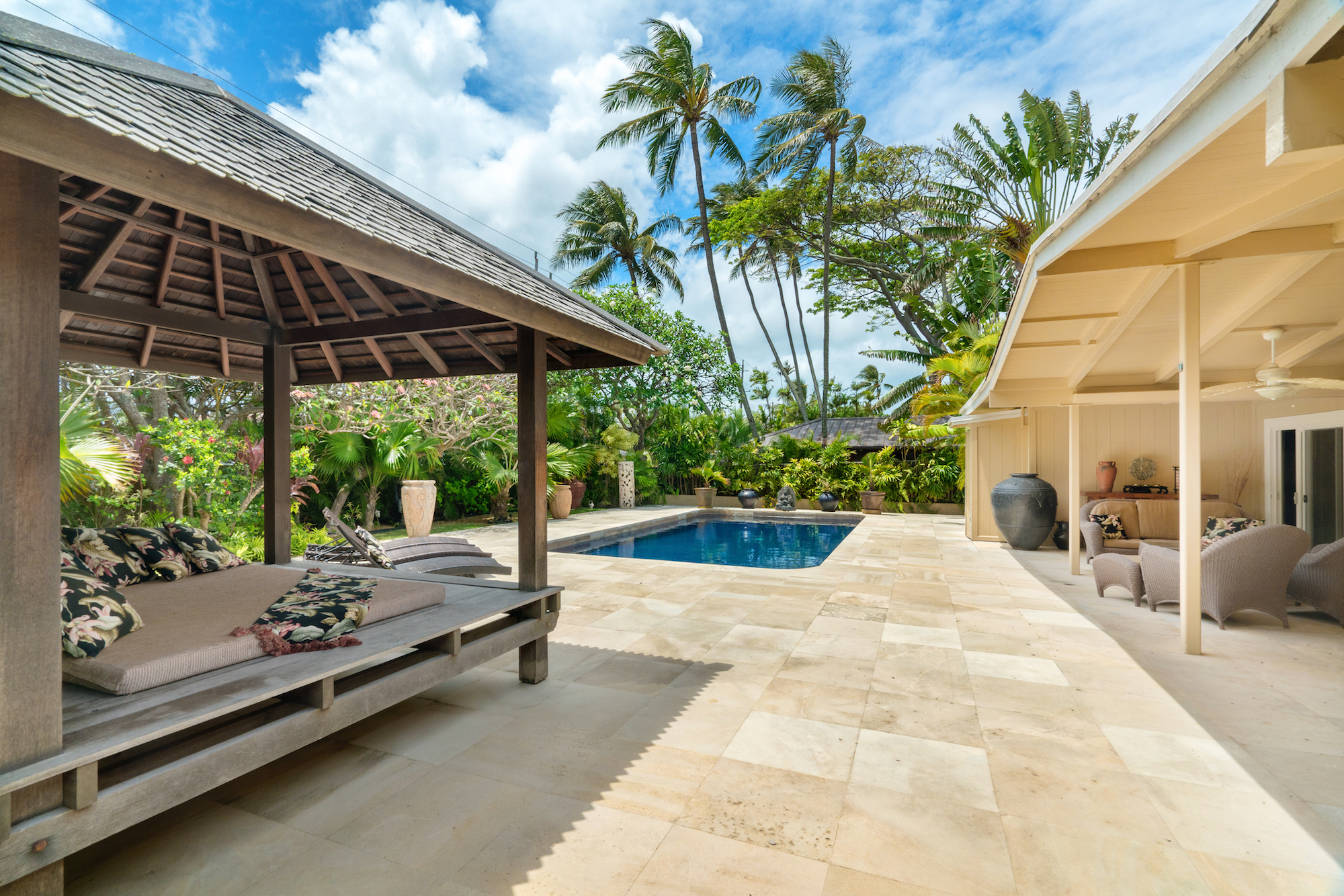 You'll feel world's away from Honolulu when you slip away to this contemporary vacation rental on Oahu. In actuality, Park Lane 8803 is mere minutes from downtown and Waikiki, and just across the street from the ever-popular Ala Moana Beach Park. Shop, dine, surf, or bike around the park on a beach cruiser until your heart's content. Then escape the hustle and bustle, and ease into vacation mode by Park Lane's five-star hot and cold plunge pools. Immaculate landscaping eliminates noise from the surrounding area, creating a space that is truly serene. In addition to the pools, Park Lane's luxury amenities include a sauna and steam room for maximum relaxation.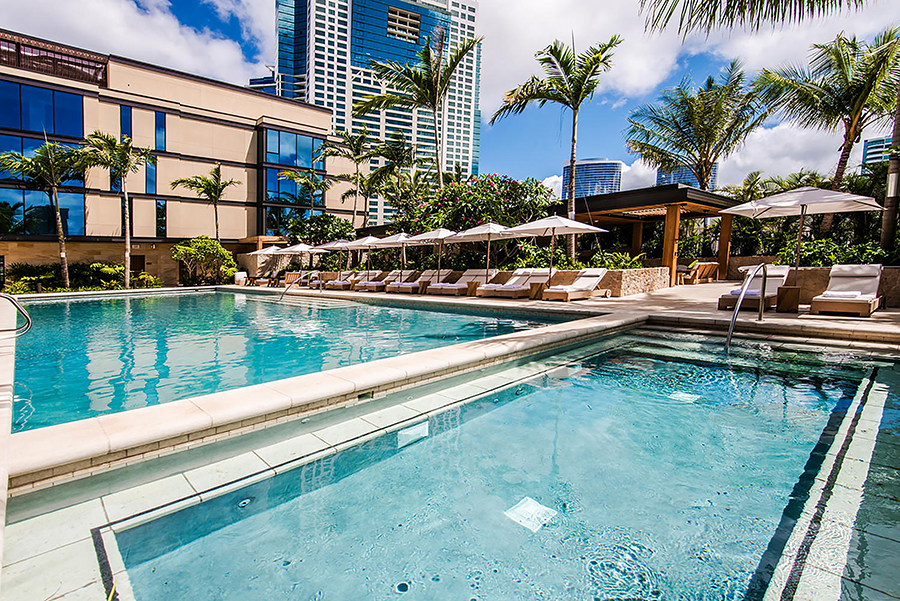 This five-bedroom vacation home on Kauai's North Shore puts poolside living front and center. Hawaiian for "heavenly view," Ikena Lani has a black bottom pool and hot tub where you'll be tempted to spend every waking second. Along with the swimming pool, a spa, mesmerizing koi ponds, and outdoor shower all lend to the spirit of balance, harmony, peace, and tranquility that prevail at Ikena Lani. Step inside the front door, where water flows down an exquisite custom waterfall into an interior pond and further enhances the aquatic experience. And from the wrap-around lanai, the tropical tradewinds are sure to refresh you as you drink in the heavenly views of Kalihiwai Bay's crystal blue waves, the Napali coast mountain range, and indescribable sunsets.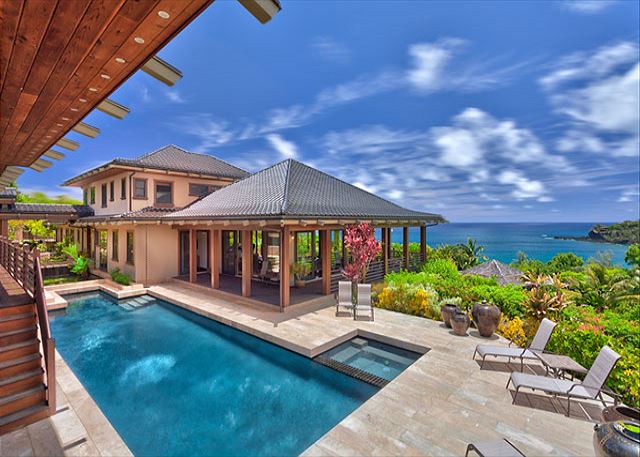 Located in famed Hana, Maui, the Hana Estate is a four-bedroom luxury vacation rental and cottage where nature's beauty abounds. Start your day with a few laps in the large private pool with motorized cover, surrounded by pines, tropical palms, and more than 100 varieties of fruit trees that grace the verdant property. Rinse off under an outdoor shower built of volcanic rock or sink into the poolside hot tub. With the outdoor kitchen gazebo nearby, complete with a full-size refrigerator, sink, and gas barbeque, you don't need to leave the property to immerse yourself in island living. Should you want to venture off, however, you won't have to go far to find trails to hike and sandy beaches to lounge on.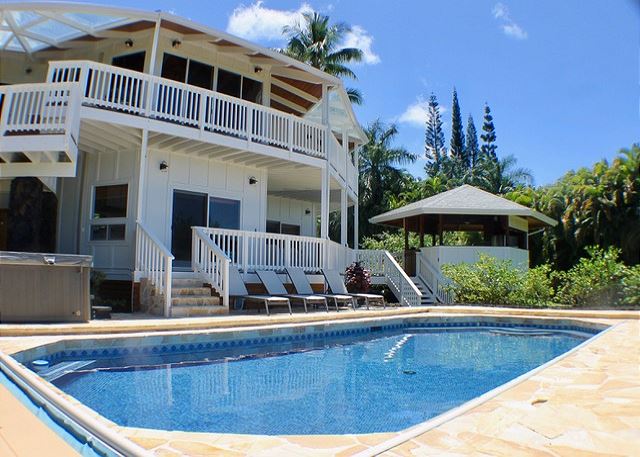 Dive into true resort living at this romantic, Balinese-style home minutes from Lahaina Town. Aloha Spirit Maui is your destination for endless ocean and mountain views. Here you'll find a private, heated pool complete with fountains, tucked away among plumeria and palm trees that create a relaxing oasis. In addition to the swimming pool, this two-bedroom, two-bath vacation rental features large outdoor showers and an entryway with steps across a koi pond where you can feed the exotic fish. Nap under the poolside cabana and get lost in a good book, sunbathe beside the heated pool, watch magnificent sunsets from the lanai, and gaze at the brightest stars from your secluded outdoor bathtub.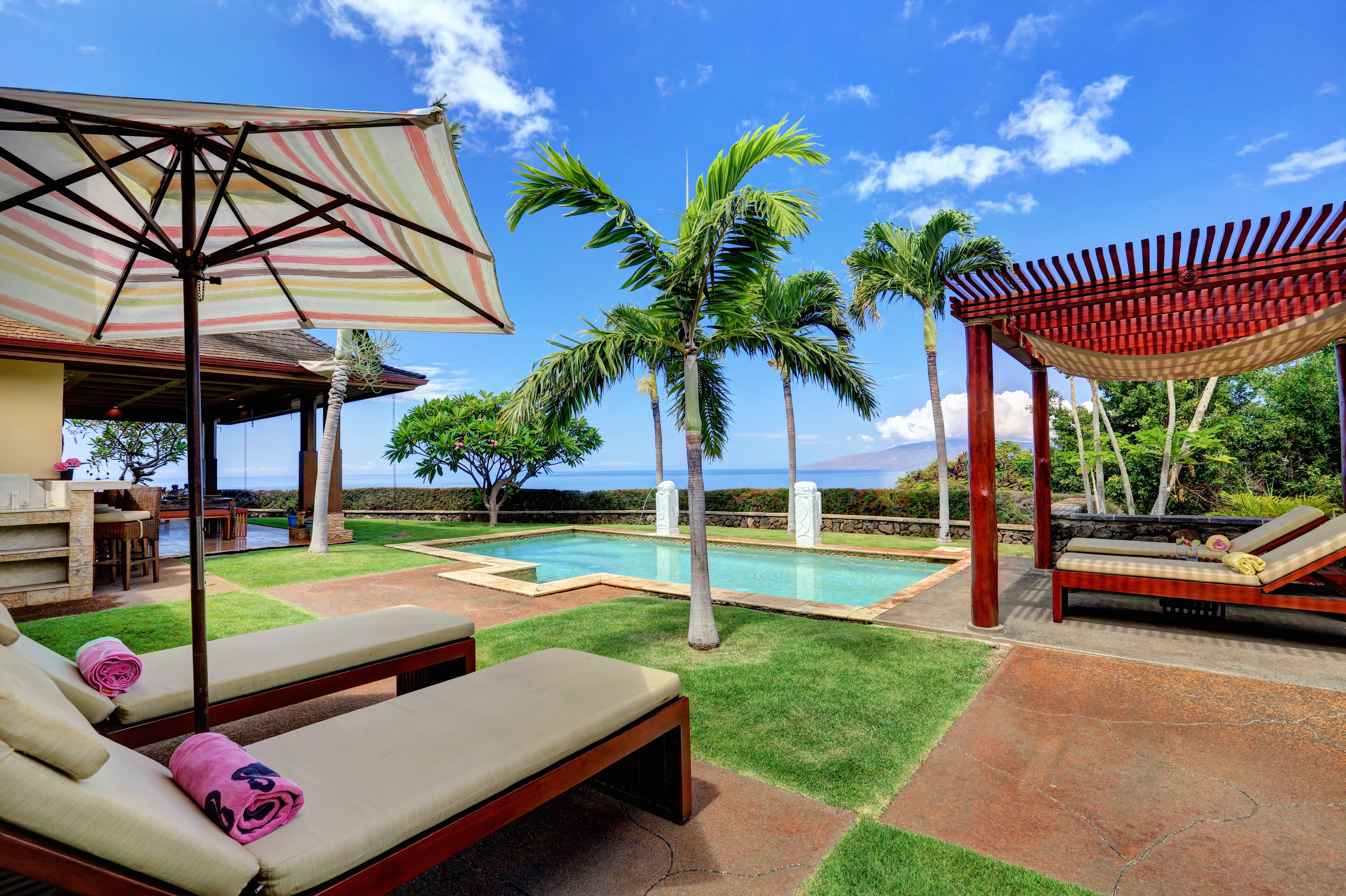 Connect With Us
Hawai'i Life is locally owned and operated, with rentals on Kauai, Maui, Oahu, and Hawai'i Island. We offer guests on-island personal assistance and concierge services. And we'd be happy to assist you in finding the perfect vacation rental with the most amazing pool and answer any questions you may have about your visit. 
Vacations@HawaiiLife.com | 855.447.3685