16 Oct 2020
Safe Travels Pre-Testing Program - Begins October 15, 2020
Kauai is ready to welcome you with a new pre-travel testing option for Hawaii visitors! While the 14-day quarantine has been the only option for those wishing to visit Hawaii for several months, the state's new pre-travel testing program is a new way for travelers to bypass the 14-day quarantine period upon arrival to the state. For more information, pleaes visit our New Travel Safety Measures Blog here. 
Travelers who do not complete the pre-testing requirements will be required to complete a mandatory 14 day quaratine on the island. Luckily for our guests, Hawaii Life Vacations is able to offer comfortable accommodations and amenities while you complete the minimum quarantine. Choose to stay in one of our Luxury Kauai Vacation Rentals and you'll have everything you need to enjoy the island vibes from your home away from home! 
Resort Bubble Experience 
Spend the duration in one of our gorgeous Timbers Resorts Properties to enjoy the "resort bubble" experience! Not only will you adore the luxury accommodations, but also have access to the resort's facilities and amenities.  
Amenities available at the Timbers Resort during your quarantine period include: 

-Resort Pools and Hot Tubs, with social distancing requirements
-Spa Treatments and Fitness Center, available by appointment 
-Golf Course, available by reservation
-Farm/Trail System, available by reservation
-Use of Bikes and Kayaks
-Ninini and Running Waters Beach access, available by appointment
-Oceanfront Hualani's Restaurant 
Choose from three styles of Timbers Collection Residences:  
Our Maliula vacation rentals embody a peaceful abode surrounded by nature. The interior is relaxing with greyed woods and textured white oak flooring and millwork with elegant touches of silvered iridescent stone tile and glass, shell-like tile. Two and three-bedroom, single level floor plans are sure to exceed the expectations of families, friends and golf groups.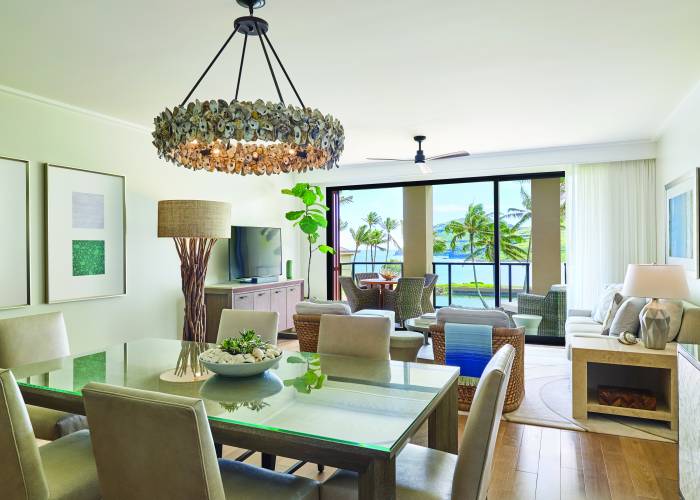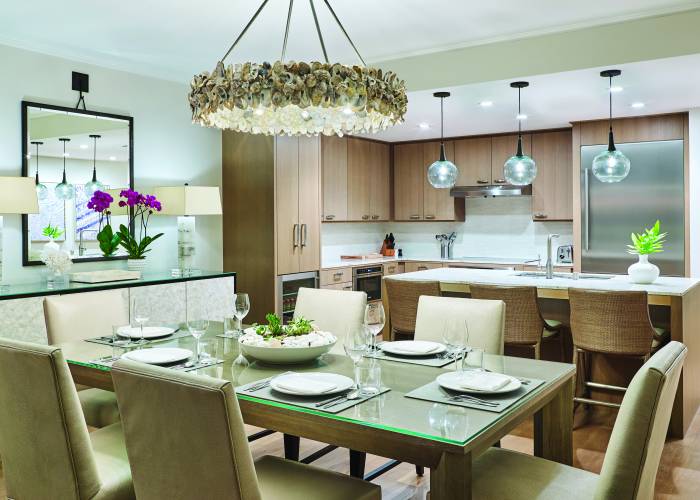 Each Maliula vacation rental features a multiple lanais and peaceful views of the mountains, gardens, Maliula pool, Hokuala Estate or Pacific Ocean. The floor to ceiling sliding glass doors blur the line between indoors and out. Each bedroom features an Ensuite bath with double vanity, separate tub and shower, walk in closet and television.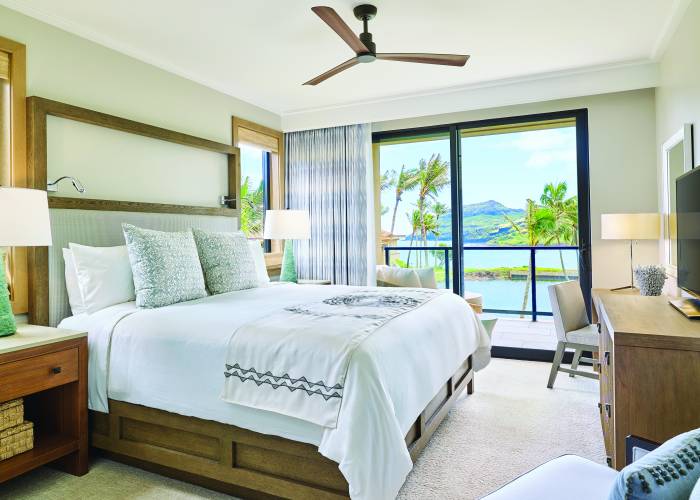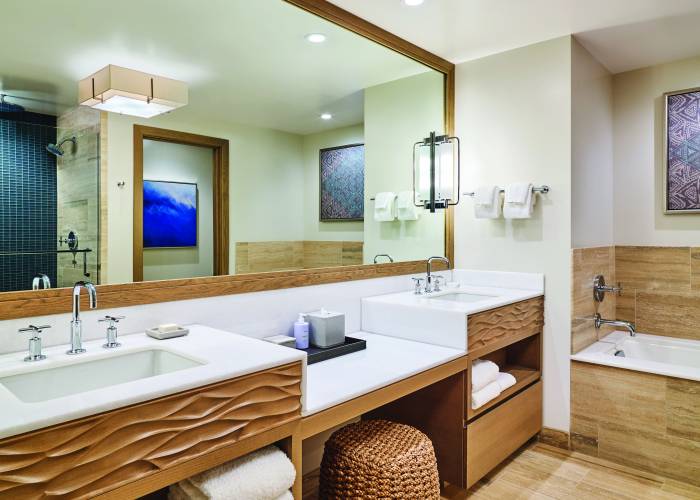 In each Kaiholo residences, experience the seamless transitions from indoor to outdoor living with lanais that extend to the ocean's edge. You won't know where inside ends and nature begins with these breathtaking panoramic ocean and mountain views!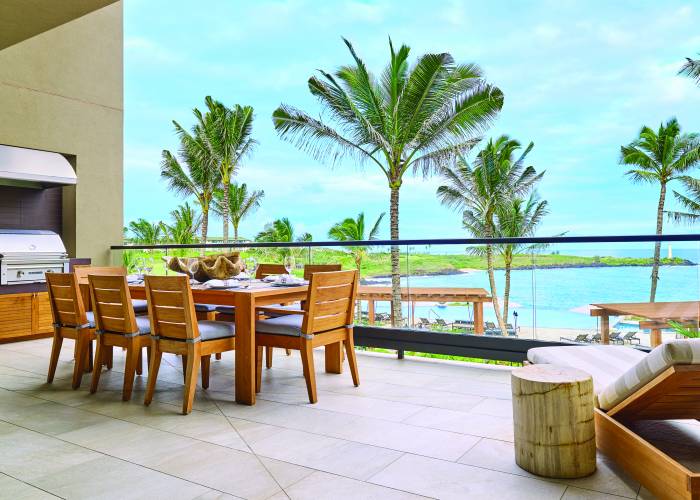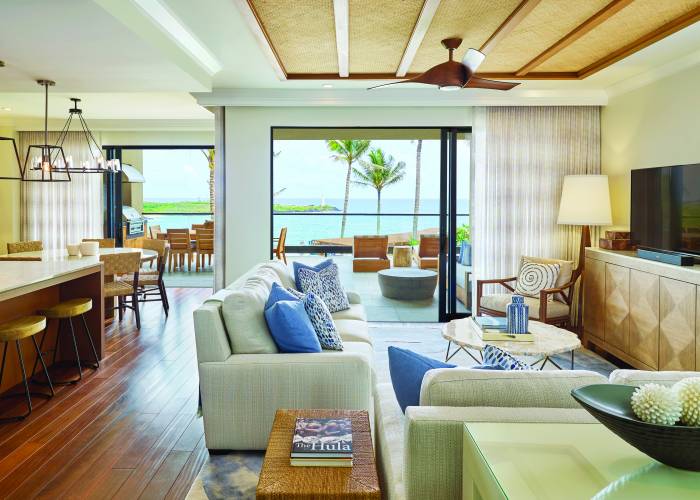 The villa has at least three private lanais, with indoor and outdoor living and dining areas, a barbecue and incredible oceanfront and mountain views. With 3- and 4-bedroom floor plans each residence features spacious bedrooms, living areas and outdoor access. Each bedroom has an Ensuite bath with double vanity, separate tub and shower, television and walk in closet.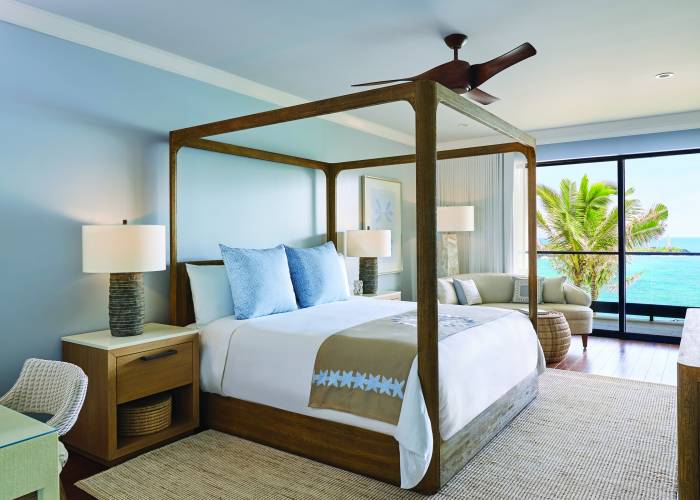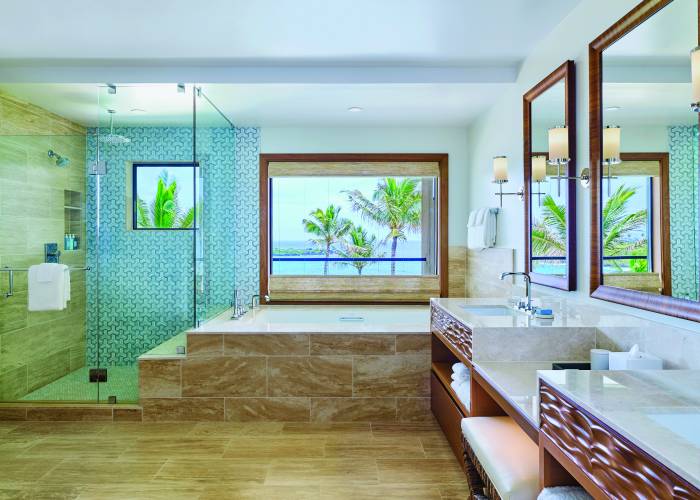 These sunrise-facing townhomes are perched directly above the oceanfront green of the 15th hole and offer breathtaking views that span from the historic Ninini Point Lighthouse to the Hau'pu mountains. Laola residences welcome the natural Hawaiian landscape into the interiors with a seamless flow from the exterior to interior. The living space flows into the expansive natural stone lanais, a tile reminiscent of the lava fields of the surrounding islands.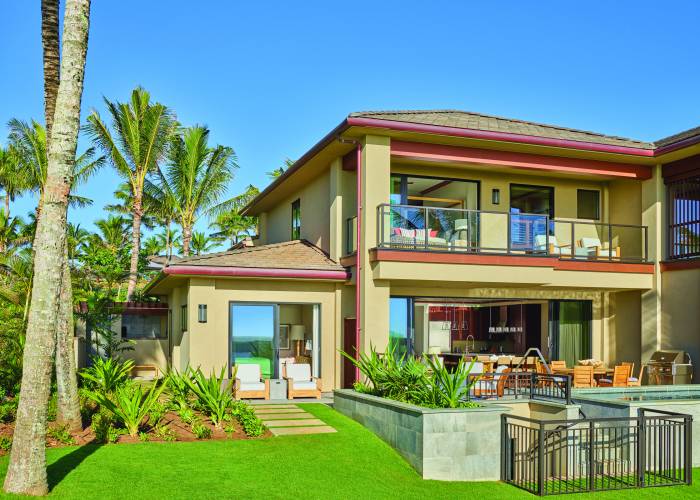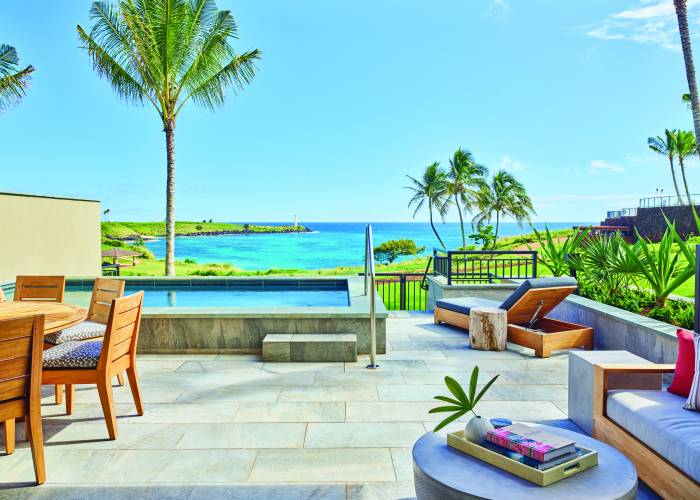 Well-appointed with all of the conveniences of a home and the private location in the resort of Hokuala make this townhome vacation rental a true oasis. Enjoy your own plunge pool, outdoor shower, gourmet kitchen, spacious indoor and outdoor living all just a stroll way from the amenities of Timbers Kauai.