4 Nov 2022
There's No Place Like an Extended Stay Vacation Rental for the Holidays!
A getaway to Hawai'i is one of the best gifts you could give yourself and your family this holiday season. And a Hawai'i vacation, particularly during the holidays, is a trip to be savored. From ocean views to fully-equipped kitchens, Hawaii Life's luxury accommodations offer both pre-and-post holiday options. And our vacation rentals are ideal for extended stays during the holidays or any time of year, really. 
Here are four reasons you should consider staying at one of Hawai'i Life's extended stay vacation rentals if you're visiting for a month or longer during the holiday season:
1. Find that Work-Life Balance 
As a remote worker who doesn't have a commute to separate you from your office on a daily basis, it may be hard to step away from your job. Even if you have off for the holidays, it can be tempting to just walk down the hall and catch up on some work in your home office. An extended stay in Hawai'i offers you the chance to physically distance yourself from your home office and enjoy a well-earned break with family during the holiday season. If you are a remote worker who can't take a full month off from work, why not pack up your mobile office and mix business with pleasure in paradise? The change of scenery, laid-back lifestyle, and adventures Hawai'i offers will definitely promote that work-life balance you've been seeking… And you just might become so adept at this balancing act that you can maintain it when you return home after the holidays! 
Featured Monthly Rental:
3 Bedrooms, 4 Bathrooms | Honolulu, Oahu
Located directly on a gorgeous sandy beach, here you will enjoy awe-inspiring ocean and mountain views from your own private getaway. Just a short drive to Waikiki, nearby to world famous hiking, and beaches - this is the perfect location to discover the pleasures of island living!
2. Embrace the Digital Nomad Lifestyle
If you're a digital nomad who delights in working anywhere but in an office… and living in new places, then spending a month (or more) in Hawai'i should be on your nomad bucket list. This goes for remote workers who are curious about the digital nomad lifestyle and traveling nurses too! For anyone planning to live and work in Hawai'i for the holidays or even the whole winter, the priority is a spacious area with a larger living room for relaxing and a bigger kitchen for whipping up meals with local ingredients. Our monthly vacation rentals have more square footage than most hotel rooms and more privacy than a hostel. And with all that extra space, you're sure to feel comfortable and inspired. 
Featured Monthly Rental:
4 Bedrooms, 3 Bathrooms | North Shore, Oahu
Located directly on the breathtaking Laniakea beach, this location is well-known for spotting Hawaii's endangered green sea turtles along the shore! Laniakea is also a lovely beach for swimming and snorkeling in the summer and is a surfer's dream location with views of Himalayas, Lanis, Holtons, Jockos & Chuns.
3. Celebrate the Holidays, Island Style 
In Hawai'i, the holiday season looks a little different. We wrap colorful lights around palm trees. Santa wears Aloha shirts. And "Mele Kalikmaka" is our favorite Christmas carol. If you're ready to trade in snow for white, sandy beaches this holiday season, look no further than Hawai'i. Some of the activities and attractions you can enjoy during your extended winter stay include:
When it comes to celebrating the holidays in Hawai'i, we're just scraping the surface. There's so much to do that a month might not even be enough time! 
Featured Monthly Rental:
2 Bedrooms, 2 Bathrooms | North Shore, Oahu
Experience the ideal North Shore lifestyle in this architecturally renowned Hawaiian beachfront cottage. Here you will find the perfect Island getaway for couples or small families looking for privacy, modern comfort, and direct beach access for your daily ocean activities. Breathe in the fresh salt air and feel the trade winds sweep through this open beam ceiling, natural light flooded, window-filled home.
4. Enjoy More Flight Options & Flexibility
According to the major airlines, the last two weeks of December and the first week of January are prime travel times. Flying to or from Hawai'i during these weeks typically means higher airfare prices and flights that are booked to the max. If your heart is set on spending the holidays in Hawai'i, you can avoid the crowds and find more reasonable prices by booking an extended stay at a monthly rental, and either flying earlier in December, staying for a few weeks in January, or both! 
Not only can a Hawai'i extended stay equate to more flight options, but it can also offer more flexibility. Staying at a vacation rental this winter means you can choose from dining out or preparing a home cooked meal in your fully-equipped kitchen. And since many of our luxury vacation rentals have multiple bedrooms and bathrooms, you don't have to worry about being away from family for the holidays - There's room for anyone you want to bring along to Hawai'i!
Featured Monthly Rental:
3 Bedrooms, 3.5 Bathrooms | Kailua - Kona, Big Island
A one of a kind home that offers some of the best ocean and sunset views in Kona! This beautiful, single-story home sits perched on a lush hillside with expansive 180 degree ocean views of Kailua Bay. Relax into your own private oasis, surrounded by colorful gardens and meticulously landscaped grounds.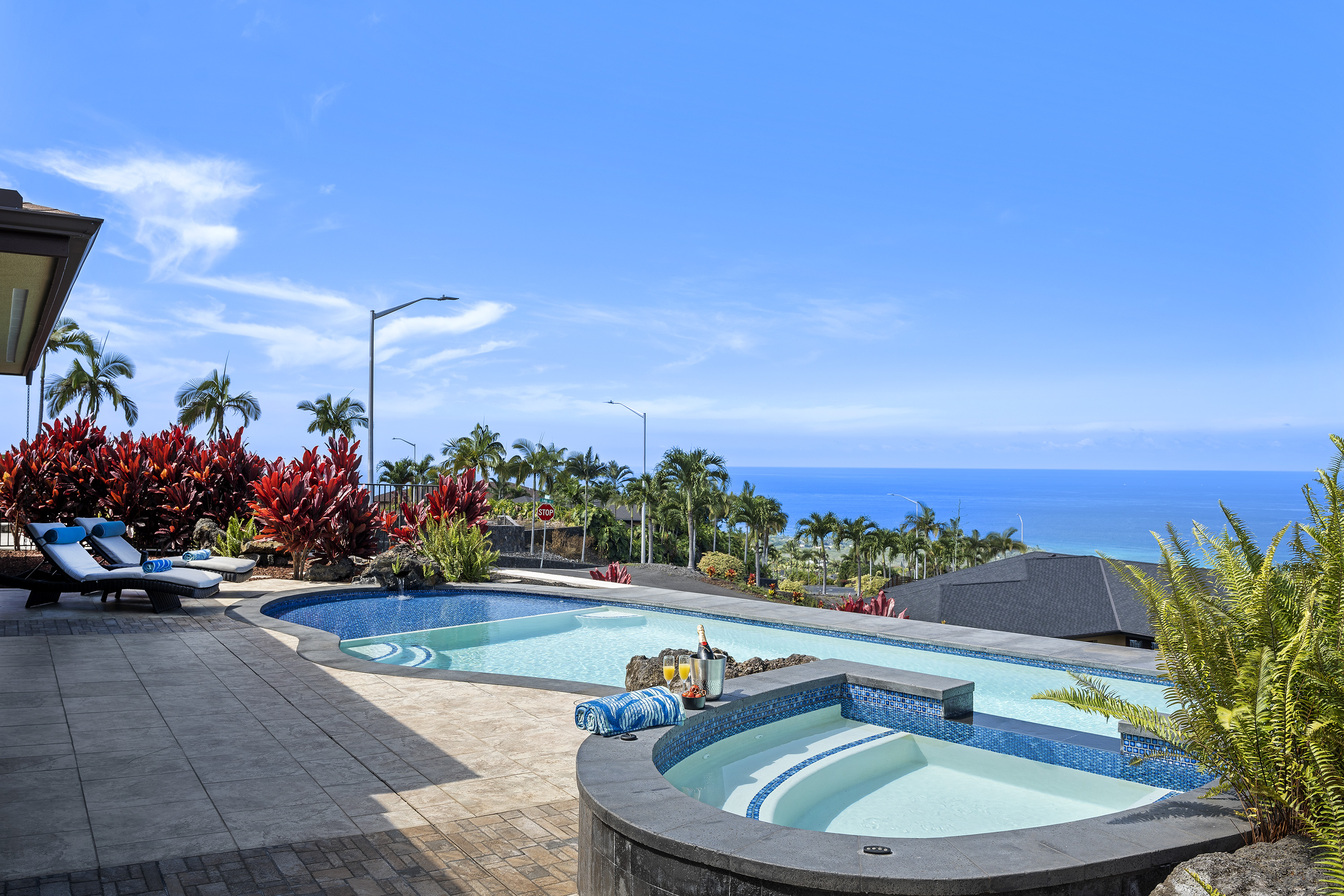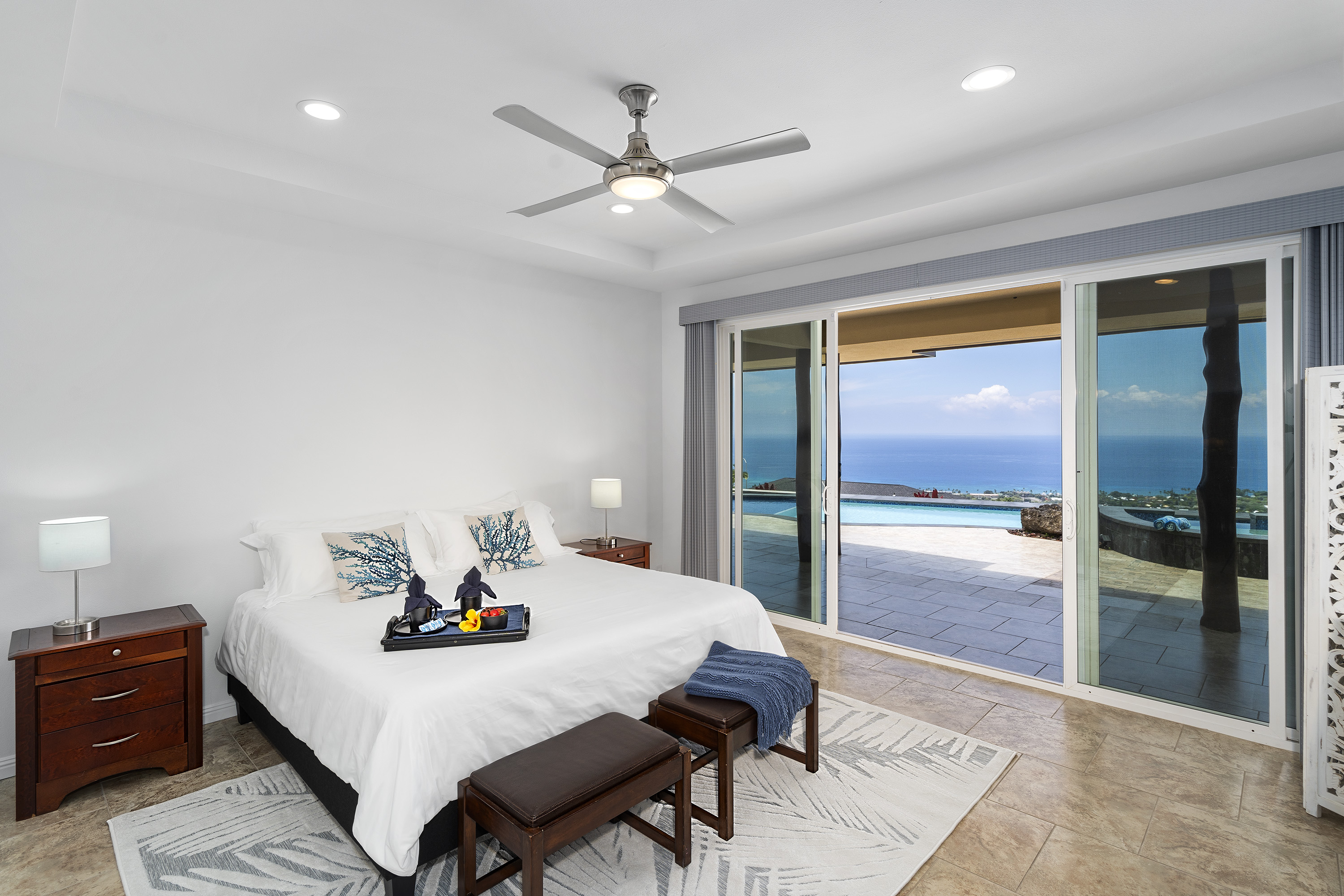 Book Your Extended Stay Vacation Rental for the Holidays
Whether you want to find that work-life balance, embrace the digital nomad lifestyle, celebrate the holidays, island style, or just enjoy more flights and flexibility, Hawai'i Life's extended stay vacation rentals are the best option if you're visiting for a month or longer.  
At Hawai'i Life, we strive to provide guests with the best rental experience. Booking one of our extended stay rentals for your Hawai'i vacation gives you more options, flexibility, privacy, and space than most traditional accommodations. And every vacation rental is as unique as you. Call 855-447-3685 today and let our knowledgeable agents help you determine which rental option best meets your travel needs.